Foals – 'Everything Not Saved Will Be Lost Part 2'
Sounds like … the even grittier second half of their ambitious album tale.
Thank god, no double album. For a brief moment Foals thought about releasing the massive recording output from the Everything Not Saved Will Be Lost sessions at the same time but they quickly decided against that as Yannis Philippakis told me earlier this year. It was a wise decision because in all its intensity the two-parted album project can easily me overwhelming and these six months in-between the releases surely helped to gain enough excitement to enjoy this second Foals album within a year in the same way like it was the first. As promised back then Part 2 features the heavier material from the sessions. Overall it's a bit louder, grittier and fuelled with the reckless energy you've come to love from the band's live show. Lead single The Runner is a perfect 'steam-roller-turning-into-big-chorus' opener and takes you right into the setting. Black Bull is a raw rocker in the tradition of What Went Down while songs like 10.000 Feet and Like Lightning show the band heading for almost blues-like territory which feels like a nice continuation of their previous path. The entire atmosphere of the album is quite tense and loaded, like really low hanging rain clouds before a big storm.
The gentle Into the Surf might be the only slightly lighter moment on it. It's a brief moment to catch your breath before the mighty Neptune ends the entire Everything Not Saved Will Be Lost chapter with pure cinematic epicness. The 10-minute long progressive rocker is the longest and most ambitious song Foals ever recorded and it actually works pretty good as the grand finale. "Now it's time to go" sings Yannis in the beginning and there's something definite and ultimate about this last piece. They couldn't have ended this adventure any better. If the band would split up now (which they hopefully won't) it would be the perfect full stop for everything they achieved over the past decade. There is an existential urgency in the sound and words that makes the band so valuable. Part 2 might not be as surprising and diverse as Part 1 but it got its own character. It doesn't need its predecessor to work but it surely benefits from it. If Part 1 documented the chaos of today's life the follow-up almost feels like a cathartic storm that clears the air. It's been one hell of a year for the Brits who clearly underlined that they are one of the greatest and relevant remaining rock bands in contemporary music. (Norman Fleischer)
Stream Now: ► Spotify / ► Apple Music / ► TIDAL
---
Nils Frahm – 'All Encores'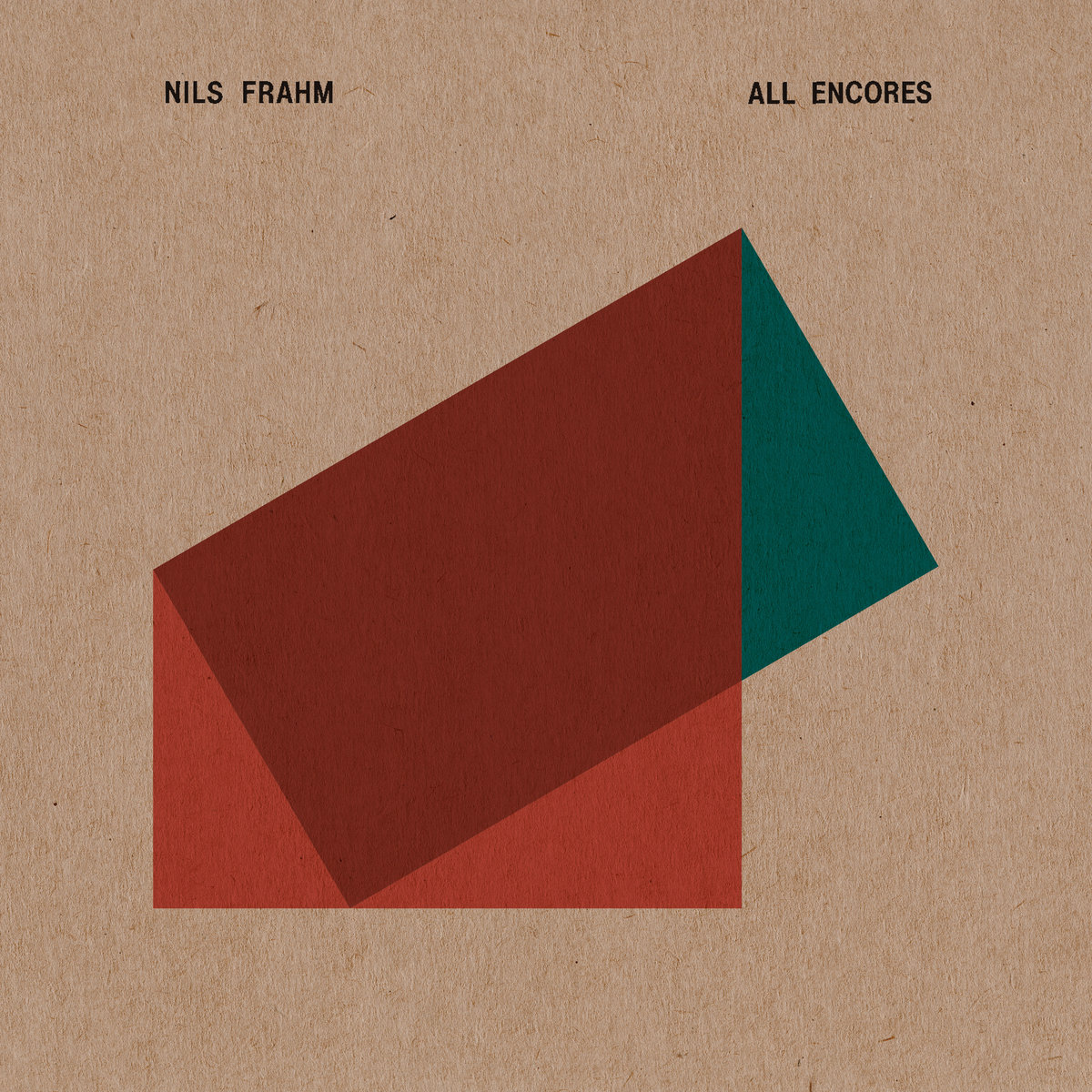 Sounds like … another beautiful release from the neo-classic mastermind.
It seems like Nils Frahm never stands still. He delivers a special and constant musical output which never disappoints any listener, as there is always something new to explore. Today, he unites his three Encore EPs to one complete album which gives a new home to the twelve tracks. All Encores offers no surprise, as the majority of tracks has already been released during the last two years.
But it's nevertheless always nice to have more than three songs in one place which can form something new in the context of other pieces. Whereas the first Encore EP was about the solo piano and the harmonium, the second one focused more on ambient textures and the third one on electronic and rhythmic elements. Together they form a complete record which unites almost all aspects of Nils Frahm's music: melancholic ballades, technoid soundscapes and atmospheric vibes. Some of those tracks – like Harmonium In The Wall or All Armed – are such hypnotizing pieces that you almost get completely lost in them. But the musician always manages it to break that overwhelming undertow with the following, shorter and restrained tracks which bring you back to earth. The talented composer proves again that he never loses his musical spirit and even creates something new out of something that already existed – in another context. And that's what characterizes a true artist. (Miriam Wallbaum)
Stream Now: ► Spotify / ► Apple Music / ► TIDAL
---
Vagabon – 'Vagabon'
Sounds like … shades of an artist's soul wrapped in versatile electronic instrumentation.
Vagabon, is the moniker of Lætitia Tamko, a Cameron-born and now New York based musician. Moving in the indie rock territory with her debut Infinite Worlds, she now explores different genres. With the shift in songwriting style her music changed and so her sophomore LP Vagabon is an accumulation of analog and digital synth-lines, layered vocals, and an overall newly gained musical confidence, as well as, maturity.
What was supposed to be called, All the Women in Me, is now being released as a self-titled record in reaction to a note of the poet the former title was quoting. Either or, both fit the album greatly, as it is an exploration of different realities and characters Tamko has undergone throughout her live. The opening track Full Moon In Gemini describes the versatile character of the record hinting at the two-faced zodiac. And different faces it surely has. Whether it is a danceable beat of Water Me Down, the slow-burning Home Soon, or the contemplative quietly confident Secret Medicine, Vagabon shines with vocal power and creative arrangements. Produced and written entirely by her, it gives a deep insight into the singer's personal moods and feelings. She conveys emotions not only into lyrics but also into the instrumentation. Like on the nostalgic Home Again, a meditation of belonging to a place, or Every Women, which is dedicated to all the women in Tamko's life –an 'anthem for myself and all the marginalized people in society', as she says. Water Me Down comes with an ambiguous dissonance of melancholic lyrics and a danceable beat drawing you into the evolving soundscape of the song. With this album, Vagabon presents a different side of her (musical) character and courage for experimentation. It pays off! (Liv Toerkell)
Stream Now: ► Spotify / ► Apple Music / ► TIDAL
---
Floating Points – 'Crush'
Sounds like … all your favourite atmospheric electronic artists and songs honed into one singularly brilliant vision. 
Sam Shepard, or Floating Points to give his stage name, has emerged as a somewhat noteworthy individual talent in the electronic field over the past five years. His stunning debut full-length Elaenia saw Shepard successfully cross-over electronic music with jazz, furthering Flying Lotus's similar concept with a dedicated touring band when performed live. His Reflections – Mojave Desert soundtrack album saw him move into more post-rock/ambient territory which, while astutely created, was a fine yet less striking record in itself.
Here, however, on record number three, entitled Crush, Shepard has moved into Aphex Twin-indebting IDM territory, on the results are magnificent. He shepherds (pun intended) various sub-genres – dub-step, house, twitchy ambient music – into his own, singular vision and while you may be able to trace the steps, this record is a wonderful embodiment of what has made Shepard so revered. Tracks such as LesAlpx or Last Bloom are a joy to get lost in, but crucially the album never outstays its welcome, proponing the "less is more" theory to great effect, meaning there's a lot to discover with repeated listens. (Adam Turner-Heffer)
Stream Now: ► Spotify / ► Apple Music / ► TIDAL
---
Broen – 'Do You See The Falling Leaves?'
Sounds like … the brightness of the color yellow and the depths of dark blue. 
If diversity were an album, it would probably be one by Broen. The Norwegian five-piece put out another multi-facetted warm-spirited work with Do You See The Falling Leaves?. They manage to fuse several influences and genres into one implacable record that is as wild as it is genius. Moving between overly instrumented cacophony and minimalistic organic sounds, the album serves everything.
After listening to the record, the only sensible thing to do, is to turn back and give it another spin right away. Broen put so many layers into their songs, without sounding overloaded, that the musical depth is impossible to grasp with one listen. The inventive compositions vary from the eight minute long title track to the short and spicy Hip Hop infused Bubbles, which does not even pass the one-minute-line. Do You See the Falling Leaves? is an experimental epic and ranges from distorted chaos to smooth electronica. It shape-shifts even more when the tuba comes into play adding a whole different dimension to the track. The vocals vary from poetry-slam ready raps to sweet ballad-style croons. Dorian Grays is holding up a mirror towards the egomaniac capitalism orientated society with punchy Hip Hop electronica. Never Was comes with quiet intensity and whispered vocals but towards the end, grips you tightly with its bubbly and bright electronic groove. Following the positive energy is Lines, a multi-layered and energy-loaded track. And there are many more to list. From the first second to the last, Broen engage the listener with chameleon-like compositions that do not stand still for a second. Broen might just be ahead of us playing the pop music of the future. (Liv Toerkell)
Stream Now: ► Spotify / ► Apple Music / ► TIDAL
---