Of course, you can't overview everything. With an increasing number of releases every year and a limited amount of our pro bono time, it's pretty much impossible to catch up with everything. Sometimes we stumble upon musical treasures months after their initital release while some records just need a bit time to grow. But since NOTHING BUT HOPE AND PASSION remains your reliable source for musical recommendations we continue our much loved tradition to shed some light on a few of those hidden musical treasures before the year ends. So, after you made it through our favourite songs and albums of the year, please make room in your heart for these lovely almost overlooked album highlights of 2017.
---
Phoebe Bridgers – 'Stranger In The Alps' (Dead Oceans)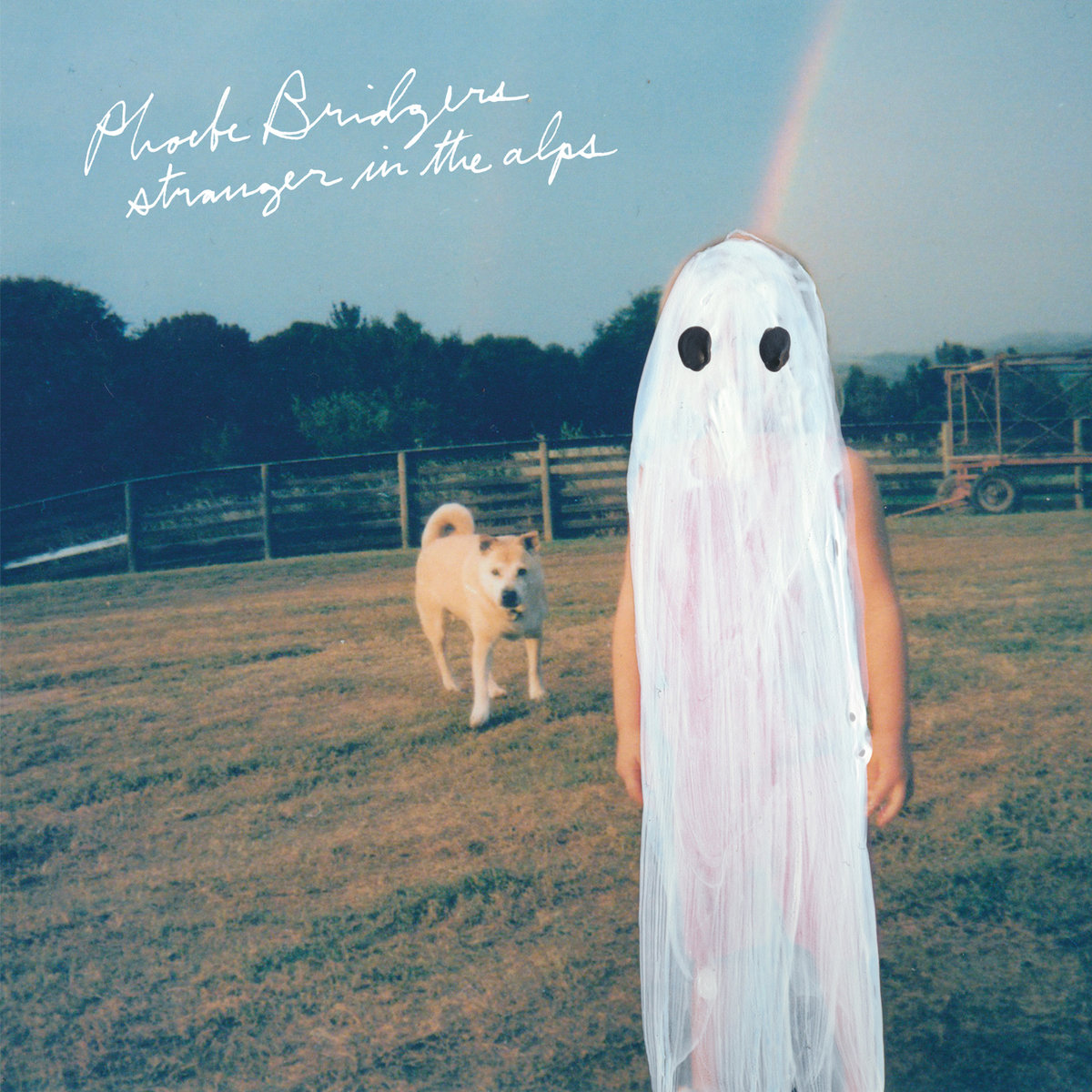 Recommended by Norman Fleischer:
Well, the hints to take a closer look at Los Angeles-based Phoebe Bridgers were all there: Ryan Adams produced her back in 2015, Julien Baker invited her to tour with her, Conor Oberst is featured on the album … you don't get so far with mediocrity. Instead, Stranger In The Alps is a truly wonderful melancholic masterpiece, packed with gentle highlights from start to finish. Smoke Signals as opener with its sparse electric guitar and sweeping strings, for example. Or the gentle groove of lo-fi rocker Motion Sickness. Or the not that surprising but quite fitting Mark Kozelek cover of You Missed My Heart which closes the record.
In-between that Bridgers keeps a coherent feeling of calmed down honesty alive, delivering the most charming amount of understatement I experienced this year. Stranger In The Alps is one of those records that welcome you with open arms and a warm hug while you stitting in the train or the bus as the cold and grey countryside of the cold season passes you by. You see, it's still the perfect time to invite Phoebe Bridgers to your life.
---
IDLES – 'Brutalism' (Balley Records)
Recommended by Henning Grabow:

Here are the hard facts: IDLES are a band from Bristol, England and their singer Joe Talbot is no one to fuck with. Maybe he's even the actual personification of Brutalism, the band's first full-length: An album equal parts brutal and educated, a real exclamation mark for punk in 2017. IDLES' massive and bass-driven sound mirrors the sturdy modernness of the architectural style their album title refers to and it is paired with the wit of Mclusky in their prime – a comparison that is not to be drawn lightly! But really, sarcastic aphorisms ('the best way to scare a Tory is to read and get rich') ooze out of every cell of this record.
Although these guys tend to lean more towards hardcore, they are, along with Sleaford Mods, Shame or Fat White Family a testament of how very alive British punk is. These bands add something fresh and urgent to the legacy, which is very much required and appreciated these days. With Brutalism, IDLES presented one of the most coherent and powerful statements of said legacy this year.
---
Frère – 'Void' (popup-records)
Recommended by Igor Franjić:
The calm temperament of Alexander Körner's compositions under the Frère moniker stands in stark contrast to the political turmoil of the past year. Aiming to expand the sonic scope of his finger-picked ballads, the Bochum-based singer-songwriter enlisted the help of producer Alessandro Mara, who helped him rearrange his songs for a four-piece band. The result, Frère's debut full-length album Void, builds on the acoustic guitar arrangements of tracks like Book and explores both their sinister undertones and their dynamic potential.
What Körner shares with his apparent role model Ben Howard is an ability to counter the melancholic nature of his songs with an extraordinarily tender delivery. Even in its bleak moments, Void still exudes a feeling of emotional warmth that originates from his subdued, but affectionate singing. It is Alessandro Mara's accomplishment, however, to have expanded Frère's sonic vocabulary: In the haunting Ghost, he operates subtly, opening up the sound with textures of synthesizers, harmonic noises and the clattering of shoes. The euphoric Portugal sees Frère introduce an array of electric guitars, pianos and slowly building drum beats that crescendo subtly, with volume rising almost imperceptibly to conclude in an intense final. It's in these moments when Void fulfils on its promise most convincingly, but even they can only hint at the power the songs develop when they fill a concert hall.
---
Japanese Breakfast – 'Soft Sounds From Another Planet' (Dead Oceans)
Recommended by Jessi Schmitte:
Michelle Zauner started Japanese Breakfast at her family's home in Oregon while she was taking care of her mother who was diagnosed with cancer. In 2016, this therapeutic project led to Psychopomp, her acclaimed debut album about her mother's death as well as heartache and sexuality.
2017 saw the release of Japanese Brekafast's second LP Soft Sounds from Another Planet and the title already sums up the sound: The songs are a lot fuller and warmer than before and – due to Auto-Tune, synth sounds, instrumentals and lyrical references – they've got an extraterrestrial vibe, too. Additionally, Zauner sticks to the qualities that already characterised the predecessor: She fluctuates between abstractionism (Jimmy Fallon Big!) and plain realism (This House), revamps old ideas (Boyish), provides heart-breaking (The Body Is a Blade) as well as heart-warming (Till Death) songs and uses whatever kind of genre she wants to, from dreamy ballad (Soft Sounds from Another Planet) over sci-fi disco hit (Machinist) to rock smasher (12 Steps). How could we overlook Japanese Breakfast lifting her work to new heights?
---
Fazerdaze – 'Morningside' (Groenland)
Recommended by Norman Fleischer:
Sometimes a fitting setting and the right moment are all it needs to suddenly fall in love with music. I still love it when that happens and in the case of New Zealand-based songwriter Amelia Murray it needed a lazy pre-summer evening at Germany's beloved Immergut Festival for me to fall in love with Fazerdaze at last. The sound of Morningside was just made for a cosy afternoon at in the heart of mother nature as it perfectly transports that easy going DIY mentality you've come to love from mostly California-based groups.
The debut LP by Fazerdaze became my little companion over the following summer months, delivering dreamy tenderness as well as melancholic pleasures (Jennifer) right next to more uplifting ones (Lucky Girl). Murray shows that there's more to life these days than just being miserable about the current status quo. It's a mood-lifting little sun-drenched diamond that is build on profound songwriting and I will most certainly get back to this summerly tunes every now and then over the cold forthcoming winter months.
---
Bergfilm – 'Constants' (Haldern Pop Recordings)
Recommended by Igor Franjić:
Tinkering away on their brand of 80s-infused synth pop for quite a while already, Cologne's Bergfilm spent most of their career within earshot of press and scene connoisseurs. However, as they were operating just shy of the hype that surrounded some of their peers, it is no surprise that their first full-length LP Constants got buried a little bit. Staying true to the spirit of the band, the ten compositions show the craft of a group engrossed in intricacies instead of flashy first impressions. That is not to say that the album lacks tracks with hit potential – centrepieces California and The Line, with their carefully thought-out instrumental and vocal hooks will prove you otherwise – but Bergfilm go to great pains to reward repeated listens with little subtleties in structure or arrangement.
It's this attention to detail which yields songs like the beautifully meandering Open Here, the arpeggiated bass lines and tropical grooves of Nostalgic Love or the electronic sensibilities of the title track, which forgoes the band dynamic almost entirely to venture into electronic production, an exciting mélange of rhythm, melody and texture. Whether Bergfilm's long wind will pay off remains to be seen; however, if their upcoming performance at Eurosonic Festival is any indicator, things seem to be working in their favour.
---
Kedr Livanskiy  – 'Ariadna' (2MR)
Recommended by Austin Maloney:
Often, you don't get to give records the time and attention you'd really like to. In a high information-consumption age, we sometimes listen to a record just long enough to get a grip on it before moving onto something else, or play them as background noise to doing something else. Russian producer Kedr Livanskiy, aka Yana Kedrina, 's debut full-length Ariadna is a record that deserves to escape that treatment. Taking in multiple musical styles, from lush ambient music to adrenaline rush techno, Ariadna is a detail-rich record that needs your attention in full to appreciate.
There are headline moments here, from title track Ariadna, the album's 'poppiest' song, to the sudden blast of stabbing synths on ACDC, that will stand out when you first put it on. But over a full listen, Ariadna is a subtle album that burrows its way into the depths of your consciousness, and it's at its most compelling on songs like Sunrise Stop and Sad One, which you need to let sink into your brain. So take a long walk, drive or bus ride, put this album on and let it breathe around you. You won't be disappointed, because Ariadna is one of the best art-electronica albums of the year.
---
The Rumour Said Fire – 'Crush' (popup-records)
Recommended by Chris Hegholtz
It is the iconography of the artwork covering The Rumour Said Fire's third album that first strikes us as odd: Four vintage looking Photographs of youthful women are placed in the midst of the record sleeve. Overwritten with Crush in golden capital letters, the album's outer packaging unveils a pleasant ambiguity. Whereas the imagery appears like a blast from the past, its accompanying textual foundation seems quite urgent or current. In a way, this foreshadows the sound of the Danes' fine 2017 LP. The roots of the band's latest musical output might lie in the guitar infused indie pop of the 1980s, yet its production and lyrical themes turn out to be contemporary.
The beauty of Crush is its coherent sound. All tracks include catchy guitar play, a good sense of variation if it comes to the contribution of hand-picked synth elements and lyrics that cover the complexity of human relationships. Still, the melodies only shine in combination with Lidang's warm voice and polyphonic backing vocals that add some melancholia to the music. The lines 'Into the night/ Out of this world' (Out of the way) ultimately function as a fitting credo for the record's temper.  What makes Crush indeed a special album is its filmic nature as it succeeds to evoke a variety of pictures while at the same time soundtracking these. This all contributes to a greater complexity than one would expect after The Rumour Said Fire's first two records. So, her comes one advice: Go and make the album your 2017 crush. It's beautiful. It's worth it.

---
Vagabon – 'Infinite Words' (Marathon Artists)
Recommended by Norman Fleischer:
Back in the golden days of DIY independent music and before the major label exploitation the subgenre has always been the voice for the misfits and outsiders. Every now and then an artist like Lætitia Tamko comes along to remind us about the simple beauty this sort of sound can have. 'I feel so small, my feet can barely touch the floor' are the first words sung on the critically acclaimed debut album by Vagabon. The US singer-songwriter and multi-instrumentalist with African roots is indeed quite small but after seeing her live I must admit that there's a lot of power coming out of her.
The sound of Infinite Words combines raw DIY spirit with a confident amount of stubbornness but also allows to Tamko to sing her heart out in the more tender and delicate moments. Vulnerability and determination are tightly connected in the world of Vagabon and I'm pretty sure that this is the last time you might overlook her. We'll probably get to see a lot more from this wonderful lady in the not so distant future.

---
Linn Koch-Emmery – 'Boys' (Welfare Sounds)
Recommended by Austin Maloney:
Okay, this is an EP so this is technically cheating on the 'albums' part of this article, but whatever, who cares really. 2017 was a pretty good year for high-melody indie, from Alvvays to Strange Hellos, and Linn Koch-Emmery's debut EP Boys deserves to be a part of the conversation. For quick, smart indie-rock thrills, there wasn't an awful lot better than it this year. A four-song record, it was bookended by Bby Nevermind and Forever Sounds, two high-octane, simple'n'sweet rock songs that followed Koch-Emmery's basic songwriting formula to the letter: write some sharp melodies, soak them in fuzz and squall, and let rip. These are songs written with absolutely no fat or excess, nothing more complicated or longer than it needs to be, story told, chorus hit, and all in under three and a half minutes.
The two songs at the middle of the record show off a little stylistic range. Under The Sun is sludgy and sulky, cathartically exploding on the final chorus, and Little Feels displays a softer, more cracked side of Koch-Emmery. Basically, Boys is the kind of record that sounds pretty straightforward, but is actually a rare thing. There are an awful lot of bands with guitars out there, and the vast majority of them never get close to this. Every chorus is perfectly engineering, every guitar line hits its mark, every note is focused into where it needs to be. Boys is just a great indie-rock EP, and what more do you want than that?
---