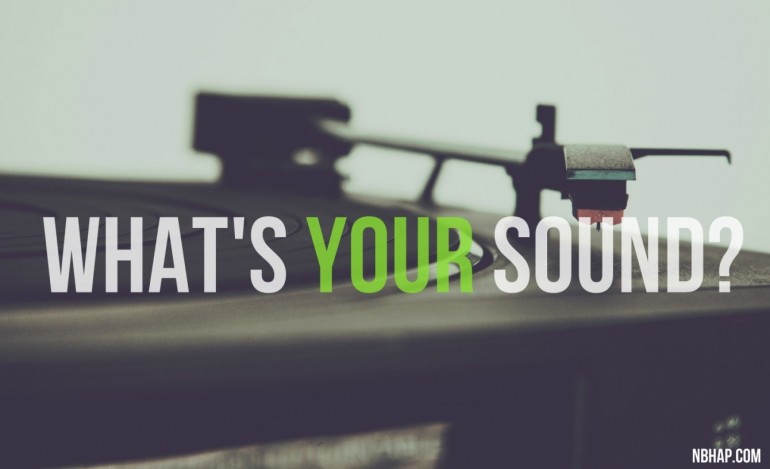 NOTHING BUT HOPE AND PASSION has always cared about new talent, quality music and giving those a platform who deserve the attention, but even our mail inboxes are stodged way too often. However, we've always tried to find new ways to write about fresh and exciting music. That's why we introduced the 'What's Your Sound?' series to the NBHAP microcosm a few months back. And now we made it even more efficient, thanks to the power of SubmitHub.
What's Your Sound? is the possibility to showcase your music, present it to our readership and a larger audience in general. Using what artists submit to us via our SubmitHub profile the NBHAP staff will pick five thematically related tracks and present them in a weekly installment. We don't just want to throw together a bunch of music without context; instead, each new installment will have its own umbrella theme, giving artists a possibility to tell us about how their music relates to the bigger picture, while encouraging you to dig deeper and discover similar bands as you read along.
---
---
Although we live in an age where technology has been permeating almost every aspect of daily and creative life, a lot of musicians still choose to work and perform just like most artists during the past 100 years — they pick up a guitar and start singing. And after hundreds of years of folk and traditional songwriting, musicians still find ways to express their innermost feelings. The songs we're presenting this time are not necessarily complex in nature — yet all artists have poured their heart into the words they sing and played their instruments with the same fondness they might have been treating their loved ones those tracks are about.
---
---
Gert Taberner – Fallen
Hailing from Germany, New-York-based GERT TABERNER aims to capture a concept of intimacy he sees missing from today's interpersonal relationships. Exploring themes of hope, yearning and disillusionment at once, the tracks on his debut EP venture into the territory of artists like DAMIEN RICE, KODALINE or HOZIER. Title track Fallen is almost aquatic, as if TABERNER's gently strummed guitar playing had been dunked into water before being put on record. The sparse drums and bass follow in the same vein, choosing to accentuate TABERNER's gentle, but emotive multi-part singing rather than overshadow it. Only towards the end does the tight track open up, with distorted electric guitars crowding out a sonically and emotionally bare song.
When writing music of any sort, it has always been of importance to me that what I write needs to be real. It needs to be honest and people should be able to connect with the sentiment that I'm trying to convey. I feel like in folk music its imperative to do that, because of how bare and minimalist the arrangements often are. BON IVER's 're:stacks' approaches this really well with its opening line, 'this, my excavation'. In my opinion it's an opportunity as well as an invitation to dig deeper within us in a way that allows us to process our thoughts and connect with our audience.
---
---
Anders – As Before
Blessed with an angelic tenor voice that ventures into higher registers, singer-songwriter ANDERS is skilled at making the instruments interplay around him. Taking remote inspiration from country at the beginning, As Before quickly branches off into another direction, picking up drum patters, subtle electric guitars, pizzicato melodies and string arrangements that add a sense of depth and groove to the previously introspective track. His voice hovers above the instrumentation, providing a display of his musical abilities as he sketches lengthy coloratures in an elegant tone. Just as subtly, the music video shows ANDERS in a sped-up single shot as the walls around him fill up with the lyrics to the track.
---
---
Plàsi – Now And Then
Characterized by stripped productions based on acoustic guitars, PLÀSI is now out with his debut EP Now & Then, with inspiration coming from related acts within the acoustic folk genre, such as DOTAN and KINGS OF CONVENIENCE. PLÀSI, originally Mikael Bitzarakis, was born on the island of Crete with a Greek father but mainly raised in Sweden with his mother where he moved by the age of four. He writes, produces and distributes his music himself, and has studied songwriting at Rytmus Music School in Stockholm. His stage name comes from the Ancient Greek word for creation (πλάση), which best describes his passion for songwriting and entrepreneurship.
To find inspiration in good times. In bad times or in situations with clear contrasts, songwriting inspiration comes naturally for me. However, in times when there's less to worry about I have to think about new ways to start writing.

---
---
Caity Krone – If You Only Knew
Nineteen year old singer/songwriter CAITY KRONE from Los Angeles grew up with a love for oldies — specifically classic rock, soul, and musical theatre. Currently the young lady is writing music that will become her debut EP or album to be released in early 2018. It seems like she's blanking on a lot of the important stuff, but CAITY just wrote a piece for Clover Letter about being a female in the music industry in Los Angeles.
As for writing acoustic music, I think the most difficult part for me is overcoming my insecurities with writing. Sometimes the lyric won't come out right, or the music won't convey the lyrics in the way that I want them to, and I'll get really hung up on that vision and stop writing for a couple days. That's the biggest obstacle for me.

---
---
Grandpa Grew Trees – Falls
GRANDPA GREW TREES is a Memphis based trio headed by singer songwriter Elijah Poston, backed by drummer Miguel Pilcher and bassist Griffin Rone. The band got their start in the fall of 2014 when Elijah and Miguel met at Loyola University New Orleans. The two went back to Memphis in the summer of 2015 and added Rone. In August of 2015, the band recorded most of what would become their first album Songs for a Recent Lover. Elijah and Miguel went back to school in New Orleans and gigged with bassist Seth Scott. Over the course of 2016 they finished the record and released it in December 2016.
I think that the biggest challenge to writing acoustic music is trying to keep it from all sounding the same. Having one brain and one instrument to make a song can be a challenge, and I always feel satisfied most when I'm in a room with people creating something. Its hard to really jam with just an acoustic guitar.

---
---
If you're interested in listening to more up-and-coming artists, be sure to check out NOTHING BUT HOPE AND PASSION's Daily Tune Playlist on Spotify, featuring all tracks we recently covered. And of course, share your music with us via SubmitHub.

For other more frequent news don't forget to follow NBHAP on Twitter and Facebook as well.
—