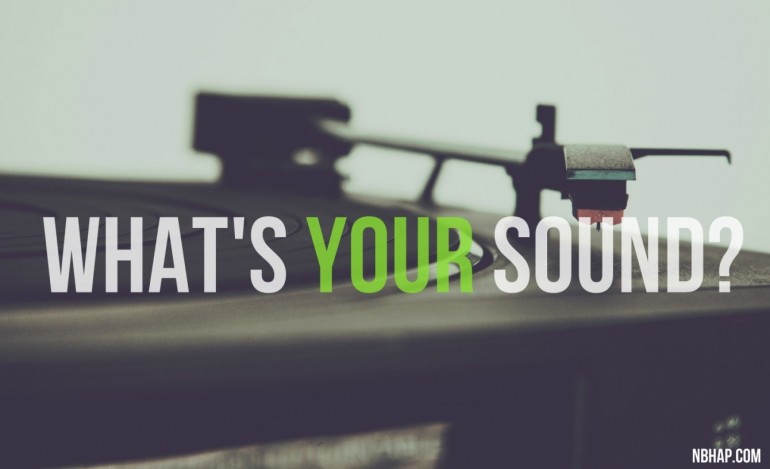 NOTHING BUT HOPE AND PASSION has always cared about new talent, quality music and giving those a platform who deserve the attention, but even our mail inboxes are stodged way too often. However, we've always tried to find new ways to write about fresh and exciting music. That's why we introduced the 'What's Your Sound?' series to the NBHAP microcosm a few months back. And now we made it even more efficient, thanks to the power of SubmitHub.
What's Your Sound? is the possibility to showcase your music, present it to our readership and a larger audience in general. Using what artists submit to us via our SubmitHub profile the NBHAP staff will pick five thematically related tracks and present them in a weekly installment. We don't just want to throw together a bunch of music without context; instead, each new installment will have its own umbrella theme, giving artists a possibility to tell us about how their music relates to the bigger picture, while encouraging you to dig deeper and discover similar bands as you read along.
---
---
At the beginning of the 21st century, a wave of pop-leaning bands like FRANZ FERDINAND or THE WOMBATS rolled over the music scene. What unified them was their aim to make people dance and carry more happiness and positive vibes into indie music, providing variety in the often melancholic genre. We recently already shared a massive playlist about these classics right here. To honour the work of those 00s indie pop bands, we selected five groovy pieces from different bands that will definitely make you move your body. We asked the artists about what they view as the most important element in an uptempo track.
---
---
Slowlights – A Dream I Had
Four piece rock band SLOWLIGHTS from London seems to have taken quite a bit of influence from bands such as RADIOHEAD, ARCADE FIRE or COLDPLAY. Having formed in March 2014, they're currently supporting singer-songwriter LEWIS WATSON on his UK tour. A Dream I Had, a track that channels THE KOOKS's punch as much as their sense for melodies, is a thoughtful indie piece; however, it comes with a subtle dancy quality.
---
---
Sad Palace – Breeze
Britains South coast foursome SAD PALACE have unveiled their second single Breeze. The band's latest offering is an ambitious, towering indie rock earworm full of layered pop hooks and vibrant guitar sounds that makes you want to dance instantly. Jangly riffs and trippy rhythms alternate with a more power pop sensibility.
The song is about knowing something is over before it begins. It leaves you in a strange place, I think we have a sixth sense about these things, in your heart of hearts you can feel when it's not going to happen, but part of you wants to keep going out of curiosity, and maybe sympathy.
---
---
Shanghai Blues – Sick
Hailing from East London, SHANGHAI BLUES are a four piece alternative/indie band formed by James (Vocals, Bass), James (Guitar), Reece (Guitar) and Micheal (Drums). Bursting onto the scene in mid-2016, SHANGHAI BLUES are already making a name for themselves through their raucous live shows to sold out crowds in London. Sick is the B-Side of their debut track Run which they released independently in November. It features uplifting indie beats reminding of famous indie pop bands like TWO DOOR CINEMA CLUB.
Whenever we're writing an uptempo track our goal is to make people move. For us that is the single most important factor. You want to evoke an emotion in the listener that can only be explained by dancing.

---
---
The Faded North – Worm
THE FADED NORTH are a Vienna-based heavy pop three-piece which immigrated from the North of England. The single Worm is taken from their recently released debut EP The Faded North and sounds like they have mixed the shoegazy rock elements of DIIV with FOALS's famous jangly guitars. Just as much haze is displayed in the reverberating vocal performance that still transports a lot of fever and urgency.  Their recipe for a driving song:

Speed without sacrificing soul. Mayhem without losing melody. And don't overthink it.
---
---
Bright Sparks – Wildfire
British newcomers BRIGHT SPARKS already have potential to raise eyebrows based on the fact that they are produced by Andy Smith (aka LXURY), the man who already helped shape YEARS & YEARS's unique sound. Musically the band sit somewhere between YEARS & YEARS and FEIST – it's unmistakably electronic, but with an organic pop undertone. They have collaborated with a few big dance producers this year including TIESTO & SAM FELDT, and will release their first EP properly in early 2017.
---
---
If you're interested in listening to more up-and-coming artists, be sure to check out NOTHING BUT HOPE AND PASSION's Daily Tune Playlist on Spotify, featuring all tracks we recently covered. And of course, share your music with us via SubmitHub.

For other more frequent news don't forget to follow NBHAP on Twitter and Facebook as well.
—