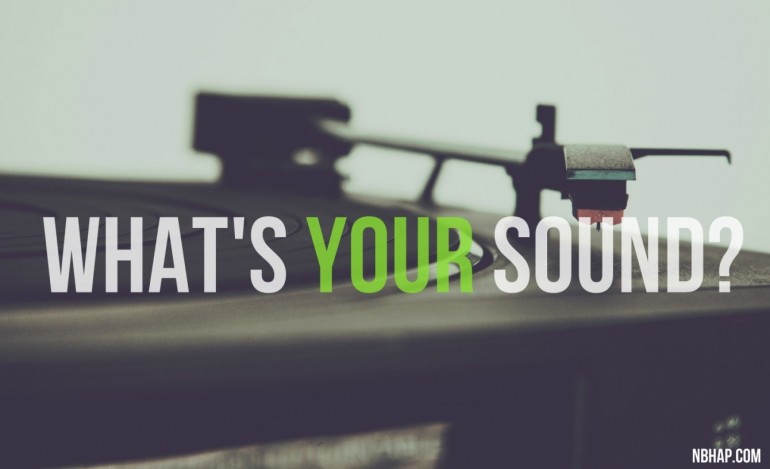 NOTHING BUT HOPE AND PASSION has always cared about new talent, quality music and giving those a platform who deserve the attention, but even our mail inboxes are stodged way too often. However, we've always tried to find new ways to write about fresh and exciting music. That's why we introduced the 'What's Your Sound?' series to the NBHAP microcosm a few months back. And now we made it even more efficient, thanks to the power of SubmitHub.
What's Your Sound? is the possibility to showcase your music, present it to our readership and a larger audience in general. Using what artists submit to us via our SubmitHub profile the NBHAP staff will pick five thematically related tracks and present them in a weekly installment. We don't just want to throw together a bunch of music without context; instead, each new installment will have its own umbrella theme, giving artists a possibility to tell us about how their music relates to the bigger picture, while encouraging you to dig deeper and discover similar bands as you read along.
---
---
Oh, dearest indie rock, you'll never fail to amaze us after all those years. We loved you in the 1980s with great bands like PIXIES, THEY MIGHT BE GIANTS or THE STONE ROSES, we embraced your furious character in the 1990s as well and obviously enjoyed the greatness of a new generation of groups like DEATH CAB FOR CUTIE and THE LIBERTINES in the 21st century. And although the hyoe of the old-fashioned sound of alternative and independent rock went from zero to hero and back it's great to still see a lot of new bands around which provide musical quality. And if you feel the same way this latest edition of 'What's Your Sound?' will fill your hearts with excitement.
---
---
Caravãna Sun – 'Whale Song'
CARAVANA SUN is a four piece indie band, hailing from Sydney, Australia. Last year, they released their debut record Guerilla Club, where our featured track Whale Song is taken from. Ant Beard, the bands bassist and vocalist wrote the song in the early hours of the morning on a 100-year-old piano belonging to his grandmother. An honest, real, and raw single that is about migration, change and movement for one to become fearlessly themselves emerged.
'Whale Song is the movement of becoming ones self. Coming to terms with how I feel has always been a challenge and this song is a call to be fearless in feeling and most of all, to be fearlessly myself. I was craving something real and honest, and I found it beneath the waves harnessed by the courage of the whale.' – Ant Beard (bassist/vocalist)

False Heads – 'Comfort Consumption'
East London trio FALSE HEADS were cemented when old school friends Luke Griffiths (vocals/guitar), Jake Elliott (bass) and Barney Nash (drums) came back together in mid 2015. Describing their sound as crack rock punk, their insanely catchy lo-fi riffs alongside Griffiths biting lyrics soon reached the ears of LIBERTINES' Gary Powell who didn't hesitate to sign them to his own label.
---
Automatic Fiction – 'Ten Knowledges'
AUTOMATIC FICTION is a 3 piece band formed in Bordeaux in 2015. Recorded during the fall in a vast baroque salon and mixed in caves, they released their first EP Spring Inclination in march 2016. The track Ten Knowledges reflects their alternative indie sound which reminds – combined with the vocals – strongly of beloved British heroes RADIOHEAD.
---
---
The Dead On – 'Lovesick'
Many bands are born from the ashes of previous bands but try to shake their collective past. THE DEAD ON embrace their previous musical lives and set out to shake the rafters instead. Formed from Chicago stalwart greats WOOLWORTHY and indie rock buzz band THE REPUTATION, THE DEAD ON embody modern rock n roll with big, dirty guitar hooks, snotty slash and burn riffs and ultra catchy melodies. Lovesick is their very first single which will be part of their debut EP which will be out this fall.

---
---
Adventures in the Underground – 'Quasimodo'
ADVENTURES IN THE UNDERGROUND is a new Los Angeles band from two former members of THE KENDRICKS. The new project is somewhere between COLD WAR KIDS, THE STROKES and THE BLACK KEYS with a lyrical richness more akin to FLEET FOXES or HOZIER.  Quasimodo is their debut single and comes punching out of the gate and is inspired by French history and our current political landscape. Another single will be released later this summer, with an EP release in the fall.
---
---
If you're interested in listening to more up-and-coming artists, be sure to check out NOTHING BUT HOPE AND PASSION's Daily Tune Playlist on Spotify, featuring all tracks we recently covered. And of course, share your music with us via SubmitHub.

For other more frequent news don't forget to follow NBHAP on Twitter and Facebook as well.
—