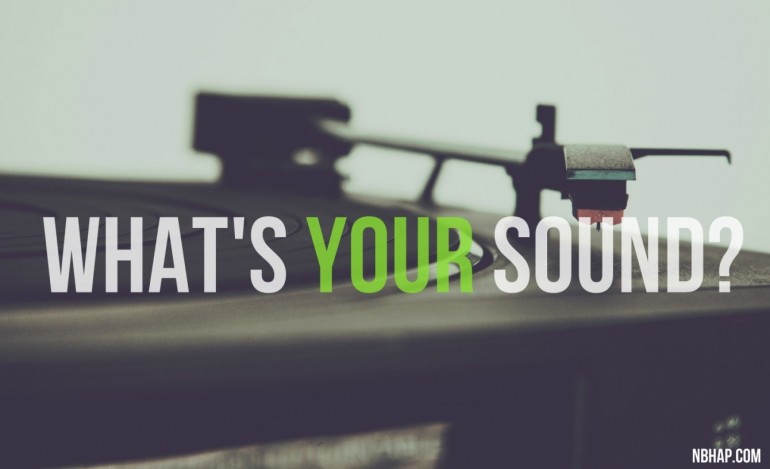 NOTHING BUT HOPE AND PASSION has always cared about new talent, quality music and giving those a platform who deserve the attention, but even our mail inboxes are stodged way too often. However, we've always tried to find new ways to write about fresh and exciting music. That's why we introduced the 'What's Your Sound?' series to the NBHAP microcosm a few months back. And now we made it even more efficient, thanks to the power of SubmitHub.
What's Your Sound? is the possibility to showcase your music, present it to our readership and a larger audience in general. Using what artists submit to us via our SubmitHub profile the NBHAP staff will pick five thematically related tracks and present them in a weekly installment. We don't just want to throw together a bunch of music without context; instead, each new installment will have its own umbrella theme, giving artists a possibility to tell us about how their music relates to the bigger picture, while encouraging you to dig deeper and discover similar bands as you read along.
---
---
It has been a recurring topic in the music scene over the past few years — the lack of equality between men and women. There are still more all-male bands booked for festivals, abuse cases like the one involving pop star KESHA pop up from time to time and most of the big players in music industry are still lead by men. So it is always a nice surprise when women manage to attract your attention in male-dominated genres like rock or indie rock although it obivously shouldn't. For that reason, this week we want to present five fresh female acts who prove that women in independent music are just as capable of making compelling art as men do, asking them about their experiences with gender-inequality in their genre.
---
---
Ninet – Subservient
NINET, alias Ninet Tayet, is already a big star in her home country of Israel. Having won the Isreali Idol over 10 years ago, she has already released four albums in Israel. Recently, she moved from Tel Aviv to Los Angeles to create her first US release — her fifth studio album. NINET's music is inspired by great indie rock singers like KAREN O or Alison Mosshart of THE KILLS, but of course she has developed her very own rock sound that includes oriental influences.
---
---
Darla And The Blonde – In Admiration Of The Female Spy
East London quintet DARLA AND THE BLONDE combine musical theatre with folk-grunge to create a gothic art-rock fusion. Influenced by NICK CAVE, PATTI SMITH and PJ HARVEY, chief songwriter Nina Lovelace (rhythm guitar and backing vocals) recruited Jen Demeris (lead vocals), Simon Fielding (lead guitar), Craig Page (bass) and Tom Loffman (drums) to complete the band in 2014. In Admiration of The Female Spy is taken from their debut EP Eugenia which you can stream on Spotify. As the band say, the song was inspired by wartime espionage.
---
---
Lauren Ruth Ward – Make Love To Myself
LAUREN RUTH WARD is a Los Angeles-based singer who grew up in Baltimore. Her music is a mixture of meaningful lyrics, a strong voice, rock guitars and a special fuck-off attitude. About her recent single Make Love To Myself the characterful songwriter says: ''Make Love' is a cathartic middle finger to those who lack social cues. I wrote it after encountering a stranger who made me feel uncomfortable. They were shamelessly hitting on me and trying to convince me that just because I was there, I was there for them.' And about the problem of sexism in the genre rock music she told us:
I don't feel the air of male dominance. I feel like a singer in a band. I'm one of the lucky ones who've had very few negative experiences. Unfortunately, I believe it's because I've only been pursuing music for about two years. With the encounters I've had, the sexism was transparent and ignorant. They're a product of their raising (as we all are). I feel sorry for them. We need to help those people, ask them "now, why would you say that?" Guide them to the correct behavior.

---
---
Leisure Tank – Red Roses
LEISURE TANK is a DIY indie rock power duo with a female singer/guitarist and a male drummer, currently based in London. Their sound can be described as raw and minimalistic analogue rock with unpredictable song structures and heavy, danceable grooves. Red Roses is taken from their debut album Wetsuit which has been released in October.
---
---
Tia Gostelow – Vague Utopia
Australian singer-songwriter TIA GOSTELOW matches her unique voice with rich instrumentals to create her distinctive style — contemporary folk intertwined with blues and indie rock. In Vague Utopia, she sings about experiencing the cusp of adulthood, her voice unfurling through a hazy, wanderlust vibe.
'It's that feeling of 'almost' — school's almost over, we're almost adults and almost in a world other than school. I make sense of life through songs. I really live and breathe music – it has to be sincere, from the heart.'
Currently, the talented singer is working on her debut EP:
'I tend to develop songs, even happy ones, with minor chords so they can still sound melancholy even if I'm not writing about heartbreak. But most of my work is usually very chilled, so it's perfect for a Sunday afternoon or a road trip, where you can feel comfortable and relaxed and just take the time to listen to the lyrics.'

---
---
If you're interested in listening to more up-and-coming artists, be sure to check out NOTHING BUT HOPE AND PASSION's Daily Tune Playlist on Spotify below, featuring all tracks we recently covered. And of course, share your music with us via SubmitHub.

For other more frequent news don't forget to follow NBHAP on Twitter and Facebook as well.
—
Featured Image by Ben Raynal (CC BY-NC 2.0)