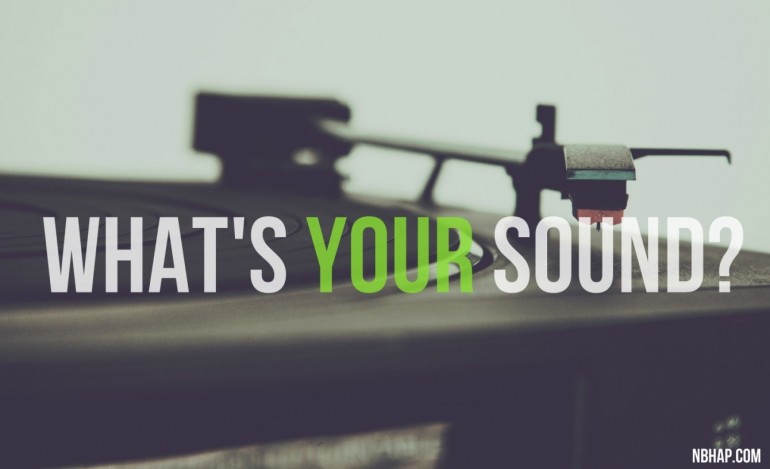 NOTHING BUT HOPE AND PASSION has always cared about new talent, quality music and giving those a platform who deserve the attention, but even our mail inboxes are stodged way too often. However, we've always tried to find new ways to write about fresh and exciting music. That's why we introduced the 'What's Your Sound?' series to the NBHAP microcosm a few months back. And now we made it even more efficient, thanks to the power of SubmitHub.
What's Your Sound? is the possibility to showcase your music, present it to our readership and a larger audience in general. Using what artists submit to us via our SubmitHub profile the NBHAP staff will pick five thematically related tracks and present them in a weekly installment. We don't just want to throw together a bunch of music without context; instead, each new installment will have its own umbrella theme, giving artists a possibility to tell us about how their music relates to the bigger picture, while encouraging you to dig deeper and discover similar bands as you read along.
---
---
Producing electronic music has never been as easy as today. The commercial success of cheap computers with increasing processing power and the wide distribution of digital audio editing software like FL Studio, Ableton Live, ProTools or Logic have given birth to a whole new generation of artists who create music at home, in bedrooms, on their laptops. Of course, cheap access to production technology does not guarantee creativity and innovation. Too many of those often very young musicians concentrate on imitating and recreating what's already out there. But some of them don't have to fear a comparison with well-established figures of the genre like FLUME, CARIBOU or JAMIE XX – they venture into new, exciting territory. We asked five of these young electronic producers how they stay fresh and innovative in this crowded environment.
---
---
Catching Flies – 'Komorebi'
When he's not collecting glowworms and growing rare fruits, CATCHING FLIES finds the time to make music — a bass-heavy yet melodic mesh of broody electronics and intricate rhythms, containing shades of everything from hip-hop to house, from soul to jazz. Strongly reminiscent of BONOBO's sound, CATCHING FLIES has already been the famous producer's tour support. The well produced track Komorebi is inspired by the Japanese word which describes the moment when sunlight filters through the trees and creates an interplay between the light and the leaves.
---
---
Little Glass Men – 'Cycles'
LITTLE GLASS MEN is Ryan Claus, a 26 year-old composer who creates a side project focused on the power of instrumental music and its heart-felt effect on people. From harmonically rich soundscapes to encapsulating rhythms, the music is crafted to inspire visions and spark voyages. Cylces is taken from his recent Until It's Gone EP and shows LITTLE GLASS MEN's skills to compose absorbing and relaxing electronic sound worlds.
I think the best way for an artist to distinguish themselves from the rest of the pack is to keep pushing their process. I think your sound is a direct result of the tools you use and how you use them. You can watch all the tutorials in the world on how to get somebodys sound, and I think that's a great starting point, but at some point you have to go down your own rabbit hole just like that artist has done. It's difficult because theres no telling if it's right or wrong, if it has taste or not, only whether you like it or not. And I think that's the point where alot of people drop out. Most tracks being uploaded are sticking to what's tried and true, so as long as you have no clue what you're doing I think you're on the right track
---
---
Lex Low – 'Drifting'
LEX LOW is a 23 year-old artist and producer, currently based in Los Angeles. Having made the move from London, he travels between the two cities – citing both as influences on his sound and songwriting. As Lex notes:
'Drifting is a step towards the style of production I want to experiment with in the new year. About a month ago I found myself in a new coffee shop with a few hours to spare and produced the instrumental – the lack of guitar was due to circumstance rather than choice. I quite liked the feel of the track and decided to leave it as it was that day. It's about trying to reconnect with something that's slipping away. There's elements of that applying to a relationship but also to myself; feeling like I'm slipping away from being the best version of myself since I've been out here in Los Angeles.'



---
---
Inchange – 'Cure'
INCHANGE is the project of Michael Soldatkin, a 29 years old producer from Russia who started in 2013 by making music in his own home studio. As an autodidact he learned musical theory and playing guitar by himself. Most of all INCHANGE is making atmospheric electronic, but also instrumental hip-hop beats. His fresh track Cure is a relaxing track that mixes guitar chords with electronic elements.

I think most important thing is try to express yourself, bring your emotions to music, do it honestly.
The way your music sounds is the key also, you must try to be fresh and unique, and pay attention to classics at the same time. Do what feels good to you.
Put love and passion to your music.

---
---
Shunya – 'Wonder N Wane'
Multi-instrumentalist and producer Alan Keary has a strong musical heritage, writing and producing music from the age of fourteen. Now based in Manchester and performing under the alias SHUNYA, his sound is an amalgamation of influences, ranging from his early musical background of classical violin to the sounds of Manchester's electronic music scene which compliment his highly accomplished abilities as a jazz bassist, with influences referencing artists such as FLYING LOTUS, BJÖRK and ERIC WHITACRE.
For laptop and bedroom producers, I think a good way to express individuality is to integrate your personality into the machine as much as possible. This could mean being silly, passionate or angry (politically or whatever). You can hear it everywhere in Aphex Twin's music. You get a feel for what he's like as a person even though his creative output is in forms of zeros and ones!

---
---
If you're interested in listening to more up-and-coming artists, be sure to check out NOTHING BUT HOPE AND PASSION's Daily Tune Playlist on Spotify, featuring all tracks we recently covered. And of course, share your music with us via SubmitHub.

For other more frequent news don't forget to follow NBHAP on Twitter and Facebook as well.
—