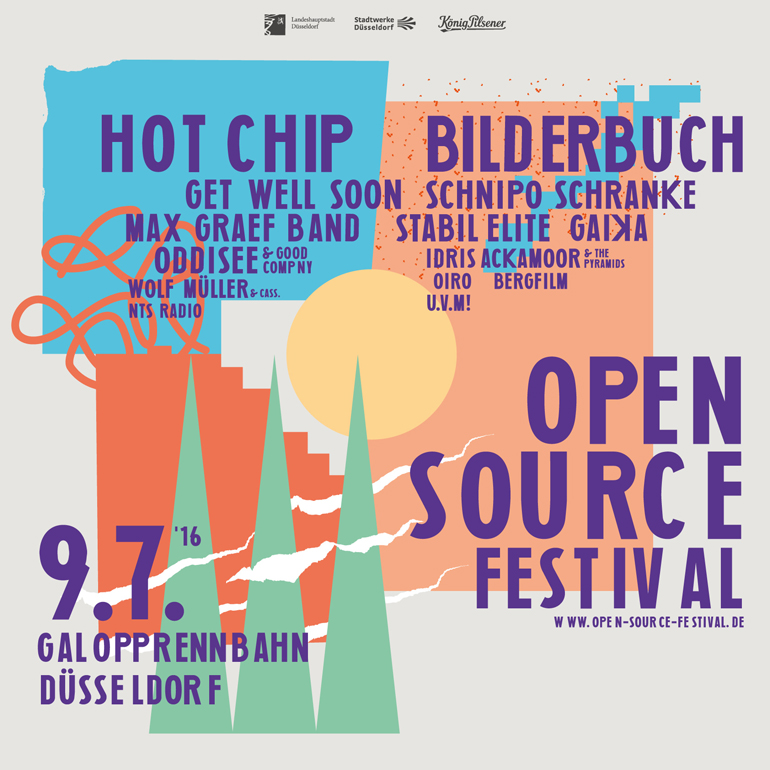 Düsseldorf's very own OPEN SOURCE FESTIVAL stays true to its original concept. Just like in recent years, the charming one-day festival takes place at Galopprennbahn Grafenberg and therefore is located close to the heart of the city and next to the forest of Grafenberg. Right at this idyllic place, international, German and local acts will perform throughout the day of July 9.
The Place
Attending the OPEN SOURCE FESTIVAL does not require much preparation. You can either go by car or use the public transport to get to the festival area and back to the city. OPEN SOURCE hosts three different stages including a Young Talent Stage in support of local acts. The whole festival area is relatively small and neatly arranged. It won't take you longer than up to five minutes to walk from one stage to another. A widespread and comfortable meadow as well as a large terrace directly in front of the Main Stage make it possible to either stand or sit while enjoying the diverse line-up. It is especially the size of the area and the terrace which make the festival family-friendly, too.
The Program
Another strength of the OPEN SOURCE FESTIVAL is its diverse and equally strong line up. The Main Stage will see performances of German wunderkind KONSTANTIN GROPPER (GET WELL SOON) and eloquent indie pop duo SCHNIPO SCHRANKE. Also, Austrian breakthrough band BILDERBUCH will present their arty mixture of genres live on stage. Last but not least, the headlining nerd collective HOT CHIP will invite you to dance to their catchy electronic indie tunes. Furthermore, Düsseldorf's very own STABIL ELITE is going to headline the Carhartt VIP stage. Surely, they will play some tracks off their recently released album Spumante. If you're more into smaller acts, the Young Talent Stage offers you the chance to discover new and gifted band bands from around town.
Best news probably is that nbhap offers you the chance to attend the lovely event as we are giving away free tickets for the OPEN SOURCE FESTIVAL 2016, taking place at Galopprennbahn Düsseldorf on July 9. In order to win free tickets, write an email to win@nbhap.com. Please make sure your mail includes the subject 'Open Source Festival' and your full name. Good luck, everyone!

—
OPEN SOURCE FESTIVAL