I was in Oslo this weekend at by:Larm, probably Scandinavia's biggest showcase festival, and therefore saw an awful lot of great new music. From the show side of things I can tell you that Farao (who seems to have a great new album in the works), Sorry, Konni Kass, Selmer, Sløtface and many more were great to experience live, and in general the festival was a rush to pack in as much stuff as possible. But I also took the time to meet some of the festival's best up-and-coming artists and grab them for a couple of interviews. You can check them out below.
---
---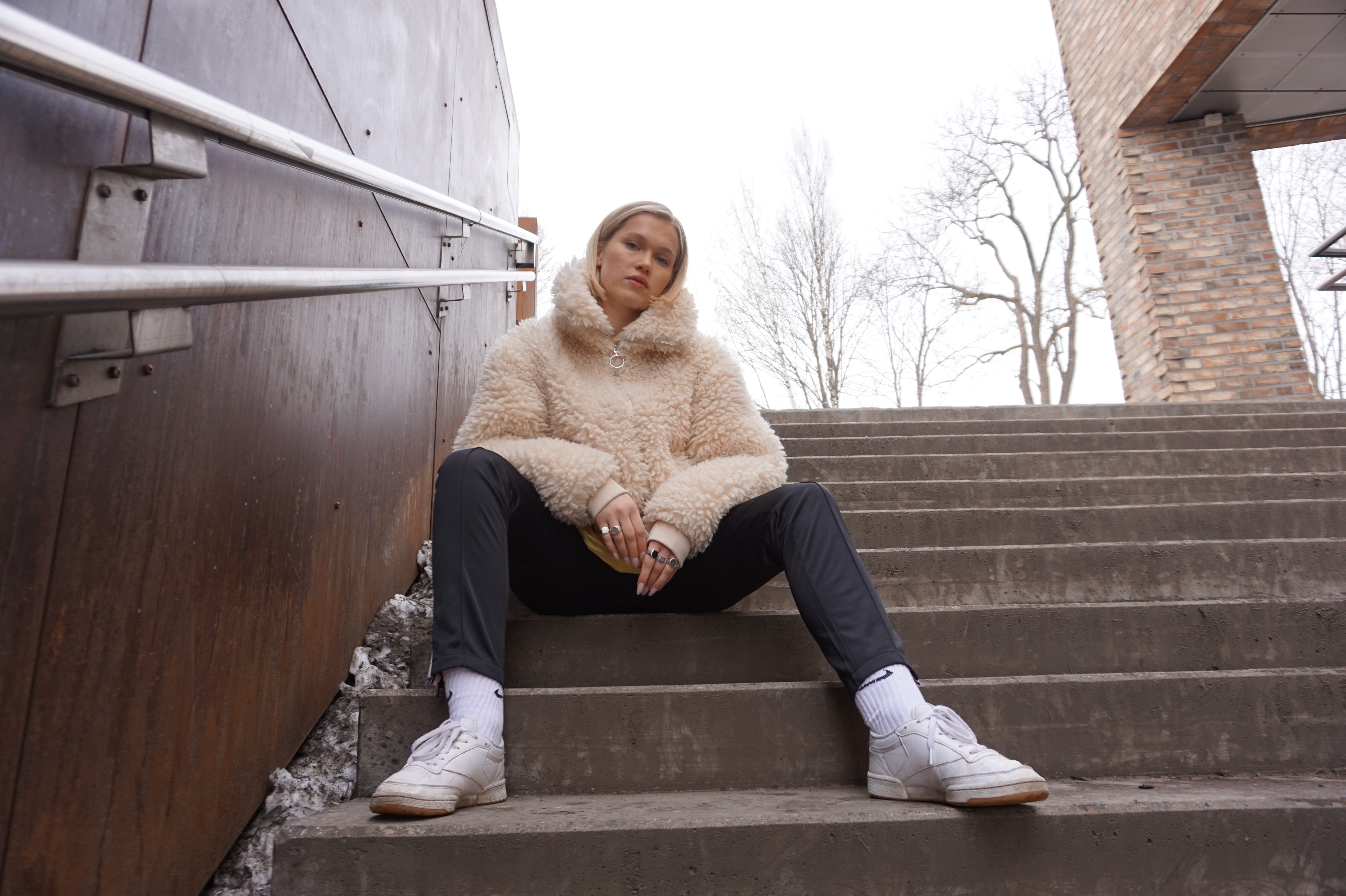 So how is your by:Larm going? Are you looking forward to playing on Saturday?
Yes, I'm very very excited. Also a bit nervous, but mostly very excited. I'm playing like a small stage down in the basement (Revolver). Hopefully manage to fill up the place, but mostly I'm excited. It's my first show for six months, so I'm kind of nervous. I'm playing new songs, so that's fun.
You first came on our radar with Closer, can you tell us a bit about that track?
It was crazy. It was around November 2016, and I was going on YouTube to learn to produce on Logic. I was just playing around, and it kind of came together. Then I put it aside for a while, and then I started showing it to some people, and getting some good feedback. I used to be very shy with my music, because it's so personal for me. I kind of kept things to myself, because that way no-one could ruin it for me. But I got good feedback, so I went back in and finished it. I got my boyfriend to add a guitar solo, which was just kind of a random thing, it seemed cool to have a guitar solo. Kind of ironic.
I like the guitar solo, it kind of works just because you don't expect it to appear in the song.
Yeah, because it wasn't supposed to be in the song. It was at the end of the process, and I thought this production would work well with a guitar solo. So he added a guitar solo at the end, and I thought 'wait, what if we just put it in the song?'. But it was funny because we didn't know if it was cool, or if it was weird. Then I uploaded it to this Norwegian website for unsigned artists, and didn't think anyone would hear it, and I started to get lots of emails, and people wanted to play it on the radio, it all started to happen. I wasn't ready for it at all. I've always dreamed of getting to be an artist and being able to release music, but I never thought I would have the courage to do it.
Is it strange when that rush happens, because Closer has what, 7,000,000 Spotify plays now? Is it weird when that accelerator pedal moment happens?
The numbers are so important to me. What's cool for me is when people come up to me and say 'I like your song' or 'I like what you're doing', or send me DMs on Instagram or Facebook saying they like my music. That's when I notice, because the streaming numbers are just numbers. But it's crazy, two weeks ago I was in Istanbul in Turkey, I did this event thing, I people knew who I was and had listened to my music. It's crazy that people all over the world have listened to my music. When I started doing studio sessions I was so nervous, my legs were shaking, but now I'm starting to get comfortable in the studio sessions, more comfortable playing shows, though I still get nervous.
Make You Mine was done in a session right?
It was. I did it in LA with a songwriter called Tayla Parx. I just had a sketch on my laptop and we wrote it, just the two of us, it was super simple. Then I took it back to Norway and finished it. That was different [to the way Closer was written], but also super chill. But it is different now, because when  write songs, even if I don't want to I think 'is this person going to like it?'. Sometimes I wish I could go back to that mindset, of when I wrote Closer, cos I was just doing it, I didn't think.
I've noticed about the two singles, they're kind of low-key and subtle, there's a lot of space and air in the production and songwriting style. So what is it attracts you about that songwriting style?
It's funny because I listen to a lot of different music, like a lot. I'm very aware of what I like and don't like with production and songwriting and everything, but it's hard to explain why. I just really like or don't like a sound. That's what got me into production as well, I can listen to a song just if it has a sound I like, and then maybe I'll go onto YouTube and figure out how that sound is made. I've always been interesting in production in songs.
Two singles came out last year, is there a lot planned for this year?
I've been in Stockholm a lot writing. After Make You Mine I was kind of stressed out, because I just wanted to release more music, because I felt like people were expecting more. I almost released a song before Christmas, just because I thought 'I have to release a song now'. But then I realised that no-one thinks about me and what I'm doing more than me. So I decided to take my time, I'm in a good vibe with the music I'm making now, I've found producers and songwriters I love working with. So I'm taking my time, but I really want to do like a bigger project, like an EP or something. There's definitely something more coming before this summer.
Back to the festival, what other artists are you excited about seeing?
I really wanted to see Billy Eilish last night, but I didn't have time. Tomorrow I'm going to see my friend Fanny Andersen, who's playing at Kulturkirken Jakob. And Fay Wildhagen, she's a super dope guitarist. And this Norwegian rapper, Emir, who I won't be able to see because he's playing the same time as me, but is super great.
---
---
So have you had a good festival so far?
Salka Valsdóttir: We haven't seen anything, because we just arrived yesterday. But the show we did yesterday was super fun, at Rockefeller. We've been re-doing a lot of the choreographing, so it was the first time we did the new show, that we've been rehearsing, and it went so much better than we thought it would, we thought we might just forget every single cue in every song. It went really well, I was really happy.
How many of you are here for this?
Salka: Nine performers. We're thirteen in the collective, but we're always nine on tour now. It used to be that bookers were trying to book us, and they would ask 'how many people will it be?' And were would go 'ah, it varies a lot', which doesn't cut it. So at some point we had to make a decision and say, 'this is the band, you have to pay for this many people' and so on. So now we have a rule of always touring with nine people, even if more people are available. We rotate.
You're playing more and more international festivals. Are you surprised by the response you're getting, especially from audiences who can't understand your lyrics?
Salka: I was first when it started happening, maybe two or three years ago. But today I get it a little bit, it's something we have onstage, the energy translates really well and directly. The things people say to us after shows abroad are very similar to the things people say after shows in Iceland, even though there's a language barrier. So it seems like the most important thing about the band is not necessarily, the insight of the lyrics, rather it's how we perform them and how we perform as a group and look and feel onstage. When we write lyrics, they are thought out in a way that's fun to perform, and for the whole group to perform with the person who's rapping.
Because rap is about rhythm and tempo too?
Salka: Yeah, I think it's less about the lyrics and more about the flow of it and the energy of it. I think that's something that happening later on in the band. It went from being more political in words than we were in practise, to now when we do more and say less I think.
Þura Stína: Also Scandinavia hip-hop is very hot right now, and we're all rapping in our native languages. I think that's interesting. But I agree about the energy. It's verbally energetic.
On your recorded output, individual members will do tracks in twos and threes, different people on each track. Does that make the live show an important part of realised Reykjavíkurdætur as a collective experience?
Salka: Yeah. Reykjavíkurdætur is an umbrella really. It's about rotating the focus and how we use ourselves to impress onstage. It's a very important thing for us to do as a band, to play a lot of live shows. I think you can't really know what Reykjavíkurdætur is until you see it live, you can't get the same thing from a YouTube video. It's a completely different thing live.
Þura stína: We think a lot about our live show. Also the energy doesn't shine though from a YouTube video in the same way. We have some group songs.
Salka: Instead of doing songs where everyone has a verse, we're trying to do more songs that maybe four people write and perform on in the studio, and then live we can perform it differently, divide the verse into more parts or something. So you don't have to listen to fourteen different verses. I think it's a better quality of songwriting, because there's more focus, and then you can divide it live so you can make it more explosive in the live show.
Thura: And because we rotate the members, often you're not even taking your own verse, and you have to cover someone else who's not there.
Salka: We all have to learn everything, every verse, because there's so much rotation in the group.
So there's continual output from you guys, but will there be another full-length in the future?
Salka: We're working on another full-length now, which will hopefully be out by the end of summer, August-ish. It's not done yet, but it's come pretty far, I think we've done six or seven new singles.
Thura: Maybe it will be an EP, maybe a full-length, but we will be dropping something this summer. Definitely a new release this year.
Salka: We're super excited about it, 'cos our first album's songs we so old, some were from 2013 when the band just started. I think the material we're making now is so much better. I'm so excited to have an album that's been written in the past year.
I wanted to ask about your song subject matter. So you said in an interview you were tired of writing political songs, and you were getting 'boxed in' as that kind of band?
Salka: I think some of us felt that. We are a lot of people, with a lot of different and strong opinions! But I think the maturity of the songs we're releasing now, means they're not stuck to one specific topic. And I think we felt obligated to do that in the beginning, for many reasons. One reason was that we were kind of made very responsible for basically feminism in Iceland. And when we had started doing this we didn't think of it as a feminist thing. We were just some girls in Iceland who wanted to do this, and it was a fun thing to do, we didn't think about it. Then it just exploded in Iceland, and it started to be about 'how are they representing feminism?', and it was a huge responsibility. So we thought we had to do things very properly. I think a lot of girls feel that if they're going to take space and open their mouths, they have to choose your words wisely, and talk about something that matters. [They feel] You can't just be onstage and talking about things that don't matter and have fun with it. And that was a realisation that we had quite late, 2016 or something, it was the first time we started getting rid of idea that we had to do something that mattered to anybody else. We could just do songs about having sex, or partying, or being blackout drunk or whatever, and that's more of a statement, more of a feminist statement than talking about how hard it is to be a woman or something.
Because it shows that female writers have other things to write about other than just feminism?
Salka: Yeah! Because you can just be yourself and talk about your reality without it having to be about what your reality as a woman is. It doesn't always have to be about that perspective, it can just be 'I'm a person that has a drinking problem', or whatever. I think that was a huge step for our band. There are members who want to make songs that are specific about feminism, and that's perfectly fine, you can do that. But I think most of the songs are just about fun, and undramatic. And I think that's the best thing about this band, we're a stage of women having fun together, and that's all we're doing. And it's so rare to see this many women not taking themselves seriously, and just playing together and loving each other, and there's no competition between each other.
Maybe outside Iceland, people couldn't process it as a group of female rappers, it had to be more…'these people are now the official spokespeople for Icelandic feminism'?
Þura stína: We felt that very much. Every interview was just about feminism, or how it was to be a woman in the hip-hop scene. And that has a part to do with what our lyrics were about. But I feel it's changing a lot.
Salka: I hope so, it's so tiring to be musician never being asked about music ever. There's only so much you can talk about being a woman. That's such a negative message, that the greatest thing you ever did was being born with a cunt. That's the only thing people seem to want to talk about. 'Ok, so well it seems nothing I do matters, because I have a cunt'. I'm happy that that [attitude towards the band] is changing.
---
---
How has the festival been so far?
Even Kjelby: It's been good. We haven't seen as much as we should, because we live in different cities at the moment, so we spent the time rehearsing. Hanging out with the boys.
How did the show go yesterday?
Ole Kristian Einarsen: It was good, we had some problems with sound, we didn't have sound in the monitors or the PA system until the third song. It was nice to deliver a good concert, when you have circumstances like that, so we are proud. It was at BLÅ, a nice venue.
How has the reception been for your live shows? Because Wonderfault is such an exuberant album, exciting record, it must be fun to play live?
Even: It's really fun to play live. In the beginning I was a bit worried about it, because we made the songs in the studio without playing them live. So I wondered if we could make it as good as on record, live, but it's turned out really good.
Ole: We're using some samplers, so we have these layers, so it's always a of a task to figure out how to do it. I trip with my foot the sampler pads in real time, and Even also has his samples. On You're Mine, he plays guitar, sampler and synth together, and sings. It's insane.
On the record, you don't hear it immediately, but when you dig in you hear the detail in that production.
Even: Yeah, we spent a long time doing it. It's been really good to have our own schedule, because we can play with it and use it as an instrument.
Ole: What's interesting is that we ended up having talks, whenever we got stuck. Like 'how's your life?', and we started talking deeply. All these conversations are in the album, it's kind of weird. I didn't know making an album could be so near to you.
When you are recording, do you go into the studio with a really clear vision of what the song will be or do you just go in and see what happens when you're all in the studio?
Even: It's a good mix of that. For one of the songs we went to Kim's studio, agreed on a drumbeat, then I took it to my studio and Ole and I just jammed on it, no planning there. And that was Never Get My Love.
Kim Åge Furuhaug: Then on Make Me Feel, drums are the last part we did. It's all the different ways of making a song, that's what the album is. For the next album, thought it's a bit early to start talking about it…
Even: We're going to do things a bit differently, on the next album. It worked well on the first album, but we want to challenge ourselves again.
Ole: It's nice to have a different feel on a second album.
How do you feel the reception to the record has been? It came out two weeks ago.
Ole: Lots of messages and stuff, really cool. People really like it I think. When we played the show last night there were guys that were singing along, in full voice.
Even: That is the best.
How does the rest of the year look, you're playing more international shows right?
Ole: We're going to Great Escape, we're going to Spain, Holland.
Kim: I guess we're going to Germany, some things are announced and some will be.
Ole: We have Koda Agency on board, which takes us out in 'the Europe'. Norway is kind of small, smaller country, and there's less room for rock here. The popular music is just hip-hop, it's sometimes just hip-hop you see, and these amazing singers like Sigrid, Aurora, Halie.
Even: Old guys with guitars aren't as hot in Norway!
Ole: So it's nice for us to play in Holland, England and Germany, for people that are a bit more into that music.
What else are you tipping from the festival? What stuff would you like to see?
Ole: Softcore Untd. is really good, they have a weird mix of hip-hop and jazz. It's really good.  I'm looking forward to seeing Superorganism tonight.
Even: Familjen, really good producer.
Kim: Our friends from Ungdomskulen, gonna go see them, they're a great band.
Ole: The line-up for by:Larm is really good I think, they're really good at picking good bands.
---
---
So how has your festival been so far? You just got here today right?
Yeah, and I have to go back to Moscow tomorrow. I want to see Xosar tonight, and I went to see Terekke. For me they were really good, I like that kind of music.
It seems like you're playing more and more internationally at the moment, you just did London, you're going to be playing Primavera, you're playing here. How does it feel to play music to international audiences more?
I feel like I don't understand why it's happening! It's really strange for me, that people from other parts of the world are interested in my music, for me it's a real mystery. But sometimes I even prefer playing in other parts of the world, outside Russia. It feels weird, it feels like everyone is really close to each other, they speak another language [to the music], but I feel like I have a good connection to those foreign crowds. I sing in Russian, but when you understand the thing language isn't important.
You can understand the music even without speaking Russian?
Yeah, and in these moments [of connection] I feel so cool about humanity, I believe in people in these moments.
We talked about Ariadna before. So what's the next project?
When I release something I don't do anything for like two or three months, I'm almost depressed about it, but I can't do it. You need time to think about what you want to say and have to say, time to fool yourself almost, because I can't do something if I'm empty inside. You can do it almost like lying, you can just make it to formula, but it's nothing, it's just work. For me that doesn't work. And when I can't do anything, it makes me sad.
[But now] I'm already working on another record. In the past my work, my material, was all really reflective [of herself]. But now I've gotten a bit tired of that, so now I'm just writing music without too much thinking about what it means for myself or for my feelings. I make the music, and I feel so fucking cool when I do it, and I don't have to reflect on it. I make more material [when she works this way], maybe because it's a lighter process this way, but it's more interesting for me. A new way for making music.
You're not trying to tell a story about yourself though the music?
Yes, it's more a story about the music, about music construction. I feel that it all the tracks will be very much a part of each other, maybe with little samples within the tracks, with micro-tracks. I want to do some structuring work. For now this is interesting for me, and I want to make it quickly because I have a lot of stuff. So maybe autumn, but who knows.
When you start a project, in the sense that January Sun was one project, Ariadna was another project, and this new music you're working on now is another project. When you start work on a new set of tracks, do you know what you want them to sound like before you start, or do the ideas change as you're writing music?
I think the second one. The music I listen to changes in different periods, and this transformation I think and I hope you will hear in what I do now. They sound more 'rude', I think, different. It's hard to explain in English, because the words [to describe it] are special.
Maybe aggressive?
Maybe aggressive, but not like techno aggressive, not that. It's more the sounds are not so soft.
Ariadna was quite soft at times.
Yeah, but now I am tired of soft, It's really like metal, in sound, that *makes crashing sound*, noisy but not lo-fi noisy. More clear, less lo-fi. Not with 'cool' production, you know like super-mastering, I mean more this metal sound. Though maybe I'm saying this now to you, blah blah, and in final we will have something different. I don't know, I just do what I do. I can't yet say because I'm not finished, I don't know how I will think in two or three more months.
---
---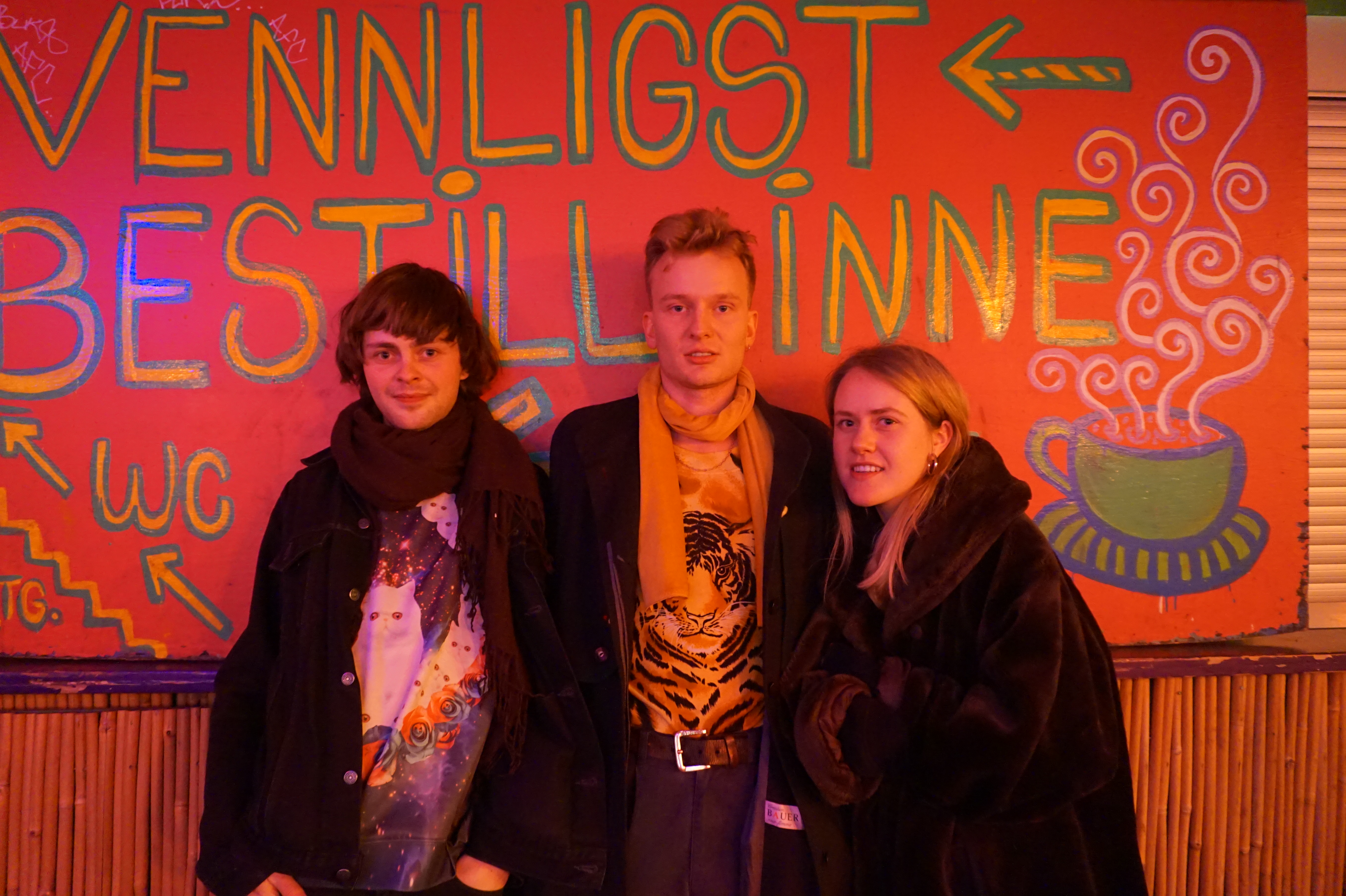 So we wrote about your single Are U Ok a few weeks ago, and you mentioned in the press material that you were all between different cities when you formed the band. So how did you become Heartbreak Satellite?
Ragnhild Jamtveit: I think we [points to Tobias] made the band quite a long time ago, maybe four years ago. Then it was a guitar, singer-songwriting stuff. Then Håkon got involved, and we were a really quiet singer-songwriter band for two years or something. Then we just got tired of that.
Tobias Pfeil: It used to be acoustic guitar, and sensitive vocals and viola. That was the set-up. I think our sound changed the moment we started recording the album. We hadn't planned to have an electronic sound, then suddenly we were recording in the studio and there was all this equipment there and it became what it is.
The album was recorded in Copenhagen right?
Tobias: Right. I had a super shitty recording space so we recorded there, and lived in my little room.
So you just all turned up there and did the album.
Ragnhild: Yeah, in six days.
Tobias: We didn't have any plan for what to do.
Håkon Brunborg: We actually wrote all those songs, in that week of recording.
So you wrote and recorded inside a week, you said two songs a day was the stated goal, so was there any particular reason to that? Was it practical, you only had that week together, or was there some artistic reason behind it?
Tobias: It was mainly practical. We all lived different places. We wanted to release an album, because we had worked together so long we wanted to make something real, but it [the short time] was mainly practical.
Håkon: I think right before we started recording, we had all these old songs, and we kind of just scrapped all of them and said, 'yeah, we'll write new songs'.
Tobias: In December 2016.
At what point did you bring it together again as an active band, because you've all been doing different stuff since then?
Ragnhild: I think it was when Diamond Club [the singles label that released Are U Ok?]was interesting in releasing it. We then realised we had to be a real band and play concerts and things, do this properly.
Tobias: We had played maybe two gigs a year before that, but it was very chill, we mainly just did it for fun. Now it's getting a bit more serious I guess.
Ragnhild: Still fun though.
You've just signed a label deal [with Brilliance]. So what's the plan for the album?
Tobias: We're just mastering it right now. We're releasing a few more singles, and then we'll release the album this fall, and hopefully play some festivals. Tour a bit.
---
---
Thanks to all the bands interviewed and all the staff at by:Larm for making this article possible. 
All photos by Austin Maloney