For a duo at the intersection of electronic and pop music, Cologne-based COMA have taken quite an unusual trajectory. Following a series of small singles and EPs on the small insider label FIRM, Marius Bubat and Georg Conrad had found a home on renowned techno label Kompakt, which released both their debut album In Technicolor and its stellar follow-up This Side Of Paradise. They've always seemed like the odd one out among label's roster – with their inclination to perform their compositions live as a three-piece with a selection of analogue and electronic instruments, they were always more aptly placed among the likes of acts like Caribou, VIMES or Roosevelt, the latter of which they've already shared both stage and studio.
But with their new album Voyage Voyage, due to be released on November 22 via City Slang, they've created a melancholic record that casts the duo's electronic background in a more organic light, placing analogue elements like guitars, bass, drums and the human voice in a more prominent position than ever before. I meet the duo in their cozy basement studio in Cologne-Braunsfeld on a late afternoon in September. As we sit down to talk, we are surrounded by COMA's studio setup as well as a plethora of vintage and rather exotic synthesizers, with some of the band's early vinyl releases hanging on the studio walls above them. From time to time, we get up to inspect some of those instruments and play a few notes.
When I listened to the album, I noticed that your sound had become much more organic and band-like. Do you feel like COMA has morphed from being a producer duo into a band?
Marius Bubat: The big difference to a band in terms of the album making process is that we have a studio and not a rehearsal space. A band usually develops songs by rehearsing and playing them a lot before taking them to a studio. The actual production process isn't that much different though because we still apply ideas in layers and strip them off again later. Mixing and producing sometimes blend a bit into each other, as with most producers – you tend to work on the sound design of the instruments as you go along.
Georg Conrad: Compared to the older productions, it's indeed a bit more organic and analogue. I'd say that about 80 percent of the compositions are made up of analogue instruments. But when we develop ideas in the studio, we don't really think about whether it is playable as a band. That comes afterwards.
Has your creative process changed dramatically, though?
Georg: In terms of generating ideas, it hasn't really changed – we go to the studio together and both of us start playing around with whatever we fancy at the moment. We save all of that in Ableton Live's Session View and then trawl through the ideas looking for some usable stuff. Over time some projects emerge that we continue working on.
Many of the songs on the album have an introverted, melancholic vibe to them. Are there specific instruments that you keep gravitating towards when you want to create a certain feeling?
Georg: The Juno sometimes has a rather mournful tone colour to it.
Marius: I guess it's more about what we play on it. I can imagine that other people use it in a totally different way. But you can create a cooler, less cheesy version of a Fender Rhodes-esque sound with it.
Employing an iconic synthesizer that's often been used before might carry a certain musical legacy with it. Did you sometimes find yourself creating wanted or unwanted references?
Georg: We've never really concerned ourselves much with synthesizers because we used to come from a guitar-bass-drums background originally, so it was new territory that was interesting to explore.
Marius: I've never really felt the desire to replicate somebody else's sound. I've always liked to try out different things, and over time I've developed preferences for certain synthesizers. With analogue instruments, you never have access to everything you'd like to have – it's just too expensive.
A hardware synthesizer is usually more limited in its functionality than a software plugin. Does that help you during the creative process?
Georg: It's probably more fun to play in terms of look and feel than using a MIDI controller and a plugin, it has this "mojo effect" attached to it. Sometimes there's some crackling as you're using knobs and switches and you first think of it as noise, but it turns out that noise is what gives it character and atmosphere. Also, being limited in your possibilities can be a source of creativity.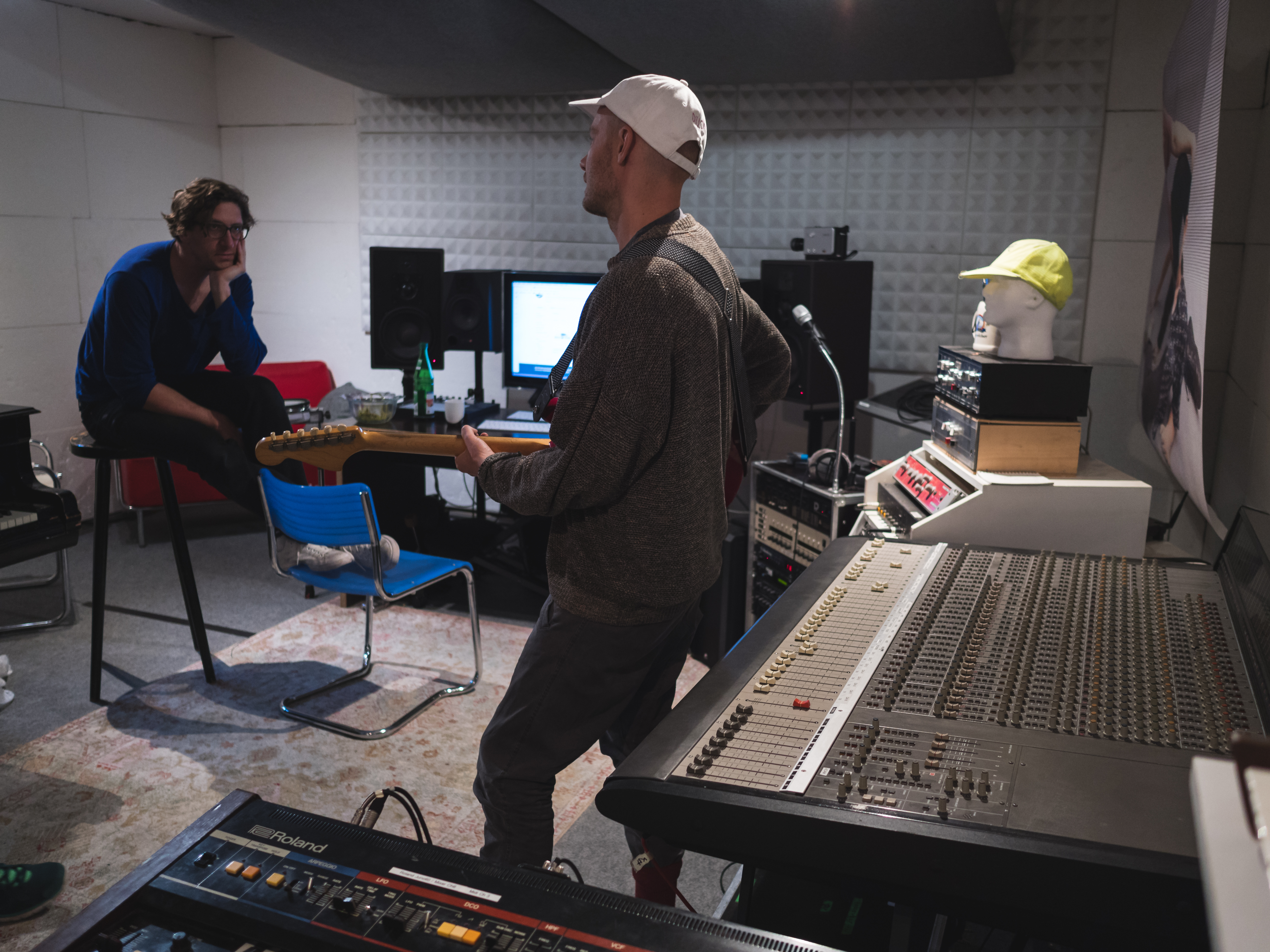 For the first time, you invited your live drummer Niklas Schneider to record drums for you in the studio. How has that changed your way of working?
Georg: Not too much, because the tracks were already completed with electronics. However, we thought it would have more charm if there were an acoustic drum set played on top of it. The appeal of working with Niklas is that he is a super tight studio drummer who gives you a flawless one-take to work with. (laughs)
Marius: However, he has a lot of feeling, which makes it sound a lot more human. At times, we were able to flesh out the groove even more. We naturally run into creative limitations because neither of us is a trained drummer.
When you prepare tracks for including them into your live set, how do you decide on what is essential in a track to play live as opposed to sending MIDI into a synthesizer or playing it as a sample?
Marius: There's a lot of audible electric bass on the record, which we obviously play live. We also have some synthesizes that serve different roles:  some are small boxes without keyboards that you can't actually play live, like the Moog Minitaur, which is fed with MIDI and usually plays synth bass, the Juno Boutique [JU-06, a reissue of the Roland Juno 106] or the Vermona synth, which is monophonic and is used for lead and arpeggiated sounds. Others are whole instruments, like the Crumar, which we use as a vocoder carrier and for brass sounds.
Marius: "The Fender Mustang Bass has a very particular sound and we used it for all of the electric bass tracks on the album. There are lots of special lead bass sounds." Georg: "It's almost like playing a guitar. It feels very light-weight."
COMA are embarking on a tour in support of their upcoming album Voyage Voyage which arrives on November 22.
All photos by Christian Isenbügel for NOTHING BUT HOPE AND PASSION.