Coldplay – 'Everyday Life'
Sounds like … a long overdue return to musical strength and substance.
I know, I know. Bashing on Coldplay has gotten easier within the past twenty years and even for a lifelong fan defending them turned into a challenge over the years, especially following their once called final album – 2015's A Head Full Of Dream which was a pretentious oversaturated affair that really made me wish they would actually split up after twenty years. Every Coldplay story was told, everything achieved. The biggest band on the planet was done… only that they weren't because after the finish line there's just another new beginning. And in the case of Chris Martin and his gang it was indeed a new album – and to my surprise (and maybe even yours) Everyday Life is their strongest musical output in ten years. And it's not mainly because what it is but mostly because what this record is not: It's not about big stadium tours, glowing wristbands, confetti, a huge marketing campaign, the Super Bowl or collaboration with other mega stars – it's four befriended musicians who focus on exactly that: Music. Still, Everyday Life is not another Parachutes but it embraces a certain rawness, freed from any commercial expectations. The symphonic opening instrumental Sunrise underlines that before Church sees Coldplay riding on a floating breakbeat that takes an exotic twist at the end. The Brits celebrate joyful understatement.
Don't let the double album concept fool you, in the end it's a pretty regular record in terms of its length but its packed with plenty of small sketches and experimental  interludes like the one-take-gospel-infected BrokEn and Cry Cry Cry or the choir-driven When I Need A Friend which feels like small prayers in-between the rest of the songs that also take a quieter turn, resulting in haunting ballads like Daddy or the lo-fi-esque Old Friends which does indeed sound like a forgotten B-Side from twenty years ago. Following quite mediocre lyrics on their last releases Chris Martin finds the strength to address the world's contemporary problems with dignity whether it's racism, migration, climate change or other emotional topics that shape… well, everyday life. The life-embracing single Orphans (which actually addresses the serious issue of immigrant children) might be the most in-your-face single here but apart from that songs like the brass-driven Arabesque and the decent power ballad Champion Of The World are not trying to fit into the pop criteria and I don't remember the last time you could say that about a Coldplay record. In one of the rare interviews ahead of its release Chris Martin said Coldplay finally stopped giving fucks about everything and that this album was just about the music. While I'm pretty sure that the next confetti-drenched stadium tour and Rihanna duet is just around the corner a record like Everyday Life is a great reminder why Coldplay are where they are: because they are still capable of writing deeply touching songs and we can only hope that the future will provide more of this side. (Norman Fleischer)
Stream Now: ► Spotify / ► Apple Music / ► TIDAL
---
Beck – 'Hyperspace'
Sounds like … subtle is the hyper and pop minimalism is back.
In his remarkable career, Beck has experimented with sounds from various genres and most impressively, he has shown the world that he is very capable of handling all of them. Without being defined by certain type of music, he has constantly been lead by the urge to make use of a sheer infinite world of sounds transporting his personal and musical visions right into the moment. Beck's latest work Hyperspace is no exception here and aims to beautifully blend the past and the present. Musically being a strong contrast to the more mainstream and pop-driven Colors, Hyperspace steps onto a path that is more interested in exploring the minimalistic side of pop again. One that favors simplicity and stripped back arrangements and a more hazy, spacious vibe instead of the more obvious hooks and overall directness or brightness pop music offers most of the time.
On his 14th album to date, Beck is celebrating pop minimalism with a number of airy, cosmic songs that promise a more subtle approach in production. Together with mastermind Pharell as well as the help of Paul Epworth and Greg Kurstin, he has made an album whose cohesiveness is striking. The idea of working together with Pharell in particular might date back to a time about twenty years ago, but the initial spark hasn't been lost between the two musicians ever since who complement each other's strengths well on Hyperspace – Pharell leaving the biggest fingerprints in terms of production on the album. The mostly stripped back arrangements foreground Beck's vocals that often cut through personal despair as in the song See Through (= "I feel so ugly when you see through me"). Even the album's guest appearances are subtle with artists like Chris Martin (Stratosphere) or Sky Ferreira (Die Waiting) making an appearance. Hyperspace may seem a bit colourless at first sight, but truly reveals its complexity and emotional strength when you take the time to let it sink in. (Annett Bonkowski)
Stream Now: ► Spotify / ► Apple Music / ► TIDAL
---
Girl Ray – 'Girl'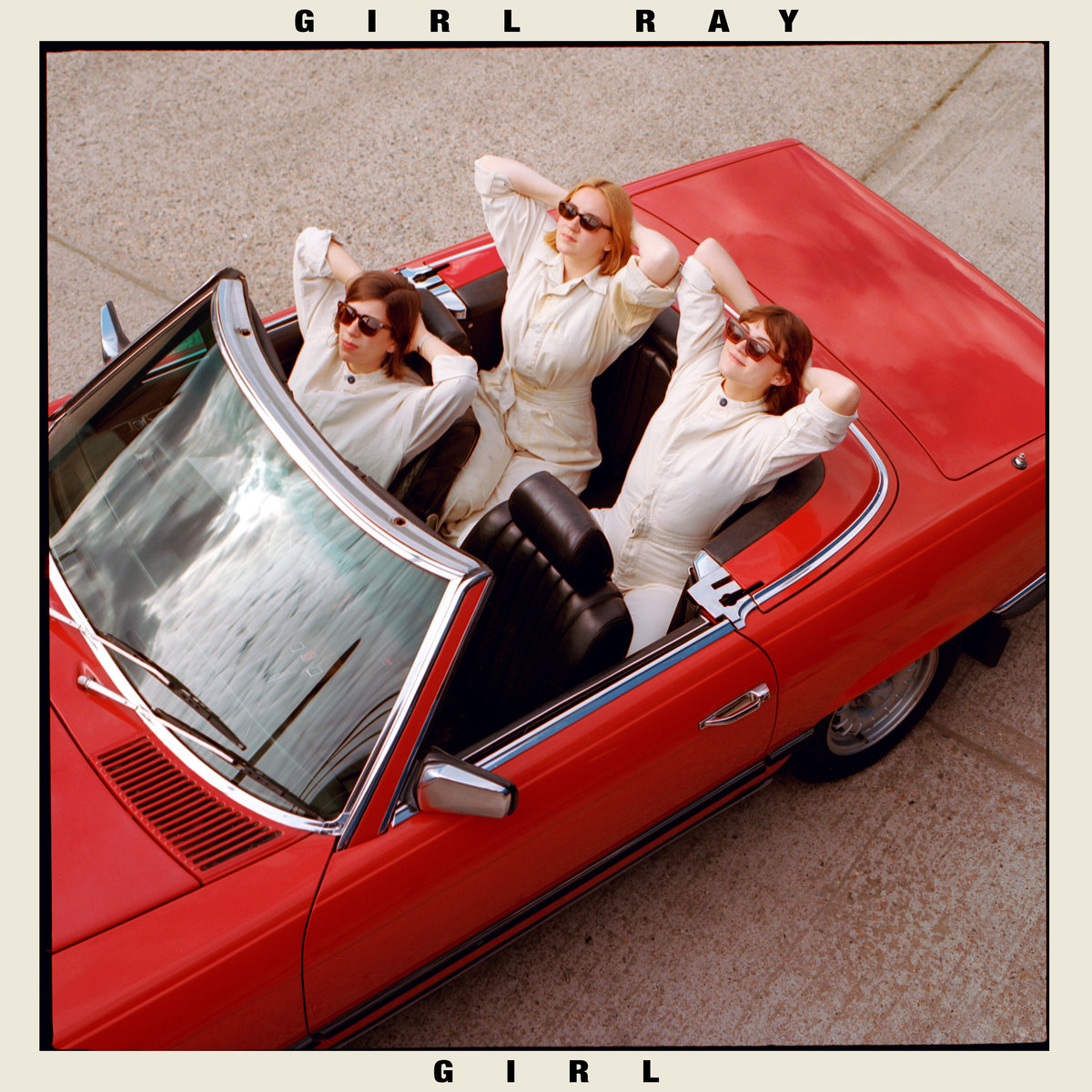 Sounds like … the indie-pop trio embracing their love of R&B and their native London.
In 2017, North London trio Girl Ray released one of the year's best underrated records in their debut Earl Grey. On that record, the threesome of Poppy Hankin, Iris McConnell and Sophie Moss crafted some seriously impressive slices of pop perfection for such a young band. Tracks such as Trouble and Stupid Things put Girl Ray on the radar, backed up by strong live performances and a quietly growing fan base in the interim.
So, their end of decade return may well see Girl Ray explode into the next stratosphere with their potentially world conquering follow-up Girl. All the same pop sensibilities remain, however, the trio have traded in the guitars for pianos, synths and samples, focusing on a more R&B based sound. The transition is a little jarring at first, but by the time of lead single Show Me More, their newfound sound clicks into place. Hankin's lyrics remain largely familiar to her early work – all love lost and missed opportunities – however, the confidence in which she and her fellow gang members present their second record is what makes it convincing. Girl even takes a trip into rap music with a guest spot from local talent PSwauve on Takes Time showing an embrace for modern music from the capital. (Adam Turner-Heffer)
Stream Now: ► Spotify / ► Apple Music / ► TIDAL
---
COMA – 'Voyage, Voyage'
Sounds like … organic electronica at its finest.
COMA from Cologne aren't just your usual electronic duo. Their music is much more organic and sometimes feels like there's a whole band playing these songs, instead of just two people. For their new record, Georg Conrad and Marius Bubat decided to walk another path than before: they didn't only focus on electronic elements like on its predecessor This Side Of Paradise, but rather mixed them with analogue instruments and a more confident vocal performance. Emerged is a natural record which combines nostalgic vibes with current electronic beats and that for fits perfectly in the Zeitgeist of our time.
Tracks like Snurrebassen or Myopic still emphasis a bit more on COMA's electronic roots, but Minor Matters or A-Train show their new sides: the vocals and the organic and analogue elements are the central aspect of these songs. But still, although the two German lads tread new paths, they still have their own remarkable sound cosmos which consists of experimental, but still catchy computer-generated items and some warmer tones.  Voyage Voyage is also kind of more melancholic than COMA's other releases. Maybe it's just because they found pleasure in recording songs like that, but the two also confessed that they experienced a rough time whilst making it. Anyhow, with their new record, COMA can be named in one row with great producers like Caribou and Erlend Øye, who are known for making catchy, yet still quite experimental electronic music. And that's pretty cool for two guys from Germany, wouldn't you agree? (Miriam Wallbaum)
Stream Now: ► Spotify / ► Apple Music / ► TIDAL
---
Point No Point – 'Drift EP'
Sounds like … a playful mix of light and deep electronica in this return to DIY recording,
Going solo after playing, as part of a band has not always paid off as hoped, yet here is one artist who dared the jump. Point No Point is the solo project of Jana Sotzko who has been making music with different bands over the past two decades. The name is inspired by an island in Washington State, famous for its lighthouse and bird population. Similarly, the record has the lightness of the ocean breeze and the tempting depth of the rough waves. Drift marks the artist's return to experimental home recording and is more of a collection of musical sketches and ideas, Sotzko gathered over the years. In a two weeklong retreat in Kosovo she welded the rough material to a cohesive and well-arranged EP.
'The Sedatives are Wearing Off' sets the tone for the following tracks with its minimalistic instrumentation but vocals layers sounding like they are coming from a choir instead of a one-woman show. The dizzying blur of the several synth elements sounds like a tiny orchestra's resonating waves and captures the image the title evokes perfectly. Atmospheric and melancholic vibe of pensive guitar strums and slow burning synth-lines are what mark 'Sepia' as well. The track slowly evolves over chant like vocals like a silent prayer. But the epic center of the record is 'Monolith', standing out in the same manner. Towering over the other tracks the eight-minute giant seems to fit several songs into one. From tender folksiness to simmering electronica, the song grows with each note the artist hits, unfolding like a nocturnal flower in the sparse light of the moon. This is the image, which I believe captures the essence of Point No Point. Somewhere between antique black and white photograph of a razor sharp coastline and the organic sculpture of an orchid, the music balances the blurriness with edgy determined placement – a strong debut. (Liv Toerkell)
Stream Now: ► Spotify / ► Bandcamp / ► TIDAL
---