With skin like pale ivory and hair as black as the night and a dress as red as a ripe cherry, singer Laura Carbone looks like a contemporary interpretation of Snow White. At least she does until she throws the strap of her electric guitar around her neck and steps to the mic to let out an animalistic howl. To say that the Berliner musician and her band warmed up the main stage of the Synästhesie Festival would be a crude understatement. They heated it up so much some of the following artists almost burned themselves.
Laura Carbone's songs balance between noisy rage and fragile vulnerability of sweet melodies. But what sounds so effortlessly composed from the ears of the crowd patiently listening, takes a lot of work and thought. For her last record, Laura worked with a fully fleshed band contrary to her more solo work orientated debut. The former, Empty Sea was born out of the existential crisis the artist fell into after 2015's Sirens, she tells me. 'Writer's block is romanticizing it too much,' she laughs it off. 'I guess asking myself uncomfortable questions is part of my nature. That can get tough but it also keeps driving me forward.'
The thrill of empty space
In the spirit of moving forward, she invited her band to be part of the more formative processes of songwriting. The next album will come to life out of this collaboration. 'Sometimes I feel like a mother protective of her children', Laura speaks about opening up to a more collaborative workflow. 'It is hard to let go but I also want to learn and grow and that is what I am doing every time I go into the studio with my band.'
'
When we toured in January, Lucy Kruger, our wonderful support act, introduced me to the beauty of an empty venue. She almost danced into the space before a show, exploring the reverb, the sounds and vibes that were sitting there. After every night she danced again or did a little headstand to say goodbye and again, cherishing the vibe, that then had changed. I got inspired and implemented this into my tour routine – without the dance but with my very open senses.'
Letting Intuition take over
The vibe the four musicians create on stage leaves no doubt the collaboration will work in favor of the project. Laura Carbone performs her songs with the perfect mixture of dedicated passion and playful joy. Strutting up and down the stage, taking to her knees for dramatic effects, she certainly was the queen of the evening. I never knew long red ballroom dresses paired so well with edgy dark indie rock.
'Some of them are companions for a very long time, some of them have entered my world just recently, and all of them know how it is to be on the road with me… My tambourine lost one plate during our tour in January when I smashed it onto the floor, my pedal board has been growing and being adjusted and just keeps on evolving as time passes. My beloved blacky just joined my arms in September as a gift for our North America tour and it already makes sense to count its scars.'
To get a special insight into the festival from another perspective, we asked Laura Carbone to snap a few shots of her experience at Synästhesie Festival. Accompanying her record, she also released a small booklet of travel photos that she took during the journey of Empty Sea. So, she was quite excited to roam the backstage for us. Whether it is the guitar or the camera, Laura is holding in her hand, she lets her intuition lead the movements. 'Music has more dimensions than photography, I believe but they are both products of intuition. Intuition is what makes me release the shutter and play that chord. In the best scenarios I am able to let go and create soundscapes intuitively.' This focus on emotion is something that especially the dynamic live show let shine through.
'I hope that my music creates images, too,' she speaks of the vivid scenes, soundscapes can evoke. 'I want to tickle something in the listener, to make them visualize my emotions as a mirror of theirs. That is something I love about art, everybody sees something else in it.' So here are a few snaps Laura caught before and after her set at the festival documenting her evening.
Warming up the Main Stage
Being the first act on the festival's main stage, the room was only comfortably crowded leaving enough space to breath the air of all those who missed out on hell of a show. It is the artist's first time playing the festival, which she admires for its selective line-up and musical niche. 'I am so much into loudness and noise', she chuckles while we watch Mdou Moctar soundcheck on the stage below us. Especially in Berlin, which is less known for its indie and psychedelic rock exports and more for the bustling techno scene, a festival like this is a true gem. 'The audiences in the States, for example, are way more open', Laura experienced on her extended US tour earlier this year. 'They are more reactive and embrace the experience. Afterwards they are not shy to come up and share their emotions and excitements.' Excitement was, without doubt also in the air after Laura let the last note of her crashing thunderstorm of a set ring out.
Behind the Scenes with Laura
'It seems to be a habit of mine to take a photo of this hand wearing different kinds of badges that are supposed to give me access to different spaces and remind me where I am in this very moment. Knowing these will be the last ones my arm will be wearing this year makes cutting them off already kinda monumental.'
'My view into an empty space with little fireflies that came back at some point during the show. It felt like a gentle stroke of beams on my cheeks and shoulders that soothed me and calmed me a little in that very moment.'
'Another rite I do have – After putting on my make-up and touching up my face while warming up my voice, I center myself and have a final look into a mirror, wandering with my eyes from head to toe. I give myself a little nod and feel ready to walk to my band and give a last hug before walking onstage one last time in this savage, overwhelming and oh so dreamy year 2019.'
'Warming up while calming down looks different wherever you go – the mood, the atmosphere and the timing sets the frame for these important moments prior to a show. And it's up to you to find the right place to slowly soothe your way into a comfort zone.

I'm very grateful that these 3 souls have been part of mine for a very long time now, helping me calm down and giving me the comfort and support to dive into my zone.'
Even though it was Laura Carbone's first time playing the festival, it already felt like she was a native there. Her style, floating between fragility and heaviness, somehow perfectly prepared for the festival ahead but, might as well, have been the epic final.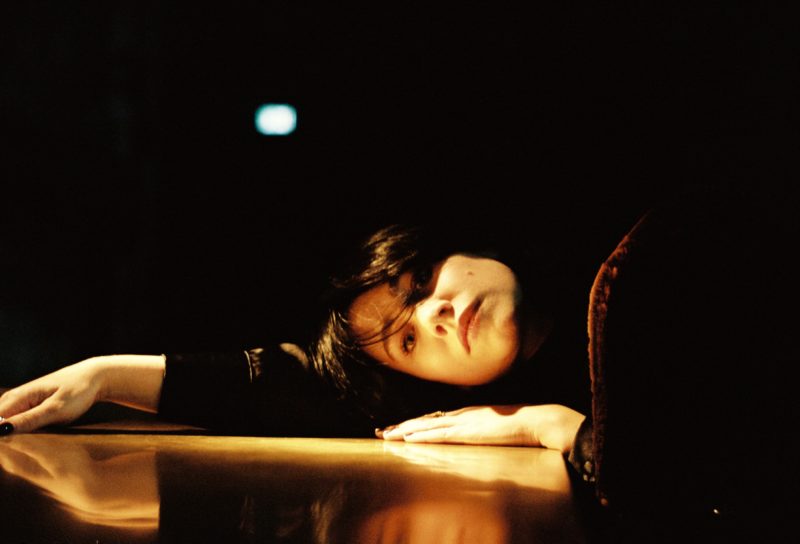 All Portraits were taken by Liv Toerkell for NBHAP.