MØ might be an odd seeming popstar. She has had songs that everyone has heard of – with the likes of Major Lazer, Justin Bieber or Charli XCX, still she doesn't have paparazzis following her every footstep like them – yet. Her second album Forever Neverland – released in October this year takes revue on her glamorous life in Hollywood but also questions the downsides of its shallow reality. The album topped the charts in her home country Denmark, where she was born as Karen Marie Ørsted. What's so striking about the artist is, that she doesn't just have roots in pop music as one would assume (we talked about her love for the Spice Girls in 2015), but also is closely connected to the punk scene. She founded the punk duo MOR in 2007, which also toured internationally. We confronted MØ with topics such as her punk roots, politics and weirdness.
Punk roots and pop music
'Once I would go to local punk shows every week and all the time, it was the environment I was in. But to be honest, I haven't had time to go to these events in the past many years, so that sucks but every now and then and its an alternative genre I love listening to, when I do listen to it I enjoy it a lot and I think there's a lot of cool alternative music these days. I really like Death Grips, they're the best. And Iceage from Denmark. Its a important part of who I was, because it was 10 years of my youth where I was in that environment, in the scene. When people ask me, its a huge part of my growing up. You can't really take that away.

Of course my life is very different right now, I've only been to two punk shows in six years but its very my main inspiration is. I used to be a fucking big pop fan when I was my kid, all of my teen years I've been into the other opposite. I cant help it. I always think there's a place where these two things can be married. That's organic for me. But I would understand why someone would think that you can't be left wing and activist, being in the punk scene, if you're a capitalist pop star. It's a very weird match.'
Female role models in the alternative scene
'Kim Gordon was my hero. I definitely think – and without being super updated with whats going on in that scene – nowadays I say that I have a feeling that all women in that left music has a powerful energy, just very empowering. I very often look to the left for inspiration and boost my confidence, actually because I think that the values and virtues of the left point of view both politically, musically and style wise is so much more inspiring and in line with my own virtues.'
Following politics
'I do follow a lot of politics, but my regret is I'm not heavily involved because of the time. That's a thing I think of often, these days actually. I want to have more time to be political more aware and involved because there's so much meaning in it. But I just don't have the time to be honest. Everything with the word Trump is scary.'
Working with other female artists
'Charli (XCX) I've known since 2014, we clicked directly. Iggy Azalea was her management contacting my management, it had to happen fast and I actually only met her twice. SOPHIE and I collaborated twice, first time was for Cashmere Cats song After Coachella. For my own song Nights With You we recorded in Banny Blanco's house in LA, kind of natural. She's playing in Denmark on Sunday, but I wont be there sadly.'
Art school education and its influence on song making
'The whole education was about your practice and your thought practice. It was very much about open process and how to get there, getting deep with the thought process behind it. During art school I was in this pop band but at the same time I was doing the solo project which sounded very different than it sounds now. I was rapping and very inspired by Peaches and Uffie. By the end of the years of art school, I found my identity with MØ, I sounded very vulnerable and more myself I guess. And thats where things started to happen. I think everything in your life that has a big influence on you will have a big impact on your art because it's in your blood. Just like my first break-up is in my blood and still inspires me somehow. I definitely think art school taught me a lot of things. It's not necessairly the end product that's gonna be the best thing about this art work but this whole process leading up to it. It's like the search for happiness, its not necessarily when you reach the end of the rainbow. That's really good lesson learned.'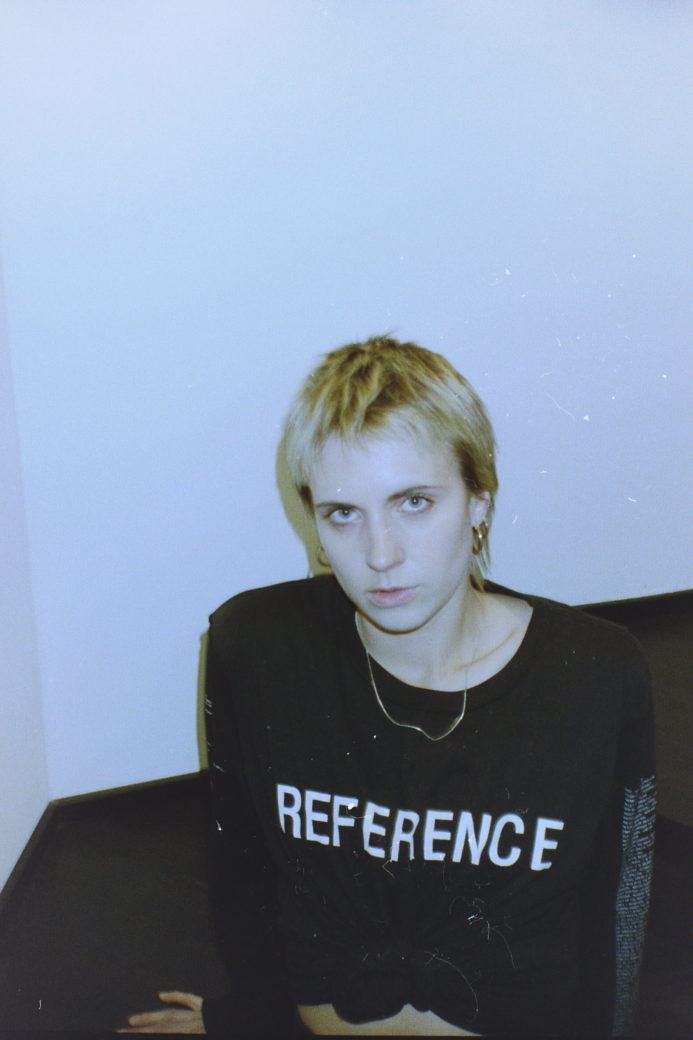 Being the odd one in school
'I had many friends, but I was just a little odd. I always had friends, I wasn't expelled from the group. I always felt misplaced anyway. I remember people telling me these things when I was a kid. Fact is that it is hard and you have to go through that to figure out the truth for yourself. I should view all this anxiety and the feeling I'm not feeling good enough that I should view it as my biggest strength and just chill. Don't be upset about, you're one day waking up and seeing that this is your biggest strength. But its easy for me to say, my 14-year old self wouldn't believe the 30-year old Karen.'
We can see the influences of MØ clashing together on Forever Neverland. It's a uniquely weird and wonderful electro-pop album that shows a more mature side of the Danish pop star. She'll also be touring Europe this fall.
All Photos by Louisa Zimmer for NBHAP