Editors – 'Violence'
The British five-piece continues to shape their own dark microcosm on their energetic sixth studio album.
If you look at it in a more cynical way these times seem to be perfect for a band like Editors and their gloomier take on life. Maybe there's a coherence between our uncertain and slightly dystopian society and the group's slow but steady growing success in which Violence marks the logical next step. By now there's now chance that Tom Smith and his band will ever return to the sharp post-punk attitude of The Back Room and their earlier days, instead they pushed their love for big gestures and cinematic emotions into more electronic pop territory as if they want to officially apply for the job of '21st century Depeche Mode'. Together with producers Leo Abrahams and Benjamin Power (of Fuck Bottoms) they continue to perfectly define their goth wave pop. Violence is more upbeat, grittier and less gentle as the 2015 predecessor In Dreams, showing a somehow angrier but also more accessible side of the Editors sound.
'It's a long and lonely life' sings Smith right in the opening track Cold to outline the direction of his often bleak stories. Hallelujah (So Low) follows with twisted verses and quite possibly the noisiest chorus the band ever released. Violence is an album of balance, between tenderness and aggression, light and dark and also one that balances the band's indie rock roots with the new electronic setup more perfectly than ever before. The band's ability to mix the often existential content of the songs with a catchy melody is truly helpful to attract a bigger fanbase and that's clearly the ambition of Violence. The instantly catchy Darkness At The Door and the official Papillon follow-up Magazine are perfect examples for that notion. Pop hits with a dark undertone, that's the sort of music Editors wants to deliver. Still, a few twists like a newly recorded version of the fan favourite post-apocalyptic No Sound But The Wind or the adventurous Counting Spooks (which is basically 'two songs in one') give the album a little more depth. Sometimes, the dark wave attempts might sound a bit too obvious but Editors got a clear and confident vision and it looks like the finally found their very own musical niche. It's a fitting band for these weird times. (Norman Fleischer)
Song to get you started: Hallelujah (So Low)
Stream it now: ► Spotify / ► Apple Music / ► TIDAL
---
David Byrne – 'American Utopia'
Move over dystopia. David Byrne is silencing the noise for a moment and replaces it with a funky, utopian vision.
An an artist, it almost seems to be impossible not to political these days and be affected by the political calamity in one way or another that constantly floods our news channels and therefore our consciousness. Instead of coming up with a bitter and despiteful collection of songs, which would be more than appropriate as well by the way, David Byrne returns with an album that avoids being an angry reaction to the dystopian atmosphere in the world or is blitzed with an overly political content. It's not a coincidence Byrne named the album American Utopia. Most of all, it is an album about America and thankfully, there is more to it than the frustrating images popping up right in front of our eyes every day.
David Byrne wouldn't be the clever artist we know without his eloquent observations about his surrounding being wrapped in a bunch of lively and catchy tracks. He knows how to address important issues and embed social-cultural criticism into his songs without pointing fingers in an annoying way. American Utopia is a funky and pulsating vision with a whole lot of unpredictable turns that keep the record's spirit lighter than expected. Much of what we find on the new songs plays with the idea that Byrne has been exploring more and more lately: reasons to be cheerful. His personal view at all things cheerful we should cherish instead of giving in to the rather dark madness we're facing on a daily basis. Every Day Is A Miracle is only one reminder of that on the album and American Utopia exactly the kind of glimmer of hope that is refreshing. (Annett Bonkowski)
Song to get you started: Everybody's Coming To My House
Stream it now: ► Spotify / ► Apple Music  / ► TIDAL
---
Young Fathers – 'Cocoa Sugar'
Edinburgh's finest may have slowed down their output with their first album in almost three years, but the band's third record could well be their best yet.
Over the course of 18 months starting from 2014's Mercury Award-winning debut album Dead and 2015's White Men Are Black Too, Young Fathers quickly rose to become one of the UK's most exciting acts the country had seen in some time, flying in the face of the regressive politics that has gone on to shape British politics in this decade. Much like Nottingham's Sleaford Mods, Young Fathers exist in a fascinating in-between space that isn't quite punk or hip-hop, though it has clear traces of both, so instead can only really be broadly described as 'pop music'. While previously these elements may have been argued against as 'unmarketable' there is now a proven audience for this fiercely political, yet beautifully constructed pop music, also seen by grime's rise to prominence which has seen successes for the likes of Stormzy.
Cocoa Sugar is easily the band's most stripped-down and considered record to date – a sign of the longer time spent to create it – but it is also the most focused and brilliantly performed by Alloysious Massaquoi, Kayus Bankole and Graham 'G' Hastings. Lead single In My View is perhaps the band's finest achievement to date, as both an emotionally-charged yet challenging piece of 3-and-a-half pop music. The band still have a tendency to jump around genres; the pace of Wow suggests something akin to TV on the Radio's punkier moments (which is not coincidental given Dave Sitek's production efforts here), whereas Lord encroaches on gospel and soul music. Meanwhile funereal closer Picking You marches out the band's latest record of the church and into the heavens. In an increasingly distressing time socially, we are extremely lucky to have an act like Young Fathers producing the sonically enlightening and politically engaging pop music they so consistently create. (Adam Turner-Heffer)
Song to get you started: In My View
Stream it now: ► Spotify / ► Apple Music / ► TIDAL
---
Whyte Horses – 'Empty Words'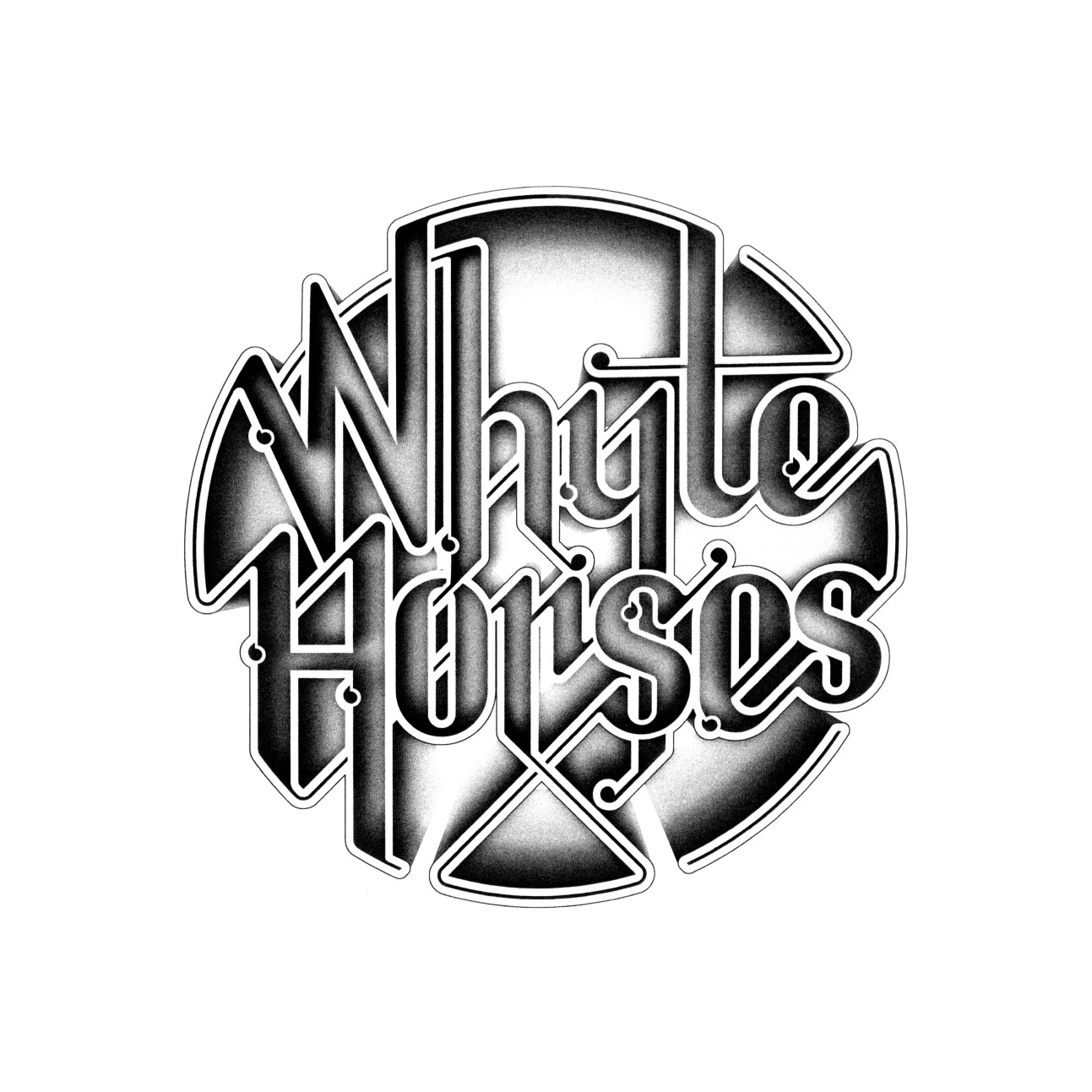 The mysterious psychedelic pop collective from Manchester might not be on your radar yet but we're pretty sure this is about to change.
In a world that always longs for clear definitions and precise information something that's a bit harder to grab and difficult to define tends to overtax us. But if you allow yourself to live with the uncertainty it might actually extend your understanding of certain things and that can ultimately broaden your horizon. Whyte Horses is such a band that isn't interested in a clear definition. It's not even a band but rather the brainchild of artist, DJ and 'Finders Keepers' co-founder Dom Thomas. It's a loose collective of artists, an open project for musicians from Manchester and beyond. It's head thing, not a band thing, a conscious-bending experience that is deeply infected by late 60s psychedelic sounds and a certain Woodstock vibe. Empty Words sees Thomas and his fellow musicians shape this vision even clearer than on the 2016 debut Pop Or Not.
Empty Words is driven by a heavily old-fashioned piece of sun-drenched psychedelia, delivering 16 gentle pop gems, carried by various female guest vocalists like Audrey Pic, Mélanie Pain (of Nouvelle Vague) and also Elly Jackson aka La Roux. From gentle indie-pop á la Belle & Sebastian (Greatest Love In Town), to 60s flower pop (Any Day Now) to a way trippier version of Arcade Fire (Ecstasy Song) – there's a reason why the collective is labelling it's rare live shows as 'The Whyte Horse Experience' – it's a wild range of ideas, stories and odd twists and turns that await the listener. There's room for a children's choir (Fake Protest Song) as well as cinematic chamber pop (Nightmares Aren't Real) – it's a record fallen out of time while also being quite timeless in the end. It's a challenging listening experience but then again also really catchy. As you can see the contradiction is very much alive and the fact that this LP is so hard to grab makes it so highly fascinating and a must-listen experience for all music nerds. (Norman Fleischer)
Song to get you started: Empty Words
Stream it now: ► Spotify / ► Apple Music / ► TIDAL
---
SUUNS – 'Felt'
The experiment continues for the Canadian quartet. Ambitiously, restless and in fact, very enthralling.
The four-piece-band from Montreal has not wasted any time to follow 2016's release of Hold/Still and got back into the studio fairly soon to pin down their ideas with the help of producer John Congleton. This time around making sure to loosen a few of the sonic bonds in order to explore what comes after you release some of the pressure. The black balloon on the cover of Felt is about to burst. In the best possible way. How? With Suuns opening up a bit more without losing the dark force that has been such an essential and distinctive part of all previous recordings by the band. The seductive, vigorous element can still be found in these new songs. Along with the familiar avant-garde approach, a sense of sustained tension all throughout the album as well as an urge to explore that deep pool full of ideas in front of them. But this time around it feels like it's all a little bit easier to grasp perhaps.
The sonic cosmos Suuns are floating in on Felt is made of just the right amount of subtle grooves, ever-present contrasts, and an irresistible friction. All while turning rather abstract sounds with a sense of destruction and slight disturbance into exactly the kind of stimulation that allows them to move ahead instead of dwelling upon any kind of comfort. It seems like it's exactly the opposite scenario which is part of the reason why this new record is far from being an ordinary space where four guys simply jump from one idea to the next. Instead, it's a focused step further into their rich musical background and their curiosity to explore their abilities. Combined with Ben Shemie's almost slack, yet compelling vocals, Felt is an impressive sonic statement that embraces courage as much as eagerness to experiment. (Annett Bonkowski)
Song to get you started: Look No Further
Stream it now: ► Spotify / ► Apple Music / ► TIDAL
---