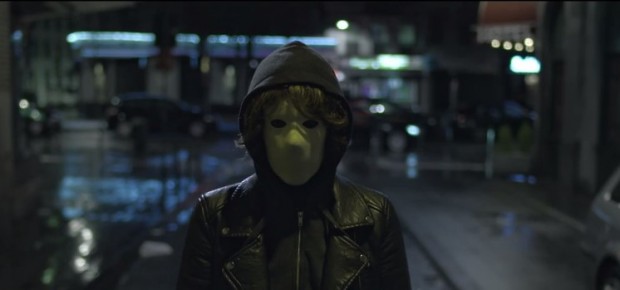 Masked figures walking through a cold and dark city night. The new BALTHAZAR clip is packed with symbols and haunting atmosphere which perfectly fit to the band's latest single Then What. While the mysterious figures make strange encounters they are clearly heading towards similar goals. The new LP by the Belgian band, Thin Walls, is set for a release on March 30. Watch the new BALTHAZAR clip right here.
---
---
Good news for all lovers of high quality electronic music. Hotflush mastermind SCUBA returns with a new album next month. Claustrophobia is its name and it is set for a release on March the 23rd. And if we trust the press release 'the record is tense and inward-looking, but it's also rich and dynamic, nimbly moving through a panorama of moods and styles.' We have to see if SCUBA can stick up to the expectations. Here's a first single called Why You Feel So Low.

---
---
Noise rock heroes SURFER BLOOD report back with a new album as well. 1000 Palms is the name of the record that arrives on May 12. That itself is great news already but the band also unveiled a first short teaser for the record as well. You can listen to The Grand Inquisitor right here.
---
---
Is NOEL GALLAGHER finally discovering his love for electronic dance music at the age of 47? Following the previously unleashed psychedelic rework by BEYOND THE WIZARD'S SLEEVE the charismatic Britpop hero now unfolds a new rework. Legendary producer Andrew Weatherall got his hands on The Heat Of The Moment and the result is a pretty impressive slow grooving piece of disco which you can enjoy right here.

---
---
And since we're already in the remix territory. Beloved British synthgaze duo MAN WITHOUT COUNTRY released its own version of the RÖYKSOPP tune Sordid Affair. Since singer Ryan James is also the vocalist of the original this rework makes it fully sound like an original MAN WITHOUT COUNTRY production. If you like what you hear we can highly recommend their recently released second album Maximum Entropy.

---
---
You remember MIAMI HORROR, right? The Melbourne-based disco-pop band created quite a buzz in the blogosphere with its 2010 debut Illumniation and the catchy and sunny pieces of synthpop on it. After some stand along singles last year the band now signed to Haven Sounds & Dine Alone Records and will release its sophomore album All Possible Futures on April 21. The band moved to Los Angeles for the production and states: 'We wanted to make something that lasts and grows the more you listen to it.' Well, we are definitely excited for this one.
---
---
After recently announcing the first CHIC album in 23 years mastermind Nile Rodgers did not only shared a first glimpse of the single I'll Be There (right here) but also discussed the record's nature via his website: 'As with all Chic albums, this one's based on a concept. Four years ago I was stricken with very aggressive cancer and I wasn't sure how much time I had left. I decided the album's concept would be about time and I'd feature as many people from the lifespan of Chic that I could on it… The album's title is: 'It's About Time'… because It's About Time.' Enough said, ladies and gentlemen. The record is expected to be released this June.
---
---
You remember AUROA, right? Following her gentle single Under Stars from last fall and her very own 'Introducing'-Feature on NOTHING BUT HOPE AND PASSION the young talent from Norway is now back with a new single called Runaway. A bit more gentle than her last single but why don't you find out for yourself right here?

---
---
JON HOPKINS is the latest artist to compile a mix for the acclaimed LateNightTales series. Out on March the 2nd, the release will feature a smooth selection of gentle lullabies and one brand new track by the producer himself. In this case he produced a cover version of I Remember, a track from YEASAYER's Odd Blood album. Of course, don't expect any vocal duties from Mr. HOPKINS but a truly joyful little piece of piano music instead. Listen to it below.

---
---
And finally something your heart. Or at least a Heart-Shaped Box. That's right, the legendary NIRVANA classic got a fancy rework, recorded by none other than the almighty FATHER JOHN MISTY. The new high priest of indie rock, who just scored NBHAP's album of the week last week, came, recorded and delivered once more. Here's the proof.

---
---