Calexico premiere bizarre 'Falling From The Sky' clip, feat. José González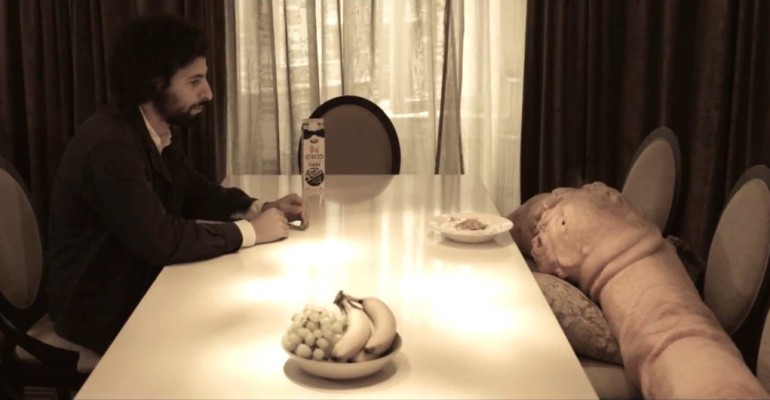 That's probably the strangest video you've seen in a while. CALEXICO present the official music video for Falling From The Sky, the lead-single off their just released and really good new album Edge Of The Sun. The video only sees a brief cameo appearance by the band but has their friend JOSÉ GONZÁLEZ as the main protagonist. Well, besides a really bizarre worm creature. But GONZÁLEZ really cares for his strange looking friend and the result is a heart-wrenching clip that still makes you say 'What the F…' in the end. Witness the new CALEXICO clip right here.
---
---
Mac DeMarco announces new mini-LP 'Another One'
Restless indie-music darling MAC DeMARCO reports back with new music this summer. Another One is the name of his latest mini-album which will be released via Captured Tracks on August the 7th. The release will feature eight new tracks and also comes with an unsurprisingly ridiculous 'promo video,' shot by DeMARCO's girlfriend Kiera McNally. You can witness this little masterpiece of nonsense right here.

---
---
Spoon's 'Inside Out' gets remixed by Fab Moretti from The Strokes
SPOON are about to release a remix EP for Inside Out, the single from last year's They Want My Soul record. The release will feature new remixes of the track and such interesting names like TYCHO, OPERATORS and composer Brian Reitzell. Fabrizio Moretti of THE STROKES is also on board and you can listen to his quite interesting rework of the SPOON's song right here.
---
---
Lana Del Rey previews new song in 'The Age of Adaline'
LANA DEL REY has teased a new track off her called Life Is Beautiful. It appears as part of the soundtrack for the forthcoming movie The Age Of Adaline, featuring Blake Lively and Harrison Ford. The song is not taken off last year's Ultraviolence record and you can already get a glimpse of it in the latest trailer for the film which arrives in cinemas this Thursday.
---
---
My Morning Jacket unveil new song 'Believe (Nobody Knows)'
American indie/folk heroes MY MORNING JACKET have shared more music from their anticipated seventh album The Waterfall. Believe (Nobody Knows) is the latest teaser off the record and you can stream it over at NPR.org right here. The full longplayer arrives on May the 4th via ATO Records.
—