Memory Tapes return with new single 'Fallout'
It's been a while since we heard anything new from Dayve Hawk and his dreampop alter ego MEMORY TAPES. Over two years since his last album Grace/Confusion the musician now unveiled a new double single, featuring the two new tracks Fallout and House on Fire.
In a press release he details the struggle that let to the release of new music. 'I felt pressure to not collapse under my own insecurity with the situation,' Hawk explains. 'But with my second daughter becoming a toddler, I've found balancing the relationship between my work and my life increasingly difficult. It's made me question the self-indulgent nature of my music. At a particularly low moment I trashed the entire album I had spent much of the past year working on.' The single will be out on March 31 and you can already listen to Fallout right here.

---
---
Róisín Murphy presents hypnotic new single 'Exploitation'
Charismatic singer ROÍSÍN MURPHY has shared new music of her forthcoming record Hairless Toys. The hypnotic and sensual Exploitation follows the previously released Gone Fishing and makes you really excited about the new record by the MOLOKO singer. The album arrives on 11 May via Play It Again Sam and you can stream the new track right here.

---
---
Jamie XX details his solo debut 'In Colour', release in June

It's getting real: JAMIE XX confirmed the release of his solo debut in a recent interview with Mixmag. It will be called In Colour and will see a release in June via Young Turks. The London based producer also opened up about collaborations with THE XX member Romy Madley Croft and FOUR TET. Amongst others, the record will contain songs titled Gosh, Loud Places, and Seesaw as well as previously released singles Girl and Sleep Sound. Listen to the former again and get just as excited as we have been since 2015 started.
---
---
Major Lazer announce their new record 'Peace Is The Mission' and share a first track from it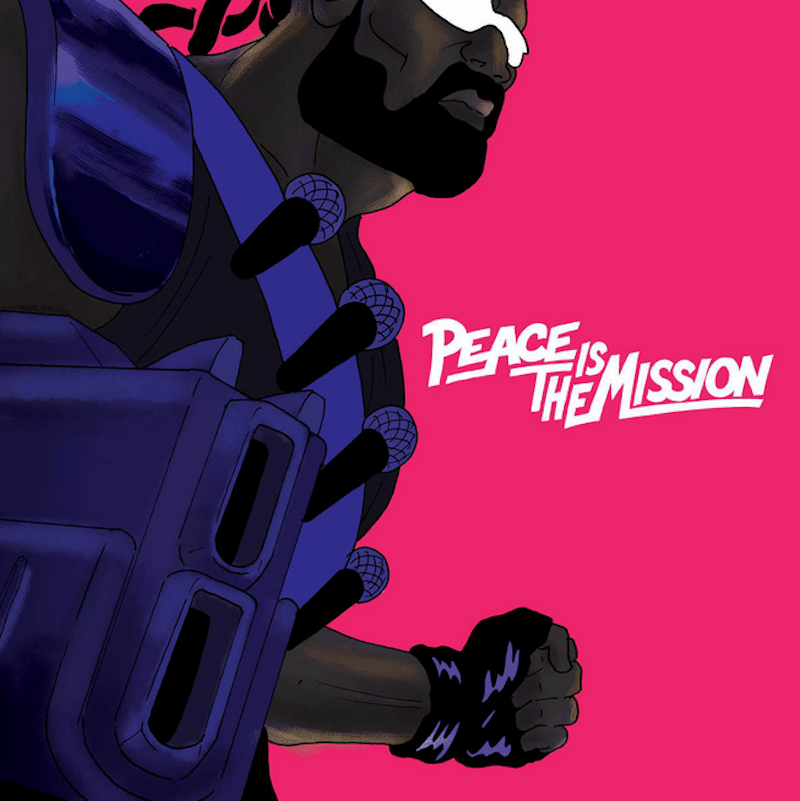 Well, that was quick. Yesterday, in the course of their new video Lean On, we briefly discussed the fact that a new MAJOR LAZER record might arrive soon and today comes the official announcement. The follow-up to 2013's Free The Universe goes by the name Peace Is The Mission and arrives on June 1 via DIPLOs label Mad Decent. It will also feature PUSHA T and ELLIE GOULDING as feature guests. You can already listen to a new track called Roll the Bass over at Consequence Of Sound.
---
---
Muse unleash their new single 'Dead Inside'
Following their recently released track Psycho the guys from MUSE now present Dead Inside, the real first single off the new record Drones. And while Psycho was mainly musical candy for all oldschool fans of Matt Bellamy and his boys, Dead Inside represents the new pop-focussed side of the trio. Please note the epic 80s drums. The new MUSE record arrives on June 8, you can watch the lyric video for the new single right here.
---
---
Blur share another new track, 'Lonesome Street'
British band BLUR has shared new music from the forthcoming record The Magic Whip. Lonesome Street follows the previously released Go Out and There Are Too Many Of Us as a a third and final teaser before the album's release on April 27. Listen right here.
Alternative video link right here.
---
---
Built To Spill share new song 'Never Be The Same'
American alternative rock institution BUILT TO SPILL have shared new music from their forthcoming record Untethered Moon. Never Be The Same is the title of the latest teaser from the record that arrives on April 21 via Warner. You can stream the song right here.
---
---
SoKo shares entertaining new video for 'Lovetrap,' feat. Ariel Pink
French singer SOKO has unveiled a hilarious new music video for Lovetrap, her duet with former boyfriend ARIEL PINK. She recently talked with NOTHING BUT HOPE AND PASSION about the relationship with the charismatic Californian gentleman and why it didn't work out in the end. But the two seem to be in good terms as Mr. PINK also makes a cameo appearance in the new clip which mainly sees SOKO portraying a slightly cartoonish version of her duet partner. The track is taken off her recent LP My Dreams Dictate My Reality. Watch it right here.
---
---
FKA Twigs premieres new music video 'Glass & Patrons'
FKA TWIGS as shared another artistically impressive music video. Glass & Patrons gets a special video treatment for this year's YouTube Music Awards. The self-directed clip sees the singer in another impressive setting, surrounded by dancers (to whom she gives birth at the beginning of the clip). The track is not part of last year's debut album LP 1, but will be featured on a new EP which will arrive later in 2015. Watch the new video right here.

Alternative video link right here.
---
---
—