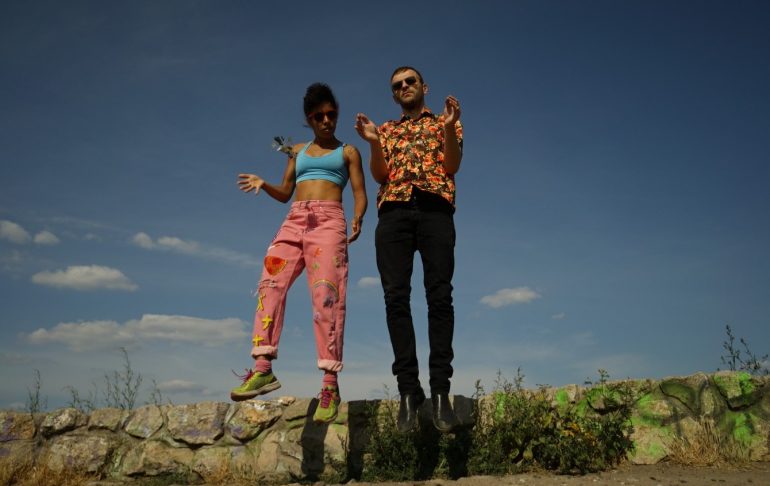 However you feel about the pop of 1980s you can't argue against the brilliancy of DESIRELESS' 1986 french pop classic Voyage Voyage, right? It's brilliancy is not just a must-have on every good party but also the reason for countless cover version's (You might all remember the heart-wrenching one by SOAP&SKIN which is part of our 'Dark Night' plalyist). Now, just in time for its 30th anniversary a new interpretation arrives in the form of a stunning and floating piece of dreamy synthpop by Belgian two-piece JOY WELLBOY.
We already introduced you to Joy Adegoke and Wim Janssens back in 2015 when they released their lovely second album Wedding. Now, on March 3, a follow-up arrives in the form of Les Pieds Dans La Merde La Tête Dans Les Etoiles. As the title already hints this new record was born out of the idea of recording French music. 'Some things can only be said in French,' explains singer Joy and the fact that the originally intended EP quickly turned into an album means that she got a lot to say in that language. Covering this 80s classic seems natural as the singer explains to us:
'Voyage Voyage' is absolutely one of my all-time favorite songs. I still remember the first time I heard it on the radio when I was little… I was totally mesmerized. It gives you such a boost! We wanted to make a slow soothing version of the song.
NOTHING BUT HOPE AND PASSION is happy to bring you the world premiere of the new JOY WELLBOY music video. Shot on Berlin's Tempelhof Airfield by Adeboke herself it combines the dreamy atmosphere of the song with slow motion inline-skating which can also be quite a voyage, right?
LIVE

—