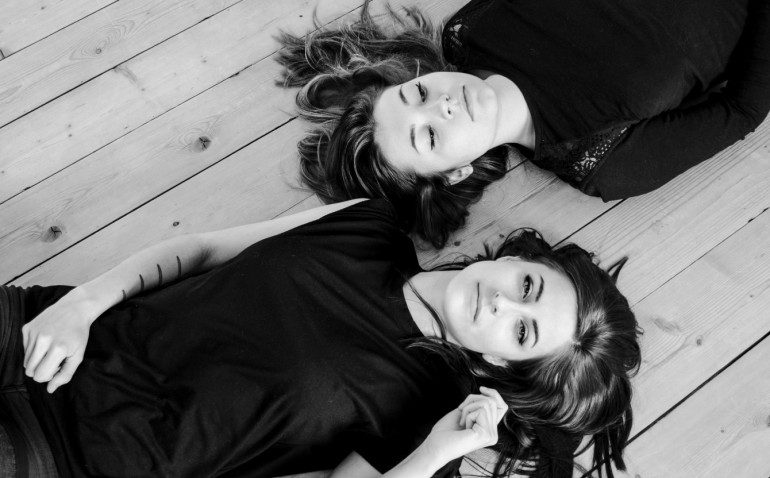 Gothenburg band PALE HONEY have caused quite a stir in the past year with their distinctive brand of minimalistic rock. Nelly Daltry (drums) and Tuva Lodmark (guitar and vocals) manage to pack in far more whallop than bands with twice the members, and combine it with some extremely high-quality song-writing. Their debut record Pale Honey is home to some of the slickest, crunchiest rock songs released all year, from swirling guitars of recent single Over Your Head to the more slow-burning tracks like Bandolier. NOTHING BUT HOPE AND PASSION has the weird and sinister habit of liking to bring the best new bands to your attention, so we decided to call the band up and get to know them with our 'Introducing' feature.
How would you describe your music to our readers in one sentence?
Empowering, soothing and rad tunes for the heart – best enjoyed in bed, on the road or in front of the mirror while you're dancing in your crazy coloured pyjamas. (We know you have some!)
Which 5 tracks should start a mixtape to perfectly capture your musical influences?
Start off with an ounce of QUEENS OF THE STONE for some rad stuff, add some EAGLES OF DEATH METAL for the playfulness, follow up with a dash of GORILLAZ for the curious, ever-seeking lust, mix it with some RADIOHEAD for the encouraging and endearing soft caress, and finally throw in two pounds of THE BLACK KEYS and just jam the stuff together. Hard. Pop it in the fire and after some good roasting, you might end up with these songs:
QUEENS OF THE STONE AGE– In The Fade
EAGLES OF DEATH METAL– Miss Alissa
GORILLAZ– Revolving Doors
RADIOHEAD– Weird Fishes/ Arpeggi
THE BLACK KEYS– Everlasting Light
Describe your earliest musical memory
Nelly: Mom singing lullabies that would always make me more skittish than tired. It was a Swedish lullaby about a troll-mother putting her eleven troll-kids to sleep. What she sang to them (the most beautiful words she knew) we will never know.
Tuva: My dad's weird Irish folk music sessions at home, he sometimes gathered a lot of old crazy alcoholic men sitting in our kitchen jammin' all day and night long. But it was pretty fantastic, actually.
Would you rather be a dragon or have a dragon?
N: I love dragons! Let me love one! It could be named Spooky! Or Steve!
T: I wanna be Nelly's dragon.
If your music would score a movie what sort of movie would that be? What actors can you imagine playing in it?
An odd Wes Anderson movie perhaps, with a hint of Monty Python and Spinal Tap. Bill Murray would play five different roles in the movie, and someone (we can't really spoil anything now, can we) is going to try to tame a rock. There would also be some strange characters in the background of big scenes for the ones who like details.
If this whole musician thing don't work out – what would be your alternative dream job?
A veterinarian or an illustrator. Or maybe a couch potato. Who knows. Petting animals for a living would be great, we should look this work opportunity up.
Tell us a mostly unknown artist we should definitely check out.
N: This one is not so very unknown but I am still trying to find someone who likes to cuddle up in bed to JOANNA NEWSOM. She plays the harp and piano and has a bittersweet voice that just calms my mind. This song, Sawdust and Diamonds, gave me goosebumps the first time I heard it. It was a dark and cold winter in Sweden and I had to read a book for an English class I took in school and so I chose Frankenstein. I'm a terribly slow reader but this was one of the best experiences I've had. I filled my iPod with lots of JOANNA NEWSOM tunes and some World of Warcraft soundtrack songs and just merged with the bed and cover during the dark evenings.
T: Demon Queen!!!!! So amazing.
The music industry is changing quite heavily these days. What's the best and what's the worst part of these changes, in your eyes?
We're pretty young being born and growing up during the 90's when it was clear that digital stuff was going to be The thing. The best part of it all is the easy access to good music through the internet and that you can easily get a dialogue going directly with the artist.
The worst part is probably the same as the best – easy access also means less money for the work that the artists and crew put behind the music, which makes it more struggling to actually find the time to work with it. And that music nowadays is taken as a given right rather than something to be thankful for and respectful of. The consumption speed is super high and that we really have to break more than some sweat to keep up with the high demand.
But, another great part is that many more can create music since everything is more accessible and the stuff needed is cheaper which makes for better evolvement in music when more great peeps get the chance to be heard and discovered. Long live creativity!
Unleash your inner BURT BACHARACH and complete the following sentence… 'What the world needs now is…'
… less vicious thoughts and actions, more kisses and ice-cream.
What role play 'hope' and 'passion' in your life?
The biggest roles! It is the fuel for everything we do and create, the fire of our burning will. It is the passion for making music that brings us together and we're lucky that we get the opportunity to create music together and that peeps support us. It is great to get the chance to be a part of what people love doing, and that we're all trying to find that special thing in our lives that makes everything endurable. It's easy to get demoralized by all the bad things going on, but it's a important to actually be proud and happy about all the sweet stuff as well.

—