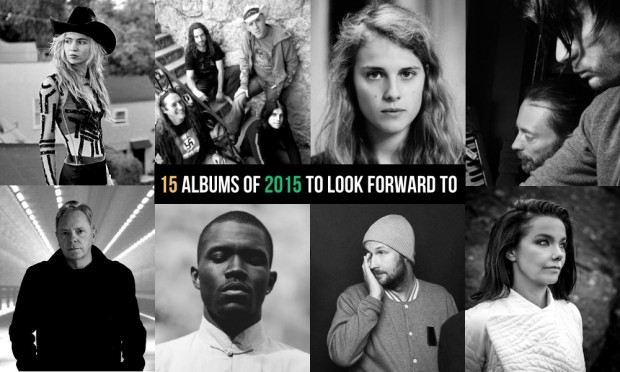 New year, new start. As the first days of 2015 unfold themselves the time of recapping is clearly over as we're ready to start a new run of twelve months. So, right after you check NOTHING BUT HOPE AND PASSION's favourite albums of 2014, the past year's best songs and the most remarkable music videos, please free your head and ears from the past and turn your head towards the future. We're ready to take a closer look on fifteen musical highlights of the next twelve months.
But although we now officially live in the year of Back To The Future, Part II one thing remains for sure: you can't predict the future. There's a few artists from our 2014-list one year ago who manage to sneak on this one as well. And the year will be packed with surprises as well. Who would have thought twelve months ago that we got a new album by PINK FLOYD by the end of the year? And what about surprising highlights by yet to be discovered new talents? Everything seems possible. That's why old favourites and new stars dominate our list of anticipated albums of 2015. Enjoy the list of our forthcoming favourites right here.
1. New Order unveil their first album in a decade
It's been a long way for Bernard Sumner and his band. From the public discord with former bassist Peter Hook in 2007, the reformation in 2011 and the triumphant live comeback of NEW ORDER in the two years following their first show as a new five-piece. According to the band leader the atmosphere in the influential pop band is currently as good as never before. Recorded with Tom from THE CHEMICAL BROTHERS and set for a release via Mute Records this one will definitely be a retro-driven experience. And we couldn't be happier about that fact.
2. The long awaited new Radiohead album
Yorke, Greenwood and Co. are finally back in the studio to record the follow-up to 2011's The King Of Limbs. Of course, Nigel Godrich is on board as well and the band only knows in which surprising form the record will show up this time. Maybe they transport the audio signals via a satellite from space or to a treasure hunt. Let's hope the music remains the main focus after all.
3. Naomi Pilgrim's promising debut longplayer
Born between the cultures of Sweden and Barbados the crafted Scandinavian soul singer combines the best of both worlds, also in terms of her music. The Swedish lady delivers electrifying soul songs with a dark undertone and a certain majestic beauty. NAOMI PILGRIM's debut album could become one of the surprising highlights of the next months.
4. The first new Tool record in eight years
The legendary alternative metal legends were already part of our 2014 list and for a long time it wasn't really clear if Maynard James Keenan and the rest of the gang will actually start working on the follow-up to 2006's longplayer 10.000 Days. But now they are back in the studio together. God only knows when they will leave it with new music but we're a bit optimistic that they won't show up on next year's list again.
5. Mew, returning after a six-year long hiatus.
Another leftover from 2014 but in this case we turn a blind eye. Founding member Johan Wohlert who left the band back in 2006 returned last summer and gave the already progressed recording of the new album a new twist. It took a bit longer but this year, the Danish art pop ensemble will finally return with their first album in six years. Indeed, some really comforting sounds.
6. Låpsley, the new prodigy of British pop?
Those Brits and their unstoppable flow of great new talents. By now we've already stopped wondering. Holly Låpsley Fletcher from Liverpool is the next in line to become UK's next ADELE or at least 2015's update of LONDON GRAMMAR. Last fall she signed a deal with XL Recordings, her debut EP Understudy is out today. It will be her year and if you listen carefully to her gentle piano pop with synthetic foundation you get an idea why.
7. The homecoming of Tiger Lou
Slowly but steady Swedish songwriter Rasmus Kellerman and his fellow countrymen worked on her long awaited comeback in the past twelve months. And sometimes it takes longer than originally intended, especially when you do it next to your day jobs and families. Last autumn TIGER LOU revealed Homecoming #2, their first single in six years, this year chances for their first longplayer in seven years are looking better than ever before. Let's cross fingers for this.
8. The promising new longplayer by Bombee
These three German gentlemen have been on our radar for a while now. Their Aurelia EP from late 2013 was already quite promising. After a few months of radio silence the band will unveil their new full-length longplayer this year. And we're quite convinced that it will make a certain impact. Reduced electronic beats, driven piano and distinctive vocals by singer Alexander Seypt – International potential ahead, ladies and gentlemen.
9. The debut longplayer by British shooting star Kwabs
The British singer with Ghanaian roots is a must-have attendee on the current '2015 lists.' But really – why shouldn't he? KWABS' track Walk is already a pop hit and after three quite promising debut EP's things are looking good that his first full-length release will literally blow everybody's mind.
10. A new album by GRIMES
Last year's one-off-single Go was a bit disturbing for most of Claire Boucher's followers but the Canadian singer made clear that the quite commercial track wasn't symptomatic for her long awaited Visions follow-up. Still, she scrapped the already existing recordings and started from point zero. We will see if this was a good decision or not.
11. The often delayed new FRANK OCEAN LP
The album after the big breakthrough is always a tough one. 2012's Channel Orange brought FRANK OCEAN international fame, a Grammy and his coming out even made him the new role model for a more tolerate sexual understanding within the hip-hop and R&B community. That might have been a bit too much for the sensitive singer so a pause was overdue. But he is ready to attack the world of music once again in 2015. Hit-Boy, Rodney Jerkins and Danger Mouse are rumoured to produce the record – but we're pretty sure that the line for people who want a guest appearance on OCEAN's new album is far longer.
12. 'We Slept At Last', the debut album by the wonderful MARIKA HACKMAN
Whenever this young lady from London released a new song in the past months it got us excited. Her long awaited debut album We Slept At Last will be finally released next month via label Dirty Hit, delivering more of her dark-twisted British nu-folk. The songs of MARIKA HACKMAN are sweet little melancholic masterpieces, rather introspective than uplifting. And maybe that's the kind of sound this year really needs.
13. JAMIE XX and his long awaited solo LP, plus a new record by THE XX
It will be the year of the double-x, once again. JAMIE XX is about to finally release his solo debut which promises state of the art electronic music from the heart of London, although he already promised less steel pans on this one. And later this year, the highly anticipated third album by his main band will definitely make the music world go bananas, that much is for sure. And the stakes aren't lower for THE XX in 2015, that much is for sure.
14. The first album by THE LIBERTINES in 11 years
The fact that these guys finally buried the hatchet, played celebrated comeback shows and Pete Doherty got clean already works quite well as a happy end on its own. The question arises… does the world need another LIBERTINES album, eleven years after the last one? The pressure is high as if the guys were destined to save British guitar rock on their own. In the end, it's just about four lads playing in a room together – let's hope the record will represent nothing but exactly this feeling.
15. BJÖRK and her highly anticipated ARCA-produced album
Last but not lees, the Icelandic majesty returns with a new longplayer. That itself is a spectacle on its own but it raises far more questions. What influence will FKA TWIGS producer ARCA have on the record? Will it be better than 2011's Biophilia (whose accompanying media campaign was way better than its musical content)? Is BJÖRK still relevant in 2015? Can she give contemporary music new impulses? The answer won't be an easy one but still this one will definitely be one of the most interesting albums of 2015.

—