Tycho – 'Weather'
Sounds like … well, the familiar dreamy vibes, now enriched by actual vocals.
Don't act surprised, Tycho lovers. It was only a matter of time before Scott Hansen's constantly growing electronic project would feature vocals on an album. And following the closure of his Ghostly International Trilogy – Dive (2011), Awake (2014) and Epoch (2016) – the whole Tycho world really needed something new to sustain its quality. Hansen reached a dead end, so a record like Weather needed to arrive sooner or later and the result is pretty satisfying from that point of view. Instead of making the obvious mistake and inviting many different vocalists to the sessions, Hansen stuck with Hannah Cottrell aka Saint Sinner whose soft voice is a natural fit to the familiar Tycho sound and really adds a new level to it. Weather became a surprisingly short affair, consisting of only eight songs, with five ones featuring lead vocals by Cottrell. On the opening Easy her presence is still a tender element in the background and gets teased along with other signature sounds like the inevitable Fender Rhodes piano which is still Hansen's trademark element to use. But then Pink & Blue sees her voice unfolding its full beauty, delivering a shimmering piece of dreamy pop. The lyrical vision of Cottrell mixes with Hansen's musical one and once you get used to that it's actually a pretty nice addition to the equation. And it also allows the band a few new tricks. The pretty reduced Skate is mostly carried by her voice and a guitar and probably wouldn't work the same way without it. No Stress adds a lyrical sadness to the overall quite reflective mood of the song and I think it really lifts the tune on a different emotional level. The sound feels more focussed and fitting to the band character Tycho represent in 2019. That might happen due the coast of the group's lush early days but if you want those you can simply give Past Is Prologue or Dive another spin. And after all Hansen already confirmed to me that an instrumental version of Weather is happening pretty soon anyway. Change is necessary to move forward and if you happen to be open-minded you'll experience a pretty lovely piece of summerly dream pop on this gem. (Norman Fleischer)
Stream Now: ► Spotify / ► Apple Music / ► TIDAL
---
Bleached – 'Don't You Think You've Had Enough'
Sounds like … newly found optimism served with a cup of rock riffs and sprinkle of pop melodies. 
Out of struggles and hard times beautiful things can arise. The LA-based sister duo Bleached proves that with their latest LP Don't You Think You've Had enough?. The album is inspired by singer and songwriter Jennifer Clavin's path toward sobriety and resonates newly found self-acceptance and honesty.
This is the third record Jessie and Jennifer Clavin are putting out as Bleached, and lyrically as well as musically the most advanced one to this day. 'Writing these songs while sober became somewhat of a spiritual experience' the Jennifer comments. The feeling of staring down a dark and unknown path she expresses on Hard To Kill. Still, the track is everything but a sinister affair. The upbeat pop sensibilities and the catchy rhythm are not only highly infectious but also speak of regained optimism for the future. With funky guitar riffs, light-hearted beats, and just a sparkle of tambourine, the single shows an impressive emotional evolution. 'Better hide the drugs, I think we have had enough' Jennifer recalls old habits on Someone Dial 911. The arena-vibe of the pop-tinged anthems draws a silver lining throughout the record. Valley to LA captures rebellious run-away energies while drawing on 70s-style guitar riffs. The verse though returns to some folkier roots. Kiss You Goodbye, I Get What I Need, the titles alone already resonate the confidence the duo has found. Of Bleached we don't think we will have had enough anytime soon. (Liv Toerkell)
Stream Now: ► Spotify / ► Apple Music / ► TIDAL
---
New Order – '∑(No,12k,Lg,17Mif) New Order + Liam Gillick: So it goes..'
Sounds like … avoiding the obvious hits while still showcasing forty years of influential music making.
Four decades after releasing their first ever album New Order have reached full icon status by now and have entered the 'let's celebrate our legacy instead of destroying it'-phase a while ago. While only releasing one studio album within the past ten years this new live album is already their third one within this decade. It is, however, a special one, not only for its cryptic title – ∑(No,12k,Lg,17Mif) New Order + Liam Gillick: So it goes… was recorded in July 2017 during five special homecoming shows at Manchester's Old Granada Studios. Yes, nerds, that's the exact same place where Joy Division made their TV debut in 1978 during Tony Wilson's iconic So It Goes show which explains the title. Together with artist Liam Gillick, composer Joe Duddell and the 12-headed synthesizer ensemble of the Royal Northern College Of Music the Mancunian wave pop icons rediscover their own back catalogue in a truly surprising way which makes this live album a bit different compared to the previous ones. New Order avoid the obvious hits here – there's no Blue Monday, no Love Will Tear Us Apart, no Crystal and no True Faith. Bizarre Love Triangle might be the only hit in this selection which is quite a refreshing thing. Instead the 18-song strong set starts with an instrumental version of Times Change from their critically underrated 1993 record Republic and ends with Behind Closed Doors, the B-Side to 2001 Crystal. In-between there's plenty of rarities and fan-pleasing happening. Unknown Pleasure's iconic opening song Disorder gets its first play in over thirty years and it's probably also that long since they played Heart & Soul and Decades from Joy Division's second LP Closer. In A Lonely Place, one of Ian Curtis final songs, is also featured as well as easily overlooked New Order songs like Ultraviolence and Vanishing Point. If anything the So it goes… album shows what amazing treasures can be found in the back catalogue of this band and how flawlessly they can still work years later. The arrangements mostly stick to the original but still sound fresh and Bernhard Sumner's voice is in great shape (especially when he's doing his Ian Curtis impression during the Joy Divison tracks). It's a great testament of one of pop's most influential bands and it's also a great gateway drug if you want do dive a bit deeper into their discography. (Norman Fleischer)
Stream Now: ► Spotify / ► Apple Music / ► TIDAL
---
Various Artists – 'Ti
ny Changes: A Celebration Of The Midnight Organ Fight

'
Sounds like … a lasting tribute to immortal songs connecting people all over the world for a decade.
You can't approach this record without the frame of Frightened Rabbit's Scott Hutchison's death in May 2018. You shouldn't actually because the charity under the same name, Tiny Changes, that was set up surrounding this release, is the deliberate approach to help preventing deaths like his in the future. Frightened Rabbit find a disarming way of turning the grief into something productive and actually helping here. Originally though, Tiny Changes wasn't planned to be a general honouring of the late Scott Hutchison's legacy. Marking the 10 year anniversary of the band's signature album The Midnight Organ Fight, the band wanted to shake things up a little bit by asking befriended musicians to cover the songs. Scott Hutchison himself has heard and approved all of them. But the way Frightened Rabbit's songs, that helped and connected so many people all over the world, are presented here exceed expectations. These are not just covers, Tiny Changes is proof of the universal truth and warmth that Scott Hutchison's music inherited.
There's too many layers and too little space here to go through all of the 17 versions of The Midnight Organ Fight's 14 songs. But there's a lot to learn about Frightened Rabbit's music in all of them. The two versions of Modern Leper by Biffy Clyro and Julien Baker exemplify the broadness of Frightened Rabbit songs: stadium sized euphoria on the one, sheer delicacy and fragile beauty on the other hand. Two aspects that actually went hand in hand in the original. Daughter's rendition of Poke, a song that already is as heartbreaking as it can get, comes with  humbleness and honesty while adding a distinct Daughter-vibe to it, all in all making it even more disarming. And then there's Floating in the Forth; the song in which Hutchison depicted the circumstances of his actual death. The Twilight Sad's's James Graham, the one person on this record, who's probably been closest to Scott Hutchison, already wrote it himself prior to this release but one can barely imagine how hard yet necessary it must have been for him to pick up on that tune, resulting in one of the most moving moment on Tiny Changes. Despite being all good to exceptional work, in the end, not a single one of these songs can compete with the Frightened Rabbit original. Which is neither the point, nor a problem. This is the ultimate counterargument to the understatement of what Scott Hutchison wrote in Head Rolls Off: While he was alive, he made huge changes. In and for people all over the world. (Henning Grabow)
Stream Now: ► Spotify / ► Apple Music / ► TIDAL
---
The Soft Cavalry – 'The Soft Cavalry'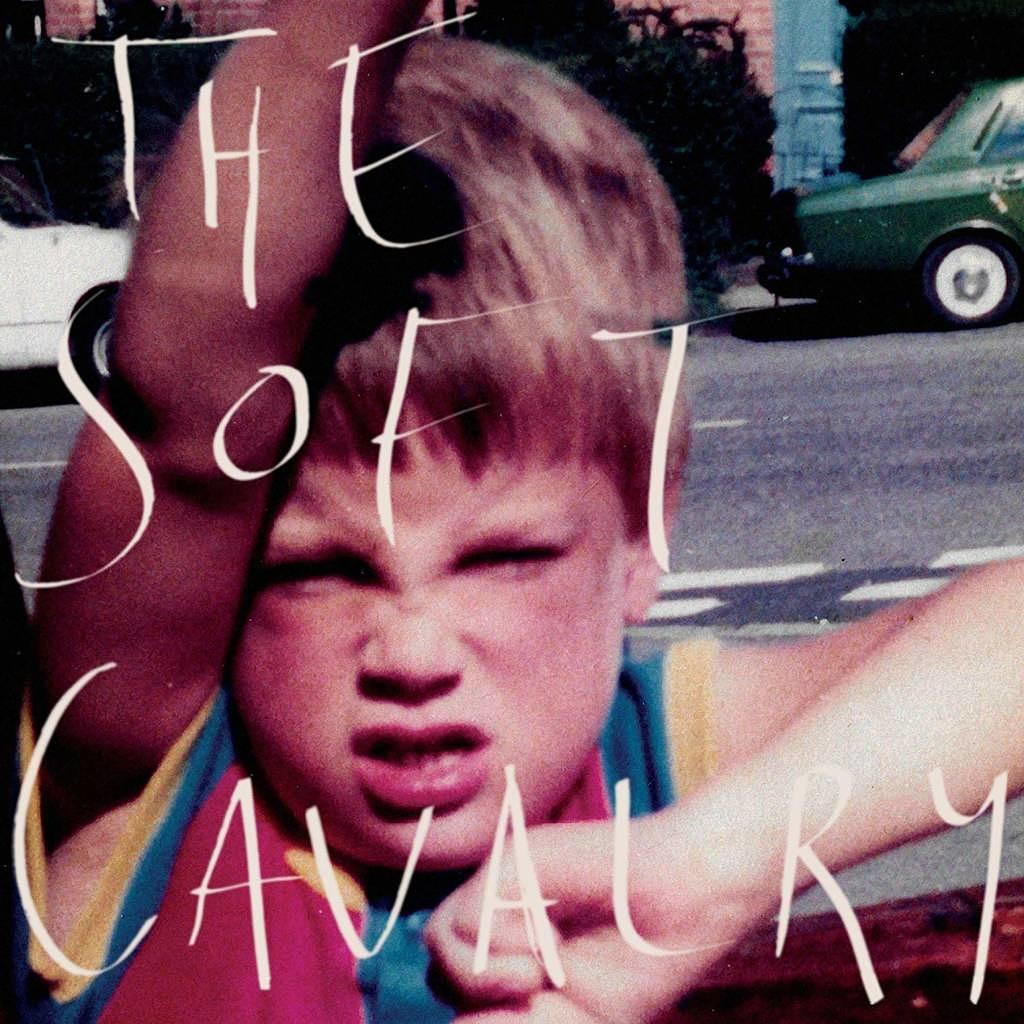 Sounds like … making a musical dream come true. 
Jumping into the music business in the late thirties? Sounds like a hopeless try to make teenage dreams come true, does it? Well, The Soft Cavalry is certainly making some dreams come true but does it with unexpected professionalism and frankness. The duo is born out of the love of the married couple Steve Clarke and Rachel Goswell, who some of you might know from Slowdive, But Clarke is no newbie in the industry either, he has kept in the background of the bands he played in. Together they created the self-titled debut album as The Soft Cavalry. The record is a fusion of dreamy synth-pop and mellow shoegaze tunes, and a truly impressive and moving first album.
With Goswell as his muse, Clarke was the creative force behind most of the album's elaborate lyricism, while Goswell shaped the soundscape with some lo-fi Slowdive tinges. Yet, the record is something entirely else, as the opening track Dive proves. The gentle guitar melodies and the layered synth introduce the cinematic vibe that draws itself through the record. And the track indeed sounds like a dive, a musical dive into hazy guitar riffs and numbing melodies. Like flowing tides, the track moves along until it crashed in a wave of synth crescendo. With both of the artists singing, the different vocals unite in a delicate dance. Clarke brings in an earthier, grounded vibe to the band, while Goswell's vocals seem to float above in ethereal clouds. The trance-like rhythms and undeniable melancholia make the record a painfully beautiful experience painting images with its vivid and well-composed instrumentation. Bulletproof is mixing up the overall chilled, sad vibe with some raw electronica. The rhythmic techno roots contrast the heartbreaking lyrics 'there's a hole in my heart / I am not bulletproof'. The Soft Cavalry create a lovely, surprising, and smart first record proving that late is better than never. (Liv Toerkell)
Stream Now: ► Spotify / ► Apple Music / ► TIDAL
---