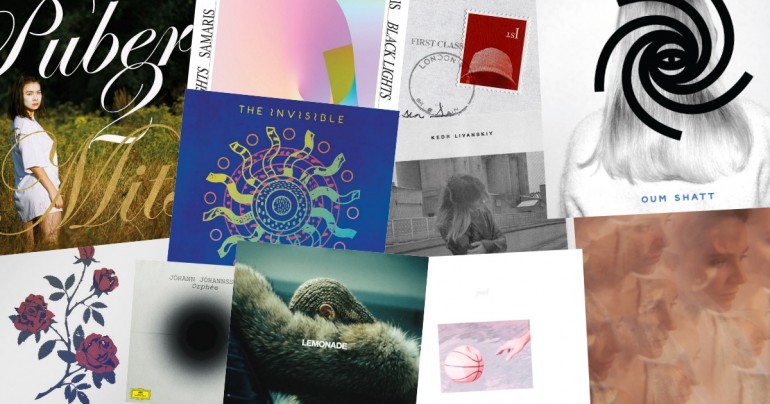 We have this lovely tradition over here at NOTHING BUT HOPE AND PASSION to not only end every year with the obligatory albums and singles of the year lists but especially those ones who got a bit left behind. Countless releases land on our virtual desks every year and it's pretty much impossible to listen to all of them. Yes, we got our 'What's Your Sound?' category where you can submit music and we guarantee to listen but still, way too often we overlook albums, especially with a descreet summer break like the one we had in 2016.
Anyway, we took a closer look, cleaned out desks and use this article to recommend more great albums of 2016; the ones we somehow overlooked, we didn't find time to review properly or the ones we simply discovered in the course of the year. These are personally little love letters to those records and as you can count on our love for quality and taste you are highly recommended to take a second (and maybe also first) look at the hidden musical treasures of 2016.
---
Beyoncé – 'Lemonade'
What to write about an album that made so much fuss about as BEYONCÉ's sixth album Lemonade? Obviously the overnight released visual album gave us some of the best tracks and videos of 2016 (and it got 9 nominations for next years Grammy's in return). Lemonade isn't just an album about BEYONCÉ's (eventually) shattered marriage with JAY Z but also an album about black power (Freedom and Formation) and reconciliation (All Nigh). Musically Queen Bey shows herself more experimental than ever before: There's country (Daddy Lessons), ballads (All Night), trap-inspired bangers (Sorry) and of course collaborations with the likes of JACK WHITE, KENDRICK LAMAR and even indie-favourite JAMES BLAKE. While there's been dozens of speculations about the state of BEYONCÉ's marriage or the ominous 'Becky with the blonde hair', one can be pretty sure that both Bey and Jay have been conscious about the effects that the release of the album would have. As for Jay himself, Lemonade should have increased the subscriptions of his own streaming service with being released as an TIDAL-only first. That's how you do marketing in 2016, right? (Louisa Zimmer)
---
Jóhann Jóhansson – 'Orphée'
If 2016 would need its own movie score this one might come in handy. I mean, if we talk about a traditional classic instrumental soundtrack, of course. Icelandic composer JÓHANN JÓHANSSON has become a strong force in the movie scene over the past years, delivering great scores (and therefore becoming the first composer from his country to get nominated for an Academy Award). His work combines the old with the new. Orphée, his first standalone studio album in six years forces you to create own scenes in your head as it delivers delicate and melancholic introspection. Pieces like the delicate A Song For Europa don't really need any lyrics to have an effect. Orphée can be a silent and partly epic reflection on the troubled world we're currently living in – if you want it to be exactly that. But the rest is up to your imagination and that's the best effect of this record. The stakes are high as JÓHANN JÓHANSSON scores the Blade Runner sequel in 2017 but I've got a good feeling he'll succeed. (Norman Fleischer)
---
Samaris – 'Black Lights'
When SAMARIS first appeared on the scene, it was relatively easy for them to be something special. The trio (Áslaug Rún Magnúsdóttir, Þórður Kári Steinþórsson and Jófríður Ákadóttir) weaved songs together from old Icelandic poetry, clarinet and dubby electronica, and sounded like very little else on earth. Their step from Icelandic into English language writing on Black Lights saw them risk that otherness that made them stand out: can you still sound as unique when you're communicating in the language that the vast majority of western pop music uses? Black Lights made it clear that it wasn't just language that gave SAMARIS their otherworldly magic: this band can capture something special regardless of how they present their music. Black Lights is an album of liquid beauty, moving parts that swirl around each other. Language wasn't the only thing SAMARIS changed on Black Lights. On previous outings, they used the vocals, clarinet and electronics as three distinct pillars to build the songs on.
On Black Lights, they melt into each other, vocals buried deeper in the mix or twisted with effects, clarinet blurred into the electronics. The songs on this record share a great deal of musical DNA, and stylistically compliment and inform each other, not so much a set of individual songs as a family of stylistic siblings. On another album that could feel like repetitive sameness, but on Black Lights it functions as cohesion: Putting on this record feels like sinking into a SAMARIS-created world. Magnúsdóttir and Steinþórsson's music powers the album like a heartbeat, from the high-tempo frenzy on R4vin to the soft pulses of In Deep. Ákadóttir's vocals supply the emotion and soul: it's a sombre record, bleak moods that wash over you, whether it's the nervous fear on Wanted 2 Say or the loss on Gradient Sky. Given the vast amount of musical projects SAMARIS' members have ongoing at all times (Ákadóttir alone has four at present) it may be a while before we hear from them as a trio again. But with Black Lights, they've created an incredibly personal and powerful record that will keep us eagerly anticipating their return. (Austin Maloney)
---
Mitski – 'Puberty 2'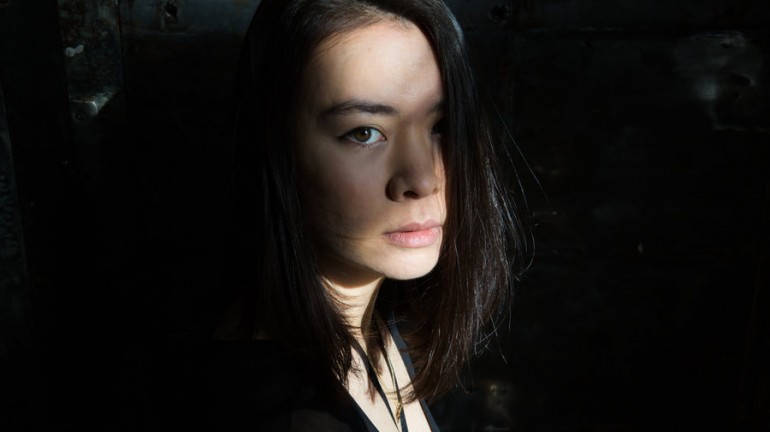 The New York-based Mitski Miyawaki might come across as some kind of a newcomer this year, although Puberty 2 already is her fourth full-length. Maybe it's just because of the 2016 momentum that created a certain buzz around surprisingly old-fashioned indie rock anthems from CAR SEAT HEADREST, JAPANESE BREAKFAST or MITSKI. Or maybe it's simply because Puberty 2 is so full of heartfelt weirdness. With its lyrics meandering so elegantly between childish naivete and thoughtful coming-of-age attitude. With its sound ranging from grungy to shy folk and back to cheerful 90s college rock. If you then add that MITSKI is as great a performer as we experienced her to be at this year's REEPERBAHN FESTIVAL, you probably get an idea of why she's popping up everywhere now at the end-of-the-year polls (also: check out her Colbert-performance). Well deserved and shame on us for missing it out in the first place. (Henning Grabow)
---
Kedr Livanskiy – 'January Sun'
Russian electronic music has been bubbling back up to the top of the cultural conversation for a few years now since the John's Kingdom collective's  The Great Lost Sounds of Johns' Kingdom appeared back in 2014. And over 2016 KEDR LIVANSKIY (Russian for Lebanese cedar: her actual name is Yana Kedrina) emerged as one of the scene's breakout stars. Her debut record (it's actually an EP, but we'll bend the rules of the overlooked album section for this one) January Sun is short (clocking in at under 30 mins if you discount the alternative versions of opening track Razrushitelniy Krug (Destructive Cycle) strapped onto end), but its still a potent opening statement, laying out LIVANSKIY's stylistic signature and exploring how far she can take it. The music on January Sun glows with a sense of urban warmth, like sunlight falling on concrete. Opening tracks Razrushitelniy Krug and Winds Of May are loose and soft electronica, before Sgoraet (Burning Down) racks the intensity levels up a notch. The frenzied breakbeat techno of Otvechai Za Slova (Keep Your Word) acts as the album's adrenaline shot, and April smoothly winds the record down. As a debut collection of music, January Sun is deeply impressive: and it feels like only the beginning. (Austin Maloney)
---
Oum Shatt – 'Oum Shatt'
Like many great bands of their kind, OUM SHATT learned how to skillfully exhaust the confines of their genre to meticulous extent. Expanding on their 2013 EP Power To The Women Of The Morning Shift, the four-piece decided to include all of the four songs on their self-titled debut album, some of them in practically unaltered form. Opening the record, Power To The Women Of The Morning Shift and Madame O present all of what constitutes the group's unique quality: jangly, arabesque guitar licks, smooth bass lines and rhythms, and Jonas Poppe's unsettling themes of goofy wooing (check 'Nothing's so true like the backsides of your knees'), delivered in a croon that speaks not of relaxation, but rather exasperation. The amount of detail displayed in almost every aspect of the compositions is staggering. Poppe's and second guitarist Jörg Wolschina's pristine playing gives a nod to Midwestern music and surf-rock more than once, while showcasing a light-footedness akin to the finest examples of past decade's post punk.
Chris Imler's drumming, in its effortlessness, contains a latent complexity that will reward anyone willing to listen out to the multitude of arabesque percussion used over the course of the album's twelve songs. Even the sheer number of bold catchphrases in Poppe's lyricism is astounding for a musician of German descent. It is not as much the novelty of the sound presented that makes Oum Shatt such a compelling listen. Much more intriguing is the shamelessness by which the band adapt seemingly overused indie, surf rock or world music set pieces and use them to assemble surprising, but obviously convincing tracks. It is even more unsettling considering that this is not the work of overambitious teenagers but a project launched in the later stages of the members' careers. Unlike many of their peers though, OUM SHATT still have enough punch to write a set of songs that is both playfully experimental and unashamed to ask for a dance. (Igor Franjić)
---
The Invisible – 'Patience'
Dear readers, I feel the urgent need to tell you that I'm deeply indignant and heartbroken if it comes to the release of THE INVISIBLE's latest album Patience. The reason for my sad outing is not the record itself, though. Quite surprisingly, Patience turns out to be a ridiculously brilliant piece of music. However, it is since it came out that I didn't succeed to find anyone sharing the same appreciation for the 3rd album of the London three-piece. And even now that all magazines publish their 'best records of 2016' lists THE INVISIBLE are strangely overlooked. The situation is ever so surprising as the matured band does nothing wrong on Patience, au contraire, everything they do seems wisely elaborated. The band's latest output includes only nine tracks so there's basically no filler on it. Considering all the influences involved, the record's got a remarkably easy flow, creating an atmosphere that suggests night time listening either before or after clubbing. The trick is that it works both ways. Post punk inspired basslines and smooth synth sounds fuse with bits and pieces of staccato guitar. Still, it all sounds very R&B. Okumu's vocals merge well with the melodies and sound best when paired with female guest contributions. In Believe in Yourself, Okumu asks 'Tell me, do you believe in yourself?'. Having released such a gem this year, THE INVISIBLE clearly have no reason not to. Seriously, folks, go listen and tell all your friends. (Chris Hegholtz)
---
Skepta – 'Konnichiwa'
2016 has been a good year for Grime. Well expect for the people who pretended that the genre actually established this year. With SKEPTA releasing his fourth studio album released in May and promotion from DRAKE the whole world embraced the 34year old Tottenham rapper and his crew Boy Better Know. Through awarding the rapper with the Mercury Prize instead of RADIOHEAD and BOWIE in late September, the jury of the most prestigious British music award acclaimed what Konnichiwa actually is: A pretty clever portrait of our time. With lyrics such as 'It ain't safe for the block – not even for the cops' or 'sometimes I don't text you back but I never mean to disrespect you' SKEPTA didn't just become the voice of Tottenham youngsters. While the music itself might seem aggressive to some people at first sight, Konnichiwa is actually a pretty personal long player. SKEPTA raps about his mum, being on the road or being in love. But in the outro of the most explicit track Ladies Hit Squad the rapper actually reveals to be quite hurtable: 'So lonely/ I've been losing my mind slowly'. Grime might be one of the few remaining progressive musical genres these days. (Louisa Zimmer)
---
Porches – 'Pool'
PORCHES's second album Pool starts with the words 'Sometimes I see the vision', and there could not be a better beginning for a record that so decisively changed the course of Aaron Maine's career. Before essentially a lo-fi indie rock project characterised by its loose feel and occasional compositional experimental use of electronics, Pool marks the point where Maine whole-heartedly embraced the possibilities of electronic instruments and production techniques to create a streamlined pop effort – the laid-back atmosphere he felt most comfortable in transported effortlessly into an 80s-emulating environment. Appropriately enough, the first track on Pool is called Underwater, as it sums up the general impression you get from listening to the record: tales of love, lust and melancholy merge in a drug-infused haze. 'Are you in / The mood / I think I / I said the wrong thing', sings Maine on Mood, and you can genuinely imagine him sulking over whatever made his lover turn her back on him, while you marvel at how wittily Maine displays the most mundane thoughts. In reality though, his girlfriend Greta Kline, herself renowned as FRANKIE COSMOS, accompanies his singing on a couple of tracks and adds her own sheen to the already intricately-arranged compositions. Take the title track Pool: With only a handful of well-selected instrumental and vocal lines, he succeeds to create a compelling three-minute piece. Elsewhere, a well-placed guitar lick suffices to convert chill into groove. Not a single track exceeds the four minute mark on Pool, and Maine knows exactly why: by trimming all fat, he managed to create a 38-minute-long diamond of synth-pop that showcases his strengths instead of highlighting his flaws. (Igor Franjić)
---
Whitney – 'Light Upon The Lake'
Wouldn't it be lovely to wallow in the feeling of a warm summer day instead of enduring the severe cold? The comfort and the beauty of sunlight that makes us forget even the tiniest sorrows and whisks us away to a much brighter place? Well, WHITNEY might be the perfect solution to take you there. Having released their debut album Light Upon The Lake this summer, the two ex-SMITH WESTERNS bandmates as well as songwriting partners Max Kakacek and Julien Ehrlich managed to put together a collection of songs that express exactly this kind of sweet innocence, simple elegance and warm feeling. You only have to reach out your hand and grab it. That's if you can handle the joy, but also the tinge of melancholy that is conveyed in the short songs that are reminiscent of the golden pop era in the 60s.
Essentially, Kakacek and Ehrlich let their songs revolve around break-ups while they are exploring the big playground of pop music along with influences of americana, folk and rock'n'roll. Written in one of the coldest winters in their hometown of Chicago, Illinois, the two songwriters ventured out into the Californian summer to record their ideas with their friend and Foxygen-member Jonathan Rado. It's fair to say that at least a bit of the vibe there rubbed off on the musical outcome that is so inviting you might want to wrap it around you more than once. The sheer excellence of the simple, but very effective arrangements including a horn section, organ or strings on top of Ehrlich's falsetto makes Light Upon The Lake an exceptionally pleasant listening experience. (Annett Bonkowski)
---
 Agnes Obel – 'Citizen of Glass'
Honestly! How could we almost sort of overlook AGNES OBEL's latest masterpiece Citizen of Glass? Well, chances are that we're still totally blown away by OBEL's incredibly beautiful performance at this year's New Fall Festival in Düsseldorf. Her latest record turns out to be remarkably minimalist in instrumentation. However, it's due to the album's haunting melodies and OBEL's emphatic vocal performance that the result sounds ever so magic (thankfully, it's still far away from a classic pop sound) and fragile at the same time. Yes, Citizen of Glass indeed cries out for being performed at churches, theatres, and other extraordinary places. It's special. It is a coherent and therefore pleasant work of art whose music is peacefully and calmly tiptoeing around you, coming nearer with each song until it's finally embracing its listeners. OBEL's Citizen of Glass is more than a collection of songs. This record's got personality and it is interacting with its audience. You want all your senses being involved while listening; it certainly has the power to move. It's pretty rare that an album's got so much character. Citizen of Glass is so absorbing you never realise the work and effort behind it. You might even forget about the musicians play and sing on the record although, without doubt, all their heart must be involved in what could be this winter's most wonderful release. (Chris Hegholtz)
—