[one_half last="no"]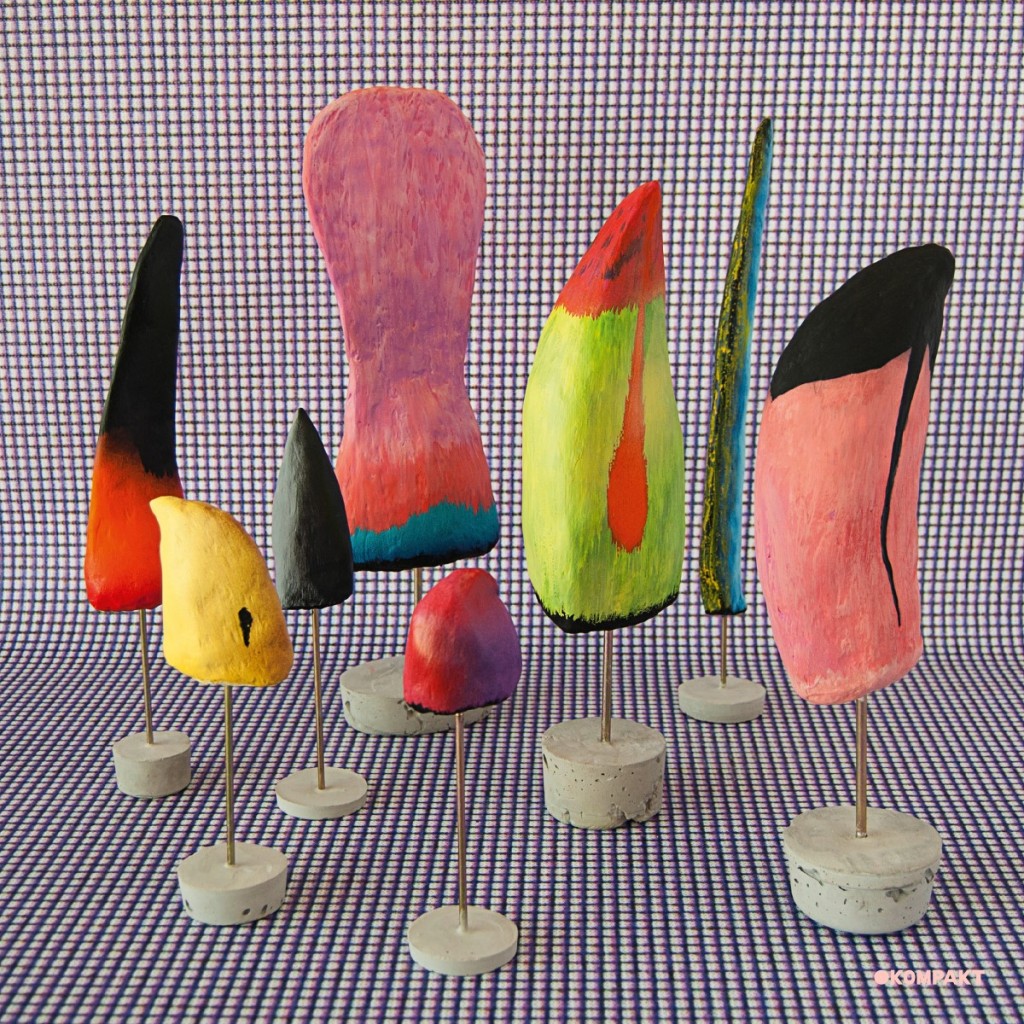 NBHAP Rating: 4,1/5
[/one_half]
[one_half last="yes"]COMA
This Side Of Paradise
Release-Date: 09.10.2015
Label: Kompakt
Tracklist:
01. Borderline
02. Lora
03. The Wind
04. Pinguin Power
05. Verse Chords
06. Poor Knight
07. The Sea
08. Happiness

[/one_half]
---
---
Same same but different
One great thing about the revival of vinyl is that we get to see the artwork of an album in the size it is originally meant to be. Printed on a 12" LP these pieces of art are in many cases destined to impress future listeners before they have actually heard a single note. In the case of COMA's new record things work out a bit differently. The cover of their new album might not look very impressive at a first glance but you perfectly understand it after having listened to the eight new tracks it comprises. It is almost surprising how well the eight elements depicted on the front cover represent the same number of tracks on This Side of Paradise. Those objects share common features but they also differ in colour, length, and position. Still, they share the same ground and they are positioned in a clear, almost mathematical way, i.e. diagonally.
Paradise Lost
This is exactly how the music on This Side of Paradise can be described. The tracks differ e.g. in lengths, melodies, and vocal performances. However, they share a common ground that is a melancholic, almost understated tone throughout the whole album. There is no true euphoria that can be heard in the new tracks, not even in the album closer Happiness. It is more the sound you feel and associate with a fading summer or that point of time when you leave a club after a fun night out. The melodies appear to build up slowly, they tend to be somewhat repetitive, clearly-structured, and minimalistic. A certain feature the tracks share is that the vocals do work as sounds (Poor Knight). They are embedded in the soundscape of the record. It is not about the lyrics or the voice which often turns out to be alienated, it is all about the music. This is why This Side of Paradise sounds carefully thought through in a way.
Music Nonstop
This Side of Paradise is not an easy listening record. Because of its minimalistic and repetitive character it still sounds a bit 'rough' and not as elegant and ensnaring as GUS GUS' latest output Mexico, for instance. But this is not a weakness of the record, au contraire this is a good thing, a strength. COMA return with quite a charming follow-up to In Technicolor. It will eventually grow on you if you are willing to listen to it carefully. In fact, it's got quite a few things to offer: While The wind features guest vocals by Berlin-based melancholic princess DILLON, Happiness sees MIT singer Edi Winari appearing on a COMA record again. In the end, the combination of all eight tracks deliver a coherent piece of music that seeks its listeners to join them on a journey of melancholic, minimalistic sounds and melodies. They're worth an exploration. Yes, 'This side of Paradise' is all about its music.
COMA's 'Side Of Paradise' is a gentle and smooth one that all lovers of delicate minimalistic electronic music with pop appeal should not miss.
—