[one_half last="no"]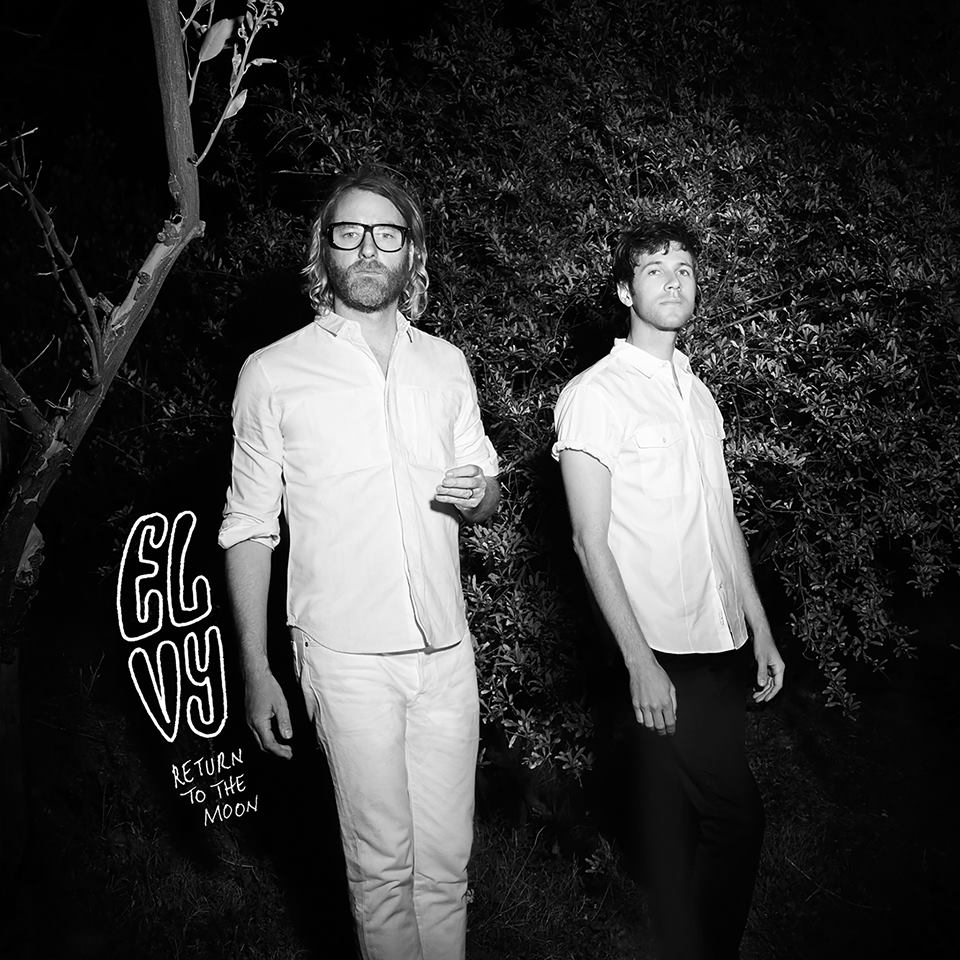 NBHAP Rating: 4/5
[/one_half]
[one_half last="yes"]EL VY
Return To The Moon
Release-Date: 30.10.2015
Label: 4AD
Tracklist:
01. Return to the Moon
02. I'm the Man to Be
03. Paul Is Alive
04. Need A Friend
05. Silent Ivy Hotel
06. No Time to Crank the Sun
07. It's a Game
08. Sleepin' Light
09. Sad Case
10. Happiness, Missouri
11. Careless

[/one_half]
---
---
Long time coming
EL VY, side project of THE NATIONAL's Matt Berninger and MENOMENA's Brent Knopf, apparently have been in the works for years. The duo first met in 2003 when THE NATIONAL and MENOMENA played a gig together and few years later, they started touring together. It was then when they started to talk about a collaboration but never had enough time to actually work on it because of their main projects. By the way, Matt and Brent weren't the only ones who were talking about a possible collaboration during their time together. Danny Seim of MENOMENA and Bryan Devendorf of THE NATIONAL also formed a band called PFARMERS and released a record last May. Back to our topic: After THE NATIONAL finished touring for Trouble Will Find Me, Berninger and Knopf finally had a brief period of time to record their debut album Return to the Moon.
Different side of Matt Berninger
As Matt Berninger stated in various interviews, Return to the Moon marks his most autobiographical work to date. Most of the songs are built around the details of Berninger's life, like his family or his hometown Cincinnati. And then, they are completed by the elements of Berninger's creative storytelling and Knopf's musical talents. The title-track of the record is a good example to observe how the songs come to life. Berninger mentions a park in Cincinnati ('Don't make me wait for you at the corner of Eden Park') and adds some surrealism to the song ('Bought a saltwater fish from a colourblind witch') as Mr. Knopf provides pop melodies. For I'm The Man To Be, Matt Berninger slightly tones down his baritone and sings about how happy he is because his dick's exposed to sunlight. Well, just the usual stuff. Synth-filled Need A Friend is another song that focuses on pop elements.
When it works, it works perfectly
Unlike few exceptions mentioned above, Return to the Moon still bares Matt Berninger's melancholic lyrics. And when those lyrics combined with Knopf's talent, Return to the Moon starts to shine. It's A Game kind of feel like it's a previously unheard THE NATIONAL song but instead of Dessner Brothers' guitars, it features Brent Knopf's down-tempo cinematic melodies. Another good thing about the record is its range, it features something for everyone. For a moment, Berninger uses his early 2000s-era tired, laid-back voice in Sleeping Light but calmness doesn't last long. Guitar-heavy songs Sad Case and Happiness Missouri got themselves a room in this diverse album. EL VY wrap up the record on a high note with the last track Careless, as the heavenly combination of an acoustic guitar and Matt Berninger's voice steal the show. Even though Return to the Moon starts as a strange affair, it is nice to hear Matt Berninger's famous baritone in a different environment.
At first, it feels weird to hear Matt Berninger's voice surrounded by pop melodies but Return to the Moon shines when Berninger's lyrics and Knopf's musical talent complete each other. 
—