Finally, on Friday evening, the famous ELECTRONIC BEATS FESTIVAL – which is known for inviting great electronic acts from every corner of the genre-  took place in Cologne's E-Werk. Five magnificent artists and one DJ team (BROKEN LUXURY) from all over the world did the honors to play their music at the former relay station.
ADI ULMANSKY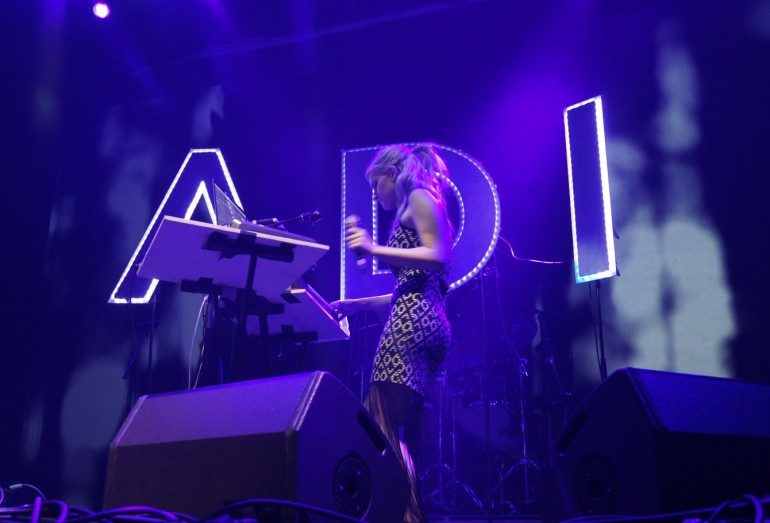 The evening's first act has been Tel Aviv's electronic popstar ADI ULMANSKY. All by herself on stage, she convinced with thoroughly selected concomitant beats and her great voice. Unfortunately the audience hasn't been attentive enough for her taste and she left the stage quite displeased in the end…
DAVID AUGUST & ENSEMBLE
Next on the list was electronic producer DAVIG AUGUST with his ensemble consisting of a harp, drums and a guitar. He managed it to connect his computer- based beats with the live played instruments in a perfectly absorbing way that you didn't notice how the time passed by.
HOWLING
Tender techno-duo HOWLING, consisting of Australian songwriter RY X and German DJ FRANK WIEDEMANN (one part of ÂME), followed AUGUST in a similar absorbing manner: their already at home hypnotizing mixture of house and pop music has been much more intense on stage caused by their special live – transformation with discreet applied lights and a lot of smoke.
DJANGO DJANGO
Afterwards Scottish four-piece band DJANGO DJANGO played their unique mixture of psychedelic, indie and electronics, accompanied by confusing visuals and flickering lights which sometimes have been a bit exaggerated.
ROÍSÍN MURPHY

The last to perform has been the Irish singer ROÍSÍN MURPHY who entered the stage in a quite weird outfit comprised of a sports- jacket, eccentric sunglasses (she later took both things off) and a necklace with an oversized key-hanger. As it seems, the 41 year old singer likes to self-display: she also made quite weird and exaggerated moves which unfortunately detracted a bit from her otherwise obviously great music.
Overall, Cologne's Electronic Beats Festival has been an evening full of great live acts which performed their music in the perfect location. In this effect, see you next year!
—