Sometimes you just have to let the images do the talking. 2015 clearly wasn't our first time at the almighty IMMERGUT FESTIVAL. The final weekend in May is always a fixed date in the schedule of the freshly launched festival season. The event in Neustrelitz is a hidden little gem in the European festival scene, always aiming for quality instead of quantity. Familiar atmosphere, a hand-selected line-up and something truly unique aside of the big cooperate-driven Festival scene – since over 15 years the organizers of the event stick to that idealistic idea and we can't think them enough for it.
This year has been another truly satisfying adventure in the woods with lovely musical adventures offside the mainstream. Experimental rock collective BATTLES, for example, delivered one hell of a comeback performance on Saturday, playing as tight and 'on point' as if they never were away. ERLEND ØYE was another sovereign headliner and presented himself once again as one of indie music's most gifted crooners. And singing along to Belgian indie-rock heavyweights BALTHAZAR and their smooth little anthems clearly isn't the worst experience you can have on a festival, trust us. But most of it, it's the friendly atmosphere with its true 'indie hippie' spirit, that captures us every year. It's kind of hard to describe it and put it in proper words. So, that's why we decided to let the pictures do the talking this year and share a handful of extraordinary impressions fro the IMMERGUT FESTIVAL 2015 with you. Can you feel the love?
This young fella definitely as one of the finest surprises of the IMMERGUT FESTIVAL 2015. JONAS ALASKA delivered truly wonderful folk pop and although he's already really successful in his home country Norway he hasn't been on our radar before. But it's never too late to listen to these bittersweet songs about teenage love and the struggles life holds for everyone of us, right?

Catching the last rays of sunlight before a night full of amazing music is starting. These moments always belong to the best ones at every IMMERGUT FESTIVAL, even if the weather wasn't always that perfect during last weekend as in this photograph.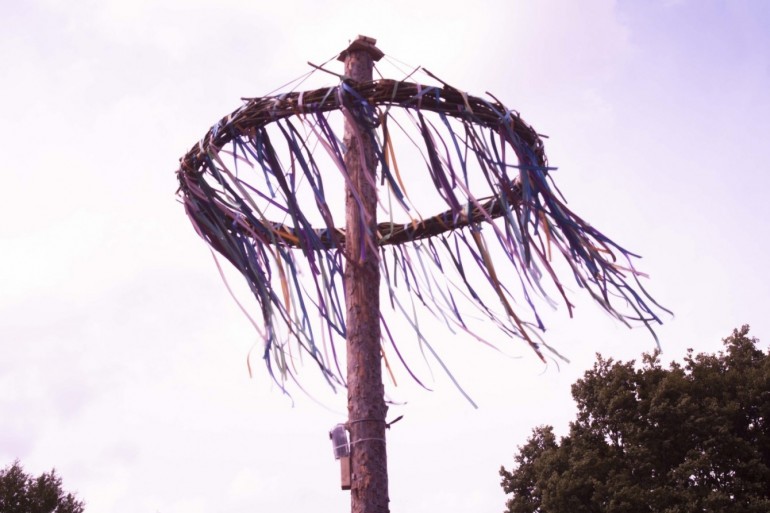 A may pole was indeed quite suitable for the event… well, even if you're not celebrating the start of the month but rather its end.

This photo sums the festival's strength up in the most fitting way. A perfectly scheduled line-up, small but of quality. You don't need larger-than-life headliners, sleepless 'after hour' floors, an own mobile app and big brands – IMMERGUT FESTIVAL celebrates handmade simplicity at its best.

Wait? Did a BOWIE nerd set up that little The man who fell to earth reference up on the area? Well, or was it just an astronaut in disguise? We'd leave this mystery unsolved.

Between krautrock and 80s disco. The gentlemen from VON SPAR delivered one hell of a grooving set, no matter how hard the rain tried to stop them. And this time they had special guest singer ADA on stage, giving the songs off last year's StreetLife longplayer a surprising new touch, we must say.

Last year's event saw REAL ESTATE delivering sun-drenched dreampop and this year one part of the band – Matt Mondanile – showed up again with his project DUCKTAILS. Together they brought sweet afternoon harmony to the event even if it wasn't the sunny summer afternoon we had hoped for. But in the end, the summer was in our hearts and Mondanile and his band definitely managed to warm them. Love was in the air and that's an old but timeless cliché whenever we are forced to limit the fascination of the festival to just one simple sentence.

All photos by Stefan Ibrahim
—