Heartfelt vocals pour out of the cold metal cage that is the exact beat of the drum machine. The contrast kicks you in the gut, and you sense immediately that you're onto something worthwhile before you begin to discern why. The guitar has taken to negotiate between these opposing positions, diving into warm melancholic tones in one moment and going back to keeping coldly distant in the next. The synths add an upbeat note, ensuring that you can dance to this till dawn if you so wish. The Belorussian post-punkers Molchat Doma echo the sound that came out of the industrial underbelly of Britain some forty years back without sounding too much like any band in particular. It's the smooth blend of pleasingly familiar with the excitingly unfamiliar that has proven to be highly appealing for audiences abroad.
The music of Molchat Doma could be taken as a sonic equivalent of the weird and wonderful brutalist architecture of the Soviet era. Both their debut S Krysh Nashih Domov and the follow-up Etazhi show one of these structures on the cover. Like most cities located within the former Soviet sphere of influence, the band's hometown of Minsk is populated with endlessly grey panel houses, built so close to one another that each of them seems to be silently creeping up on the neighbours. But even bleak views from the window can become a source of inspiration. The band's repertoire includes a string of sombre dance hits, of which Tancevat is the obvious number one, because what makes for a better goth disco favourite than a crepuscular yet sprightly tune with the lyrics "I can't dance" sung in Russian?
Fighting Censorship
But you don't need to understand the words to sense that the music comes from a place of universal heartache looming in the dark corners of every human soul. Their song texts often consist of short repetitive statements and reveal more through what is left unsaid. They say they don't want to get into politics, because expressing one's opinion can have consequences in their country, but admit that they might do so in the future for the situation is alarming. The Soviet power machine they sing about in the song Mashina Rabotaet ("the machine works") indeed still works today.
The Belarusian authorities have a long-going record of attempting to restrict musicians in their activities. For obvious reasons, rock musicians expressing discontent with the authoritarian ruling style of president Alexander Lukashenko are more prone to censorship, which can take the form of last-minute concert bans on the grounds of "logistic difficulties" or "low quality of lyrics". But no one is exempted from scrutiny for as long as public musical performances need to be authorised. Despite some positive changes, music in Belarus is not completely free from the influence of ideology and politics. The presidential election is coming up this August, which is always a particularly tricky time. Lukashenko, who has been in power since 1994 and scraped the limit of terms a president can serve in 2004, has announced he will run for the sixth term in office.
Finding Inspiration
Politics aside, the capital Minsk is a cosy city of nearly 2 million, with cafés and venues popping up just like they do in any metropolis. Molchat Doma may have been the first to gain recognition on an international level – they toured Europe extensively in the last two years and recently signed to Sacred Bones – but they certainly aren't the only ones finding inspiration in the grey sea of panel houses. The post-punk and new wave of eighties Britain resonate well with the anguish of post-Soviet reality three decades after the fall of the Eastern Bloc. Minsk has produced a whole array of bands injecting a dose of Slavic melancholy into the classic combo of gloomy guitars layered over melodic basslines and cold constant of the drumbeat, and they offer some fresh takes on the seasoned genres.
Architecture meets Music
Dlina Volny represent the dreamy and atmospheric variant of post-punk with a multi-layered sound which builds on the tension between poetic imagery and rebellious attitude. The singer Masha Zinevitch has a vibe reminiscent of the young Alison Mosshart, but the band's overall sound is woven from much hazier textures. The trio cites a wide range of influences, including The Strokes, The Horrors, Trentemøller and Beach House, along with Soviet pop and brutalist architecture, which begs the question: Is brutalist pop becoming a thing? In a refreshingly unusual take on a band's promotion, their Instagram profile regularly showcases architectural beauties of the Belarusian capital.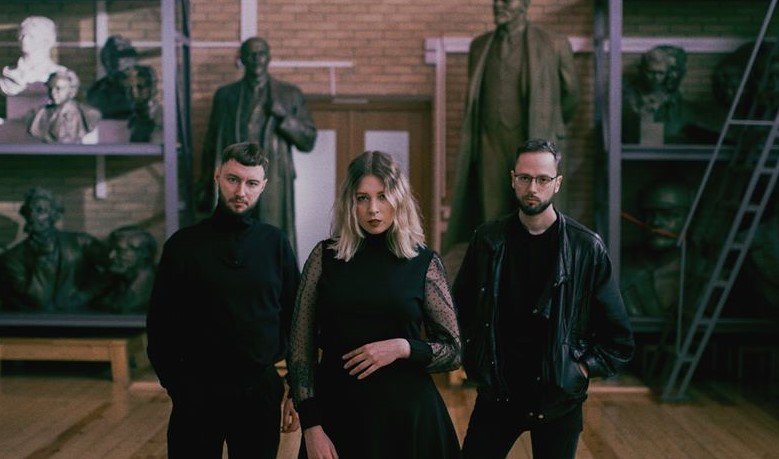 Their first EP Niezmierima (2016) is the result of a creative outburst which followed the band's formation, they completed it just four days because Zinevitch was traveling to London on the fifth. She likes to experiment with her voice and especially in the early phase sang in such a low pitch that people often mistook her for a guy – listening to the EP it's not hard to hear why. Ne Znaju Kuda is at the same time a prime example and the most captivating of their earliest tracks. The creative process behind their full-length debut Mechty (2018) was much slower and their approach more conceptual, they took the time to grapple with the legacy of uncertainty and destroyed hopes which hangs like a cloud over post-Soviet countries to this day. On eight languorous songs, they conclude that it's important to allow yourself to dream. The band has since joined the roster of acclaimed label Italians Do It Better (here's their latest single, produced by Chromatics' Johnny Jewel himself) and their next album is due later this year. If the singles are anything to go by, it promises to revisit the themes of fear, love and rebellion with a riper sound.
A Different Nürnberg
Nürnberg have at their disposal a broad palette of sound reaching from dreamy to danceable. The universal conflict between estrangement of modern city life on one hand and human emotions such as love and compassion on the other informs their sound, together with the particular moroseness of post-Soviet societies. Their EP U nikudy (2018) keeps a steady cold wave beat that will make you jump up and dance around your room in the middle of the night. Their full-length debut Skryvaj however, released the same year, shifts towards calmer soundscapes with fuzzier outlines. Its eight songs provide a fitting soundtrack for 25 minutes of active daydreaming.
Their latest album Paharda came out in April, and it stands out visually in their discography. They abandoned romantic nature landscapes of their earlier covers and went for geometric shapes and sharp contrast colours. Sonically, the album constitutes less of a break and more a continuation. The duo returned to a faster pace and urgent feel of their earliest songs while retaining hazy overtones of their debut. Paharda smoothly switches moods from darker and angst-driven to softer and dreamier, and it has a few playful moments, too. The language they sing in is Belarusian, which sounds a little softer than Russian and flows nicely through the music.
Moving Away from Rock Aesthetics
The cold wave outfit Super Besse has been an important part of the scene and the longest-serving one of the bands mentioned here. The trio started out in 2013 and has three albums to their name. A dark wavy sound of guitar and keys dancing to the punctuate beat of the drum machine was their staple on 63610* (2015) and La Nuit* (2017). The lyrics are prominent on both albums, delivered in almost rock-style vocals you'd want to sing along to at gigs. But their latest album signals a sharp turn, the band has left the rock band aesthetic behind and embraced a more industrial and electronic sound.
Un Rêve was recorded partly in Minsk and partly in Berlin, and the later seems to have left its mark. I can't unhear the pun in the album title – it's French for "dream", but the whole thing sounds much more like a rave. The instrumental opener Videnie transports you to some former factory turned club and steady beat pulses through the whole album. The vocals kick back in on the next song but remain noticeably distant throughout. Super Besse have found a sound that will resonate well with international audiences, and we can only hope they will be able to come to present it live in a not too far away future.