As longtime followers of NOTHING BUT HOPE AND PASSION you might be aware of our love for the Eurosonic Noorderslag festival as various members of the staff attended it a few times over the past decade. The ESNS conference and showcase is typically held across multiple venues in Groningen and took place in the virtual realm from 13 to 16 January because… well, we all know the reason why. Many attendees understandably mourned the absence of the live music experience and everything that comes with it – miscellaneous side shenanigans and spilled pints included – the event nonetheless ran smoothly and successfully in distance mode. While it is beyond doubt that we all hope to meet in the Netherlands next year, it is reassuring to know that the switch to online works just fine if necessary.
Some aspects inevitably get lost in the lack of direct human interaction – notably a sense of spontaneity – but a derail from the good old ways can, at the same time, bring out fresh thoughts and productive outcomes.
Of all the applause we could not hear in the virtual rooms, the longest and loudest went to the organizers and developers who did a great job translating the extensive program online. The interface was well thought through and easy to navigate, and crucially encompassed spaces where people could "meet" and chat: openly in the lobby, topically during the talks, privately in direct messages, or casually in the virtual bar in the evenings. People interacting with one another through all these various channels made the occasion feel social, and the atmosphere was positive and supportive at all times.
Some Pros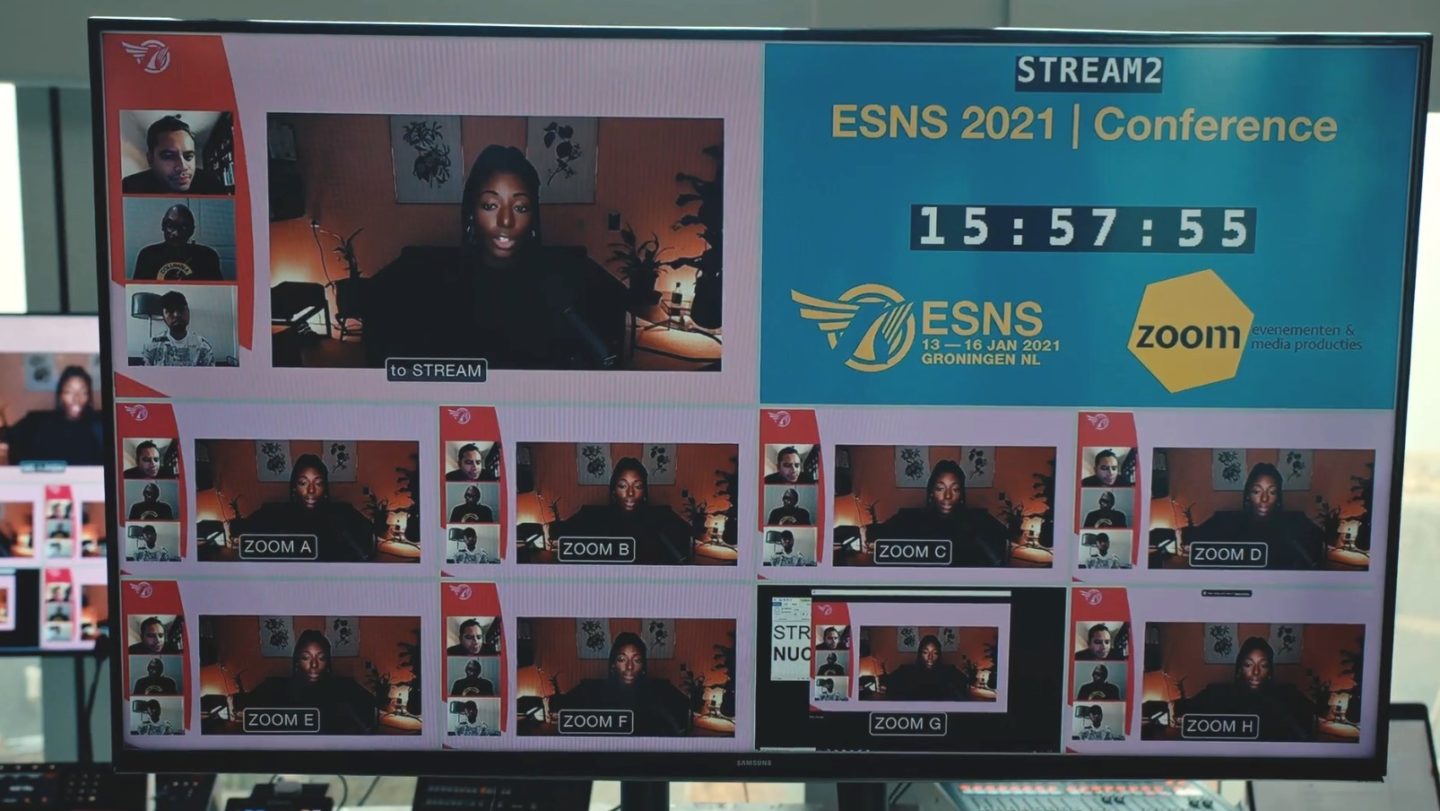 An undisputed advantage of digital events is the possibility to leave the room without awkward shuffles, noises, or stares, to have a peek elsewhere and even come back at the speed of a click. The option to ask questions in the chat also worked well; I would even say that I prefer it to a standard Q&A as it allows shyer people to speak up and it prevents that one person inclined to share every thought from blabbering for too long. Prompted by talks on the virtual podium sometimes a discussion in its own regard evolved in the chat – with people sharing their opinions, valuable insights or relevant links and additional resources. For the busy and the indecisive, and, importantly, for accessibility reasons, the option to watch and re-watch the talks later is another obvious plus.
Following an unprecedentedly harsh year, and with even the most optimistic accounts not expecting live music events to resume before late summer, most of the talks naturally revolved around "the c-word" and the consequences of the pandemic. An array of voices sounded the need to pull the same rope and build alliances to make the industry and its demands – artists and crew included – heard among the politicians and the public; and people agreed that stronger players have the responsibility to hold up others.
About Streaming
Discussing trends that will shape the industry, Mark Mulligan offered a comprehensive analysis of new creator ecosystems. More people are making music using both classical instruments – Fender has seen an increase in guitar sales last year – and various digital tools, with an increasing preference for collaboration and community platforms. More people are pitted against one another in the fight for attention which already is a zero-sum game, and they operate in a system that puts individual artists at a disadvantage.
Streaming is a song economy favouring the rights of holders over creators – one has to have an immense back catalogue for streaming to be profitable. What the industry needs, Mulligan argues, is to redefine the relationship between artists and fans. There should be a parallel artist-centric economy where a micro-community of fans generates income that goes directly to the artist. Mulligan suggests looking at the gaming industry for inspiration.
Concert on a Screen
Live streaming was inevitably the topic of multiple presentations and panels. Everyone could ponder its effectivity for themselves in the festival part, even though all performances were pre-recorded and not strictly live. Some were shot in the regular locations in Groningen, others in a local venue in a more or less standard way, but the digital format allowed for playful takes, reminiscent of music videos rather than concert recordings.
The Czech singer Tea Sofia walked her audience through a forest, while the Norwegian psychedelic trio Orions Belte played their set on a picturesque mountain edge. The funky outfit JAVVA from Poland performed their concoction of post-hardcore, noise rock and afrobeat to a room full of houseplants. The Latvian musician Sign Libra enchanted a collection of cyber-botanical decorations carefully arranged on note stands with her astrologically ambient set and the Icelander Daði Freyr took turns on a rotating stage.
Performance Hopping
The outpour of creativity was refreshing and left a memorable impression in the less-than-ideal circumstances of having their performance mediated by a screen. However, this also put Eurosonic at risk of turning into a Eurovision-style extravaganza. The line wasn't crossed this time but going full-on bizarre solely for the attention grab is something to beware of. The option to switch between performances might again help the indecisive and those who want to see it all, but at the cost of further fragmenting the experience, coming yet closer to absent-mindedly browsing through TV channels, or frantically swiping left and right on a dating app. With a misplaced sense of hyper-productivity, I sometimes caught myself making decisions to "stay or go" within seconds, whereas attending a live show, I would be willing to wait much longer. It somehow resembles a usual behavior pattern on showcase festivals where you sometimes enter a venue, only to leave after two songs as you need to head for a venue at the other end of Groningen. The digital edition partly felt like a more extreme version of it.
On the other hand, it was quite fun to hop around virtual rooms and get confronted with acts I would probably otherwise choose to skip based on the description. As opposed to falling down a random internet rabbit hole and feeding on algorithm suggestions, attending an online festival offers a curated selection by industry professionals. For anyone seeking to cover a lot of ground and discover up-and-coming artists to follow in a short time, a virtual showcase can be a convenient means to do just that. But it certainly doesn't replace the experience of attending a live show, and I am looking forward to seeing the poppy Dresden duo ÄTNA, Berlin underground sensation musician Discovery Zone and her solo arctic trip, the Belarus post-punkers Nürnberg, the raw energy of Spanish punkers Pódium, the Austrian band My Ugly Clementine and Ireland's Powpig at the next opportunity.
Final Thoughts
Digital events can be either a blessing or a curse, depending on each individual's abilities and the aims they pursue when attending. Most of us probably fluctuate somewhere in between, weighing the pros and cons as we make ourselves yet another cup of coffee just to have a break from the computer screen. Always disappointed will be people who conceive of virtual events as a replacement for the real thing, and therefore place expectations that simply cannot be met. A better way would be to see them as something different, the only conceivable solution for now and maybe a purposeful extension in the future. Instead of lamenting what we cannot have in the coming months, let's think of the events we want to attend when it's possible again, addressing the issues of sustainability and accessibility. Meanwhile, and for the foreseeable, we ought to stick together at a distance.
You can still re-watch the showcases of ESNS 2021 right here.