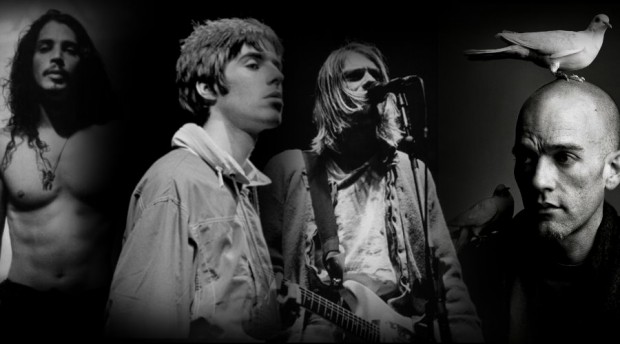 If you haven't lived under a rock over the past days you might have noticed that last weekend marked the 20th anniversary of the sad loss of Kurt Cobain. The world's probably last rock idol left the planet and it somehow feels like the gap was never really filled in the past two decades. But we don't want to sound too sentimental at this point. And this is clearly not another doxology on the life and death of Mr. Cobain. But still it's a look back – not just on grunge but on the rock in general that excited us twenty years ago.
You can argue a lot about the 90s – the moon boots, the screaming neon lights, Eurodisco etc. But you can't deny the fact that this decade has been great years for rock music. Following the shallow and shiny synthesizer pop of the 1980s it was artists like Cobain who re-discovered the guitar and played it as loud and dirty as possible. America first got its grunge and than its alternative rock wave, Europe saw the Britpop wave. No matter what side you took – or if you even enjoyed all different waves – it were golden years for rock music.
We took that occasion to take a look back on some of most terrific rock moments from 1994. 13 unforgettable classics – from epic stadium rock to raw indie spirit. Those were the anthems for a whole generation. And maybe you forgot a few of them. Or you weren't even born back then. This is your moment to rediscover the past and hopefully learn something for the future. May the spirit last forever.
01. SOUNDGARDEN – 'Black Hole Sun'
What a video! Disturbing and absorbing. A sophisticated middle finger from rock music to establishment. Seems that this attitude went out of style since then.