Amber Arcades – 'European Heatbreak'
Annelotte De Graaf stirs up some classical, old-school pop to set her thinking process to.
When American artists want to sound significant, they tend to title their works 'American Something'. This is to indicate that what they've created is something big, something that says something about their country. It's a technique borrowed by Annelotte De Graaf for her new Amber Arcades record European Heartbreak, a title that posits this as an album with weight, that's trying to say something about us all. Truth be told though, it's something of a feint. Political disillusionment crops up on Goodnight Europe, a song about disgust at the world going petty, selfish and bitter around you, but it doesn't dominate the record. Europe is more of a setting for a record where personal narratives take place on drives to France.
So it's a record of personal stories right? No, because European Heartbreak is a record where De Graaf is actually interrogating her memories and experiences ('everything's been done, but not by you and me'), and questioning if, y'know, yesterday's grass isn't actually greener. And that's where the politics slip in again, because isn't that mis-remembering and over-nostalgisation of the past exactly what a lot of people in Europe are letting drive their politics right now? So maybe European Heartbreak is saying something about us after all? The point of all this is that there's no straight answer to all this. European Heartbreak isn't a record that that slips into any description easily, and you suspect that's exactly what she's going for. On the musical side things are simpler. De Graaf strips away the more-pysch and Krautrock leanings that were present on her debut Fading Lines, and instead focuses on writing classical, old-school pop songs. Amber Arcades' new LP is one that just sounds gorgeous, breezy, shimmering guitar-pop that it's impossible not to get swept up in. And while you're listening to that, you can think more about the lyrics – and think about how you're experiencing them at all. (Austin Maloney)
Song to get you started: Oh My Love (What Have We Done)
Stream it now: ► Spotify / ► Apple Music / ► TIDAL
---
Marissa Nadler – 'For My Crimes'
Is For My Crimes the 'female murder ballads' or just a clever abstraction of classic heartbreak? It's up to you to decide.
You don't approach a new Marissa Nadler album lightly. The records of the now Boston based singer lean heavily into dark, almost gothic-like territories. Sparse instrumentation, her distinct voice and lyrics that merge classic folk-topics with modern female perspectives and a certain grim humour have established Nadler as an outstanding artist in her field. For My Crimes is already her eighth record and although you learned what to expect from her by now, there's always a new note to her releases. With an almost all-female cast of prominent guest musicians (Angel Olsen, Sharon van Etten, Kristin Kontrol and Patty Schemel a.o.), Nadler managed to rewrite the classic Murder Ballads: For My Crimes is an updated meditation on universal topics like guilt, regret, shame, sin and forgiveness on the background of a failed relationship.
'Please don't remember me/For my crimes' – what may sound like the plea of a prisoner on death row is much more. Along to the lonesome acoustic guitar, Nadlers shaky voice presents the line of the record's album opener and title-track as multi-faceted. There's not only regret in it, but also hope; a hope that she may be remembered for her better parts, not only for her shortcomings. The beautiful but distant, barely noticeable voice of Angel Olsen seems to respond to that. Elsewhere, you get Nadler's typical fatalistic sense of humour in You're Only Harmless When You Sleep which title may sound ironic but it's actually quite serious. The songwriting class of Marissa Nadler though truly comes out in the central Blue Vapor: There's not much going on at first, only few repeated lyrics. But as Nadler manically repeats them, the music more and more flares up to catatonic distortion. 'I've been foreign, I've been turning', Nadler claims in Blue Vapor, leaving the listener as a witness of a relationship that was bound to crumble. It's not so much the thought of destiny or a forgiving god that fueled classic Murder Ballads by Johnny Cash or Nick Cave. For My Crimes is more about admitting one's personal failures and sing them a lullaby. Who else could do that this mesmerizing than Marissa Nadler. (Henning Grabow)
Song to get you started: Blue Vapor
Stream it now: ► Spotify / ► Apple Music  / ► TIDAL
---
Hater – 'Siesta'
The buzzing Swedish indie music shootingstars return with a truly satisfying second album.
There's different types of seasonal people. And I don't know about you but I tend to always get a bit melancholic once summer ends. Well, at least here in Western Europe. It's more or less perfect timing that Swedish indie pop outfit Hater releases their second full-length right now because for me it perfectly captures this special feeling between the seasons. Just like its predecessor – 2017's You Tried – the sophomore album by the Swedes arrives with a warm and hopelessly romantic notion, delivering a summerly swan song to the season, failed love and slowly outfading adolescence, it appears. That's the stuff great records are made of. In the case of Hater less still remains more on Siesta. Gentle DIY lo-fi anthems like the psychedelic opener From The Bottom Of Your Heart, Closer and the really wonderful I Wish I Gave You More Time Because I Love You spread a feeling of youthful melancholia that always attracted me.
Singer Caroline Landahl delivers these tiny unspectacular anthems with a maximum of charisma. Her and the band aren't looking for perfection; they rather cherish the lush lo-fi charm of early 90s independent rock. Every now and then they speed up a bit like in the single It's So Easy and the slightly chaotic finale of Your Head Your Mind but most of the time a delicate laidback atmosphere dominates the music on Siesta. The whole recipe works because each ingredient appears to be right in the place where it belongs. Strings and other additional instruments are well placed, avoiding the natural 'bigger is bigger' mistake many bands make on their second album. This attitude gives the songs all the space they need to breathe. Because in the core that's what makes Hater such a fascinating band: It's the profound songwriting in which an epic and catchy chorus like the one in Why It Works Out Fine can happen anytime but never appears to be forced. 'Now it's summer again. I want to get away like we did before' sings Landahl in Fall Off. It's an open invitation to enjoy this wonderful music throughout the entire year. Teenage dreams got no expiration date and Siesta is the soundtrack to underline that. (Norman Fleischer)
Song to get you started: Fall Off
Stream it now: ► Spotify / ► Apple Music / ► TIDAL
---
Roosevelt – 'Young Romance'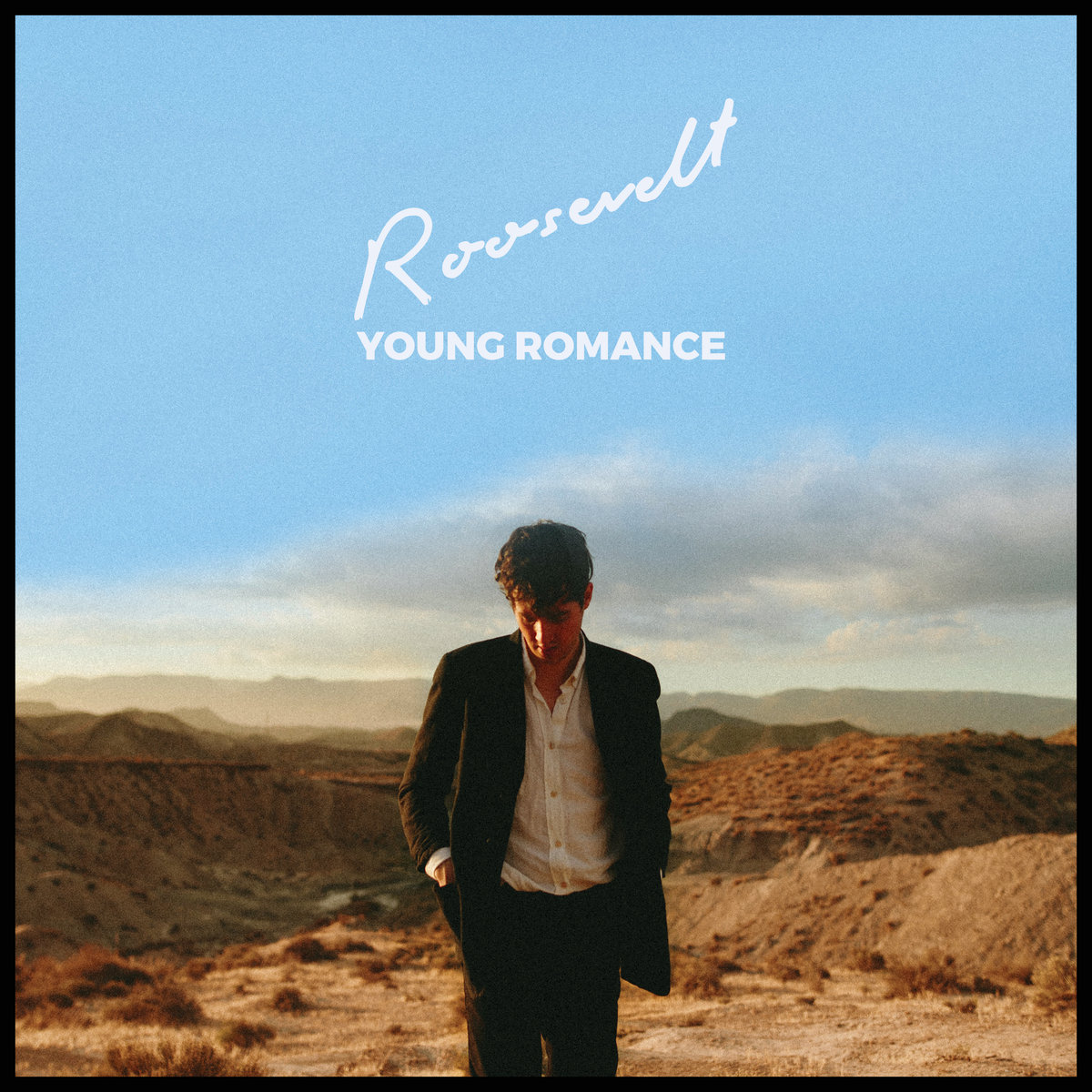 From phantom to protagonist: Two years after the release of his brilliant self-titled debut, Roosevelt returns with his sophomore album. It's a lesson in pop – part euphoric, part reflective.
The enormous success of Roosevelt has surely been a surprise for Marius Lauber. In a current interview with the German Diffus Magazine, he confesses that he now knows that there is an audience out there that actually cares for what he does and that this has been a sincere motivation for him to return to the studio in order to write new music. Indeed, in spite of the debut's brilliant melodies and crystal clear production, no one could have foreshadowed that these songs would take him all around the world for at least two years. However, the time spent on the road has clearly led to a development in Roosevelt's self-perception and, consequently, his self-presentation. Lauber stepped out of that blurred purple light embellishing the artwork of his debut record, reduced the reverb and put a four-piece band behind him. Whereas from 2012 to 2016 Roosevelt appeared as an impalpable phantom leaving cumulative traces of a distinct hazy, dreamy electro sound, he now is the visible protagonist of a worldwide known pop act. So, what does this mean for the sound of Young Romance?
Considering the number of concerts Roosevelt played all around the world for the past two years, it's somewhat surprising to see Young Romance being released only two year's after Lauber's debut which many people had been waiting for to appear for more than four years. The debut's follow-up is basically split in two halves: Whereas the a-side focusses on a new facet of Roosevelt's music that is euphoric high-energy pop, the b-side of the record embodies a more reflective, longing tone reminiscent of the artist's early work. The record starts with a hypnotic semi-instrumental, fires off a number of fast(er) songs and ends with calm and gentle contributions including a Washed Out feature before ending with Roosevelt's interpretation of the ballad-genre. In a broader view, one could say that the album in its structure resembles a classical drama structure. Here, young romance is destined to fall apart. It's precisely the more reflective, longing part of the album once again proving what Lauber is particularly good at, namely creating 'atmosphere'. The record's first part, though, indicates that Roosevelt surely got the skills to produce future Pet Shop Boys or New Order records. One true highlight of Young Romance is the inclusion of an old live classic entitled Lucia. At the end of the day, the only question that remains is why Lauber still hasn't properly put out one of his best songs to date: Cape Cod. (Chris Hegholtz)

Song to get you started: Pangea
Stream it now: ► Spotify / ► Apple Music / ► TIDAL
---
Lala Lala – 'The Lamb'
This mix of indie, punk and grunge gives another yet more complex and polished glimpse into Lillie West's life
'I think being honest and explicit makes everything simpler for everyone', said West, frontwoman of Chicago-based project Lala Lala, in our interview earlier this month and she means it; their debut album Sleepyhead from 2016 was full of autobiographical elements. But while the topics back then were comparatively light and addressed with directness and humour, the band's sophomore record The Lamb is somewhat different.
Two years ago, and after struggling with addiction, West changed her lifestyle completely and became sober. This new-found clarity and intention are apparent in The Lamb's polished production as well as in the complex lyrics, but her transformation is not the only recurring theme: West was also confronted with a home invasion and the deaths of several loved ones. And although there are songs about (self-) destruction (Destroyer, The Flu), the loss of friends (Dove, When You Die) and recovering from addiction (Water Over Sex, See You at Home), The Lamb is – for the most part – not a sad-sounding album. It's as catchy as the band's debut but more hopeful and optimistic; the album title, a reference to West feeling like a baby sheep learning everything for the first time, serves as a first clue. As if we weren't eager for Lala Lala's future already. (Jessi Schmitte)
Song to get you started: Dove
Stream it now: ► Spotify / ► Apple Music / ► TIDAL
---