Billie Eilish – 'When We Fall Asleep, Where Do We Go?'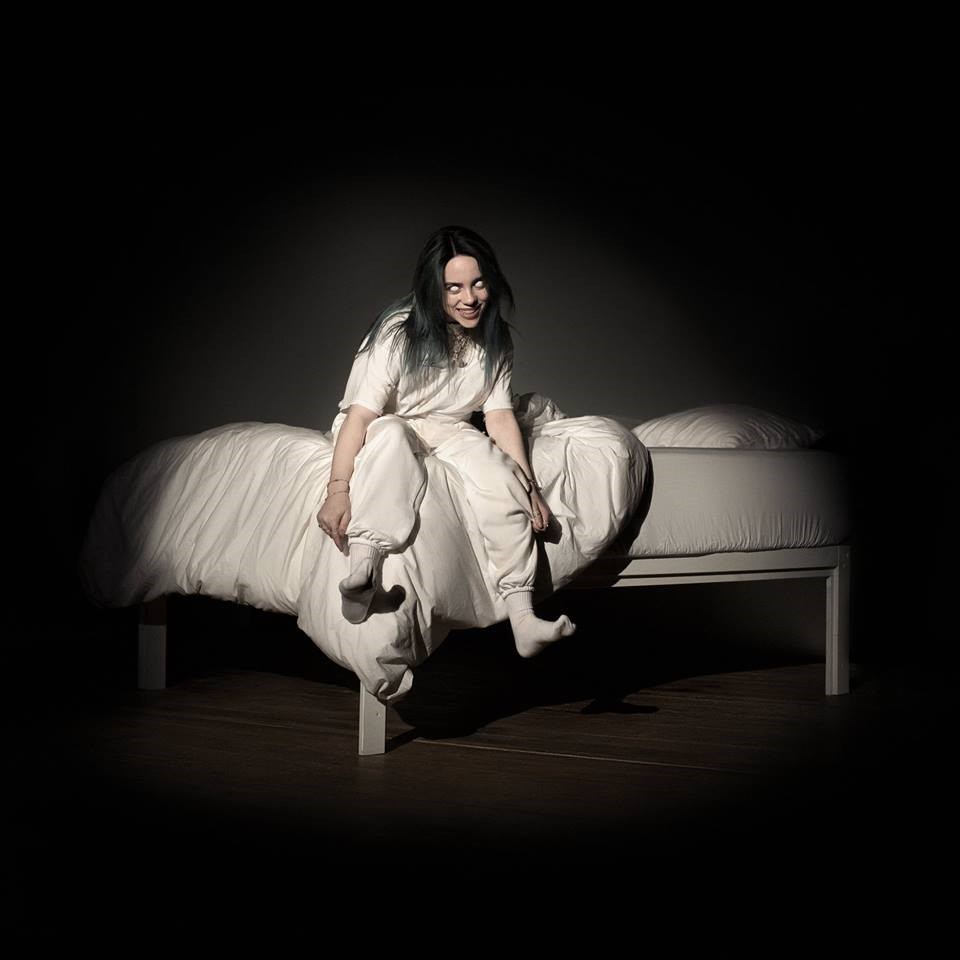 Sounds like … anxiety meets darkened dancefloor anthems. 
'Don't give me a Xanny now or ever', Billie Eilish hums on Xanny. Its the third track on the long-awaited debut album of the 17-year old LA-phenomena and probably the most pathbreaking track of the 14-track album. Eilish refers to her own sobriety, as being the most sober person at a party, but automatically refers to the huge use of recreational drugs in the United States and the trap music scene. The track itself pours of anxiety, with distorted beats flowing over EIlish's falsetto-like voice. With the singles bury a friend and bad guy the new pop idol takes a hint at the dark dance floor. Even though of the trap and electronic influences, other tracks such as wish you were gay or listen before I go are more laid-back and focussing on her singer-songwriter skills. The production led by her brother Finneas O'Conell since their first Soundcloud upload Ocean Eyes in 2015 is a potpourri mixing R'n'B, HipHop, Electronic and Pop.
Billie EIlish herself gets even darker on When We Fall Asleep Where Do We Go. With her 15 million Instagram followers and the topics she addresses in her tracks, the 17year old is nothing less than the role model, America's youth needs in the Trump-era. The topics she addresses songs aren't just all heartbreak and unrequited love, but also anxiety and dark thoughts. Even though she hisses 'I wanna end me' in bury a friend we shouldn't worry too much about 'the most talked-about teen on the planet', as NME describes Eilish. When We Fall Asleep … is the soundtrack for the new generation of anxious teenagers and adolescents who still have their boundaries: ' Please don't try to kiss me on the sidewalk / On your cigarette break / I can't afford to love someone / Who isn't dying by mistake in Silver Lake'. With those lyrics on Xanny, Eilish shows another middle-finger to the drug-fueled environment in LA,  and probably also to guys in the music industry. If that's how the future of pop sounds we now actually have a reason to be optimistic  (Louisa Zimmer)
Stream Now: ► Spotify / ► Apple Music / ► TIDAL
---
Show Me The Body – 'Dog Whistle'
Sounds like… the angry hardcore record you were looking for in 2019.
'This album and our music does not belong to a political party. No authority, political movement, or side may claim the function of our music in this society. This album is personal. It is about and for the disenfranchised youth of this city, of this country, and of this earth. It is for our community and anyone who may find shelter within it.'
With these words New York based trio Show Me The Body announced the release of their second Album Dog Whistle and at the same time released the first single of it Camp Orchestra. The song and the video are just as intense as the statement posted to it. The name Camp Orchestra is inspired by a recent visit to the concentration camp memorial in Auschwitz-Birkenau in Poland during their latest tour and refers to the Jewish orchestra groups that were formed during WWII within the camp. The piled-up shoes in the video refer to the rooms with discarded shoes they found in there. Strong pictures, strong story, intense songwriting. Dog Whistle is minimalistic, broken down to the minimum of needed features and reaching a maximum effect though rough and fierce but still thought- and mindful canalized rage. Energy transferred in punk infected hard core, with elements of industrial hip hop a lá Death Grips, garage- and noise rock.
Distortion, feedbacks and white noise are just as part of the record as finest mosh-pit evoking tracks, groovy headbangers, energetic groovy sections and the intense lyrical performance of singer Julian Cashwan Pratt, who every now and then choses his banjo over an electric guitar. Dog Whistle is a 28-minute piece of concentrated and focused work, loaded with the most private and intimate thoughts. Death and the loss of friends on the one side, but finding comfort and strength within their community on the other are the foundations, on which this record evolves. The two intense spoken-word interludes on the record display the deep thought process leading to this album: 'Participation in anything in the death of something: A camp in a country, a checkpoint in the city. Every institution has hands in the business of death. How do I participate?' (Animals In A Dream). This record is rough and impulsive, it's honest and straight forward, it's angry and reflective and over all personal – and defiantly one you won't forget. (Abhilash Arackal)
Stream Now: ► Spotify / ► Apple Music / ► TIDAL
---
K Á R Y Y N – 'The Quanta Series'
Sounds like … ashes settling down after a battle.

Have you ever opened the curtains of a fully dark room just a tiny little crack, only to watch a ray of light cut through the darkness? Have you ever watched the particles of dust dance in its brightness, moving at their own pace freed from gravity as if they were moving in a universe of their own? That is about what KÁRYYN's music sounds like. The Syrian-American singer has struggled with various musical styles in the past until her path has finally led her to the debut release The Quanta Series. The record creates a whole musical world of its own. Feeling deeply connected to her ancestors who were part of the Armenian civil war, and spending her summers in Aleppo before it was taken over by ISIS in 2011, KÁRYYN knows about the fleeting unpredictability of life.
The, mostly computer-generated melodies with embedded codes the singer loves to experiment with, move at a different pace. Long echoing notes and vocals drawn into lengthy improvisations make it sound unlike anything else. Even in minimal songs like CYTOKINESIS, which is only made up of layers of whispered lyrics, the texture is rich and unique. The multi-dimensional and dynamic sounds create a visual experience accompanying the aural one. On AMBETS GORAV KÁRYYN returns to her Armenian mother tongue with a church-like grandeur of echoing sound. The track almost sounds like something off Lord of the Rings. A hymn after the battle was fought and the ashes settle down. Seven years in the making, The Quanta Series surely knows where to take its place today. Atmospheric melodies and ethereal synth tunes give it a mysterious presence, while the vocals remain sharp and bright. The album radiates the confidence of a singer who found her path through the darkness into the light, and with it her very own voice. (Liv Toerkell)
Stream Now: ► Spotify / ► Apple Music / ► TIDAL
---
C Duncan – 'Health'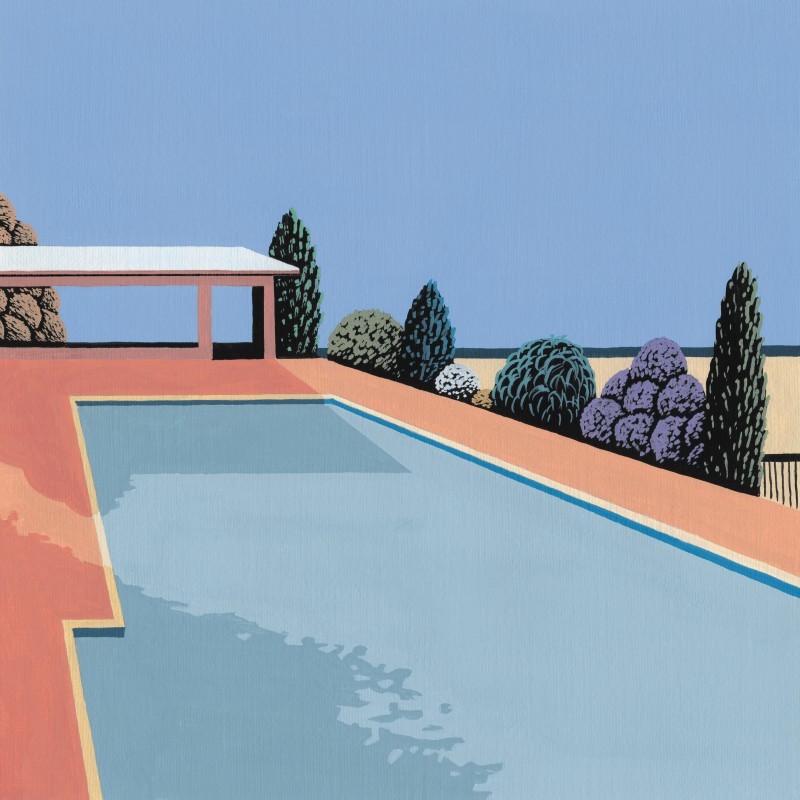 Sounds like … feverish pop symphonies by one of Scotland's best kept secrets.
Although Health is already the third full-length by Scottish songwriter Christopher Duncan and his 2015 debut Architect was nominated for the acclaimed Mercury Prize it still feels as if he's been flying under the radar of the British music landscape and especially in places beyond it. His slightly cinematic chamber pop with a lot of love for psychedelic soundscapes and vocal harmonies isn't the easiest formula for success but if Health proves one thing than that it can indeed work. His third album is easily C Duncan's most ambitious one yet – but it's also the record that might be his easiest accessible one so far, so he's really living that contradiction. Health marks a new chapter for his career, leaving his beloved bedroom studio in favour of a professional one. Craig Porter of Elbow produced the album and that means Duncan can rely on an expert for symphonic sounds right here. The album however starts quite uplifting with the catchy Talk Talk Talk. It adds a soulful and organic vibe to the songwriter's electronic foundation and that's something that suits him pretty well.
Tracks like the way too catchy single Impossible and the smooth sunshine pop of Holiday Home and Blasé are testaments of C Duncan's musical skills and his gained confidence. Working with other producers, engineers and musicians for the first time really shaped his sound and it feels as if he really needed this push to show the world what he's actually capable of. Health combines traditional piano-based songwriting with jazzy elements, progressive psychedelia and something quite 'retro' while also fundamentally being a record of the here and now. Great instrumental arrangements and brave twists await you in songs like He Came From The Sun and Reverie and they really underline the variety of this album. C Duncan's music is still not easily accessible indie-pop but on Health it feels as if he finally found his own musical path. And this path could be up for even greater adventures if we allow him to walk it over the next years. (Norman Fleischer)
Stream Now: ► Spotify / ► Apple Music / ► TIDAL
---
Crows – 'Sliver Tongues'
Sounds like … getting punched in your stomach by a Britrock-fuelled fist.
Already released last week this ugly beauty almost slipped through my fingers. But when IDLES leading man Joe Talbot poses with the vinyl of this record while also stating it's the best album of 2019, you just have to give it a spin. And yes, let us briefly ignore the fact that Silver Tongues was released on Talbot's very own Balley Records label. Still, the debut album of Crows is an intense rock and roll affair, a monumental impact that channels the British guitar band tradition while also perfectly fitting to this new generation of exciting new groups that 'Generation Brexit' is currently producing. Intoxicating intensity awaits the listener right from the moment the massive title-track opens the album. Silver Tongues is a dirty stream roller that even speeds up during its final minute. Leading man James Cox channels Nick Cave, Ian Curtis and both Reid brothers (The Jesus And Mary Chain) at the same time, it seems while his bandmates give everything they can on their positions.
The whole album recalls familiar British rock patters from various stages of history. While the dirty Demeanour could have also been on IDLES' most recent record, tracks like Wednesday's Child and Hang Me High feel like a grittier, punky version of Oasis. Crows are capable of writing big anthems and Cox surely knows how to deliver them but they simply aren't interested in fitting the expectations. Chain Of Being is also a good example as the more melodic start implies a tender moment in the record only to get interrupted by hypnotizing guitar walls. And then you got an eight-minute long epos like First Light // False Face which builds up to a massive tune that would actually make The Jesus And Mary Chain quite jealous. This is a record that is packed with bursting energy, a thrilling debut album and one everybody who enjoy furious guitar music should not ignore. (Norman Fleischer)
Stream Now: ► Spotify / ► Apple Music / ► TIDAL
---