Billie Marten – 'Flora Fauna'
Sounds like … a blooming garden of sound, ripe with confidence and liberated doubts.

Billie Marten is only aged 21 and yet the London songwriter has gone through significant stages of development already, now fully come alive on her third record, suitably titled Flora Fauna. Her two first albums Writing Of Blues And Yellows, as well as the 2019 follow-up Feeding Seahorses By Hand, both blooming with acoustic clarity and youthful charm and yet with an "anxious" attitude in her songwriting stand as delicate pillars of her sensitive acoustic trademark, while Flora Fauna now marks the point of Billie Marten breaking free. Still rooted in the folkish vibe she has set out to fill with new life, this record comes across as bolder and fearless, both in ways of sonic evolution and in the poetic truths she aims to explore.
The colourful roars are fired into the open from early on, as the opening Garden Of Eden willingly demonstrates. Throbbing bass lines provide a jerky start, while Billie's soothing vocals gently complement the vibe. "I… Wanna feel alive / Garden of eternal sunshinе" is the only chorus this refreshing tune really needs, soaked deep in the urge to drop out of the optimisation wheels of our times. "We're so subscribed to this idea of pushing and evolving that we're not actually doing the living part", she says about this song and doesn't she hit the hammer on the head? Creature Of Mine then is a worthy follow-up, delivering a catchy flow that alternates between hammering verses and the sweet acoustic interludes in the pre-chorus: "So before we die / We leave tonight / Before we die / We're living life". While the songs are united in their topos of personal growth and artistic progress, moods change between sonic audacity and mellow acoustic gems. Human Replacement shares a certain Billie Eilish aura, Liquid Love and Pigeon or the final Aquarium on the other hand pull out softer registers, reminiscent of earlier material. As colourful and bright the scapes of Flora Fauna might be in the end, as impressive and astonishing are the visions of Billie Marten she invites us to explore on her third record. (Andreas Peters)
Stream It: ► Spotify / ► Apple Music
---
CHAI – 'WINK'
Sounds like … a colourful pop cocktail to toast the good times in life.
When 2019's PUNK album put Japanese four-piece CHAI on the musical landscape and onto the festival stages of the world they conquered many hearts by storm, ours at NOTHING BUT HOPE AND PASSION as well. Their fittingly labelled 'neo-kawaii' sound mixed multiple genres together and managed to mix riot grrl attitude with J-pop sweetness and a very unpretentious way. The follow-up takes a different road but keeps the spirit of Mana, Kana, Yuna and Yuuki alive and it's a joy to witness them playing the game by their own rules. Like many albums of 2021 WINK was born in the times of the global pandemic and directly influenced the way this third CHAI full-length sounds. In the past the band was eager to capture their furious live energy on their albums but with a lack of shows and traditional recording methods the band turned to Garageband, traded ideas online and worked on the different parts step by step. The result is a more laidback and personal affair. WINK is a way more electronic-sounding album but one that highlights their songwriting skills and musicianship even more. However, they still like to mix bits of fun and humour into the equation and that really turned this album into a mood-lifter.
Donuts Mind If I Do is the first of many sweet puns and it opens the album with a great testament of sun-drenched yacht pop. In the following Maybe Chocolate Chips is a surprising yet pretty wonderful joint venture with Chicago rapper Ric Wilson. The protest pop of ACTION however adds a bit house music flavour to the recipe before END sees the girls going wild over a sampled oldschool breakbeat. Every track offers a new surprising twist. In the dance smasher PING PONG! the band mixes 8-bit video game sounds (by Japanese chiptune band YMCK) with hyper pop flavour and it's another 'what the fuck' moment here. In the second half of the album CHAI give more laidback and personal moments space, resulting in sweet tracks like Nobody Knows We Are Fun, It's Vitamin C and Wish Upon A Star. In the press release that came with the record CHAI describe each song of this collection like a new friend. And it's really fun for the listener to get to know these twelve very different yet ultimately charming friends. This record celebrates togetherness and the positive joy music can have and that could be the perfect soundtrack for the post-Covid-world. (Norman Fleischer)
Stream It: ► Spotify / ► Apple Music / ► Bandcamp
---
Lea Porcelain – 'Choirs To Heaven'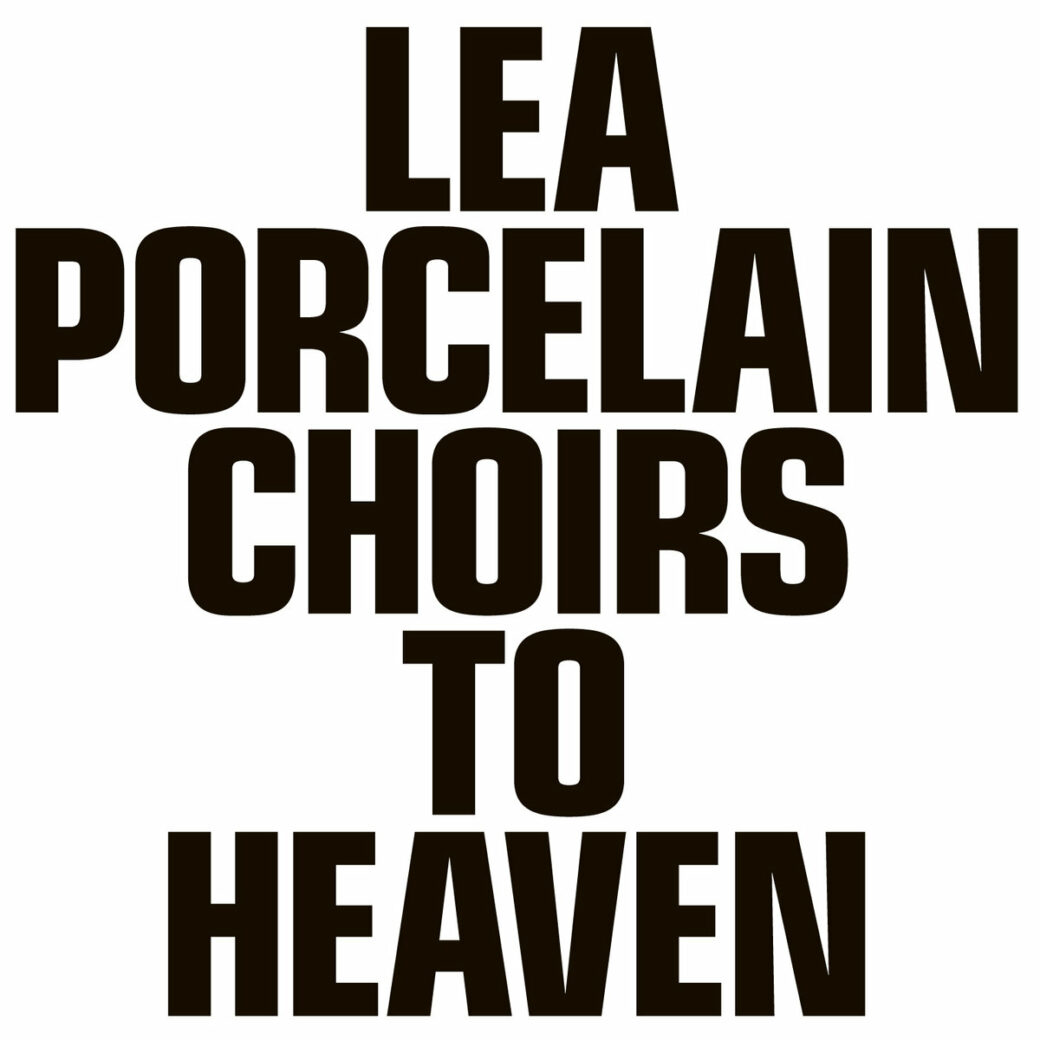 Sounds like … enhanced anthems of darkness for the limelight.

Two musical universes collided when producer Julien Bracht and singer Markus Nikolaus met in a Frankfurt nightclub back in 2012 and later formed Lea Porcelain. With their debut Hymns to the Night (2017), the Berlin-based duo paid their tributes to the concentrated calm as well as other possibilities that arise after daily routine fades to quiet. The band shifted their attention towards sunlit heavens in the meantime, but their sound retained certain qualities which reproduced the sensation one feels on the dancefloor. Eleven enigmatic songs cosily wrap you in a finely layered mantle of drums and synthesiser and lure you into a timeless and cinematic universe of their own.
The opener Consent of Cult is a somewhat unsettling love story that starts out with an energetic beat and gradually calms down in a content trance in which the whispers "Are you mine to keep? Am I forever yours?" don't yield any answer. The duo says it was the first song they wrote after a short creative drain that followed the release of their debut, and the track does stay closest to their previous output. But from here, the sound quickly moves onto new grounds with 100 Years and Pool Song; and the band's ambition to expand onto large stages becomes audible in the expansiveness of For Everything You Are, which will shine in its full glory when heard in a sizeable festival crowd. The slow guitar ballad Future Hurry Slow provides an intermezzo before the title track overcomes you with its heavenly vocals. Another highlight comes towards the end with Ohio and the line "Thinking of you in a different city" that will resonate strongly with anyone who's ever been too far from where they wished to be. Choirs to Heaven maintains the intimacy of its predecessor but spells out more clearly and more precisely that Lea Porcelain deserve their place on the main stage. (Natálie Zehnalova)
Stream It: ► Spotify / ► Apple Music / ► Bandcamp
---
Tuvaband – 'Growing Pains & Pleasures'
Sounds like … an out-of-body experience in an alternate reality.
For an album that's so full of anguish, it seems strange to recognise that it's also about an artist who's found a way to flourish. But for Norway's Tuva Hellum Marschhäuser, better known as Tuvaband, that's exactly what her latest album Growing Pains & Pleasures demonstrates. Having documented her self-imposed retreat from society on 2019's I Entered The Void, which was as cinematic as it was dark, and which earned the Oslo-based artist a Spellemannpris (Norwegian Grammy) nomination, it now feels as if Marschhäuser is emerging from the other side of the tunnel. And whilst it might not exactly be full of light, there's a definite sense of hope. Growing Pains & Pleasures also showcases a more adventurous sonic landscape than previously. Annie Blackburn is an immersive wall-of-sound throwback and Blue Vein is unashamedly brutal. If you want torment, it's there for all to see on lead single Post-isolation, taking grungy garage vibes to a new level.
But there's a shift in attitude towards the end, with Serotonin and closing track Be Fine offering some optimism, even if it is somewhat reserved. As Marschhäuser explains, what bonds each song to the next is their deeply personal nature. "I need to feel something with the songs. All the work, the entire process, has to mean something to me. I wouldn't sit and write lyrics if not to help myself get something out, because I have so much to get off my chest". Aptly named, then, Growing Pains & Pleasures does exactly what it says on the tin, with no subtlety or shyness about the angst contained within. But that's offset by Tuvaband's secret weapon: A voice so sweet and delicate it feels like it's being caressed into your ears on a wisp of a breeze. Together, the result is a triumphant echo of reality. Ghostly, sinister and otherworldly. For an artist who's learning how to flex their musical muscles, Growing Pains & Pleasures represents the next phase of the experiment. Quite where it goes from here is up to Tuva, but for music as a form of therapy, it doesn't get much better than this. (Dan Cromb)
Stream It: ► Spotify / ► Apple Music / ► Bandcamp
---
BSÍ – 'Sometimes Depressed … But Always Antifascist'
Sounds like … heartbreak and riot energy. 
Sometimes depressed… always antifascist is the kind of album title that immediately catches your eye. The record by the islandic duo BSÍ could be called a twin-EP. Like the title hints, it has two faces – one side dealing with heartbreak and melancholia, the other one a punchy feminist riot against unjust societal structures. Formed with the incentive to play instruments that they have never played before, the two best friends Silla and Julius started their project. BSÍ is named after the grey bus station in Reykjavik, but their music is everything but dull.
The first five songs of the record are an introspective dealing with emotions and pain. Those themes resonate into the way the instruments are played, rather stripped back, mellow arrangements, minor keys – the songs allow to feel the range of emotions that comes with a heartbreak. Until five songs in, the vibe takes a different turn. BSÍ unleash their inner punks and hammer on for the following five songs with infections high energy tunes dealing with topics like feminism and social justice. Shouting vocals and reciting spoken word verses on Feela pað, the rage can be felt just as intensely as the sadness of the previous songs. The twin-EP encompasses two distinct musical faces of one band and this unlikely contrast works! (Liv Toerkell)
Stream It ► Spotify – EP 1 & EP 2 / ► Bandcamp
---