Björk – 'Utopia'
The heavy clouds have disappeared. The veil has been lifted. Björk returns in a majestic, yet much more playful manner.
The deep wound that lay bare on Björk's previous album Vulnicura has healed to an extent that allows the Icelandic icon now to step further away from the self proclaimed 'hell' to an entirely different path. One that is graced with much more light, energy and the ability to love again on Utopia. After the bitter heartbreak comes Björk's ninth album, also her longest to date, that finds its strength again in a new developed playfulness and hope. Opening up again towards the world and its people around her, Utopia serves as the perfect counterpart to the grief and scars that shaped the previous dark, eclectic and moving aesthetic.
Along with this new album comes an uplifting setting that heavily relies on one particular element which is air. The transcending sound collage of Björk's new found 'paradise' features a 12-piece flute section as well as bird calls, aerial synths and a choir. The gate that was firmly closed in the past has sprung open to reveal an emotional impact that is no longer bound to the dark side, but ready to explore the more colourful world out there. While the musical direction has shifted, the creative foundation has remained the same with Venezuelan producer Arca aka Alejandro Ghersi being by Björk's side. This time even more closely right from the start. The blossoming character of the record is far from a happy-go-lucky ideal of love, but it's nice to see that all this weight has finally been lifted from her shoulders. (Annett Bonkowski)
Song to get you started: The Gate
Stream it now: ► Spotify / ► Apple Music / ► TIDAL
---
---
Noel Gallagher's High Flying Birds – 'Who Built The Moon'
Mr. Gallagher lets his birds fly even higher this time, resulting in an album which sounds like a lot of things but surely not like his previous two solo albums.
You can't talk about Noel Gallagher's third full-length without addressing the elephant in the room aka, last month's solo debut of his brother Liam. The fact that the media is not even trying to create a 'battle of the brothers' setting (except for the two gentlemen on their own) not only shows how little the Oasis feud is the object of discussion anymore but rather that especially the musical output speaks for itself. While As You Were saw Liam playing safe with a radio-friendly adult version of his former band, his brother is finally breaking loose on Who Built The Moon. The third studio LP by Noel Gallagher's High Flying Birds is their bravest one yet, freeing the iconic songwriter from any remaining Britpop limitations. Thanks to the help of acclaimed composer/producer David Holmes Noel is taking the psychedelic tendencies of 2015's Chasing Yesterday even further, resulting in a massive album with lots of layers, unexpected twists and joyful melodies.
Ford Knox is a mighty movie score-like intro that sees Gallagher showing way more balls than on the two predecessors before the pumping Holy Mountain continues the psychedelic rave. Whistles, bluesy brass sections and a women's gospel choir over a kicking rhythm section? Yes, Gallagher and Holmes make it happen on Keep On Reaching. There is room for electronic-sounding break beats (It's A Beautiful Worlds), trippy and sticky jazz club atmosphere (Be Careful What You Wished For) and even epic spaghetti western moments in the title-track. And yes, Noel is still applying for that freakin' Bond theme as If Love Is The Law proves. On top of all this his distinctive voice and its love for melodies set the overall tone in a furious testament of adventurous hunger. Apart from the raw and reduced bonus track Dead In The Water this record isn't a gentle affair, it's a wall of sound and ideas by a man who is not even trying to give any fucks anymore. I personally don't see a chance of these two brothers getting back into the ring with a uniting vision. Noel's too far gone by now and I surely won't stop him from travelling to the moon. (Norman Fleischer)
Song to get you started: It's A Beautiful World
Stream it now: ► Spotify / ► Apple Music  / ► TIDAL
---
Marker Starling – 'Anchors And Ampersands'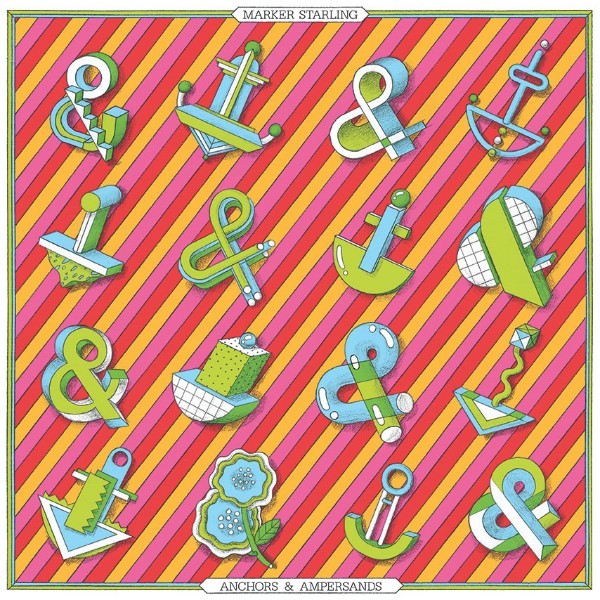 Recorded to fill your record collection's gap between a Thimmy Thomas and Cal Tjader. Nuff said.
Reviewing the Canadian artist Chris A. Cummings' newest longplayer could be so easy. But life ain't easy and composing easy listening music isn't either so this album should be heard.
The man behind the monikers Mantler and Marker Starling surely is one of the most overlooked artists in the last decade.
Started with a tinny drum machine and his Wurlitzer Piano, his seventh album brings in soft slide guitars, organs, rhodes and duetsn for your listening pleasure. Cummings' songs are lovely little lullabies, fragile as porcelain tea cup filled with whiskey and tears. Finding and spreading the word between the melancholy and the funny moments of a mate in his late 40s, they sound relaxed but never sleepy, deeply thoughtful but never pathetic. Even two of his older tunes found, that found their way into 2017 sound fresh like never before. 2004's Playing Along and Comes a Daybreak got timless remakes with slightly changed arrangement that purely show Cummings' song writing qualities. Anchors and Ampersands delivers quite a successful 21st century update of loungy easy listening late night bar pop by Marker Starling. Get yourself a copy, forget about the winter out there and enjoy these ten heart-warming beauties. (Stefan Ibrahim)
Song to get you started: Playin' Along '99
Stream it now: ► Spotify / ► Apple Music / ► TIDAL
---
Sufjan Stevens – 'The Greatest Gift'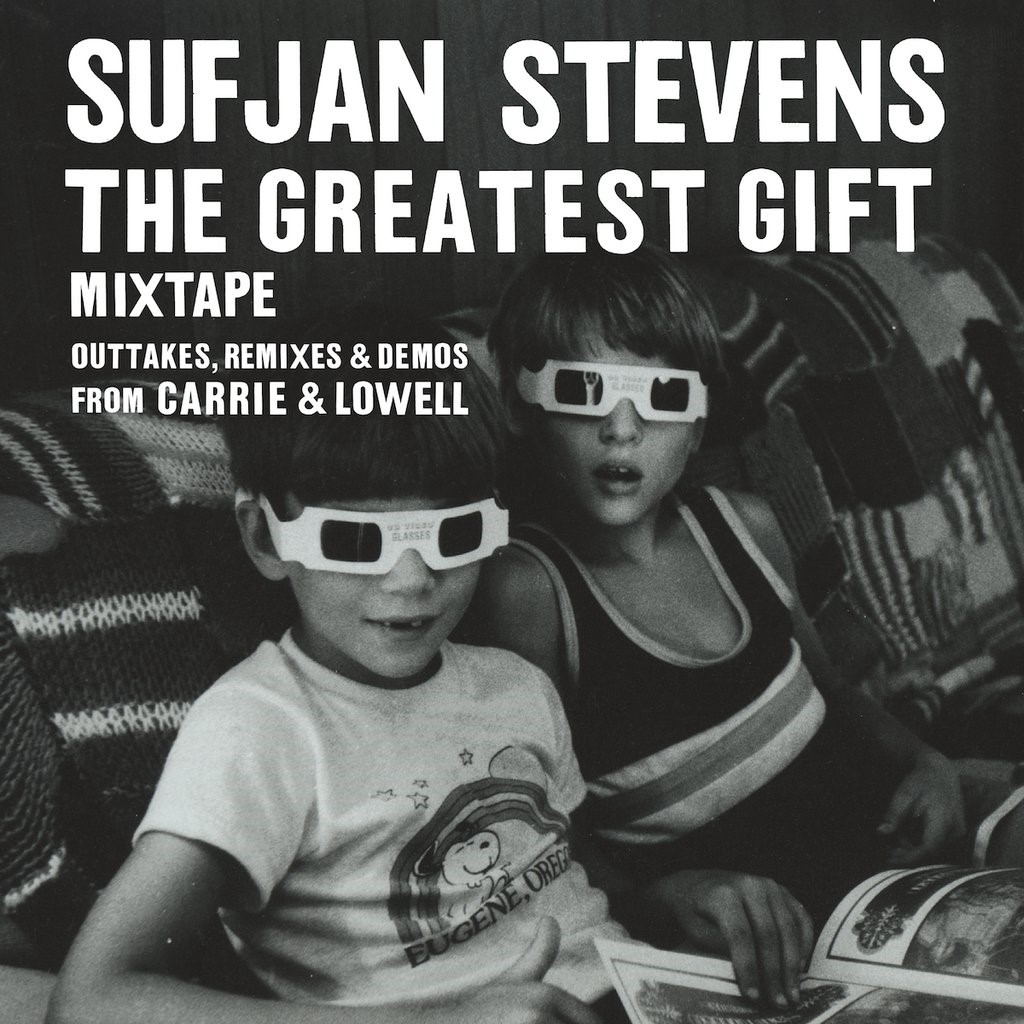 Who says a folk singer can't drop a mixtape? Stevens' companion piece to his last solo album is a lovely little treasure box, not only for those who admire the LP.
2015's Carrie And Lowell was not only a haunting and beautiful intimate insight into the biography of acclaimed songwriter Sufjan Stevens but my favourite album of the year back then. While its cohesive and gentle melancholia delivered an outstanding full-length the new released companion piece is something different that somehow still works as a spiritual partner of its predecessor. Labeled as a mixtape it features demos, previously unreleased songs from the recording sessions as well as reworks of Carrie And Lowell pieces. The result obviously tells a different story than its big brother but that doesn't make it a less enjoyable experience. Especially the opening song Wallowa Lake Monster continues the spirit of the last album, mixing intimate storytelling with cinematic ambient layers in the end.
While the other previously unreleased original songs can't keep up with that quality (except for the spheric gospel blues of The Hidden River Of My Life), especially the more electronic sounding reworks of Carrie And Lowell songs add an additional perspective on the originals. Sufjan Stevens himself took care of the remix for Drawn To The Blood, while the external takes on Exploding Whale and Forth Of July add dreamy layers and ambient moments to the original, making me wish that there was indeed an entire 'upside down' version of the original album. The core of Carrie And Lowell – the great songs – still shine through and it's a nice reminder of its qualities. (Norman Fleischer)
Song to get you started: Wallowa Lake Monster
Stream it now: ► Spotify / ► Apple Music / ► TIDAL
---
Lucas Oswald – 'Whet'
This lovely little gem is a must-listen for all of you who'd like to dive a bit deeper into the story of an album.
No matter what job you got in a band, there often comes a time when you need to find your own artistic voice and follow an individual creative path. After years as a performing and touring musician for the bands Shearwater and The Appleseed Cast, Austin-based musician Lucas Oswald embarked on a long and cathartic songwriting and recording process that now resulted in his first solo full-length called Whet. The result is a tender piece of independent rock that allows an authentic and intimate insight into Oswald's biography. The process of making the album itself became a story of its own as he recorded the music over the course of 18 months while partly still touring with Shearwater and moving three times. In the wake of this nomadic lifestyle, combined with financial and mental struggles the making of Whet actually served as a constant in his life.
The result arrives in eight delicate and gentle old-fashioned pieces of alternative songwriter pop that perfectly fit for the cold winter days. I Believe In Trying opens the record in a tender way before Dark On Us speeds up the tempo. His emotional rollercoaster ride is transported via the music first and the lyrics second. The dreamy bells of Open Me Up transport a feeling of relief while Colors That I Like feels like a warm musical blanket that keeps you safe with a massive amount of solace. There's a lot of things for you to discover within these five tracks, from the intense build-up of Feel It Again, to the tender closing track Passenger which is a reflection on his job as 'sideman' in various other formations. Lucas Oswald wants you to take your time to listen to his stories and find space for them within your own life. And Whet is definitely a record that needs and deserves this time, to say the least. (Norman Fleischer)
Song to get you started: Dark On Us
Stream it now: ► Spotify / ► Apple Music / ► TIDAL
---