Phoebe Bridgers – 'Punisher'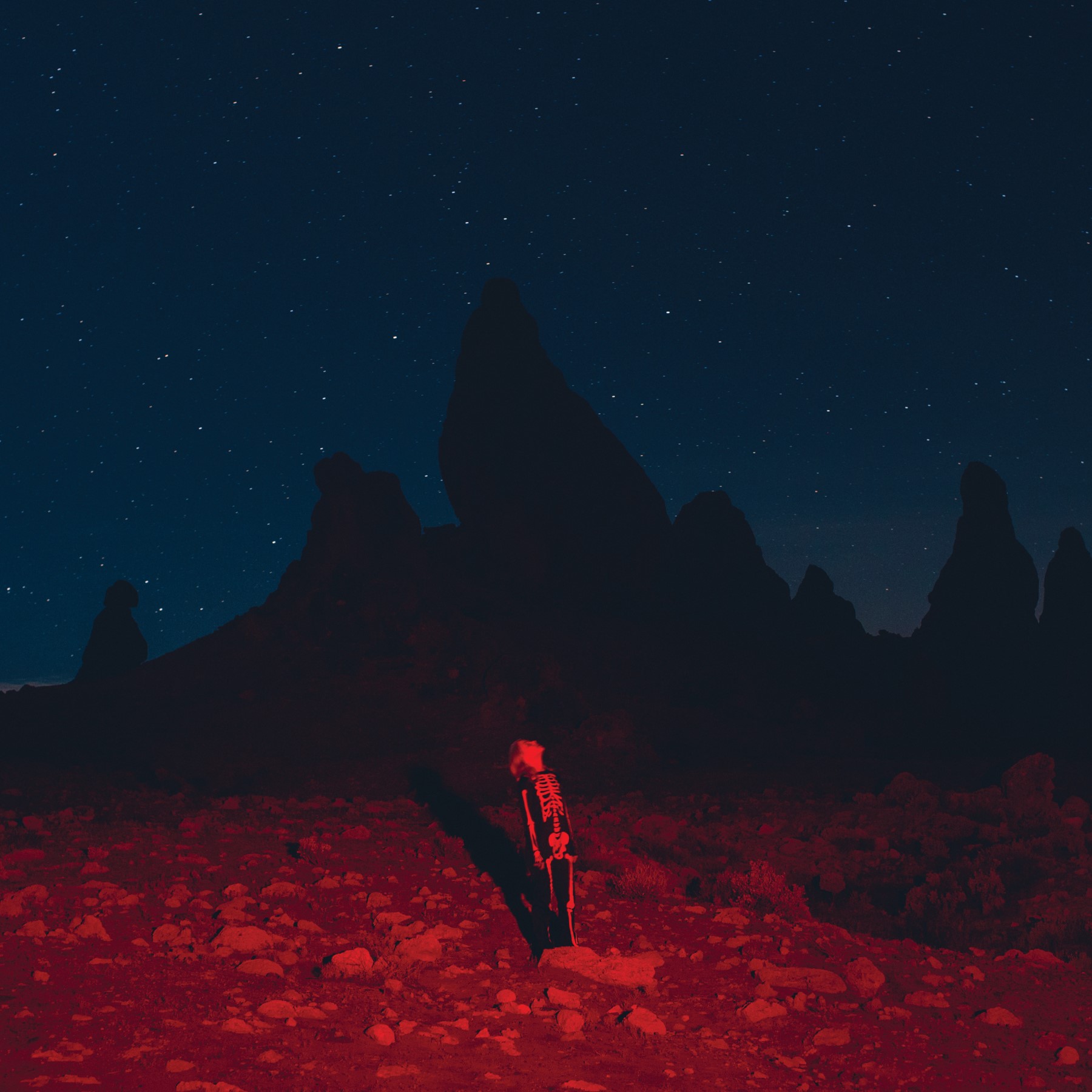 Sounds like … a melancholic yet hopeful meditation on the small things in life.

Phoebe Bridgers sings straight out of your heart. Punisher, her second solo record, is marked by relatable lyrics between deep-rooted sadness and yet darkly funny wit. The artist draws from situations we are all too familiar with; imposter syndrome, feeling overwhelmed, doubt, heartbreak, and sirens waking you up in the middle of the night. Garden Song is a meditation on the struggles of maintaining the 'garden of your life. 'I am not afraid of hard work' the Los Angeles-based singer croons in the pained pitch we love so much. Kyoto is rooted-on the more upbeat side of the LP. Accompanied by a charming self-made video clip, the artist sings of her stay in the Japanese town and being overwhelmed by imposter syndrome.
The title track is one of the highlights of the record. Phoebe Bridgers meets the perfect tone of gloomy melancholia, with mellow keys and tender vocals, and an inherent spark of hope even in the darkest days. Lines like 'the drug stores are open all night / the only real reason I moved to the east side', show the observational character of her songwriting. Simultaneously poetic and lyrical in their unpretentious style, she picks out the details of life we usually drift past and pins her emotions to them. She sings about her very intimate feelings on Punisher but the pains seem to be universal. The good thing is that while this is a record you can cry to; it also lets you know that you will come out on the other side stronger. (Liv Toerkell)
Stream It: ► Spotify / ► Apple Music / ► Bandcamp
---
Braids – 'Shadow Offering'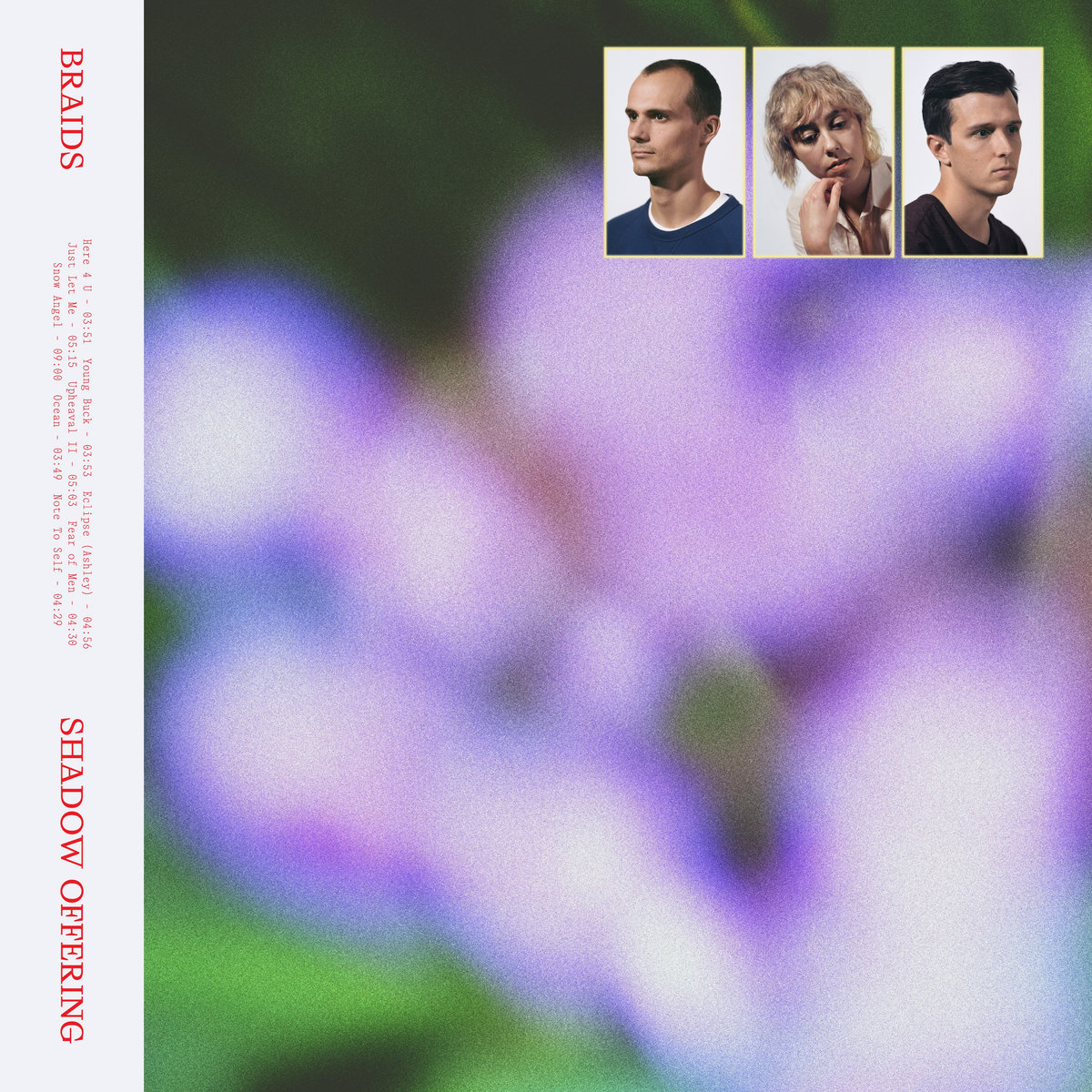 Sounds like … an invitation to dance to the rhythms of rebellion and peace.

Ever since their latest release Deep In The Iris, the Montreal-based three-piece Braids has been taking a fair amount of time and space to craft the new material that is now being released on their fourth record, going by the bleak and yet intriguing title Shadow Offering. Produced by former Death Cab For Cutie guitarist Chris Walla, the acclaimed art rock act enter new sonic grounds with these nine songs, traversing a world in a constant state of unrest. While failure of people to love and to be loved in return is a present theme, the pieces also take a stab at trying to restore a blissful state of mind amidst the tormenting powers of the darker times. All the while crafting dizzying rhythms that make these truths more easy to swallow.
Tracks like Young Buck, a fairly playful and synthie tune that deals with "the highs and lows of  physical obsession" initially take a more upbeat turn, which is soon to be contrasted with a more subdued and atmospheric feel, take for instance the weighty Just Let Me. "Where did our love go?", frontwoman Raphaelle Standell-Preston sings here and evokes a haunted ambiance, laying open the frustration over a love lost, surrounded by lush synths and guitar waves that are embracing despite the dark feelings expressed. The true outbreak however occurs with Snow Angel, a nine-minute-long opus that is powerful in both its musical design as in the message it conveys. Part song, part spoken-word statement, it finds Standell-Preston addressing issues such as fake news, climate change, white privilege, closed borders and the injustices our world is filled up with. Itself a series of "snapshots in the immediate wake of the 2016 US election", these words have only increased their significance in the years past and couldn't be more relevant in these days lying behind us. "Am I only just realizing the injustice that exists? / Cloaked in white privilege the day I was born", she calls out frantically, giving the song no less than a cathartic function in the record as a whole. The closing tracks Ocean and Note To Self then justly strike more silent chords, giving the record a rounded off finish. While this may evoke a sign of peace, it is only because the outcry expressed before was this strong. May both these feelings remain after listening to Braids' Shadow Offering. (Andreas Peters)
Stream It: ► Spotify / ► Apple Music / ► Bandcamp
---
Darkstar – 'Civic Jams'
Sounds like … moody electronica anthems for a disheartened generation.
There aren't too many socio-political acts in electronic music. Well, for a notoriously instrumental genre it can be quite a challenge to deliver social commentary, right? That sort of socially conscious approach to art tends to be reserved for rappers, punks and poetry but in Darkstar, we have an electronic act with a view to addressing wider issues in their work. On previous albums, they've addressed utopian visions of society News From Nowhere [2013] and the dynamics of pre-Brexit northern England on Foam Island [2015]. Now on Civic Jams, they find themselves releasing an album at a uniquely harrowing time for us all. The album was all planned to go out into a world that wasn't going through a pandemic but the current crisis gives it a different dimension. "With everyone going through isolation in one form or another it certainly asks the question of what people can do to help each other," says the band and the smooth musical content of the record really underlines the vibe. 
If you're looking for an album to "soundtrack your weekend", I'd look elsewhere. There's a palpable sadness throughout the album that courses with a two step old school drum pattern throughout. Besides more ambient-focussed moments like the opening Forest or the smooth 30 Aiden Whalley and James Young focus on a delicate vibe in beat-driven tracks like Jam and Tuesday that feel like nocturnal companions for these chaotic times. The album has very little in the way of audible lyrics, favouring more vocal effects to convey the moody disdain the record is dripping with. Somewhere between the worlds of Burial and Nicolas Jaar Darkstar slowly but steady created a microcosm of their own, resulting in a truly haunting soundscape. Civic Jams is an album for the hazy moments at an after party, reflecting on life and having deep conversations that pale to insignificance the next morning. And I think it really helps right now. (Aidan Grant)
Stream It: ► Spotify / ► Apple Music / ► Bandcamp
---
Owen – 'The Avalanche'
Sounds like … melancholic independent folk sadness, freed from any musical trends.
No, Mike Kinsella was never truly gone. Despite the almost two-decade long radio silence of mellow emo rock icons American Football the Chicago-based songwriter never slowed down artistically and actually released nine studio albums under his alias Owen. The Avalanche is the tenth one and also the first one he released following the comeback of American Football and the praised reunion of the band hopefully helps to shed more light on Kinsella's solo activities because they surely deserve it. The Avalanche is actually a winter album, recorded at the snow-covered Hive Studio in Eau Claire, Wisconsin along with Bon Iver member Sean Carey and engineer Zach Hanson (The Tallest Man On Earth, Waxahatchee) but of course if you are a 'summertime sadness'-like person you will also embrace these nine songs in the middle of warm summer nights. Time is relative anyway in the world of Owen because there's a classic quality in Kinsella's songwriting which somehow frees this record from any historical classification. It could have also been released in that form ten or twenty years ago and you can take that as a compliment. The Avalanche is uncompromisingly him in all of his melancholic beauty.
Compared to American Football the solo adventures of the 43-year old artist have always been more reduced and intimate but they share this same notion for introverted reflection. It still got that bedroom flair of the early Owen releases but with better and more profound production this time. "Dear lord, let me be anything," Kinsella sings in the opening A New Muse which spreads an almost joyful vibe. The mood however remains laidback and the artist's infamous melancholia and lyrical sadness returns in wonderful songs like Dead For Days and I Should've Known. They see a return to the bedroom artist days while songs like The Contours surprise with a beautiful string arrangement. The haunting Mom And Dead, featuring Now, Now singer KC Dalager is fittingly played in the centre of the album because the besides the intimate and emotional lyrical content the sound also hits pretty hard on this track, although in a still quite tender way. It's timelessness that dominates the music of Mike Kinsella in the year 2020. He's still "emo at heart", he's still struggling with the world, emotions and all the stuff that's happening in this weird thing we call life. Sure, there's a more mature attitude that happens with age but on the other hand life doesn't automatically get easier once you leave your twenties (or thirties, in this case). The sound of Owen remains a constant in an ever-changing world and hopefully the openness of its songs will also appeal to multiple generations of indie kids. (Norman Fleischer)
Stream It: ► Spotify / ► Apple Music / ► Bandcamp
---
Someone – 'Orbit II'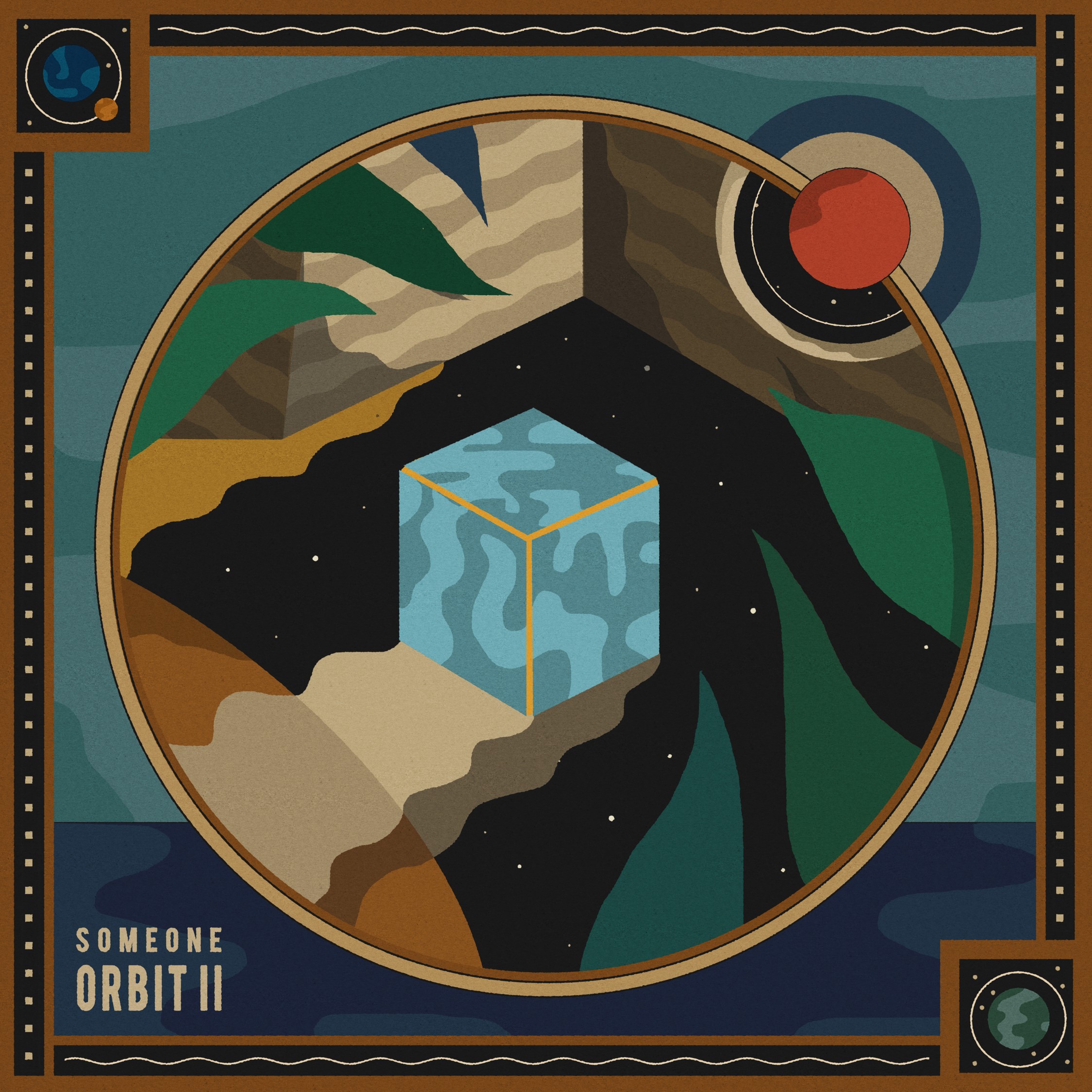 Sounds like … millennial struggles bedded in psych-pop. 
The Amsterdam-based British artist Tessa Rose Jackson, aka Someone, is hiding behind the anonymity of her name, but her musical style is dragging her into the spotlight anyways. ORBIT II is the singer's debut LP and packed with well-composed songs on the spectrum from soul, to alternative pop, and psychedelic. Someone's vocals give the songs a consecutive feel. Her lazy croons sound as if she had just rolled out of bed; uncomplicatedly beautiful. But even just out of bed, she hits her falsettos pitch perfectly.
Infused with bright synths and upbeat vibes, the LP becomes a spacey laid-back piece of music that screams to be listened to in the hours before the thermometer has climbed up to the peak of the day. The refreshing bright mood is accompanied by existential lyrics focusing on 21st century struggles. The funky You Live In My Phone talks about the powers of technology to connect and to astray at the same time. Once More With Feeling mocks bad sex. Horns and a minimalistic groove accompany Jackson's dryly witty lyrics. Playground Love (my personal favorite) is based on a tender acoustic guitar melody and unfolds to a soulful ode to childish teenage love. But Tessa Rose Jackson's LP goes beyond being a beautiful piece of music. The multi-media artist created an App to the record, which makes the cover art come alive in five interactive augmented reality designs. This is Someone to remember! (Liv Toerkell)
Stream It ► Spotify / ► Apple Music
---