Death Cab For Cutie – 'Thank You For Today'
Losing one band member didn't do any harm: Death Cab return with new material in their unique indie rock style (plus some additional pop elements).
This year, it's already 20 years since the release of Something About Airplanes, Death Cab For Cutie's first studio album. To celebrate this special event – the album turned them into THE indie rock institution of the late 90ies and early 2000s – the now only three band members decided to release their ninth studio album Thank You For Today. Founding members Chris Walla left the band 2015, shortly after the release of Kintsugi, Death Cab's latest record. Although one member less, the band states on their homepage: 'It is one of our most diverse records, and it is full of heart'. Thank You For Today is truly quite diverse: sometimes uplifting (Gold Rush, Autumn Love, Near Far, Northern Lights), sometimes sad (You Moved Away, Summer Years, 60&Punk) and sometimes something in between ( I Dreamt We Spoke Again, Your Hurricane, When We Drive). And it is also full of heart, because – like in all Death Cab For Cutie tracks – you can feel the bands passion and commitment in every note.
But there is also one main difference to the most other records by the American band: Thank You For Today is more pop and less rock than Death Cab's former records, e.g. Kintsugi or Transatlanticism. It almost feels like a continuation of Codes and Keys from 2011, which has been their catchiest album until now. Thank You For Today supersedes it and definitely deserves the title 'Death Cab's most accessible album of all time: Pretty much every song starts with an easy melody that remains in the head and simple hook lines like 'When We Drive/When We Drive' or 'Northern Lights/Filled Our Skies/Empty Nights/Synchronized' can easily be sung by everybody. Some fans might be disappointed due to high expectations based on their back catalogue, but the LP clearly is a great piece of art that keeps up the bands indie rock spirit. Just with some more pop appeal. (Miriam Wallbaum)
Song to get you started: I Dreamt We Spoke Again
Stream it now: ► Spotify / ► Apple Music / ► TIDAL
---
Mitski – 'Be The Cowboy'
With this record, Mitski Miyawaki is clearly on her way to the top of her songwriting class. It's even more nuanced, balanced and refined.

I think it's fair to say that Mitski's career is picking up speed. With Puberty 2 Mitski Miyawaki left quite an impression two years ago, now there's Be The Cowboy and as much as this album is still her, it's also even more nuanced, balanced and refined. It's probably not a coincidence that Mitski hijacked an archetype of manhood for the title of her new record. The clever thing is: It's a love album most widely in absence of romantic love, let alone men. What often sounds like ruminations on relationships between two persons actually is Mitski singing about her relation towards artistry, music or herself even. And while that might be the case, she still managed to write some of the most beautiful love songs recently published. So it's really up to us to decide how we read these songs.
With most of the tracks clocking in around 2 minutes Mitski maintained her sketchy approach towards songwriting. Which is perfect for her often breathless outpour of words and emotions which she presents in a very diverse musical manner on Be The Cowboy: from heavy outbursts to sweet pop ballads to introverted bliss. It's witty, it's reluctant but still so very irresistible. Mitski recently stated in interviews that she experienced the music business as a place where you have to grow a thick skin very quickly. The appeal of her music is that exact tension between bare emotionality and artificially keeping the distance. Very few musicians out there can pull of lines like 'nobody fucks me like me', 'Sorry I can't take your touch/It's just that I fell in love with a war' or 'why am I lonely for lonesome love?' without seeming cheeky or cheesy. This record is full of those and Mitski Miyawaki is clearly on her way to the top of her songwriting class. (Henning Grabow)
Song to get you started: Lonesome Love
Stream it now: ► Spotify / ► Apple Music  / ► TIDAL
---
The Coral – 'Move Through The Dawn'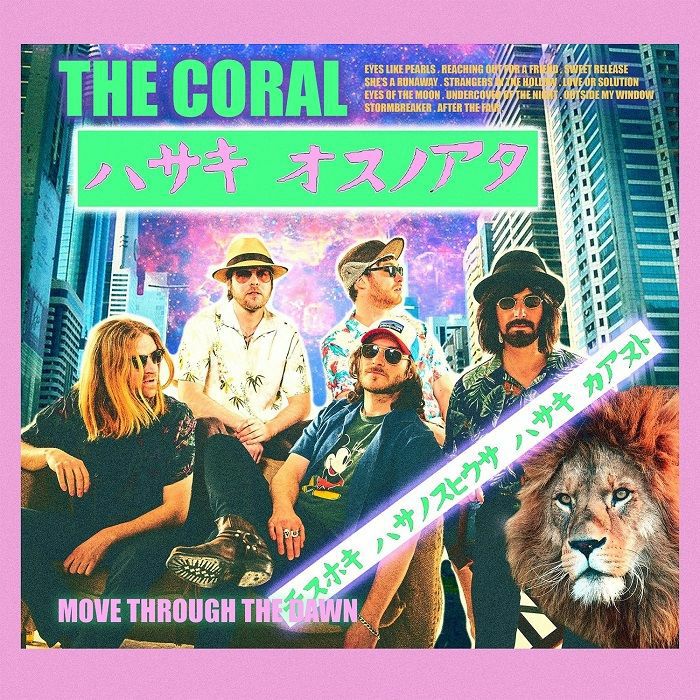 The Merseyside band The Coral present their ninth album which fails to be innovative.
When you've been in a band for over a decade (or longer) you always need to reinvent yourself. The Coral – formed in 1996 near Liverpool – released their debut album in 2002, including hit singles In The Morning or Dreaming Of You. This year marks the release of their ninth studio album Move Through The Dawn. And the band around James Skelly and Nick Power really did always reinvent themselves. While the debut showcased classical Indie Pop, their last album Distance Inbetween presented a more psychedelic approach. For Move Through The Dawn they apparently browsed in their pop, folk and country vinyl collection.
The opener Eyes Like Pearls presents a harmonic surf pop melody, that definitely brings the Merseyside roots of the band back to mind. While Reaching Out For A Friend sounds very similar, New Release almost sounds like a 70s folk rock song. She's A Runaway then mixes the folk pop approach with psychedelic sounding guitar riffs. Near the end of the record, songs like Eyes Of The Moon or Undercover Of The Night turn into more melancholic, also ballad like folk songs. On the contrast, Outside Of My Window and Stormbreaker sound almost Jimi Hendrix-esque with their very skilled guitar solos. While the 11 song strong album pulls out some very nice sounding harmonies and guitar riffs, it cant help but to sound a bit dusty. Yes, The Coral changed their sound once again but all of this is isn't very innovative. It sounds a bit as if you would have put your old vinyls from the 60s or 70s out of their boxes and blew the dust off. Move Through The Dawn is a sweet sounding record, that somehow doesn't really want to do any harm. As for me, it certainly seems a bit ironic, that The Coral criticized young, innovative British bands for not being innovative, while they aren't really innovative themselves. (Louisa Zimmer)
Song to get you started: Love or Solution
Stream it now: ► Spotify / ► Apple Music / ► TIDAL
---
Slaves – 'Acts Of Fear and Love'
On their third record the duo leaves their comfortable guitar-drum corner to explore their songwriter abilities. The effort is honorable, the result ambivalent.
'There is no such thing as hate – just acts of fear and love.' This statement of Slaves' drummer Isaac's former teacher led to the bold title that the alternative-punk duo chose for their third LP. Sounds like the two London-based musicians have grown out of their punk shell and are looking at things from a more global perspective now. And indeed, after the groundbreaking debut Are You Satisfied? three years ago that catapulted Slaves within the blink of an eye on the stages of sold out venues and brought them a nomination for the Mercury Price, the sings for their third LP have changed. You could say, the duo has grown up.
Slaves decelerated the nine tracks on Acts Of Fear And Love with a bigger focus on detail, production and the claim to write songs that go beyond the typical rock-duo sound. The furiousness of their previous records has passed for a more melodic sound. Still very British and in their typical manner with partly self and social critical lyrics, but without the blind angriness and frustration.vClassic indie rock guitars (The Lives They Wished They Had, Chokehold) and melodic backing vocals (Magnolia) take on a more prominent role. With Daddy even a guitar ballad about a man in his midlife-crisis made its way on the record  (with backing vocals from Elli Roswell of Wolf Alice). While some of the new elements add a fresh turn to the tracks, like the dance groove in Cut And Run,  Slaves sometimes seem to get lost in their ambitions to write complex songs. By getting more arranged, the tracks lose their urgency and tend to become casual. The good news about Acts Of Fear And Love: Slaves took the right turn that kept the band from stagnation and becoming just another guitar-drum duo, that feed off their early success. The not so good news: There is still enough space for further development. That doesn't mean that the two are not capable of getting there – since we all know, growing up is a long-term process. (Abhilash Arackal)

Song to get you started: The Lives They Wish They Had
Stream it now: ► Spotify / ► Apple Music / ► TIDAL
---
Gabe Gurnsey – 'Physical'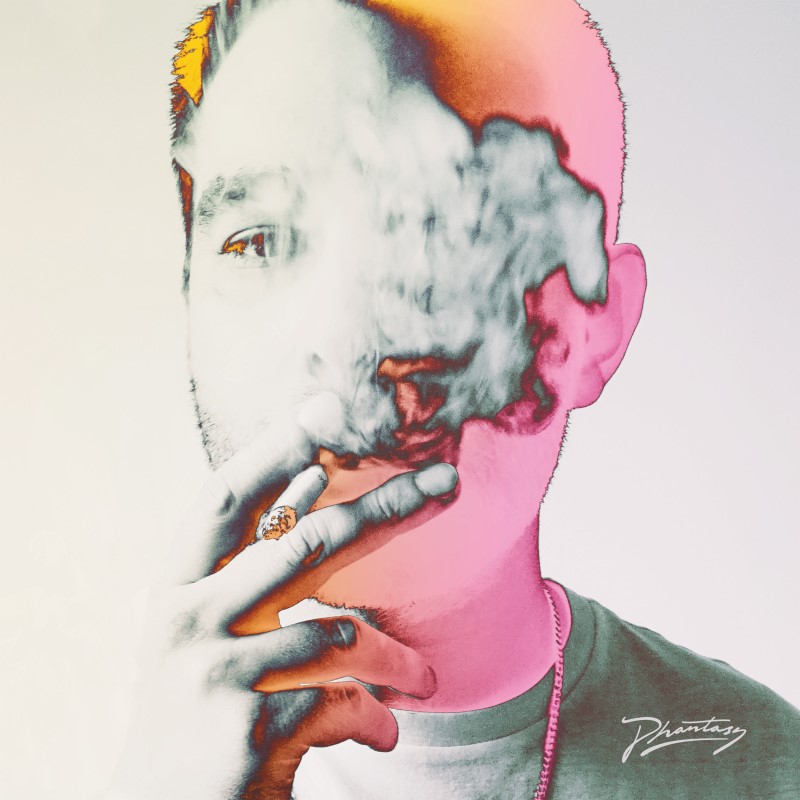 The Factory Floor member takes a slight turn towards pop but isn't leaving familiar terriory at all.
As I get older I get snobbier and snobbier about music. I have begun to know what I like and what I don't like. During my time at university almost every playlist was dominated by  chill wave, dreamwave and electro techno beats.
Factory Floor
were a constant on every playlist and now it seems one member in particular is securing his spot on every new playlist I make.
Gabe Gurnsey
of Factory Floor fame has released his debut album,
Physical
and with it proved that techno electro beats which will be a constant on many summer playlist. As summer closes in,
Physical
is a perfect end of summer record. I sit at my small desk as Gurnsey's signature beats cloud my room with sound I am taken by the quicken beats and faraway vocals.
Gurnsey perfects 2010's techno but gives more than the club vibe. It is undoubteably like a Factory Floor record with a darker stream. It's kind of that feeling in the club where you hit the right amount of drunkenness where you are still in control but you have this heighten confidence, your true confidence. In Ultra Clear Sound asks you explicitly to dance for him, he's teasing you with all Factory Floor gave you but allowing you more. It's kinda like Factory Floor hit peak night out tunes and all you can do is dance, dance,dance. Tomorrow will come but right now, this is Physical. (Hannah Fahy)
Song to get you started: Harder Rhythm
Stream it now: ► Spotify / ► Apple Music / ► TIDAL
---