Flying Lotus – 'Flamagra'
Sounds like … the Los Angeles electronic producer goes full David Lynch, with a few friends helping along the way.
Incredibly, Flamagra, Steven Ellison (or, Flying Lotus)'s sixth full-length is his first in half a decade. After dominating psychedelic, genre-bending electronic music in the first half of the decade with Cosmogramma (2010), Until the Quiet Comes (2012) and You're Dead! (2014) Ellison has slowed down considerably, either with soundtrack work or as a producer on Kendrick Lamar's To Pimp a Butterfly or Thundercat's Drunk. All five of these records will surely feature on many critics and fans' upcoming end of decade lists, showing the incredible influence Ellison, Stephen Bruner (Thundercat) and Kendrick have had over the past ten years.
Flamagra sees Ellison – and it must be noted, Bruner, who wrote and performed on almost every song here – at his most ambitious and eclectic yet with a guest list almost as long as the album's hour-plus run time. Dancing around Ellison's "fire on a hill that never goes out" are Anderson .Paak, George Clinton, Little Dragon, Tierra Whack, Denzel Curry, David Lynch, Shabazz Palaces, Toro y Moi, Solange all of whom contribute a track largely in their respective trademark styles. Meanwhile, Ellison's instrumental and occasionally sung tracks fill out the rest of this wide-reaching cinematic universe of a record, be it jazz-fusion wig outs Takashi or is mournful Debbie is Depressed. By far FlyLo's deepest record, it closes out a hugely successful decade for LA-based electronic maestro in some style. (Adam Turner-Heffer)
Stream Now: ► Spotify / ► Apple Music / ► TIDAL
---
Amyl And The Sniffers – 'Amyl And The Sniffers'
Sounds like … an avalanche of explosive high-engery punk rock.
Australia has proved itself a rich ground for all kinds of new and experimental musical projects. The Melbourne based band Amyl and the Snifflers took advantage of the creative freedom provided by down-under an unleashed their self-titled debut record – an avalanche of aggressive and high-energy punk rock.
Influenced by punk from the 70s and 80s, the quartet turned it into their very own recipe. They lost every other concept and rule except for the one to have a whole lot of fun. That is exactly what their music sounds like. Freed from any boundaries, lead singer Amy Taylor lets her acidic vocals take any kind of shape from angry shouted lyrics to animalistic grunts. The short but concise single Gacked On Anger is one rage fest, which has rarely seen alike. With the spirit of angry vintage punk and crashing guitars and drums, Taylor lets all of her fury about how 'shit is pretty fucked sometimes' out. Bordering onto hard rock, Monsoon Rock is a ballet between metal rock and punk energy and just the right track to shake the bleached mullet to. The entire record is celebrating the ecstatic live performances that the band is famous for. Even listening to it, paints a vivid image of distorted guitar solo-insanity, sweaty t-shirts, and head banging. The pure punk energy on Control contrasts the closing track Some Mutts (Can't Be Muzzled), which features an elaborate guitar solo packed with distorting pedals pushing it almost to something like psychedelic rock. Alongside great musical talent and resonating passion for the craft of each of the musicians, Amy Taylor's voice forms the backbone and crystallises itself as the silver lining of punk throughout the record. (Liv Toerkell)
Stream Now: ► Spotify / ► Apple Music / ► TIDAL
---
Cate Le Bon – 'Reward'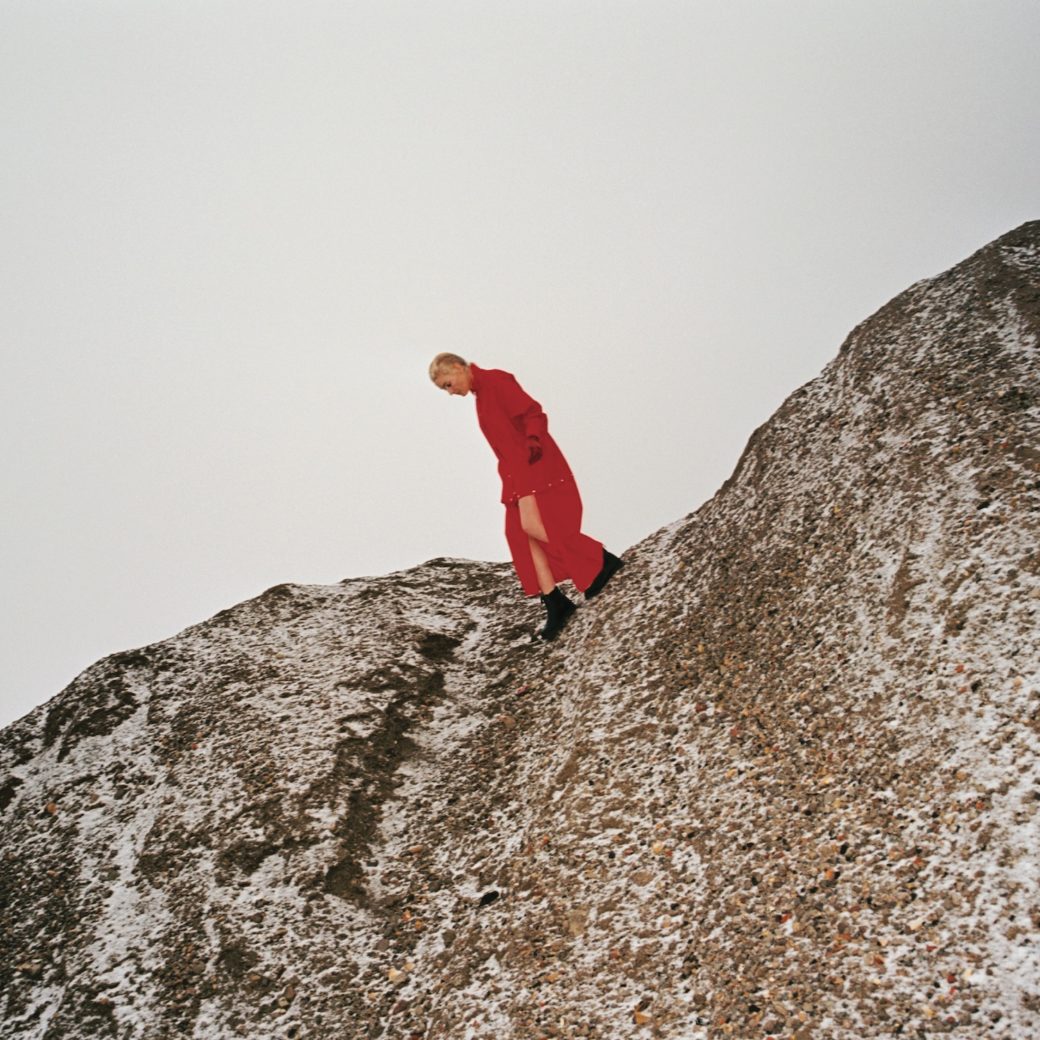 Sounds like … tiny doses of craziness, held together by an undeniable love for great hooks. 
Sometimes art can be the result of a proper personal challenge you set to yourself as a musician. Cate Le Bon's new album Reward, for example, was written during a year of living in solitude. The Welsh songwriter resided in the Lakes District of the UK and was inspired by the mountainside in Cumbria and the wood furniture she started to make. "There's a strange romanticism to going a little bit crazy and playing the piano to yourself and singing into the night," she explains this period in her life and somehow Reward can't shake off a certain element of craziness, indeed. During her isolated residency the artist taught herself to play the piano before she recorded the entire record across America and the UK, and roping in a roll call of trusted and loved musicians. Despite the fuller band sound in the end there's still a great amount of intimacy that's sensible within these ten songs.
Her fifth full-length sees Cate Le Bon moving further away from pure indie-rock territory, continuing the more psychedelic glam path of 2016's Crab Day. Miami and Daylight Matters start the record in a dreamy way and you immediately notice a richer musical setting with the piano being the new leading instrument of her sound. It's a crucial effect that changes a lot within her musical world. From the gentle and playful romanticism of Home To You right to the psychedelic soul of Sad Nudes – the songs of Cate Le Bon appear more complex and twisted, forcing the listener to take a bit longer do dive into the songs. Sure, there are still pretty catchy pieces but Reward also isn't afraid of an odd piano ballad like The Light with its massive saxophone solo right before Magnificent Gestures unravels five minutes of slightly atonal uneasiness. There's a complexity in this new Cate Le Bon sound that needs a few more spins to fully activate its charm and that's when the fun actually begins for the listener. So, like the title somehow implies this album is a rewarding piece of alternative pop for those of you who don't automatically fall for the easiest way. (Norman Fleischer)
Stream Now: ► Spotify / ► Apple Music / ► TIDAL
---
Faye Webster – 'Atlanta Millionaires Club'
Sounds like … breezy summer vibes spiced with RnB.

Just as summer is beginning Atlanta based singer and songwriter Faye Webster, delivers the perfect mellow tunes to accompany you through the hot summer breezes. The floaty pedal steel tunes of Atlanta Millionaires Club taste like a vacation in the tropical region, while the lyrics speak of utterly relatable things, like the lingering smell of a lover after they left. But when you dig a little deeper behind, you will discover deeply personal songs from a singer who is not afraid to speak her mind anymore.
On Hurts Me Too Faye Webster officially states that she is 'done changing lyrics' to make her songs sound prettier to the ears of her mother who is 'tired of her sad songs'. The, daringly honest track is carried by a sweeping horn section and steady jazz-drum beats. Catchy pedal steel melodies draw a silver lining throughout the LP and make it an unusual third album by a young musical talent who knows what she wants to sound like. And pedal steel will be on her songs 'always and forever'. Even though the album's lyrics are generally melancholic and sad, the over all vibe is loaded with groovy musical positivity. In a jungle of slinging alt-country ballads, the feature with fellow Atlanta musician Father stands out as something else. The rapper brings a smooth RnB beat into the mix and his rapped verses go surprisingly well with the singer's crooned vocals. On the one hand this is a record by a young women exploring her sadness musically, on the other hand it is an exquisite documentation of things surrounding everybody in daily life. By putting lines on her songs like 'Why the hell did I paint these walls white' or 'My dog is my best friend' Faye Webster creates very relatable and colorful images of situations that most people have found themselves in – lost in the details of life. Atlanta Millionaires Club is full of brave lyrics and proves that Faye Webster has found her very own unique sound somewhere in between slow RnB and steely country. (Liv Toerkell)
Stream Now: ► Spotify / ► Apple Music / ► TIDAL
---
Sans Parade – 'Fugue State'
Sounds  like … a deep dive into an ocean of synths and wave.
A fugue state is "a dissociative state, usually caused by trauma, marked by sudden travel or wandering away from home and an inability to remember one's past", as characterized by the free dictionary. Sans Parade's third record deals as the title hints with this feeling of non-belonging, loss and disorientation.
Fugue State is released in cooperation of Finnish label Solina Records and Stargazer Records, a lovely one-woman label from Wuppertal, Germany. One that truly follows the "nothing but hope and passion" credo with a bunch of outstanding hand-picked artists from folk to alternative (like the Swedish alternative band If They Ask Tell Them We Are Dead – just to mention one). Sans Parade have been part of the Stargazer family for a while. Now, with their third record, they leave their indie-folk heritage behind and fully dive into the world of atmospheric synth-pop. The acoustic guitar is a seldom seen guest on Fugue State, synthesizers dominate the sound and create a haunting and at the same time exciting and epic atmosphere. The latest single My Name Is RED heavily brings up images of synth-wave acts like Depeche Mode, with vast soundscapes and pulsation synthesizers. Singer Markus Perttula's clear and present voice is shining though this covert of sounds with precision, every now and then reminding on Harry McVeigh from White Lies and adding a pop appeal into the otherwise quite dreamy and gloomy sound concept, like the catchy hook in Hooray For The Fall. A Survivor surprises with an interesting rhythmic foundation, over which howling guitars and Pertulas's echoing voice floats and unfolds a universe of its own. The ten songs on Fugue State smoothly fall into each other, especially the quieter ones on the second half let the listener fully dissolve into an ocean of sounds, while the first half puts a bigger focus on pulsation and movement. Coming back to consciousness after this 48-minute journey of disorientated floating, you indeed feel some lack of memory about where you started and how you got here – but somehow in a very pleasant way. (Abhilash Arackal)
Stream Now: ► Spotify / ► Apple Music / ► TIDAL
---