Foals – 'Life Is Yours'
Sounds like … post-pandemic rave euphoria replacing gloomy prog rock anthems.
It's not easy to perfectly time a record release in times of constant uncertainty but in the case of Foals their seventh release does indeed feel like the right album for the right time. First envisioned in the darkest hours of the Covid winter lockdown of 2020 the seventh studio album by the acclaimed British rock band is the exact musical opposite of that scenery as well as a counter reaction to its predecessors. While the ambitious two-parted 2019 album project Everything Not Saved Will Be Lost was (over)loaded with heaviness, various ideas and an certain sense of impending doom, this one feels entirely different. Life Is Yours is a readjustment for the group that shrunk down to a trio following the departure of longtime member Edwin Congreave last year. It's a brighter and more light-hearted affair and their most pop-infected work so far. Gone are the infamous prog rock moments and excessive guitar solos and so are the cinematic ballad – Foals embrace life and dance and put the drama aside, resulting in an album that gives escapism, hedonism and joy much needed space while also breathing new life into the slightly outworn Foals formula.
First of it, the band got a lot funkier. Comeback single Wake Me Up combines the old with the new while a song like 2001 takes the whole notion even further towards disco territory. Songs like Flutter and Crest Of The Wave slow down the tempo a bit but the whole set-up remains quite optimistic. Bright synth, percussive playfulness and a tight bassline dominate the sound of Life Is Yours, making Foals sound a lot more in the tradition of Friendly Fires, Jungle or Metronomy. Yannis Philippakis' voice is still a distinctive element in this musical cosmos but he's also happy to take a step back and give the music the space to unfold its groove. In songs like Under The Radar and the hard-hitting The Sound his vocals are just an element among many to let the groove do its magic. Band members Jack Bevan and Jimmy Smith are also fully devoted slaves to the rhythm and that makes this album so exciting. It's a trippy vibe that runs throughout these 11 tracks, resulting in a furious finale with Wild Green, the probably most electronic sounding song the band has ever released. Like any good party you don't want it to end right here but Foals are wise enough not overstretch the concept. And while the world is still filled with lots of drama and conflict, Life Is Yours is an honest and well crafted invitation to not forget about the good times. It's what makes the whole thing liveable and this album is the perfect celebration of that feeling. (Norman Fleischer)
Stream It: ► Spotify / ► Apple Music
---
Perfume Genius – '
Ugly Season

'

Sounds like … an absolute surprise.
Almost exactly a year ago, Mike Hadreas released Set My Heart on Fire Immediately which gently introduced fans of his records to his dance ambitions by working with choreographer Kate Wallich on Describe and On The Floor. With Ugly Season, he fully commits to this next part of the journey by letting the record stand alone before the accompanying music film by visual artist Jacolby Satterwhite will be available. The soundtrack was born out of another dance collaboration with Wallich, The Sun Still Burns Here which premiered in October 2019 in Seattle.
Of course, a soundtrack longs to be chaperoned by its visuals but it can also impress through the blanks it leaves. It is not completely instrumental though Hadreas' angelic voice takes a backseat. On the cover, Perfume Genius' face and body liquefies into black, white, and purple paint with red lips at the centre and with this sixth record he seems to be comfortable enough to also let his music melt and rearrange without the need of control. The two track with the most lyrics is Pop Song, which is reminiscent of Put Your Back N 2 It since they share a minimalistic approach. The chaos of Hellbent on the other hand is so full of arrhythmic e-guitar and drums that it might explode. Ugly season is multi-instrumental, multi-layered, and transcending the body which stands at the core of almost every previous work of Mike Hadreas. He manages to give shape to something in between neo-classic, ambient, synth pop, and experimental electro which can exist by itself, not needing synthesis or definition but wishing for it, through physical and visual expression. (Anna Stich)
Stream It: ► Spotify / ► Apple Music / ► Bandcamp
---
Violet Skies – '
If I Saw You Again

'
Sounds like … a vulnerable and melodic alt-pop exploration.
If I Saw You Again is the wistful title of Violet Skies' long overdue debut for the Chepstow-born-and-raised singer, songwriter and producer. Timing truly is everything, in life as in pop music, and so the artist herself claims: "I couldn't have made this album at any other time. There's a definite sense of destiny to it", the musician confesses, who is currently shuffling between L.A. and the UK. Taking its title from the memory of her grandmother, where she found comfort when her life was falling apart, it is a worthwhile journey through "relationships, past and present". And it is the manifestation of a songwriter, rising towards authentic and connected artistic expression.
Settle marks the beginning of that soaring expedition and is a fitting introduction to the vulnerable ways Violet Skies is about to explore and sparks with melodic flights and intense sentiments. The Internet is a somewhat more soulful take on things as piano ballads like Never Be Cool or Love You Better (Go) reveal the true vulnerable core of her songwriting and constitute the mellow centre of If I Saw You Again. At times it seems like the tracks fade out to quick, but then it appears that this ephemeral sense is yet another quality of blending one track into the other. Meanwhile, there is almost room for everything on here and that is fair enough, since a debut like this deserves this spread, be it the sombre We Don't Get Along or the more sprightly acoustic-pop tune When Are We Gonna Do This? Ending the record on the mourning Hey God It's Me and Over The Valley, If I Saw You Again takes ultimate shape – and assumes the vulnerable emotive qualities which it can be perceived by. (Andreas Peters)
Stream It: ► Spotify / ► Apple Music / ► Bandcamp
---
Σtella – '
Up and Away

'

Sounds like …  sunny vintage pop from Greece.
There is a warm summer breeze blowing from Greece. The Athens-based artist and singer Σtella (with Sigma) releases her debut record via Sub Pop. Recorded in collaboration with producer Redinho Up and Away is an impressive stunt of merging the musical roots of a singer who grew up on groovy 60s pop and Greek traditional music. Σtella Chronopoulou merges rich RnB beats with the skilled placement of traditional instruments like the Kanun and the Bouzouki. Preceded by its bright orange cover, the record radiates a seaside vibe.
With dizzying heat, a grain of salt, and the refreshing tides of the Mediterranean ocean, Up and Away conjures its very own island feeling. From the euphoric whistles on the slow-burning Titanic to the instrumental Manéros – the record is a cohesive piece of music and unites songs which unique characters to a colorful puzzle. Σtella makes use of her love for vintage-pop, be it form Greece, the silky UK tracks or psychedelic tinged West Coast anthems. Up and Away is a record that goes down as easily as an ice-cold lemonade on a hot summer day. (Liv Toerkell)
Stream It: ► Spotify / ► Apple Music / ► Bandcamp
---
Hercules And Love Affair – '
In Amber

'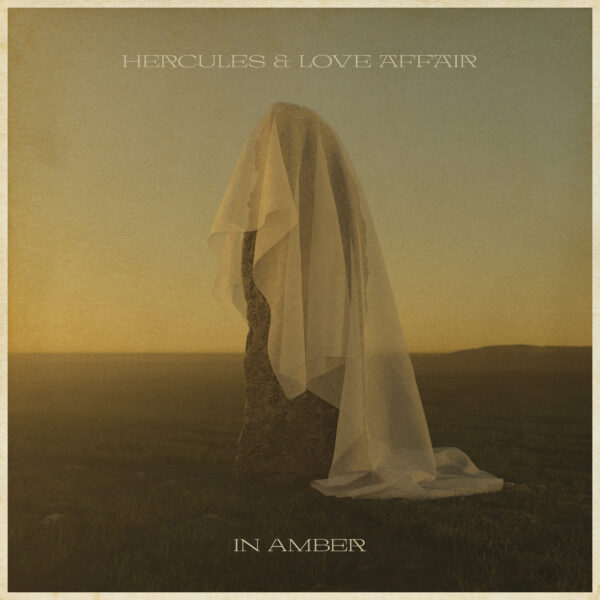 Sounds like … heavy monotheistic self-evaluation.
With the first release after 5 years, Hercules And Love Affair and its one stable member Andy Butler is leaning onto Christian iconography and how it appears as an undertone to his and one of his frequent collaborators ANOHNI's life. If you came to this record with the hope of finding self-evaluating disco hits as Butler established them on his previous records, you might disregard In Amber. But with an open mind, you can find the depth of dark house and post-punk tinged with solemn storytelling.
The record starts with its most light-hearted track Grace sung by Butler himself. The accompanying video references Sonic Youth's Daydream Nation cover, a white candle flickering which can be seen as a metaphor for In Amber. With each track the candle is burning down, the mood gets gloomier and turns further and further inwards. ANOHNI's emotive renditions are an anchor point throughout the album and shiver especially potent on One Great Cry and Poisonous Storytelling, with the gravitas she's known for, she sings: "Sky god without uterus / Human female husbandry / Collapsed biodiversity / Poisonous Storytelling". Contrasting to Marina Abramovic's claimed goddaughter's voice stands Icelandic singer Elin Ey's performance on Dissociation, which softly melts into a violin solo. Andy Butler has set a high bar for himself, and though In Amber doesn't fully reach its conceptual potential, it is an important expression of rage, anxiety, homophobia, and overall despair which are always starting points to turn dust and pressure into amber. (Anna Stich)
Stream It ► Spotify / ► Apple Music
---