Future Islands – 'As Long As You Are'
Sounds like … indie-pop's finest players are in peace with their own vision.
For a band that's known for being chronically restless the feeling of actual arriving and being in peace with yourself can be a frightening one and Samuel Herring surely managed to successfully run away from it over the past years. As Long As You Are, the sixth studio album by Future Islands deals exactly with that feeling. It's the musical sign of a band that's in peace with itself at last, after spending years on the road. So, it's kind of ironic that it arrives in the middle of a live music shut down, forcing the group for the first time to not share their infamous live energy with the rest of the world for now. Future Islands were already an active live band before their 2014 hit album Singles and the legendary Letterman performance of Seasons (Waiting On You) took them to new heights of popularity. But after that the pressure didn't become less. They played over 1.000 shows since their formation in 2006 and managed to record regular albums in-between that simply got better and better. Future Islands knew how to write catchy hooks before Singles but ever since then they perfected that skill and As Long As You Are is another strive for melodic perfection and also a record that celebrates homecoming and confidence after years of personal struggle while simultaneously delivering some of the band's finest material so far.
Just take the lead single For Sure which is an instant hit that will stick in your ear for the rest of the day/week and year. It feels like Future Islands' more upbeat moments are now even more 'in your face' than on the past albums. Born In A War is a fine example and welcomes Herring's legendary roaring back again. Tracks like Walking and Plastic Beach really spread an uplifting spirit that's a bit new to the Future Islands cosmos, at least in that consequence. On the other side the more tender moments on the album feel like they are really well-thought-out. In the warm I Knew You it feels as if the singer wants to wrap his arms around the entire universe. Yes, we're getting close to "stadium new wave" here but the band is eager to not let the cheesiness win here. City's Face on the other band takes their grooving rhythm section (which now sees longtime tour drummer Mike Lowry becoming a full-time band member) taking a step back and gives Herring and the fragile synth patterns all the space they need to let the emotion shine through. As Long As You Are is also the first self-produced Future Islands release which is another argument for the whole 'closer to ourselves' vibe. Yes, the days of their rough lo-fi synth pop that took them through small indie clubs all around the world are gone for good but in exchange we got a band that's getting closer and closer to writing the perfect pop song. They long for those tracks that transport emotional weight and intimacy via catchy hooks and sonic sounds and it's a joy to witness them doing it. Future Islands are one of pop music's most outstanding treasures these days and I think for the first time ever they are totally down to be labelled this way. (Norman Fleischer)
Stream It: ► Spotify / ► Apple Music / ► Bandcamp
---
METZ – 'Atlas Vending'
Sounds like … the fly on Mike Pence' white hair.
Normally I'm not that into the pace and logics of social media's commentarism. But the arrival of a new METZ album seemed to me as a timely event to give in to it for once. After my Twitter bubble managed to go on and on about a fly on Mike Pence' hair in the recent vice presidencial debate against Kamala Harris, I suddenly felt a similar affection to that fly and that commentarism. Let me elaborate: Why is that fly a thing? Well, first, it is an irritating momentum. A glitch in the Matrix. There should be no such thing as a fly in the setting of a highly polished and staged televised debate. Secondly, it created a beautiful contrast against the old white man's perfectly combed hair. And third, the fly in itself bears the potential of persistent annoyance. In a way, that is also where METZ have ended up: A singular, very persistent entity that – in its best moments – is able to create a beautiful contrast to our daily madness. And yes, Atlas Vending, the Canadian threesome's fourth record, contains some of their best moments.
What METZ had from the beginning was a unique sound – which is already quite an achievement considering the uncompromising, punk, grunge and hardcore-schooled noise rock they created on I and II, their first two records, with just the basic screams, guitar, bass and drums. The Steve Albini-produced Strange Peace then was the logical next step into more refined production areas. Because what was perpetable in METZ' music but never fully bloomed was how much of a good song often hid behind all the limitless energy and chaos. Atlas Vending has such a splendid production that for the first time, you fully get to enjoy the songs before they tear you apart. In all seriousness, I never could have imagined a crowd at a METZ-show demand for "the hit" (everyone's so much out of breath or just plain deaf that there is little energy left to shout anything anyway). But songs like Hail Taxi really could become an essential part of their concerts. I once had the pleasure to talk to the guys and still vividly remember how composed and likeable they seemed to me back then. If you keep in mind that these guys are sticking to what they're doing for over 12 years now, constantly evolving out of the Canadian DIY-underground with dedication and unswerving spirit, METZ developed a remarkable standing. Don't underestimate their Noise. Just like the fly it is capable to haunt you. (Henning Grabow)
Stream It: ► Spotify / ► Apple Music / ► Bandcamp
---
Mina Tindle – 'SISTER'
Sounds like … a book of magical fables turned into an indie record.

Mina Tindle turns a magical fable into music on her latest record SISTER. The Parisian multi-instrumentalist Pauline De Lassus evolves to a new musical style on her third record following her alt-pop outputs. She tells the tales of lions, kings, and sirens bedding her fairytales in the musical equivalent. Mina Tindle is a storyteller who knows her craft, using her vocal range to create certain moods – from dramatic falsettos to quiet whispers.
The opening track Jessa is a gentle piano-driven outcry of the singer looking for familiarity as she sings "sister sister where have you been?". Lions takes a more lounge and soul inspired turn featuring horns and tambourine. Mina Tindle knows how to tell vivid stories through words and music and on this record, she also turns to expressing herself in her mother tongue French. Belle Pénitence is a love letter to the singer's husband and a stunning arrangement of strings, beat, and melodic vocals. SISTER is Mina Tindle's most prolific effort so far and proves that she is not just a musician and singer but an eloquent storyteller with the gift to captivate. (Liv Toerkell)
Stream It: ► Spotify / ► Apple Music / ► Bandcamp
---
Travis – '10 Songs'
Sounds like … coming home to a warm cup of tea.
Scottish band Travis remains a phenomenon in the fast-changing music industry. Over the past 25 years the four-piece never split up, they remained friends and constant deliverers of quality records. They created their own musical cosmos besides all trends and have celebrated understatement with a certain charming stubbornness ever since. They might have never gotten as big as Oasis, Coldplay or other groups from the 90s Britpop era but they are still here, still true to their art and still not showing any signs of fatigue. While their ninth full-length is unspectacularly titled 10 Songs the actual content of it shows all the strengths you either come to love or hate about Fran Healy and his band. Sure it's definitely not a second The Man Who, their 1999 breakthrough record, but it's up with their finest work so far and might also be a fitting start for a new generation who's interested in entering the world of Travis as it is a good representation of their sound. Waving At The Window already spreads that timeless and slightly old-fashioned piano-driven post-Britpop vibe at the beginning, making sure that the band is still not interested in following the zeitgeist in any form. But they are up for a few surprises like the heart-wrenching duet with Susanna Hoffs of The Bangles on The Only Thing which comes with such bittersweet lyrics like "You are the record in the record shop nobody wants to buy."
On the other hand a track like Valentine shows what people often tend to forget: Yes, Travis are an actual rock band and loud guitars can be also found in their repertoire, although it doesn't happen that often because the softer moments are the ones where they truly shine. The warm and summerly Butterflies offers such a moment and so does the melancholic All Fall Down. The string-drenched Nina's Song is another fine example here, it shows all the confidence of these five Scotsmen – it might sound easy how the strings and melody go hand in hand here, surfing on a catchy hook but it surely isn't. It's a testament of their musical skills and natural chemistry. And just when you think that's it, the piano-only ballad No Love Lost marks a fitting reprise for these 10 Songs that feel so easy, yet so rich. Much like their previous records this one celebrates the timelessness of their music. You might call it retro, "frozen in time" or other attributes – but to me it's only consequent and therefore authentic. Travis might never be a band for the first row of pop, maybe not even for the second. But in their own niche they remain a silent yet constant force to measure with and I don't know about you but it's a calming feeling to still have these guys around. (Norman Fleischer)
Stream It: ► Spotify / ► Apple Music
---
Fooks Nihil – 'Fooks Nihil'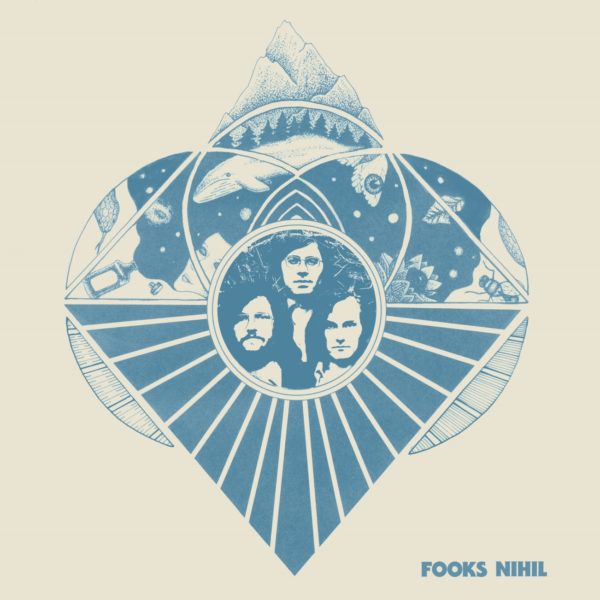 Sounds like … your new favorite 60s rock classic. 
Listening to Fooks Nihil is like time travel. The three-piece from Frankfurt conjure the 60s east coast sound perfectly and make you feel like driving down a San Francisco boulevard with the windows down, hair blowing in the ocean breeze. The simple setup of guitar, drum, bass, and vocals has worked for many and it does for this band as well. By working with analog instruments and staying away from contemporary production styles, the band manages to transport us back to the Beat area and on the road they lead us from Americana to 60s rock.
Insights of Love and What's Left are classic rock anthems; somewhat Doors-y, somewhat Crosby, Stills, And Nash reminiscent. Lady From A Small Town takes a softer turn serenading a lover while the steely guitar melody fills the space in between the verses. Misery channels Americana influences with its acoustic guitar riffs and the choir style vocals. Surface of Things takes the sound to a groovier level again. The vocal performance on Down From Where She Comes, from the harmonies to the almost spoken verse shows the versatile facets of the artist and fades out on a heavy drum roll. Fooks Nihil is the old favorite you rediscover – only they are not. And the best thing is that, while most of the great from the 60s have left us already, Fooks Nihil you can still see live (hopefully sooner than later)! (Liv Toerkell)
Stream It ► Spotify / ► Apple Music / ► Bandcamp
---