HAIM – 'Women In Music Pt. III'
Sounds like … the poppy-bobby jam that blasts through your neighbour's window on a sunny Saturday morning – (I'm your neighbour) !
After having pushed the album's release date, it seems to come into the world with perfect timing with the beginning of summer. Women in Music PT III has tight melodies, honest song-writing, and jumps between genres fluidly. The trio audibly enjoys their new found direction, discipline, and spirit which carries nuances of country-rock, RnB, funk, and contemporary pop. On their third studio album, the sisters have fully accomplished the sweet balances between the depth of contradiction and sing-along lyrics that stick with the listener.
I talked to Este, Danielle and Alana last November just after the first single Now I'm In It came out and we explored their process in the studio, the strength it takes to show up for yourself every day and the connection to the realm of creativity. The outstanding quality of this record is that each of the sisters tells their individual story of growth and combining it with the battles they fight as a team. One of the central topics of the album is the relationship to their hometown, opening on Los Angeles with, "Give me a miracle, I just want out of this" and closing with Summer Girl and the joy of returning back to family. 3AM and Man from the Magazine deal with the tired debate around the album's title most directly: female musicians, women guitarists, female-fronted bands, women In music and all the other wonderful ways of just saying musicians. If a journalist would ask me if I make the same face in bed after all this success and time in the business, at this point I'd potentially punch them in their male faces. Sometimes I'm impressed how much energy the trio still has to fight the fight and this record shows that when you're able to transform this anger, frustration and grief into art, it can thrive into the strength to keep going, a supporting community, and a reminder that you're not alone in this battle. WIMPIII is a great work that proves this and that HAIM can outshine themselves with every time they're walking their individual path but towards the same light. (Anna-Katharina Stich)
Stream It: ► Spotify / ► Apple Music
---
Khruangbin – 'Mordechai'
Sounds like … a musical road trip.

Khruangbin named their third record after a friend of theirs honoring Mordechai's guidance on Laura Lee Ochoa's way to reconnecting to her Mexican roots and taking up her Mexican name again. On Mordechai Laura Lee Ochoa, Mark Speer, and Donald Johnson (DJ), merge the unhurried melodies from the previous records we loved so much with stronger leading vocals by bassist Laura Lee Ochoa. The instruments sometimes have to take a step back to give her still minimalistic chanted vocals space. But by dragging the words out like on the opener First Class, the voice almost turns into an instrument itself.
Already on the first note of the LP, the unmistakable Khruangbin vibe shines through. The leisurely interplay of the instruments from Mark's reverbed electric guitar, the prominent bass-line, and the steady drum groove – the musicians and their instruments come together and converse. Connaissais de Face features conversational parts over Thai-style surf rock. Father Bird, Mother Bird is an instrumental track paying homage to the band's beloved instrumental recordings and draws from the influences of Middle Eastern rock. Dearest Alfred is a trippy ballad and Pelota's upbeat groove is truly infectious. Even though the band incorporates vocals as a prominent new element, the songs sound as Khruangbin as ever. This is the perfect sunny day music! (Liv Toerkell)
Stream It: ► Spotify / ► Apple Music / ► Bandcamp
---
Gordi – 'Our Two Skins'
Sounds like … a nervous breakdown turned into anthems of personal strength.
The tricky thing with existential moments and the crisis that comes with it is that you can't plan them; they can happen in the strangest situations. And sometimes they happen in the middle of the sky, on a flight from Sydney to Europe. That's when Sophie Payten aka Gordi found herself in the middle of different lives, facing a new truth which she had to write down immediately. "Cause I can't get my shit together in this aeroplane bathroom" are the key lyrics of this moment, written in 20 minutes on this faithful flight and manifested in the opening song of her new album Our Two Skins. The songwriter had recently completed her medical exams after years of studying to be a doctor, and began the process of ending her "nice, safe, but stagnant" long-term relationship. Many other aspects played a part in the fateful nervous breakdown Gordi was facing on this flight and although the magnificent song Aeroplane Bathroom was written before Corona hit the plant it was a fitting coincidence that she released it right when the lockdown started. It's a naked, raw and unfiltered moment of calm and realization in the middle of the storm and that's what makes this song one of the best ones of 2020 already. Luckily, the rest of Our Two Skins keeps this level of quality up, underlining the Australian's position as a talented and profound songwriter that manages to combine lyrical openness with great melodies that are just meant to be stuck in your ear.
Our Two Skins is a record that deals with goodbyes, reflections and new beginnings and Payten is a fitting protagonist to tell these stories. "Give me less than comfortable," she sings in the uplifting Unready which really transports a spirit of 'fuck it, I'm heading for my own adventure' and she's really great in those moments as well. Volcanic is another fine example here where Gordi's uplifting spirit meets her great talent for melodies. "I have these moments where I panic / When I shut down and go manic … so eruptive and destructive like within I am volcanic." She's not afraid of big gestures and manages to walk this thin line between pop and something more profound with dignity and confidence on the same level an artist like Sharon Van Etten does. She's even better in the more fragile and reduced moments of this albums, like the gut-wrenching ballads Radiator and Look Like You. There's no filter, no unnecessary additional production here, just the purity of the raw emotion and that's one of the key messages of this record: There's nothing to hide behind. This is who Gordi is, this is what she sounds like, how she feels and it takes a certain strength to transport that into the world. Embrace the crisis, embrace the fear, live with it and beat the shit out of that bastard! Our Two Skins is a powerful and mighty record for a world that is currently looking for a new design. You can't plan these things but in this case the timing worked out pretty well. (Norman Fleischer)
Stream It: ► Spotify / ► Apple Music / ► Bandcamp
---
Arca – 'KiCk i'
Sounds like … a glimpse into the hyperactive future of pop.
If there's an artist in the electronic scene, that both insiders and outsiders of the scene can agree on, it has to be Arca. The Barcelona-based Venezuelan artist has produced for artists such as Kanye, FKA Twigs and more frequently, collaborated with Björk. Until now, she never used feature artists for her solo albums. In this matter, KiCk i is a first. Not only Björk, but also other artists such as Rosalía, SOPHIE or Shygirl appear as feature guests on her third album.
The record follows the artist's unique take on experimental pop, noise and electronic. Ín opener Nonbinary, she raps about the diversity of her own identity. The aggressive instrumentation almost reminds of gun shoots. Eventually, she concludes with the empowering line what a treat it is/ to be nonbinary. With mesmerizing productions and angelic vocals, Time is one of those tracks that you'd rather hear on your way home from a club than on the dancef loor itself. Ultimately, KiCk i might be the album that shows how 2020's club nights could have sounded like in another reality. Alongside Rosalía, KLK is a stomping dancefloor-hymn dedicated to the very trendy Reggaeton movement. Featuring SOPHIE, La Chiqui feels like a speedy table tennis match between the two uber-producers. In Afterwards, Björk presents an almost ecclesiastical interlude with Spanish lyrics. With a cathartic electric piano backdrop, Calor is at least a bit more slow-paced than many of the other tracks. There could be dozens of more words written about the already mentioned and the remaining tracks of KiCk i. For example, there's Rip The Slit, which sounds like it was written and produced by a robot. Or beautiful closing track No Queda Nada, a heartwarming ballad. However, Arca's third record busts any editor's word limitation. In conclusion, the 12 tracks include experiments with techno, pop and rap that never plead for a specific genre. This rummaging ends up in not only one moment of overstimulation, though. With KiCk i, Arca once more shapes the perception of how pop music is made aside from the mainstream productions and identities. What a treat that is. (Louisa Zimmer)
Stream It: ► Spotify / ► Apple Music
---
Pottery – 'Welcome To Bobby's Motel'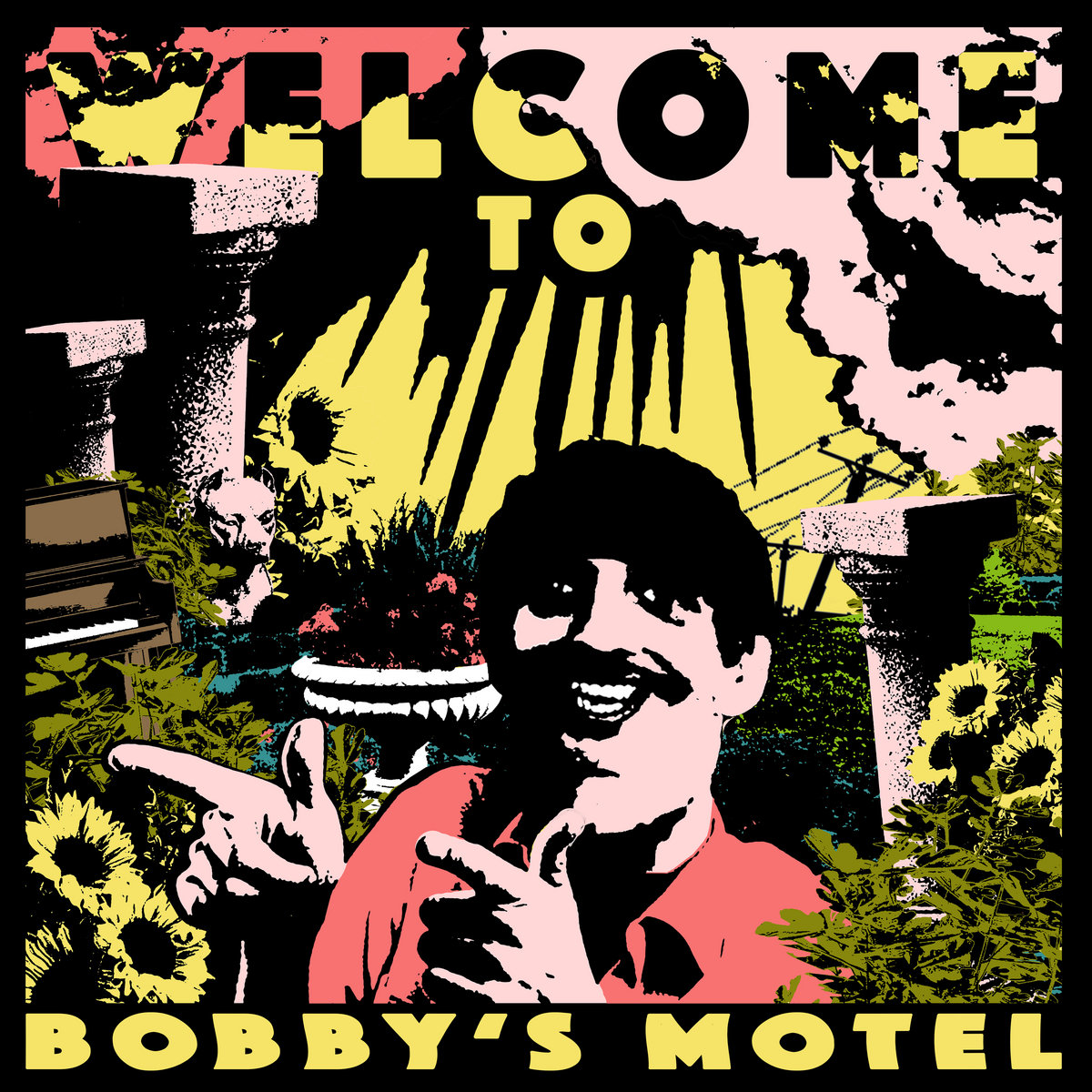 Sounds like … Bobby's Motel is the place to be.
After being postponed more than two months due to Corona, the highly expected debut record of Pottery is finally here. The Canadian band already made a name for themselves on tour with bands like Fontaines DC, Parquet Courts and Thee Oh Sees. Now, on their first full-length LP the band proofs that the hype is real. On Welcome to Booby's Motel the band takes us on a furious 37-minute ride through a whole bunch of styles, genres and moods to a mysterious place called Bobby's Motel. Entering the imaginary building means entering into the band's very own mindset. Bobby and his motel are this alternative-reality that the five members created. On a nearly trancendal level this place offers a window into the Pottery universe. A universe without any musical boundaries, full of rhythm, groove and structured chaos. Bobby is an imaginary manifestation of the band itself, an alter-ego for every single one and all of them together. The Motel is everywhere they are. The Motel is life. Just as furious and unexpected as it can be – and so is the record.
Bobby's Motel is packed with references of the last sixty years of pop music, with sounds of 60th surf and psychedelic music, 80th glam vibe, garage, post-punk and indie vibrating throughout the entire record. Explosive drums, simple group-chants and accelerating guitar riffs create a feeling of restlessness and constant ecstasy. At the same time the band manages to perfectly dissolve overwhelming jams into slow-groovers – just to accelerate to the maximum again a few minutes later. The balance between manic energy and precise song-writing is what fascinates about this record. Like Hot Heater, a song nearly overloaded by nervous percussions, but put into a structured frame by a Talking Heads-like guitar riff. Texas Drums I & II starts off as an arty and danceable indie track with a simple chant at the core of the song, but turns into an acid-techno track towards the end. And it somehow totally makes sense. Just as much as the hyper track NY In, a song, weird enough that it could easily fit on a King Gizzard And The Lizard Wizard record as well. Hot Like Jungle closes the record with a dreamy 80s infected love song. Welcome to Bobby's Motel is an outstanding debut of a band, that finds a highly creative output for their (often drug-involved) randomness and imagination. A record that will keep you moving from the first second to the last. And one you might want to consider for your end of the year best-of-list. (Abhilash Arackal)
Stream It ► Spotify / ► Apple Music / ► Bandcamp
---