Jack White – 'Boarding House Reach'
Never hesitating to play against the rules, Jack White disregards pretty much all guidelines to an extent that show his ability to sound fierce and passionate at the same time.
For years Jack White has been one of the great guitar virtuosi in the world of rock music. His signature guitar play, courageous approach and at times good portion of playfulness being thrown into the hat have made him a true exception among his contemporary musical fellows. Somehow the admirable workaholic has managed to find time for his third solo album Boarding House Reach in between running his infamous label Third Man Records, being a father and being a continuing creative force that always seems to cook something up. This time around Jack White got himself a small apartment in Nashville to work on ideas that have been floating around in his mind. The walls and limited space available did definitely not affect his adventurous approach where no rules apply. Disregarding musical conventions has been something White has internalized so deeply that everything seems possible when he actually sits down to write and record new tunes.
While he could have come up with a steady and surely superb rock album, Boarding House Reach is anything, but typical. Taking the liberty to do whatever he pleases opens up a sheer endless playground for White once again that is hard to grasp in its entirety. Which is a good thing by the way. Whites love for dissonance rather than a well-arranged, predictable idea makes his third solo record an exciting trip through various genres. Yes, it takes some attention and willingness to open up on the listener's side, but isn't that exactly what drives music forward still? It is. After having recorded demos on an old reel-to-real tape recorder in his Nashville apartment, White ventured out into studios in Los Angeles, New York and, of course, Nashville to record the songs with a group of fellow musicians that give the record another thrilling spin. Fuzzy guitars, gospel choirs, organs, funky beats and a great deal of samples are embedded in Jack White's latest LP that once again crushes the rulebook from the very beginning. Rightfully so. (Annett Bonkowski)
Song to get you started: Ice Station Zebra
Stream it now: ► Spotify / ► Apple Music / ► TIDAL
---
Preoccupations – 'New Material'
Channelling late 70s/early 80s new wave and gothy post-punk, on New Material Preoccupations have written a soundtrack to night-owls everywhere.
It's never easy following up a game-changing debut record, just ask early 2000s indie bands Interpol and The Strokes, but that's exactly what Preoccupations (née Viet Cong) were challenged with. Discounting the majority of the band's time in the excellent, understated, Women, the Viet Cong LP opened 2015 and never really let go of people's imaginations for the whole year. An enforced name change later, and the Preoccupations record that followed was a much darker, moodier but still impressive affair typified by its opening track and lead single Anxiety.
Controversies behind them, New Material is the first sophomore record these musicians have produced under the same band name since Women's 2010 album Public Strain and it sees Preoccupations at their most focused yet. While there was an incredible joy to watch the inventive skittishness that accompanied their first two records, they have become subtler over time. New Material sees Preoccupations at their most straight-forward in terms of songwriting, but in terms of atmosphere, this is perhaps their most impressive effort to date. Opener Espionage gets things kicking in a way that was somewhat missing off their last record with a Joy Division-esque rager. Later, new single Disarray is perhaps the band's most gorgeous sounding moment for a band keen to often produce ugly ones, while later jam Solace guitar interplay reminds one of Viet Cong's finest moments. Closing couplet Doubt and Compliance send this relatively brief record off into the ether with a moving, industrial feel which is akin to Nine Inch Nails' more fragile songs. Once again, Preoccupations have demonstrated why they are such a vital band to have. (Adam Turner-Heffer)
Song to get you started: Espionage
Stream it now: ► Spotify / ► Apple Music  / ► TIDAL
---
The Boxer Rebellion – 'Ghost Alive'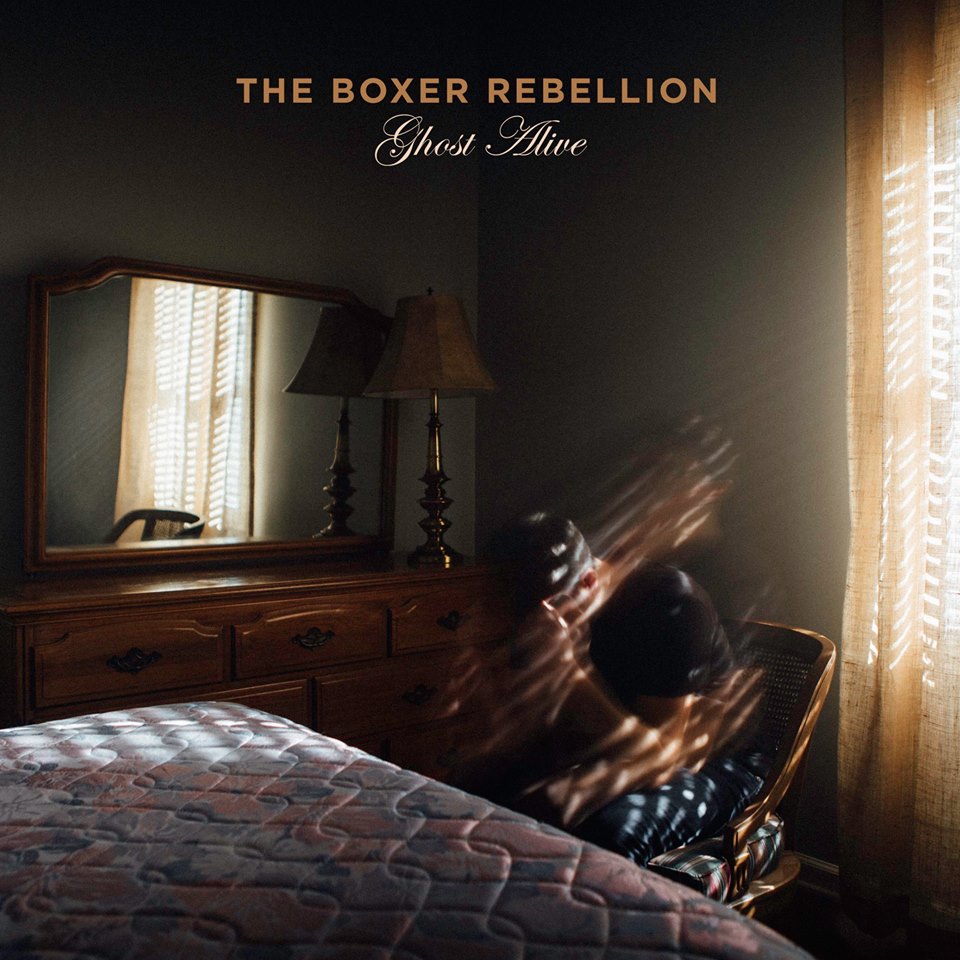 Stadium rock ambitions got delayed. The four-piece takes a few steps back to release their truly surprising and most personal album so far.
In the past 17 years The Boxer Rebellion established themselves as a independent music force that somehow feels like its constantly on the move. Every album surprises with a new aspect of their melodic and emotional songs and their sixth album delivers the most surprising twist of their career so far. Instead of continuing the 80s-pop-infected sound of 2015's optimistic Ocean By Ocean album, Ghost Alive takes an unexpected tender and introspective turn, being a pretty much 'ballads only' affair. The circumstances of its recording played a crucial part here. Shortly before the band went to the studio, the father of leading man Nathan Nicholson passed away, giving the already written songs a new meaning. Trump's election happened during the time the band visited Nicholson's hometown Tennessee and that infected the record as much as the current state of the world does. Starting the album with the angry and almost resigning What The Fuck feels like a proper way to cope with what was/is still happening in the world.
Carried by an overall sadness and attempt to face Nicholson's personal demons (also reflecting on the loss of his mother and unborn child in the past) Ghost Alive isn't aiming for big uplifting stadium pop anthems like previous records. There's no Diamonds or Big Ideas on this one, instead its delicate and often reduced ballads like Rain, Fear and River that await the listener. Although lines like 'I lost you once, I will lose you again' in the atmospheric Here I Am hint on a certain hopelessness, their is also subtle optimism hidden within the record. The most uplifting piece and proper single-material – the midtempo ballad Love Yourself – accepts sadness and despair as necessary companions in life to ultimately move forward in the end. This record is in every aspect an unusual one for The Boxer Rebellion that has almost nothing to do with their previous output in terms of the overall sound. It feels like a moment to catch your breath, like an interlude after years of restlessness. It could also be a perfect epilogue for the group but hopefully they'll continue to shine even brighter after this pit stop. It's always darkest before the dawn and Ghost Alive might just be that moment before a hopeful new beginning. (Norman Fleischer)
Song to get you started: What The Fuck
Stream it now: ► Spotify / ► Apple Music / ► TIDAL
---
ZULU – 'Analogue Heart // Digital Brain'
ZULU's approach of the modern age manages to capture much of the conflict and complexity of today's world without directly addressing it.
Three-piece indie-pop band ZULU from Würzburg, Bavaria are not exactly strangers to the German music circuit. Released under their former moniker Shaky Foundation, their only album Psychonaut was an exercise in whispered vocals, chiming guitars and erractic drum beats. Although that project had ultimately reached a dead end, some of its musical DNA has survived and resurfaced in a slightly altered, more focussed form – the hectic beats and guitars of Foals are an obvious reference point, while the band's hazy vocal arrangements and soundscapes call to mind the heydays of dream pop.
As the title of their new album indicates, ZULU have come to fully embrace the possibilities of electronic instruments and production without leaving behind traditional instrumentation. Hidden People is a prime example, with its synthesizer drones and pulses, faint guitars and thumping bass coalescing into an epic finale imbued with melancholia, euphoria, sorrow and everything in between. However, the duality suggested by Analogue Heart // Digital Brain is not one of form only; 'You kind of lost your velocity / So you can't keep up with me', notes singer Max Seeger on opener Inactive Life, but if the cause is depression or digital fatigue stays unclear. In many cases though, the lyrics are barely intelligible – obscured by reverb, auto-tune or mumbled delivery – and they are so intentionally: When layers of rhythms, sounds and voices flow into one another, ZULU capture more from our conflicted selves than with any words they utter. (Igor Franjic)
Song to get you started: Hidden People
Stream it now: ► Spotify / ► Apple Music / ► TIDAL
---
Jóhann Jóhannsson – 'Englabörn & Variations'
A posthumous praise for one of contemporary classic's most adventurous characters. The late Icelandic genius goes full circle and ends his career where it actually started.
When speaking about grief  words itself often become useless as they never manage to fully articulate this raw emotion. Music is a more fitting outlet for it and a dark notion of despair has always been a crucial element in the sound of Jóhann Jóhannsson. Following his shocking death last month that feeling enters a way different level on his final piece of work. The fact that this final work actually saw him revisiting his own roots gives his profound career a certain 'Alpha and Omega'-aspect. Englabörn was his first album released in 2002, based upon music he wrote for a play of the same name by Hávar Sigurjónsson a year earlier. In retrospect it already gave a first impression of his trademark sound – a sort of classical chamber music sound, updated for the 21st century, supported by well-placed and discreet electronic sounds and progressive experiments. On Englabörn the Icelandic composer isn't obviously at the point of his haunting later releases like 2016's Orphee LP or the acclaimed movie scores for Arrival and The Theory of Everything but the LP already got that specific cinematic feeling of coping with discomfort.
The tracks remain way shorter than on his later releases but his love for repetitive motifs is sensible throughout the entire record. One of his better known pieces, the opening track Odi et Amo, resurfaces in more than one form on the album. The accompanying Variations LP takes this idea even further. For this companion album he invited longtime friends and collaborators Hildur Gudnadóttir, Ryūichi Sakamoto, Paul Corley and more to each reinterpret pieces from the album with Jóhannsson himself revisiting several tracks of his debut again. The results keep the quiet atmosphere of the original but add different perspectives to these themes. Vikingur Ólafsson reduces the theme song to a simple piano piece while longtime Sigur Rós collaborator Alex Somers takes it to darker ambient territory. The two contributions from Theatre Of Voices add mesmerizing choral interpretations to Jóhannsson's compositions and are definitely a highlight in this tribute. Already sixteen years ago it became clear that Jóhannson's music wanted to reach deeper levels of understanding which was especially fascinating in combination with his constantly growing Hollywood involvement. He would have never become the next John Williams or Hans Zimmer and in the end his last-minute removal from scoring that Blade Runner sequel seemed consequent. The surface was never Jóhann Jóhannsson's favourite spot, it was the existential darkness lurking below it. This will make his music timeless, Englabörn & Variations is a fitting final release but also a perfect one to get new people started on his marvellous music. Rest in piece and Þakka þér! (Norman Fleischer)
Song to get you started: Odi Et Amo
Stream it now: ► Spotify / ► Apple Music / ► TIDAL
---