James Blake – 'Assume Form'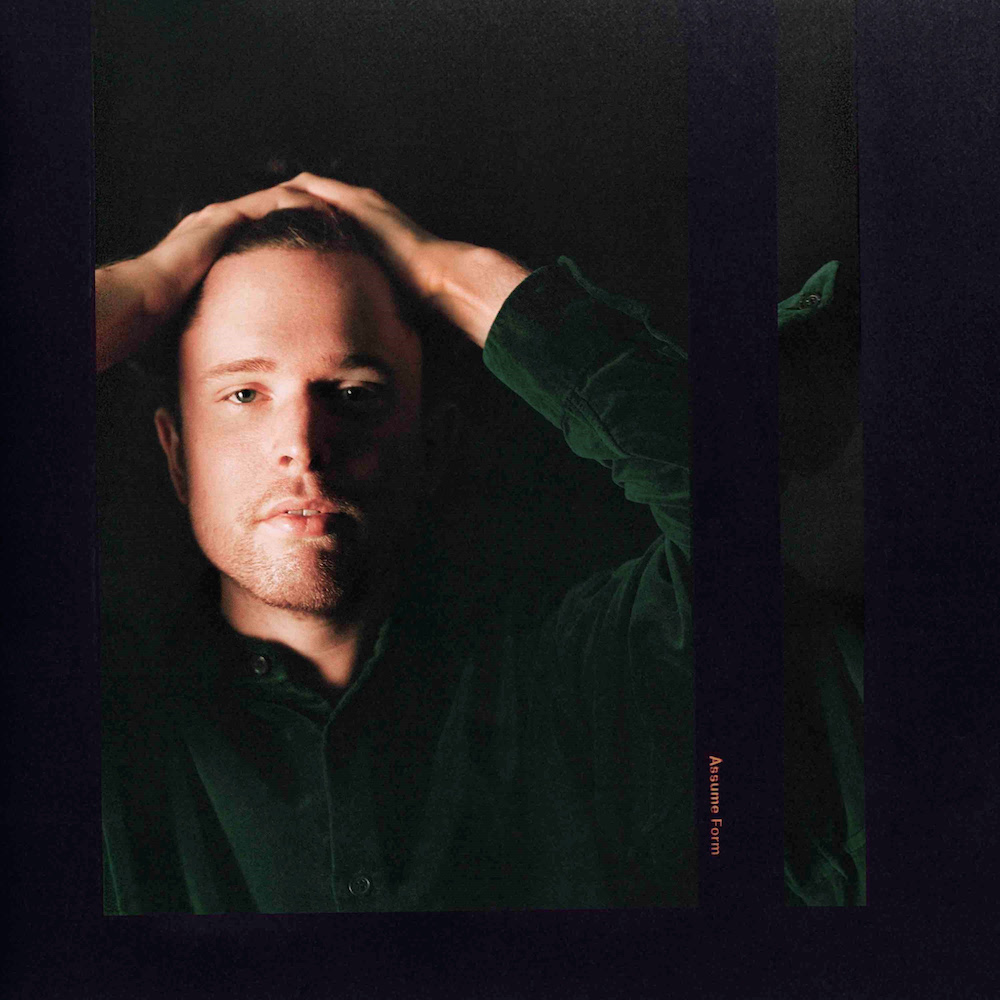 Sounds like …shimmering nuances of happiness blending in with just the right amount of gravitas and fragility all coming together in an enriched electronic pop minimalism.
James Blake's latest musical effort Assume Form, his fourth album by now, sees the British songwriter and producer lifting the veil off his trademark introspective and melancholic insights of post-dubstep-electronica to invite more light as well as textures into his work this time around. The new songs still radiate an overall intimate vibe, but Blake is clearly taking another step forward in allowing himself and therefore his music to become much more accessible and even uplifting at times. Hiding a lot less behind the mask of autotune, Assume Form sees Blake exploring the more colorful and lighter nuances of his path in a much more direct way that doesn't necessarily need to be distorted and if so, it's not to disguise the actual message James Blake is trying to convey.
Having worked together with basically every high-profile artist imaginable in the past like Kendrick Lamar, Beyoncé, Bon Iver or Drake and surely demonstrating his impressing skills of fusing genres, his sure feeling for good collaborations is still going strong on Assume Form. Features including the likes of Andre 3000, Travis Scott, Moses Sumney, Metro Boomin and Rosalía all add a whole other level of depth to an album that could exist just as well without this kind of help. Yet, it's exactly that little twist of bringing along these various musical talents that lets the album unfold into a sphere with even more diversity and character. Where's The Catch asks Andre 3000, but immerging deeper and deeper into this record, it feels like there's none that distracts from the fact or endangers James Blake's capability to produce heartfelt and sincere songs, somehow fragile enough to draw us towards them, yet exciting as well to an extent that allows the listener to absorb the complex musical impulses the record has to offer. (Annett Bonkowski)
Stream Now: ► Spotify / ► Apple Music / ► TIDAL
---
Sharon Van Etten – 'Remind Me Tomorrow'
Sounds like … an ode to the past and rebellious cry for a new future
You don't need to be a psychic to realize that this album is dripping with nostalgia for the lost days of the youth and at the same time rebelliously pushes towards a new future. After her last record in 2014 Sharon Van Etten has kept herself busy with acting, writing movie scores, going back to school and having a child. Now she clearly has a different take on songwriting. On Remind Me Tomorrow she moved away from the gothic Americana girl-and-guitar theme onto darker and edgier vibes. She traded the guitar for a vintage synth, an organ and an electronic drum kit, yet her vocals still convey the trademark shiver-causing honesty but have moved away from personal confessions to more storytelling songs.
With newly gained confidence Sharon Van Etten works up old traumatic experiences and love stories of the past. The opening track I Told You Everything is an emotionally loaded confession to a new trustee with raw honest vocals sung over a fuzzy and dark beat. The singer is not shy to experiment with cacophonic sound effects and shifting melodies that draw analogies to a more psychedelic style, like on Memorial Day. The new album has a much wider sound than we are used to from the musician, without sounding disperse. Slow piano based ballads turn into sinister drum-heavy odes while rebellious chants like Comeback Kid have an incredibly catchy chorus with strong pop influence. Each song tells a story of its own whether it is recalling the vibes of growing up in the 90s cruising 'in the little red car that didn't belong to you' on Malibu or reminiscing about when 'I used to be seventeen' on the upbeat Springsteen-like Seventeen. Sharon Van Etten proves that she has grown personally and musically during the past four years. The visually evocative lyrics make this album an interesting and highly personal listen, while the melodies smoothly shift and change on each track, but somehow always find their way back into the core rhythm of the song  – just like Van Etten will surely find her way back into the hearts of indie and alternative rock lovers with her new release. (Liv Toerkell)
Stream Now: ► Spotify / ► Apple Music / ► TIDAL
---
The Twilight Sad – 'It Won/t Be Like This All The Time'
Sounds like … the band's take on Mogwai and The Cure's worlds colliding.

Since the release of their game-changing debut album Fourteen Autumns & Fifteen Winters just over a decade ago, The Twilight Sad have since perennially sat on the cusp of success. Much respected and rated, with an impressive list of fans including Mogwai and The Cure, no less, but never quite breaking through into a wider consciousness on the same level their debut achieved. However, post-world tour with the aforementioned goth post-punk legends has injected a confidence and influence into the Scottish band which may well propel them to stardom with their latest, fifth full-length IT WON/T BE LIKE THIS ALL THE TIME.
According to a recent interview, Robert Smith consulted the band during this album's demo process, and honestly, it shows. While this album certainly isn't paying lip-service to The Cure, there is an undeniable influence all over tracks like VTr and Let's Get Lost that has revitalised The Twilight Sad's already very impressive sound. While it may also be easy to read this record as being steeped in tragedy – this will be the first released since the death of close friend Scott Hutchison of Frightened Rabbit – this was written before that fateful event last May. That said, according to the same interview, the album's themes discussing mental health and toxic masculinity largely came out of conversations with the late frontman as well as a similar ambition to put everything out there emotionally, making this record an absolute thrill. (Adam Turner-Heffer)
Stream Now: ► Spotify / ► Apple Music / ► TIDAL
---
Deerhunter – 'Why Hasn't Everything Already Disappeared?'
Sounds like … a mixture between the sound of its predecessor and pop-psychedelia from the 60s and 70s.
On their 8th album the Atlanta based band continues with the accessible and clear yet complex structure of their 2015's Fading Frontier. Back then singer Bradford Cox was singing about losing touch and the beginning's of one's fade into isolation. Why Hasn't Everything Already Disappeared? goes beyond that when Cox sings 'I'm gone, I'm gone, I'm gone' on Element, the descent coming to a close as one dissolves into oblivion.
In contrast to its dark content stands its much brighter musical accompaniment: baroque harpsichords (Death In Midsummer) or toy-like sounding xylophones on What Happens To People are playfully woven into complex arrangements playing with references from 'Beach Boys-Psychedelia' to 70's retro-futuristic, soul-infected David Bowie (the chorus in No One's Sleeping or in Greenpoint Gothic) and also some Afrobeat on Plains. Nevertheless, at the core of all of these references stands Deerhunter's own distinctive style of songwriting, which one has become familiar with from past records. All this is held together by Bradford Cox's voice switching between tender vulnerability (What Happens To People) and sometimes persuasive possession (Element). This album was co-produced by Welsh singer Cat Le Bon in the desert of Marfa Texas, which is peculiar for the reason that the town's name almost sounds like the Marfan-Syndrome Bradford Cox is suffering from. As cryptic as this fact are his lyrics on how everything and everyone will slowly, but surely disappear. In comparison to Fading Frontier this album captures even more the feeling of facing outsiderdom as well as the end of the world with embracing brightness. Despite this albums' complexity in references and arrangements, it's easily their most accessible work to date; evocative of musically equally versatile indie greats such as Grizzly Bear or Bon Iver. (Viet Phuong Vu)
Stream Now: ► Spotify / ► Apple Music / ► TIDAL
---
The Day – 'Midnight Parade'
Sounds like … Gentle dream pop endeavours that feels like a missing link between Cocteau Twins and The xx.
Whether it's the comeback of old heroes like Slowdive or emerging new talents like Hatchie – for a few years now it appears as if the 'dream pop' wave is riding on a constant high that isn't going to subside anytime soon. In dark and often desperate times like these dreaming all the madness away feels like a proper alternative. The problem is that there's only so much you can do with this formula of delicate vocals, reverbed guitars and melancholic layers of sound. So if you decide to head for that direction you better make it good – and Laura Loeters and Gregor Sonnenberg alias The Day managed to do so. The Dutch/German two-piece delivers a spectacularly unspectacular debut album with Midnight Parade. Right from the tender opening song Island there's an instantly captivating notion in this music – at least if you are into that sort of dreamy indie vibes.
Being both – determined yet fragile – the voice of Loeters is the driving force of The Day's hazy hymns about escapism, everyday life and the little endeavours that could happen within it. Midnight Parade is not an overall bleak affair, luckily. Instead we get uplifting songs like Where The Wild Things Are and Grow which encourage the listeners to follow their own path in life. Other highlights on the record include the Smiths-esque We Killed Our Hearts and the epic Berlin which tends to loses itself in a hypnotic finale. Partly things get quite massive like in the final moments of Illuminate (does anybody sense some Mew in here as well?). The formula might indeed not be the most innovative one and towards the end certain patterns start to feel repetitive but that doesn't make the overall listening experience less lovely. Life can be full of little wonders and this album is about them while also being one itself. (Norman Fleischer)
Stream Now: ► Spotify / ► Apple Music / ► TIDAL
---