Long Tall Jefferson – 'Cloud Folk'
Sounds like … folky melodies driven by the wings of a new identity.

Whether Simon Borer, the mind behind Swiss act Long Tall Jefferson, will have founded an entire new division of the genre with his third album Cloud Folk still remains to be seen. And yet, this is already a fresh take on his musical craft, if not to say a reinvention of sorts. His previous work, taking him as far as the two records I Want My Honey Back and Lucky Guy and hundreds of shows all across Europe was governed by what in reviews like this is often and willingly called "authentic folk music": Essentially centred around the vocal musings next to mellow guitar sceneries. But how authentic can it get, especially when you cannot feel the very signature of your sound anymore? Hence, the idea of Cloud Folk promised a way out of the maze Simon Borer found himself in. So, future folk, it is?!
Long Tall Jefferson's reaching for the stars takes off with a surprising mixture of trap beat, subtle guitars and harmonica, with Borer's voice, at times with autotune, seemingly sliding over the chilled atmosphere. "When I was a boy, I had this wild imagination", he begins, setting the tone for the yearning sentiment that runs through the entire ten songs. Young Love picks up that thread with a mellow rhythm, soft electronic textures and the musings of someone torn between the charms of a young romance and the disillusion of growing older. There is certainly a new spirit rising in these new tunes and while you might think, that the airy, at times even silky song textures might drain all the fun out of it, Long Tall Jefferson manage to direct the flow in directions that make the whole experience worthwhile. There are slight returns to earlier guitar-fused roots with songs like Better Man and Everything Is Wrong, which in fact does raise the question why this kind of sound didn't feel authentic to the man anymore. The majority of the songs, however, is way more upbeat, indeed "cloudy", lightweight and even optimistic, as they really seek not to go about with your head in the clouds, but to look right through them. The result is a set of songs as bright as a summer's day, nearly brushing realms of kitsch, but in the end remaining artistic, inspiring and most importantly, authentic. (Andreas Peters)
Stream It: ► Spotify / ► Apple Music / ► Bandcamp
---
King Hannah – 'Tell Me Your Mind And I'll Tell You Mine'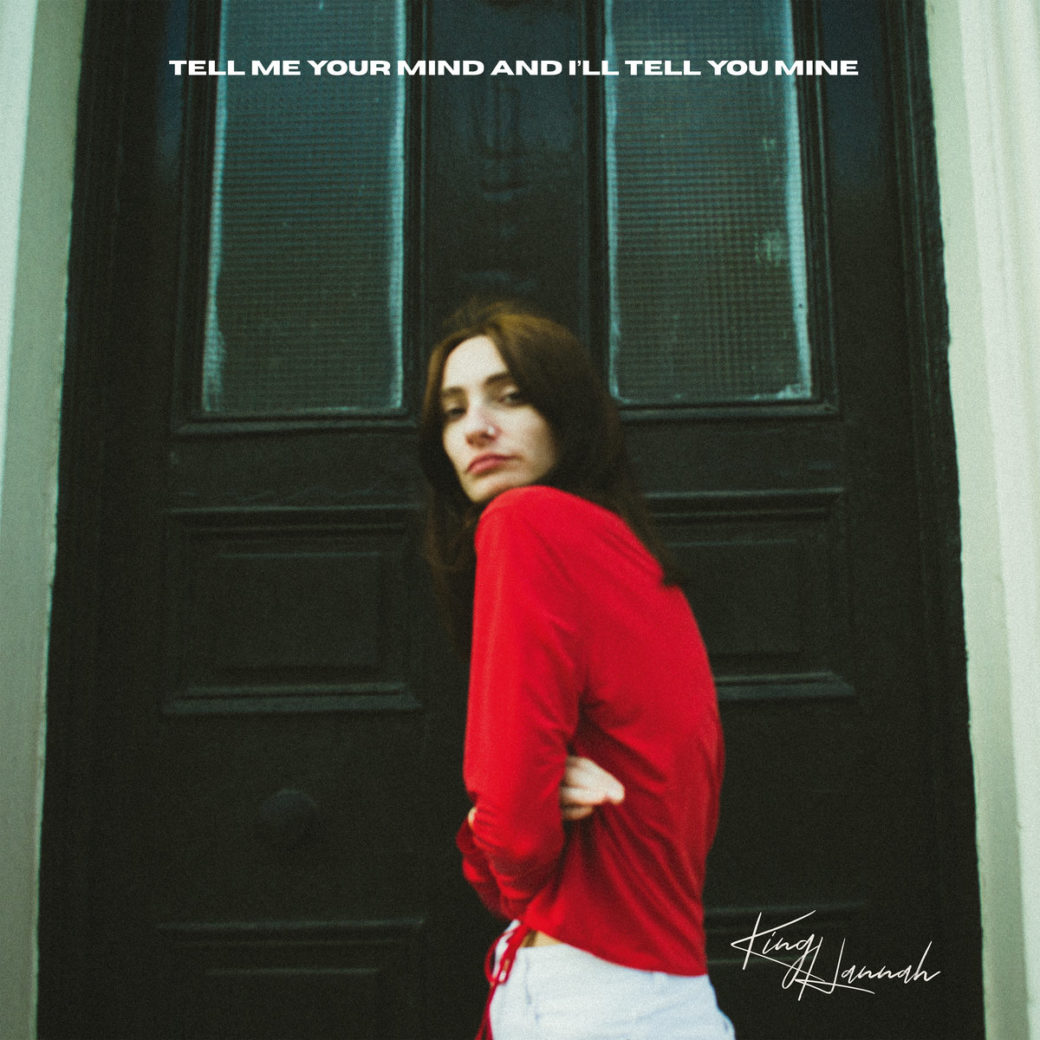 Sounds like … a fitting gritty farewell to a confusing year.
Usually when a band includes a quote like "There's nothing pretend about us" in a press release you tend to automatically start rolling your eyes. However, in the case of Hannah Merrick and Craig Whittle this might actually be true. Liverpool-based duo King Hannah let the music do the talking, leaving all obstacles at the side of the road that will ultimately lead them to success because if the six songs on their debut EP are just the starting point of their musical adventure we're all in for a treat. The duo delivers brutally honest, raw guitar-based anthems that merge traditional indie-rock with blues, shoegaze and folk elements, resulting in a hypnotizing mixture of melancholia and determination. The often extended song lengths are helpful allies in King Hannah's desire to let the music absorb the listener. And while the short introduction And Then Out Of Nowhere, It Rained is a fitting start for the grey-coloured world of the duo, it directly leads into the almost eight-minute long Meal Deal which really is a world of its own. Merrick's tempting and smoky voice might channel Mazzy Star's Hope Sandoval here but it comes with that gritty and desolate edge that puts even more emotional weight on the track. Like a sinister siren she casts a spell on the listener. The last two and a half minutes of this track are simply phenomenal as the band looses themselves in their instrumentation.
This vibe continues on the remaining tracks on Tell Me Your Mind And I'll Tell You Mine. Bill Trench and its bluesy more uptempo spirit feels like a dirty take on that popular The War On Drugs sound while Crème Brûlée is another six-and-a-half-minute long dreamy piece of shoegazing indie-rock that comes with an even noisier finale. The Sea Has Stretch Marks takes the King Hannah sound into more melodic but partly even cinematic post-rock territory before Reprise (Moving Day) delivers a suitable grungy exclamation mark for this mesmerizing first chapter. With their dreamy and dazzling sound King Hannah found a perfect setting in a niche between hope and despair and in a world that suffered a lot this year. Somehow and probably without any intention this release provides a fitting final soundtrack for it. With its raw and authentic weight Tell Me Your Mind And I'll Tell You Mine is nothing less but one of 2020's most impressive debut releases. (Norman Fleischer)
Stream It: ► Spotify / ► Apple Music / ► Bandcamp
---
CATT – 'Why, Why'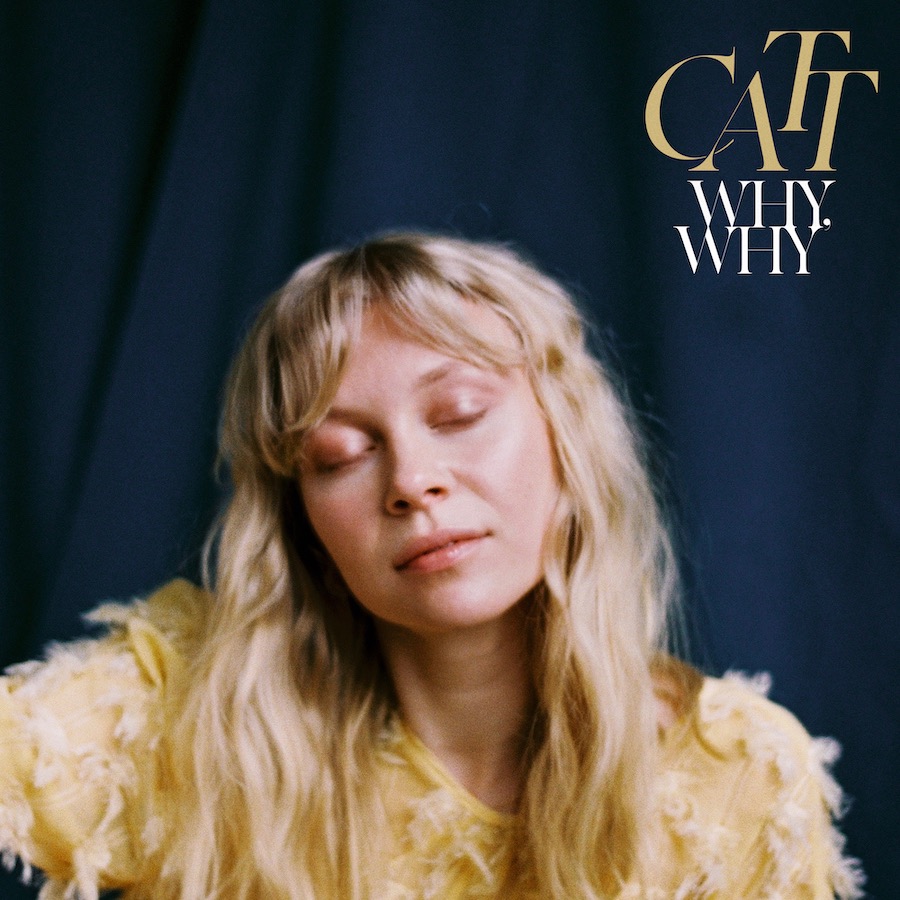 Sounds like … a musical garden growing organically with every note.

Why Why is the debut LP by Berlin-based singer CATT but it is an album that is more at home in the foresty outskirts of a city than the concrete jungle. The multi-instrumentalist creates melodies on piano, horns, and synthesizers that grow as organically as a garden in early spring. CATT's vocals fertilize the bed of layered arrangements and each song grows into a flower of a different color.
Willow Tree is the upbeat and bright song to dance to on a long summer night while Shades is dramatically heavy. As the title gives away, Why Why is a record of questions. CATT questions the supposedly untroubled twenties, big city life, and more general questions around the concept of time. Infused with big questions and emotional lyrics, the record has a touch of melancholia but not without pop qualities. Catchy melodies meet vocal harmonies and piano arrangements. On You Are Here CATT shows that she can do both; big choruses and unconventional verses. (Liv Toerkell)
Stream It: ► Spotify / ► Apple Music
---
Lindstrøm & Prins Thomas

– 'III'
Sounds like … two disco experts exploring a subtle sound cosmos aside the dancefloor.
You can't talk about the term 'nordic disco' without mentioning Hans-Peter Lindstrøm and Thomas Moen Hermansen (well, and also Todd Terje, obviously). For the past fifteen years the Norwegian producers became a steady force in the international music scene. The joint and individual remix vita of Lindstrøm & Prins Thomas includes a variety of big names like The Chemical Brothers, Foals, Pet Shop Boys or Grizzly Bear and although they have been pretty busy with their solo careers over the past decade they never lost touch and continued to work on productions together every now and then, now resulting in their first collaborative album since 2009's II. The third full-length by Lindstrøm & Prins Thomas shows the two producers from a more subtle side, one on which their musical skills are way more prominent than on their previous work. That partly has to do with the way this new record took form. Instead of working together in a studio the duo mostly crafted these six songs remotely by sending files around to each of them adding own ideas to these sketches. III was slowly but steady created over the past years and this way of working together ultimately shaped the sound and character of the record because it's anything but a 'disco' album. Instead, the two Norwegians deliver a laidback and dreamy record for the more introverted moments off the dancefloor (and therefore a pretty fitting soundtrack for socially distanced 2020). The sound is not a total surprise because one aspect of their sound has always been the natural blending between electronic sounds and traditional analogue instruments but they've never done it as beautiful and consequent as on III.
The record opens with a bright synth pattern before a slow grooving beat takes the nightly Grand Finale on a joyful right into the heart and mind of the listener. There's a playful piano happening in the background, something you will witness often on the album. Martin 5000 follows the track with another subtle groove and a reverbed guitar melody in the background in which Lindstrøm & Prins Thomas channel their love for 80s wave rock, it appears. The entire album is testament to the adventurousness of these two producers who easily add elements of ambient, krautrock, jazz and old cinematic sounds to the occasion. By doing that the duo channels the music of acts like Air, Tangerine Dream and fellow Norwegian legends Röyksopp, giving the entire record this special chillout 'after hours' flavour. III became an album that you can easily run in the background without taking further notice of it but I strongly advice you to take a closer look (or listen) at it because if you do you will witness plenty of wonderful little details, melodies, sounds and experiments in these tracks. Harmonia is a great example here as it shows how carefully Lindstrøm & Prins Thomas built these tracks, slowly adding new aspects to it like painters at new brush strokes to a painting. It can be quite meditative to discover these elements and it really underlines that unique talent of these two artists that got so much more to offer by now than just funky disco tunes (which they still deliver in a very satisfying way). III is a record for explorers, an almost romantic tribute to the sounds that shaped these two gentlemen who will hopefully not let us wait for further material for another decade. (Norman Fleischer)
Stream It: ► Spotify / ► Apple Music / ► Bandcamp
---
Das Body – 'Peregrine'
Sounds like … a gospel choir went out, got a little rowdy, and recorded the ensuing chaos.
Oslo based quartet Das Body have announced the follow up to their 2018 self-titled debut EP with the equally sublime debut LP Peregrine. Consistent with the themes carried throughout the record, the name of the LP itself is inspired by the ancient meaning of Peregrine: the sensation of feeling alien and foreign. As lead singer Ellie Linden explains, "It's a meditation on our relationship with ourselves and others and it does not shy away from dealing with the messy complexities hidden within the ties we share with other people." This complexity is evident as you take the time to absorb Peregrine. On the first listen, you notice it's a wonderfully crafted album, cleverly layered in parts and reminiscent of joyous, more carefree times. Scratch under the surface a little, however, and you start to appreciate the more subtle turns of phrase in the lyrics, or the lingering guitar riffs that are hiding in the background.
It's more expansive than you'd expect too, with the Oslo based four-piece somehow producing an album that travels more than it instinctively should. Despite being chaotic in parts, this chaos often ends up producing an immaterial energy that lifts everything up. Take Taller Than The Average Man, for example, which swaggers with soulful melodies, Linden bursting with confidence as much as the track is with catchy "Oooh's" and "Aaah's", or the gospel-infused Better Half, which combines the sassiness of Tove Styrke with the fresh grooves of Lykke Li. Talking about the latter, Das Body inform us "this song – and the whole record really – is about discovering emergency exits from your own mortality, from your better half, or your own head. When you've been with your better half for some time, the exit signs might disappear. In this case, though, it has suddenly become very obvious why things are shitty and where the exit is, and that is a pretty enticing revelation." Pergrine is a triumphant debut, full of energy and noise and choruses to sing along to, whilst still giving us plenty to muse on. What a promising start from this Norwegian quartet. (Dan Cromb)
Stream It ► Spotify / ► Apple Music
---