SASAMI – 'Squeeze'
Sounds like … punching holes in the wall.

SASAMI is in a "skin a rat mood". On her sophomore record the singer unleashes age-old fury into music. Tongue out, hair blowing in the wind Sasami Ashworth towers on the cover of the album giving the musical output a visual equivalent. More snake than human, she spreads her fangs drawing from Japanese Mythology. The nuru-onna is a snake-woman folk creature that may tear you apart or let you pass, when you cross her path. Likewise, the record encompasses different facets, from the noisy anger-laden metal-reminiscent tracks like Sorry Entertainer or the opener Skin A Rat, to melancholic almost folky songs like The Greatest and Call Me Home.
A true musical mixed bag, SASAMI shifts shape within the short period of Squeeze several times. On the centerpiece Need It to Work she unleashes her feverish energy, the short interlude of Feminine Water Turmoil borders on classical music, whereas the closer Not A Love Song is a cinematic ballad. From the more restrained efforts of her debut record, SASAMI has found a new way of expression. She voices personal frustrations and draws from the struggles of her Zainichi ancestry of Koreans forced to relocate to Japan during the occupation. Mistreated and marginalized, the injustice of her ancestors finds a musical voice on SASAMI's second album. (Liv Toerkell)
Stream It: ► Spotify / ► Apple Music / ► Bandcamp
---
King Hannah – 'I'm Not Sorry I Was Just Being Me'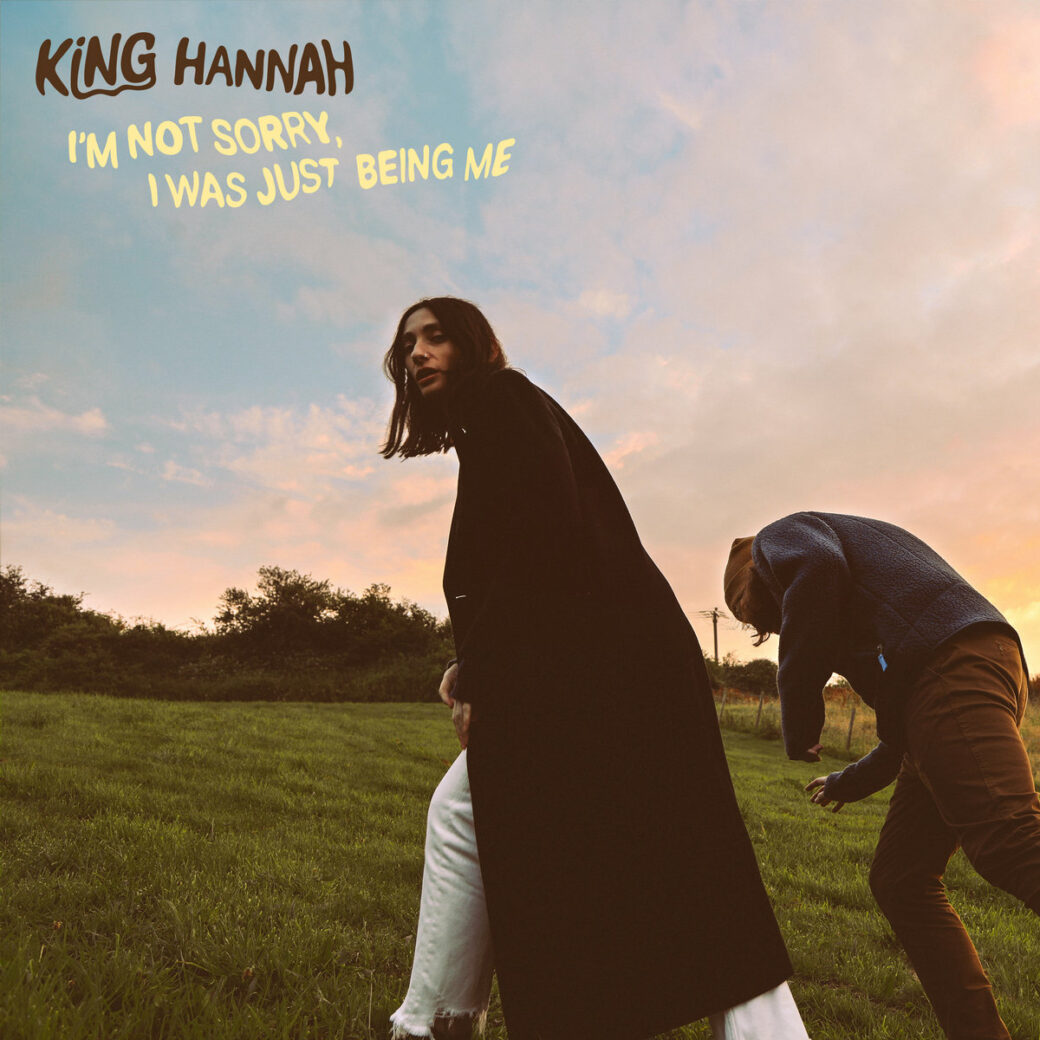 Sounds like … night-driving through landscapes of dusty gloom and bridling fantasy.

A lot of bands these days strive to sound "raw" and "unpolished", but rarely do any come as close to that ideal as the Liverpool dream pop duo King Hannah, whose debut record I'm Not Sorry, I Was Just Being Me is an event of dozen songs full of melancholic reveries and dark-witted tales of everyday life. The determined outlook already given by the somewhat stubborn title of the LP couldn't be more fitting than for this creative cycle of the still young band: At once a humble admission and a bold provocation, this album is indeed a well-tuned entry into the shaded spheres of  the King Hannah universe. "We're saying this is us and this is what we sound like", the duo affirms in a recent interview. True that, no questions asked.
A darkish tone lulls in the scope of I'm Not Sorry, I Was Just Being Me, though the melancholic drive isn't all there is to the whole affair. From the Americana-fused fog of A Well-Made Woman up to the enthusiastic rock finale of It's You And Me, Kid the record evokes certain music for a film vibes, with the songs blending into each other, like a mythical landscape. All Being Fine is way more driven and even more dramatically beat-ridden, not to speak of the candid lyricism, which continues to play its charm on following songs like Big, Big Baby or Foolius Caesar. Expansive tracks remain the supreme force of King Hannah, as they have already shown in their debut EP Tell Me Your Mind And I'll Tell You Mine, and The Moods That I Get In is a wonderful treat here, sprawling out over almost eight minutes of meditative feel and melodious heights and an ecstatic instrumental takeover, carefully sliding into the finish line.
That this kind of sonic drama plays well is also demonstrated with the Berenson instrumental, leading into the final blast of It's Me And You, Kid: Starting with subtle acoustic guitars and almost hushed vocals by singer Hannah Merrick, this one is a grower and quickly opens up its gates toward a rock hymn that will not be forgotten that easily. At the latest when Hannah's voice breaks the abruptly muting wall of noisy guitars with the "I'm all I'm ever gonna be / I'm all I'm ever gonna be" chorus line, the song, and the whole album for that matter, reach a momentum where theme, mood and performance fall into one place and create an outlook that actually supersede the bleak sentiments I'm Not Sorry, I Was Just Being Me may have created up to this point. It is one thing to introduce yourself with a bold album theme to the world, it is quite another to live up to the expectations, like King Hannah have done on their firstborn. (Andreas Peters)
Stream It: ► Spotify / ► Apple Music / ► Bandcamp
---
Mavi Phoenix – 'Marlon'
Sounds like …  a brand new Mavi who has found his confidence.
Mavi Phoenix has finally arrived where he always wanted to be – personally and musically. Marlon is his first official release after his personal transition from the assigned female gender to male. Two years ago, he released his debut album Boys Toys, which came out shortly after he publicly came out as a trans man. Boys Toys was a statement, a musical liberation that showed a new side of the Austrian artist – a more personal and self-aware one. The sound was a mix of cloud rap, trap and catchy pop tunes.
After the bombshell dropped, Mavi decided to be quiet for a while and withdraw from the public eye by pausing his social media profiles and not releasing any music. He used the time to fully focus on becoming the person he always wanted to be: Marlon. While he was changing physically, he also experienced a musical transformation, discovering an instrument he had never used in his music before: the guitar. And it is this instrument that shapes the entire sound of his new album Marlon. Where there used to be electronic rap beats, there are now analog chords shaped by a noble guitar. On Marlon, you'll still find the rap drive we've come to expect from Mavi – but paired with a new version of himself. A version that shows his love for classic indie and pop music and is not afraid to mix these genres to create a new sound. The new sound is accompanied by personal and honest lyrics that deal with depression, sexuality as a trans person, and the problems he has experienced in recent years. Although the topics are quite heavy, the sound follows a certain carefree attitude that makes the album a good companion for the sunny spring days that will soon come. With Marlon Mavi Phoenix proves that he is a great musician, able to move in different genres while keeping his own signature. (Miriam Wallbaum)
Stream It: ► Spotify / ► Apple Music
---
Black Sea Dahu – 'I Am My Mother'
Sounds like … a celebration of music as a space of refuge and confidence.
The Swiss collective Black Sea Dahu, centred around singer and lyricist Janine Cathrein, are one of those folk-pop bands that easily get overlooked in the daily current of releases, and yet, if one takes the time to really dive into their songs, there arise wondrous moments of tenderness and fascination. I Am My Mother is their second full-length (despite its only seven tracks) and follows 2018's acclaimed debut White Creatures. Grown out of a variety of loose ideas and notes over the course of the past years on the road, the sophomore LP stays true to the Black Sea Dahu folk signature and yet carves out new departures for the band, as it showcases a more expansive and even orchestral sound.
Glue starts the magic with a subtle dream pop feel and, in a mode of gloomy crooning, spans  the thematic scope from dealing with dementia in the family to addressing a crumbling state of the world at large. The following Human Kind then is a swelling and somewhat dreamy affair that introduces an orchestral vibe as well as an ecstatic and relentless passion to the record. One And One Equals Four showcases the band's impeccable talent for crafting haunting ballads and it is here that the record unfolds its symphonic twist. Transience, at the heart of the seven songs, then is a masterful exercise in unfolding sonic drama at its best: Six and a half minutes long and a meditation on the transience of love and the mysteries of time, minimal acoustic guitars pick up the piece, before violins and piano interludes guide us into an operatic realm, pushing the piece into in ecstatic crescendo of melodic maturity that is as surprising as it is fitting. "Now music takes me places", Janine sings at one point. And oh, how she takes us away to these exact places. That this record is eventually yet the rounded work of art that it is, is then also owed to the way the final tracks Affection and the title track I Am My Mother finish up the journey. It would be a shame to underestimate the band and all they've got in store for us, that might be one message of I Am My Mother, among the many others of this fine record. (Andreas Peters)
Stream It: ► Spotify / ► Apple Music / ► Bandcamp
---
Federico Albanese – 'Before And Now Seems Infinite'
Sounds like … celestial odes, close to infinity. 
There is a lot of space in between what we perceive as the past and the present moment, and in the middle of what we call reality and fiction. Nothing can really be fixed one could say, and yet, music often comes close when it comes to fixating our minds amidst the swarm of life's ambivalences. Federico Albanese, Italian composer and pianist has devoted his new record to the heart of that question. Before And Now Seems Infinite essays to capture moments and passages of time and give them the illusion of space. Between neo-classicism and electronic traces, leaning from jazz and avantgarde-pop material, the eleven pieces shine with stunning clarity and vision, always remembering us, in the words of French modernist author Marcel Proust, "that the memory of things past is not necessarily the memory of things as they were". 
"There are multiple ways in which we perceive a memory", says Albanese, who was born in Mailand and now resides in Berlin. "We might remember things from different angles and give them different meanings. I find it interesting to explore the instant where we decide how we are going to remember something. And music is the vehicle I use to find these moments, to hold them in time". The piano remains his main instrument on Before And Now Seems Infinite, and yet, synthesizers, electric guitar, bass, strings, and more are expanding his musical territory. Wide and plenty are the spaces tracks like The Vine, Was There A Time, We Hold The Moonlight or March evoke with their neo-classical focus, while tunes like The Quiet Man, Sands And Castles or Unicorn hold a bit more dramatic impulse in store, rustling into the open with verve and determination. The highlights though, if one may so, are the heartfelt features with Marika Hackman (Summerside) and Ghostpoet (Feel Again), who stand out as lyrical beacons amidst the keys-drenched shoals. As the closing title track fades out, it might not just strike me, that in times we cannot protect our minds from the torrents of the physical world, we need more music like this, attempting to provide a sublimity amidst a chaos, whatever the dimensions. (Andreas Peters)
Stream It ► Spotify / ► Apple Music
---