SOAK – 'Grim Town'
Sounds like … an emotional ride through life's weird twists and turns.
There's a certain beauty but also a decent amount of ugliness that comes with living in a small town. When you're young you worship the possibilities, your friends and the innocence of it all but once you grow older you maybe realize the misery, the limitations and the fact that adulthood often comes with a certain bitterness for some people. For her second album as SOAK Irish songwriter Bridie Monds-Watson used the metaphor of a small town to understand the difficulties of growing up. While her praised 2015 debut Before We Forgot How To Dream was an ode to the imaginary potential of adolescence life, Grim Town sees SOAK facing reality as it often is: disillusive, gritty and quite ambivalent. But don't worry, her sophomore album isn't a totally bleak experience. Despite focussing on that grey town imaginary town, it actually became a quite colourful affair that introduces new facets and musical ideas to SOAK's musical cosmos. It's definitely no 'small girl playing guitar in her bedroom' record anymore, it's a rich and diverse piece of independent pop, packed with plenty of ideas.
Yes, she's still capable of delivering heart-breaking ballads like Crying Your Eyes Out and Valentine Schmalentine but that's only one part of Grim Town. Songs like the dreamy Fall Asleep, Backseat and the summerly I Was Blue, Technicolour Too spread a feeling of warm romanticism while tracks like Get Set Go Kid and Scrapyard want to break with the bleakness of the small town and show a more uplifting side of SOAK's music. Her songwriting has already been pretty brilliant on her debut but this time the fuller band sound also resulted in surprising pop hits like Knock Me Off My Feet and Déjà Vu which will probably stuck in your head the entire week. Grim Town is an emotional rollercoaster just like life itself. Chaos, joy and despair go hand in hand and the only red line of these fifteen tracks is that they actually don't need one to show that. SOAK's second album is ambitious testament of an artist that just started to find her place in this world. And I can't wait to follow that search over the next years. (Norman Fleischer)
Stream Now: ► Spotify / ► Apple Music / ► TIDAL
---
Nick Murphy – 'Run Fast Sleep Naked'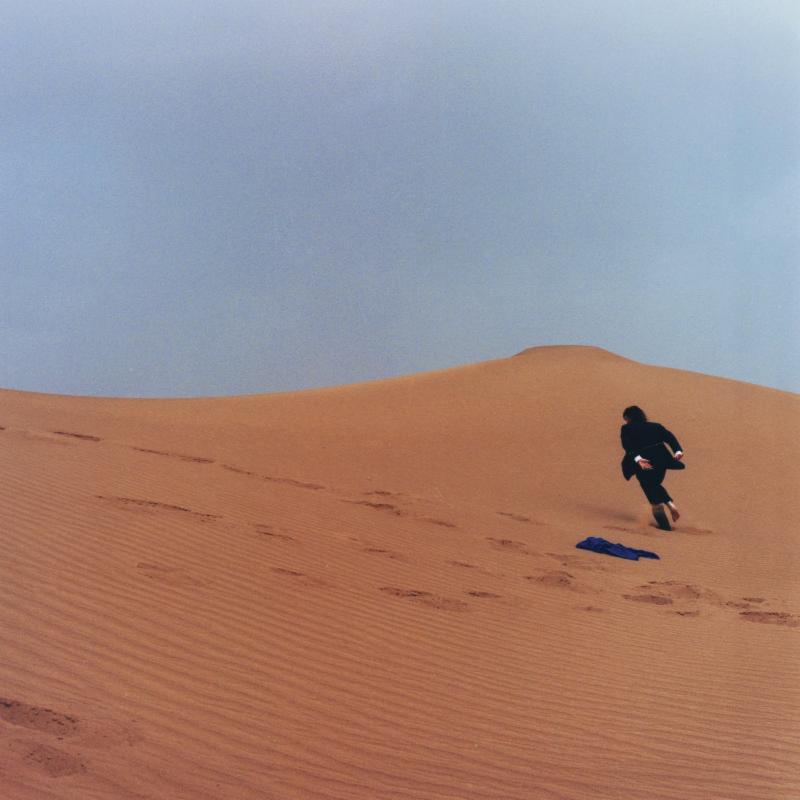 Sounds like … the truthful and confident soul-searching within new creative dimensions.
Looking back at the timeline, a whole lot has happened in Nick Murphy's life. Ever since the release of his debut album Built On Glass in 2014 (still under his moniker Chet Faker), the Australian born singer and songwriter has been traveling the world with his music for most of the time and has kept himself busy with musical projects such as his collaborations with Marcus Marr on the Work EP as well as releasing his Missing Link EP (2017), the first musical output after changing his name back to Nick Murphy. The almost vagabond lifestyle became his reality changing back and forth between places around the globe, soaking up sounds, colours and impressions along the way. Being so immersed in an always moving state, Murphy captured parts of this journey by recording his vocals with a microphone whenever possible, whenever the places around him felt right. A studio in Tokyo, a rental in New Zealand, his grandmother's living room or even his NYC apartment back home. All places eventually leading him towards his very own path and also a much more internal journey, despite physically traveling the globe extensively.
With the recording of his new album Run Fast Sleep Naked taking place in Brooklyn, a lot of what can now be heard on the album is the ongoing soul-searching and self-examination Nick Murphy has been going through for years – both artistically and personally. Co-produced by Dave Harrington, the new songs reveal a great deal of reevaluation and a sense and love of exploration. Much like his travels, the sonic landscape and textures found on Run Fast Sleep Naked are rich and colourful, but not overloaded with creative or emotional weight. The songs are very much a result of Murphy being truthful to himself, yet questioning his artistic motivations on a constant basis and eventually, finding answers that mirror his personal treasure of experience  and growth and match his newly found creative dimensions, both lyrically and musically. One of Murphy's biggest strength has always been his ability to express himself through the introspective, stripped down ballads as much as the dynamic and groove-based, electronic tracks which he does even more so on his new album – also bringing on board a full orchestra at times. The love of detail that went into the making of Run Fast Sleep Naked is remarkable. Nick Murphy is certainly not running away from anything while confidently baring his thoughts and emotions. (Annett Bonkowski)
Stream Now: ► Spotify / ► Apple Music / ► TIDAL
---
Aldous Harding – 'Designer'
Sounds like … a musical and poetic ode to the discomforts of being human.
Coming from New Zealand aren't only the mystical landscapes from the Lord of the Rings, but equally mystical and theatrical soundscapes created by singer Aldous Harding. The songwriter is known for her proneness to poetic lyrics and the oddities of life. Her third LP Designer sees her embracing weirdness and different angles of expression with quiet, yet reassured confidence.
The singer's half-whispered vocals appear to be sung only for the listeners' ear, like a secret and confidential message. 'Tears water the flowers of need' she croons on the title track and with gently tapped bongos, elaborate finger picking skill, the single turns into a groovy jazz-folk anthem. Aldous Harding's music resonates on a different level than most. The beauty lies in the subtle details of each song, as well as, in the quizzical lyrics, which invite the listener to interpret them freely and demand closely paid attention. The Barrel matches the strange poetry of the singer with a certain creeping and unsettling sense of doom, created by the bassoon. While the tracks shift somewhere in between weird alternative music and 70s folk, it is Harding's voice, which is the true chameleon. On Weight of the Planets  she merely exhales her vocals gently, giving them a silky ethereal touch, while on Damn or Heaven is Empty her voice takes to soaring depths. The almost lyrical intonation with spoken word on the closing track Pilot highlights this vocal skill. Aldous Harding's special sense of songwriting makes her LP incredibly unique and in all of its beautiful odd tapestry of details, it appears to be reflecting and soothing the discomfort of being human at the same time. (Liv Toerkell)
Stream Now: ► Spotify / ► Apple Music / ► TIDAL
---
Foxygen – 'Seeing Other People'
Sounds like … a musical exploration of  a troubled relationship with eclectic synth sounds from the 80s up to today.

L.A. Duo Foxygen are releasing their sixth album, a matured and more serious take on their humorous twist to indie rock. Jonathon Rado is turning the buttons behind the desk, producing a great variety of sounds taking the listener from the 80s glam rock synth to modern edgy electronica, while Sam France is in charge of the vocals.
Seeing Other People appears like the examination of a troubled relationship, from start to end. Spoiler alert: the conclusion is to 'stay friends'. Describing their style as 'sad-boy-plastic-soul adult-contemporary-cartoon-noir music' Foxygen have not lost their taste for experimentation, but also haven't stuck to their beloved playful rock sounds from previous records. The opening track Work is a fusion of something in between electronic cacophony and heavy-piano keys with angry lyrics displaying the cynical resentment towards an uneven relationship. The deep-rooted drum heavy groove sounds like a dark take on 80s disco music. Following into the footsteps is Living A Lie, a musical portrait of France's alienation from the duo (also depicted in the music video, which shows Rado in the studio without France). With rootsy drums and sparkling synth tunes contrasting to the deep-rooted groove, the single describes painful discoveries in a relationship. Mona impresses with a funky 80s style bass-line and News floats on surfy rock tunes. Even though the album has a bunch of single worthy tracks, it does not work very well as a whole, seeming a rather patchy and inelegant mixture of whatever the musicians felt like putting out without a second thought. (Liv Toerkell)
Stream Now: ► Spotify / ► Apple Music / ► TIDAL
---
Josefin Öhrn + The Liberation – 'Sacred Dreams'
Sounds like … an psychedelic potpourri covering pretty much everything good this genre has to offer.
'This album comes out of a period of heartbreak, loss and dissolution, but also of deep love, warmth and beauty unveiled in the middle of it.' With these words Josefin Öhrn describes the origin of the third record that she, accompanied by her backing band The Liberation, released and which again drags the listener into its very own sphere. But there have been a few changes surrounding the release of Sacred Bones. Besides moving from Stockholm to London, a whole new band has been assembled around Josefin and songwriting partner Fredrick. The results are twelve tracks, subtly displaying a wide range of different emotions and musical influences. Indian guitar melodies in Only Lovers, experimental blues vibes in Baby Come On and electronic elements in I Can Feel It are just some of it. All held together by a sound concepts playing on the edge of ambient, kraut and psychedelic rock. The retro flair is defiantly an often-seen guest on the record, without making it sound too old-fashioned. This is due to Josefin's reverb drenched vocals, giving the tracks a surprisingly fitting pop-appeal.
'A sacred dream, the way we see it, is not necessarily a golden fluffy cloud river, but instead also contains all the shadows that need to be seen and felt in order to drop what has to go in order to truly live.' This range of emotions are reflected in the twelve songs, like the pulsating opener Feel The Sun, a fine krautrock track à la Neu! with repetitive grooves or the gloomy electronic song Desire. Songs like Hey Little Boy or Let It Come are beautifully floating over ambient soundscapes and the closer Floating Away keeps what the hints and releases the listener with a feeling of comfort and transcended grandeur. Probably the best way to wake up from any kind o dream. (Abhilash Arackal)
Stream Now: ► Spotify / ► Apple Music / ► TIDAL
---