Yo La Tengo – 'There's A Riot Going On'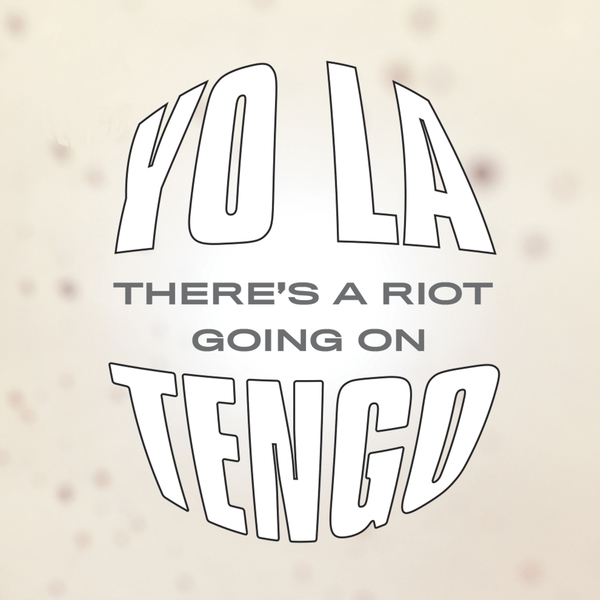 The independent rock icons aren't interested to slowing down anytime soon.
30 years and now 15 studio albums under their belt, it would probably be safe to say Yo La Tengo have earnt their place in American (indie) rock history. When they started, America was under the grips of Ronald Reagan's neo-liberalism and now we find them under Donald Trump's extremism. YLT have seen a lot in their time and while they have experimented and shifted around, their sound has always been largely consistent choosing to create songs and records based on mood more than anything else.
And 'mood' is quite an important adjective here. Compared to the relatively sunny Fade of five years ago we now find the band, and the world, in a much darker place. Referencing the Sly and Family Stone classic – a record which also came at a crucial turning point in American history, transitioning from the 60s to the Nixon administration – Yo La Tengo here have created a record also reflecting these dark times. That isn't to say There's A Riot Going On is an overtly heavy or angry album (though there is a subtle hint of both those things simmering underneath) rather the band have created a fever-dream landscape which is more abstract than ambient. There are still poppy moments to be found (Shades of Blue, She May, She Might, Let's Do It Wrong) there is also a rather unsettling pattern of restrained rumblings (For You Too), hazy transcendence Shortwave and perhaps most disturbing of all a night-time rendition of the traditionally happy doo-wop (Forever).
The album was recorded entirely by the band, and much of it from lengthy jam sessions rather than traditionally written songs, and it not only shows but feels weirdly appropriate for these distressingly frustrating times. Fortunately, there is a beauty present too, which in all the chaos and noise, perhaps only Georgia Hubley, Ira Kaplan and James McNew can find. (Adam Turner-Heffer)
Song to get you started: For You Too
Stream it now: ► Spotify / ► Apple Music / ► TIDAL
---
Hey Elbow – 'C0C0C0'
Swedish trio refine their sound on second outing.
On the surface, Hey Elbow's new album C0C0C0 (Julia Ringdahl, Ellen Petersson and Liam Amner) has a lot in common with their debut Every Other. Both start with brief intro tracks (Intro and I Hear) and end with long sprawling outros (Outro and …All Behind), and there's a lot in common stylistically, from the lush, epic pop to the near-permanent blasts of trumpet that mark their music out. But there is development here, and that intro track on CoCoCo, I Hear, is a feint. It's actually just the first 1:48 of I Hear Them Say, a track split into two on the Spotify version of the album.
In many ways that's fitting for this record, as it's such a stylistically coherent whole that it can feel like one long song split artificially into thirteen tracks. Every Other splashed out into different styles and phases at times, but C0C0C0 feels like a refinement of the slow-moving, graceful, grandiose pop that made their name. It's an album to put on and sink into, as it phases between the poppier moments of Quest and Tell Me, the high-energy intensity of Wild and the darkness of Ghosts Of Budva. It's not a huge leap for the band, but a purer visualisation of their sound and what they want to be. If you didn't like Every Other, this isn't going to convert you, but if you want a deeper trip into Hey Elbow's world, C0C0C0 is the way. (Austin Maloney)
Song to get you started: Ghosts Of Budva
Stream it now: ► Spotify / ► Apple Music  / ► TIDAL
---
The Other End – 'The Other End'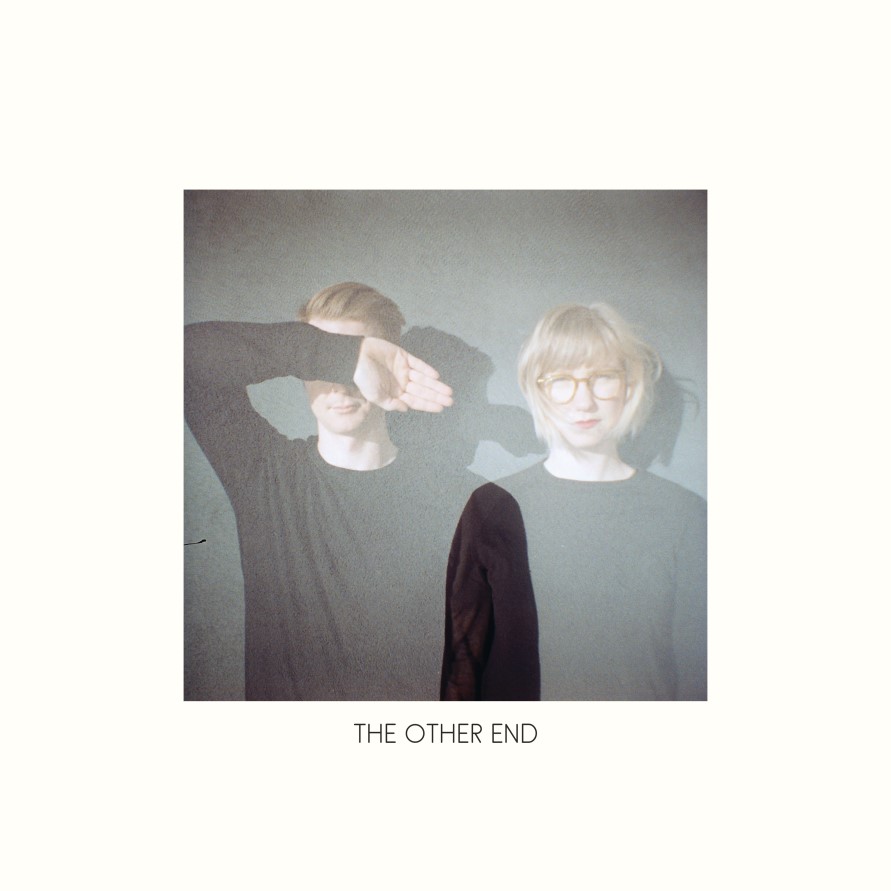 Our latest musical crush form the North delivers a pretty impressive debut release on this mesmerizing emotional journey.
The constant rise of introverted and miserable pop to mainstream fame is unbroken, ten years after artists like Lana Del Rey, The xx, London Grammar and Daughter somehow started that 'Sad is the new cool' movement. Over the past years many other artists jumped on the bandwagon, some more subtle than others. Miserable melancholia feels like a fitting way of life for these times that appear to get darker and darker with every year. Celebrating the big depression of modern society can be a tricky affair, because the shear amount of artists doing it (many of them in quite a shallow way) leads to an inflation of the actual authenticity. Emotions get reduced to calculated ingredients to a successful recipe. Why am I writing this? Well, because there's still hope for lovers of hopelessness and The Other End are the proof for that. The debut EP by the Bergen-based two-piece makes everything right in terms of raw emotional power as it establishes Ida Knoph-Solholm and Alexander Breidvik is one of the most exciting new bands from Scandinavia.
The reason why the five tracks on The Other End's debut release work so great lies within their reduced notion. The basis for all tracks was recorded live in one take, giving them a sense of directness and intimacy that is underlined by the simplistic instrumentation of the two Norwegians. Unlike many other sad pop bands of these days, Breidvik and Knoph-Solholm don't overload their songs with unnecessary gimmicks. They allow these songs to breath and their dark lyrical content to unfold their 'brutal' effect on the listener. A Piece Of Mind, for example, starts the EP as a tender ballad that turns out to be a suicidal lullaby, a farewell to a loved person. The haunting piano blues of Broken Glass and the spherical and short Thin Ice take the sound of The Other End even further into the darkness. In it, Knoph-Solholm delivers an outstanding vocal performance throughout all songs – powerful but also fragile, familiar yet very unique. She's the force to carry it right to the end. Final track Leave already hints on a fuller band sound which still keeps the duo's mesmerizing qualities. This EP is a testament of rare potential and if these two continue to make things right, their future is looking way brighter than their bleak sound might imply. (Norman Fleischer)
Song to get you started: Far From Home
Stream it now: ► Spotify / ► Apple Music / ► TIDAL
---
The Decemberists – 'I'll Be Your Girl'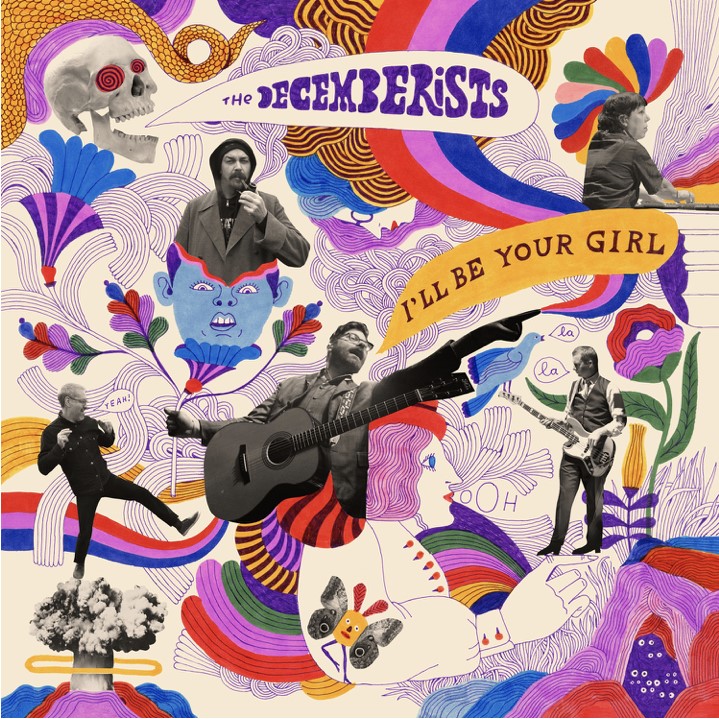 The indie-folkers go glam pop as they leave their own musical comfort zone. It's a risky decision that pays off pretty well.
One tend to forget that The Decemberists have been around the indie music scene for almost two decades by now. 'When you've been a band for 17 years, inevitably there are habits you fall into,' explains leading man Colin Meloy the notion behind the group's eighth studio album which might indeed be the most progressive attempt of the collective yet to leave their own comfort zone. New producer, new studio, new sounds – while the 2015 predecessor What A Terrible World, What A Beautiful World delivered familiar feeling predictability the follow-up feels like a fresh breath of air for the establish Decemberists cosmos. The cinematic opening track Once In My Life is the perfect tune to start this new journey, unveiling a highly emotional and yearning Meloy ('I've been waiting all my life') as bright synthesizer layers get introduced to the group's cosmos. That's how The Smiths might have sound if they would have gone for a more 80s wave pop direction. Songs like Severed add a funky electronic disco vibe to the record you surely didn't see coming.
However, I'll Be Your Girl doesn't end up being a shallow and poor attempt to follow the zeitgeist, thanks to the band's profound ability to write really great songs that work as a formation for these new adventures. They are too clever to fall for that and despite embracing new electronic experiments The Decemberists still sound like you've come to love them. A happy folk sing along like the ironic Everything Is Awful as well as the almost gospel-like Sucker's Prayer are pretty 'old-fashioned' in a good way. The bandleader himself describes the band as a group of record collectors and it just feels as if they got inspired by other records this time – Roxy Music, New Order, maybe even Depeche Mode. On I'll Be Your Girl the band manages to add a little glam factor to their otherwise quite grounded indie-folk and it's always a pleasure to see established bands heading for unknown territory every now. And in it's catchy and accessible manner the new Decemberists record might be a nice one to get new listeners hooked up on this still quite unique group. (Norman Fleischer)
Song to get you started: Once In My Life
Stream it now: ► Spotify / ► Apple Music / ► TIDAL
---
Schultz And Forever – 'Grand Guignol'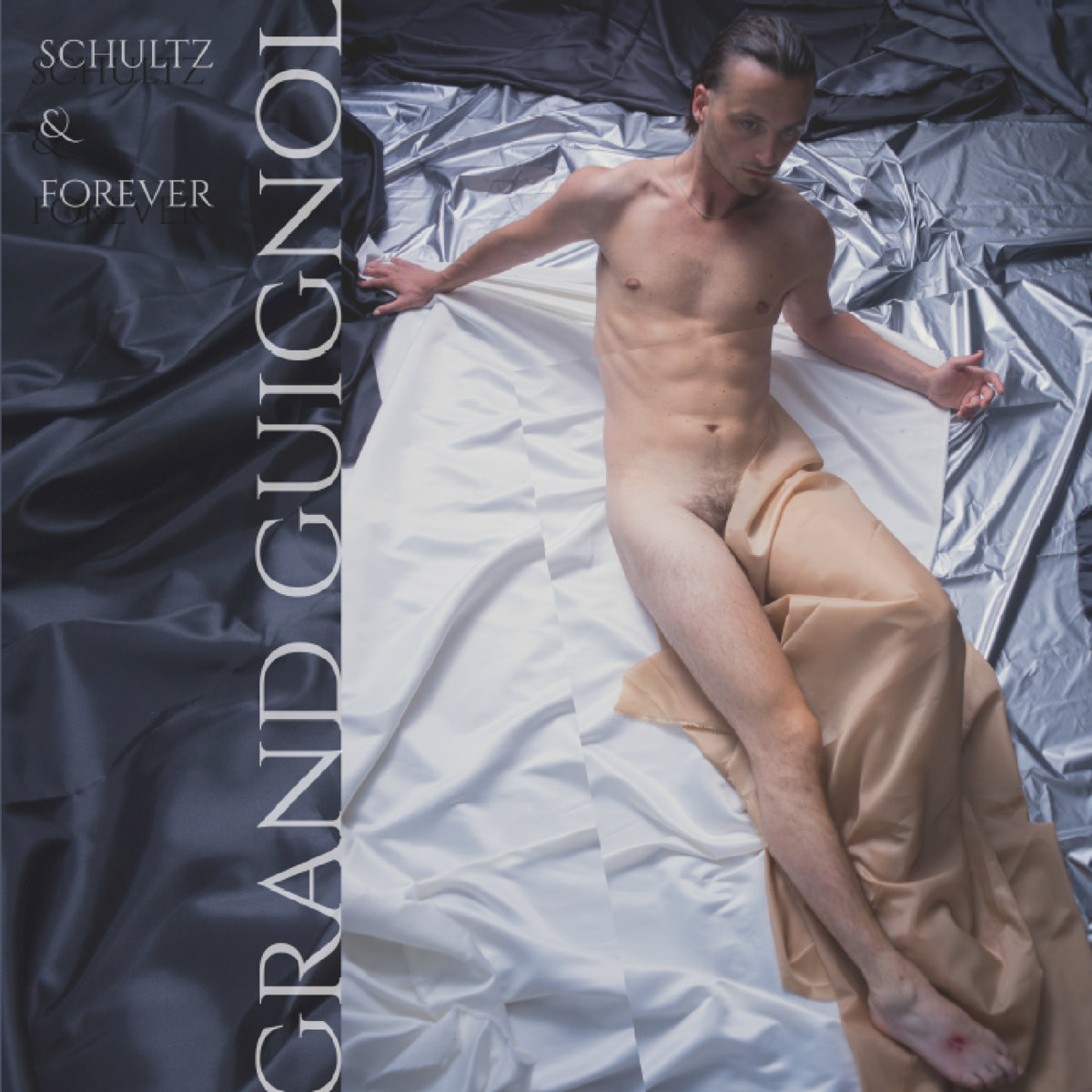 Jonathan Schultz bares all (literally and emotionally) on his epic debut album.
Danish singer-songwriter Jonathan Schultz's career has been a shape-shifting one so far. He started off as a folk prodigy, then evolved into sleazy rock on the excellent Broadcast Dynamics. And then for a few years, silence, but Schultz is back in new clothes again (or maybe, when you consider the album cover, a lack of new clothes).
Grand Guignol (The Great Puppet), a name borrowed from a Paris theatre that hosted horror shows, is the title of his debut album, and it's interesting to think that Schultz sees the resemble to this record's subject matter. Schultz And Forever's upbringing in the the Danish Free Christian Church ([college] 'was the first time I heard about the Big Bang as a scientific theory') and his subsequent break with religion is the narrative backdrop of this album, and his traumatic journey through that and struggles with doubt, fear and morality provides the fuel for the album's lyrical dramas and stories, making those struggles the spectacle at the heart of the theatre. Musically, this record is a pivot way from the low-light grease rock of Broadcast Dynamics, Schultz instead building his songs as Young Americans-style glam-soul (Demons) and euphoric 80's pop (Interstate Of God's Children). Those styles suit this kind of music, that 'big' sound needed to provide the support force for Schultz's religious and moral wanderings. An ambitious record that always goes for the epic, Grand Guignol is the sound of Schultz figuring out who he is: and making a great album in the process. (Austin Maloney)
Song to get you started: Satan Is Coming
Stream it now: ► Spotify / ► Apple Music / ► TIDAL
---