Some visions need time to manifest. It was January 2018 when we first featured Ida Knoph-Solholm and Alexander Breidvik and wrote about their brilliant debut single Far From Home. Back then probably not even the Norwegian duo could have guessed that it would take five years before we finally talk about a full-length debut album of The Other End. Following the promising releases, the duo started working on the album in 2019. Looking back at this time, it all makes sense, the two tell me.
"After SXSW in 2019, we started working on what would become this album and decided to save up some money and find a cheap apartment in Berlin. We moved there to write, thinking we might build a modular synth, soak up the Berlin vibe and write music along the lines of noise or singer-songwriter fused with electronica or whatever." Back then, the group was influenced by Low and their groundbreaking album Double Negative so they thought this could be a potential direction for The Other End. But during the first couple of weeks in Berlin, they realized that they don't make music that way. "We make music on guitar and piano and lean more towards traditional songwriting. With that realization, we began writing what would become this album."
Californian Mindset
The Sun Will Do You Good, They Said is a fascinating record and a massive step forward compared to their sparse earlier releases. With the record, The Other End deliver playful, Americana-infused indie-folk that includes elements of country and blues. These influences are directly connected to the duo's most creative period at the beginning of 2021. Back then, they listened a lot to Song for Our Daughter by Laura Marling and the iconic Harvest album by Neil Young. "We were watching every available documentary from the music scene in California and Laurel Canyon in the 60s and 70s, and let that inspire us to write. And listening to J.J. Cale, Loudon Wainwright III, and of course Jackson Browne, Joni Mitchell, Paul Simon etc." It wasn't just the sound but the whole aesthetics of that era that captivated the two, as the 60s-inspired images give away. More contemporary inspirations include Bonnie Light Horseman, Marlon Williams, Adrianne Lenker and Buck Meek, and other artists that you can listen to in the Spotify playlist to this feature.
It took The Other End a moment to get a clear vision. "You can even start to doubt your material when things don't turn out the way you expect," the band explains. "But there was never a real fear that it wouldn't get finished. We've worked too hard and for too long for it not to be released." In our fast-paced society, there is this notion that you have to set deadlines to be able to finish stuff. Although that's useful to some, it's not the way Ida and Alexander approach their music. "It just has to feel right when we release it. Therefore, both the recording process, mixing, and releasing the record took time. But it feels like it 'should' have taken this much time if that makes sense." The Other End work diligently in their songwriting, and although some songs were written quickly, it was all the hours of sitting, waiting, and grinding that led up to moments like that.
"You just have to go with the flow and accept that things take time, that people are sometimes busy, and that it might even be good to change a song for the 100th time."
Reviving the Album
Despite being a duo, there were far more people involved in the making of The Sun Will Do You Good, They Said. It is a collaborative effort between some of Norway's best musicians including Chris Holm (Orions Belte, Sondre Lerche), Olaf Olsen (Bigbang), Erik Johannessen (Jaga Jazzist), Oslo Strings and Thea (and the Wild) Glenton Raknes. "We wanted everyone to feel free to express themselves in our songs and create an environment where the musicians could move freely within our compositions," the band says. Producer Cato Salsa played a crucial part as he helped to create that analog, vintage live sound that defines the album. It is raw, rough and honest, powerful and melancholic. It is a body of work that really comes together as an album rather than just a collection of songs.
"There's not necessarily a lyrical story from start to end, but there is an overarching concept," the band explains. "It's quite an eclectic album with a wide range of genres. We were talking about the Beatles' 'White Album' as an inspiration, more than, let's say, The Wall. It doesn't take away from the album-feel that 'Martha My Dear' follows 'Happiness is a Warm Gun', it just enhances it." And that old-fashioned understanding of music-making and marketing perfectly fits the image of the group. "The album as a concept has been pronounced dead so many times already, but it's still what both of us gravitate towards. It just seems so sad to base your listening on playlists, algorithms and taste profiles."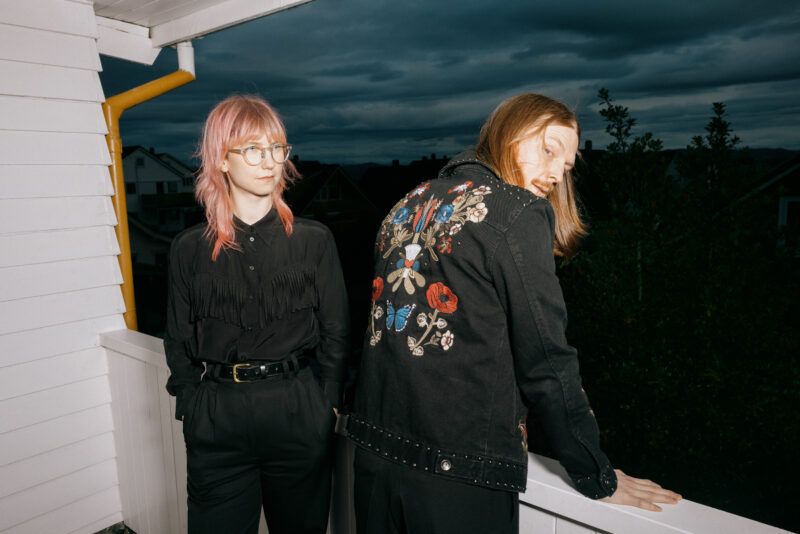 Human Quirks
There's no reason not to place Ida and Alexander in the same line as Julia Jacklin or Phoebe Bridgers. These songs share a lyrical spirit with their role models. They all write about real, honest stuff, but in a slightly quirky way. "We wanted our lyrics to be a little dark and hopeless, but also to capture small human quirks and be somewhat funny and cheeky," they explain. "Most of all, they come from an honest place and exist as a time capsule from when they were written." The album title and tracks like Do We Really Need Another Song About Heartbreak echo that intention quite clearly.
It might have taken them longer than other bands to get the album out but maybe that's just because The Other End don't follow standardized patterns. They embrace a traditional approach and that is something you sense in every second of The Sun Will Do You Good, They Said. It's a hidden treasure for lovers of profound songwriting.
The Sun Will Do You Good, They Say is out now via The Other Label and Just Isn't Music.
---
Every Monday, the NBHAP staff brings an exciting new artist to your attention alongside a 30-track-strong Introducing Playlist on Spotify. Feel invited to follow the playlist and give these talents a spin. Sign up for our Newsletter to receive monthly updates about new music.
This week, we curated the playlist together with The Other End. Along with tracks from her new album, this week's update includes Lizzie Reid, Katy Kirby, Molly Drake, and more. Tune in below.