Tune-Yards – 'I Can Feel You Creep Into My Private Life'
Tune-Yard's fourth record is as danceable as it is sociopolitical.
Since 2006 Merrill Garbus aka Tune-Yards creates music by incorporating a variety of genres and sounds – R&B, acoustic folk, children's voices and police sirens to name just a few. And she interweaves all kinds of topics as well, e. g. relationships, social inequities, violence and coping with the pressure of success. From I Can Feel You Creep Into My Private Life on, Tune-Yards is a duo consisting of Garbus and her long-time collaborator Nate Brenner.
The band's fourth album elaborates on the project's major qualities. Firstly, the topics are familiarly serious but now the lyrics are even more to the point. Many songs deal with feeling guilty because of living in America as a white privileged person. There are lines that will (uncomfortably) stick in your brain for a long time; the most brutal one is 'I smell the blood in my voice' from Colonizer. Secondly, the sound still profits from loops and unusual sounds but now – paradoxically – comes across a lot more upbeat and energetic than ever before. The result is a record that will have 'you dancing before you realise what you're listening to'. (Jessi Schmitte)
Song to get you started: Colonizer
Stream it now: ► Spotify / ► Apple Music / ► TIDAL
---
Xul Zolar – 'Fear Talk'
Released on Asmara Records, Cologne's most promising four-piece band emerge from the mist of multi-layered soundscapes and uncover Fear Talk, a tidied, yet incredibly comprehensive coming of age novel in sound.
The story of Xul Zolar begins as early as in 2011 when singer Ronald Röttel and guitarist/keyboardist Marin Geier form a band that has by now evolved to become a gang of four. The early addition of a drummer (a duty taken over by Dennis Hofmann) as well as the more recent inclusion of bass player Dennis Enyan (ABAY) contribute much to the ever changing sound of the group. While the release of an initial D.I.Y. 7" Eternal Love/Goa Bay (2012) first and foremost payed tribute to the heyday of math rock, the arrival of their latest EP Tides in 2015 is testament to a grown sound characterised by its eclectic production as much as its epic attitude. For their debut album Fear Talk, the band return to the strengths of their sophomore single HEX (2013), consisting of a dark-soaked melancholia established by distinctive guitar chords, brute drum patterns and synths motifs rooted in the 1980s.
Whereas label and city mates Woman (who released their debut Happy Freedom last year) temporarily relocated by having their record produced in Austria, Xul Zolar seemingly utilised the past three years by digging deep in the so-called Cologne-scene. In spite of getting Cologne-based producer Marvin Horsch on board for recording purposes as well as bringing in Marius Bubat (COMA) and Jan Philipp Janzen (Von Spar, Cologne Tape) for mixing duties, the result – Xul Zolar's first full-length album Fear Talk – does not sound like any other contemporary Cologne band. What is most remarkable and becomes immediately apparent is the record's outstanding, crystal clear production bringing to light the band's current sense of aesthetics. Listening to the LP's twelve tracks, the ascription to specific genres or comparisons with alleged artists serving as an inspiration turn out to be irrelevant as Fear Talk cultivates the interplay of a band coming of age: The group's sound has become tidied and reduced without losing its emotional appeal and textual depth. Indeed, the title of their debut transcends with its musical content in so far as it almost gives the impression of four musicians carefully listening to each other and communicating with their instruments. Propelling drums enter into a dialogue with sharp guitar chords; concise bass runs converse with compelling electronics – even Röttel's charismatic dirge functions more as another instrument being intertwined with the record's sound. Fear Talk is an incredibly communicative record and an early 2018 highlight. Therefore, you should let it speak to you as it artfully demonstrates what pop music should sound like in this day and age. (Chris Hegholtz)
Song to get you started: Vacuum
Stream it now: ► Spotify / ► Apple Music  / ► TIDAL
---
Sin Fang, Sóley & Örvar Smárason

– 'Team Dreams'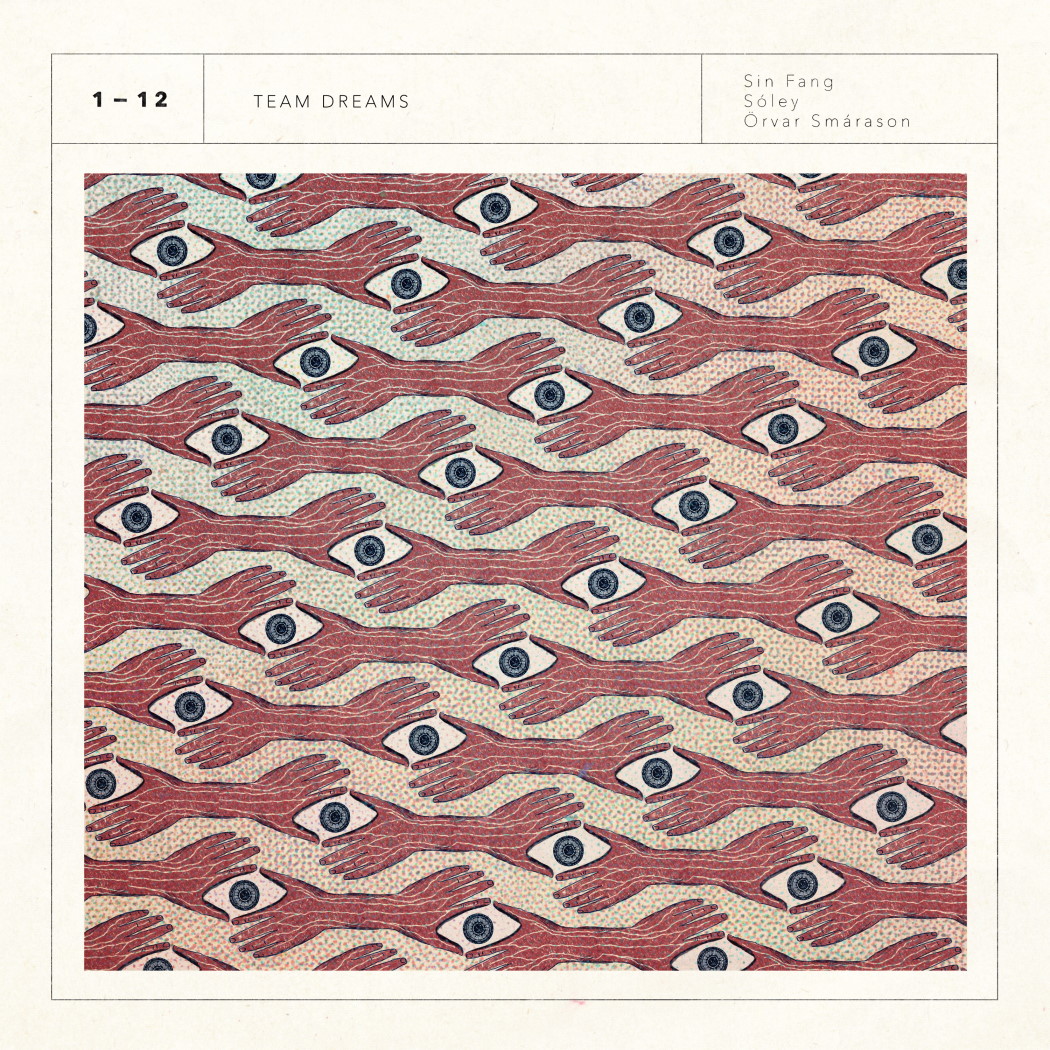 Three friends force themselves to constantly produce new music over the course of twelve months. What could possibly go wrong? A lot! Thank god, it didn't.
What's an album worth in the age of playlists and digital acceleration? Countless music journalists have tried to answer that question. Well, despite all trends the album format still exists and works as an artistic frame and narrative for many musicians. And sometimes it can happen 'by accident' as this Icelandic trio proves. All songs of Team Dreams have already been released prior to the album's release which makes the original meaning of the format obsolete. Acclaimed musicians Sin Fang, Sóley and Örvar Smárason (of múm and FM Belfast) set themselves the goal to release a new song every month throughout 2017, resulting in this record that works surprisingly well as a whole unit. 'We all agreed to make a song in three days every month,' explains Sin Fang the concept he originally initiated.
Team Dreams works only that great as a full album because all protagonists have been knowing each other for years (Sin Fang and Sóley were both part of Seabear) and that might have created a mutual musical foundation that was build on their individual musical strength. Of course, this collaborative effort sounds like their solo work but on the other hand nobody expected a party EDM album from these people anyway, right? Tracks like Love Will Leave You Cold or the tender piano ballad Wasted are carried by their fragile songwriting. Every now and then tracks like the cinematic Black Screen and the futuristic R&B vibes of Used And Confused showcase a different direction but overall the trio sticks to their love for tender Nordic melancholia. The closing track Dream Team Party Kids even leaves the listener with a hopeful notion. Örvar Smárason describes the constraint of writing and recording a song within three days as a 'monthly dose of subtle mayhem' which works as a red line for this lovely record. If mayhem sounds as beautiful as Team Dreams I wouldn't mind more of it. (Norman Fleischer)
Song to get you started: Dream Team Party Kids
Stream it now: ► Spotify / ► Apple Music / ► TIDAL
---
First Aid Kit – 'Ruins'
Bigger, better and still beautiful: The Swedish sisters take their Americana-infected indie/country sound to new heights on album number four.
The most fascinating fact about Johanna and Klara Söderberg besides their still young age (considering everything they achieved over the past decade) remains their heritage. Despite coming from Sweden the two sisters perfectly internalized the sound, vibe and feeling of American country music, probably way better than many Americans. Their fourth full-length is a testament of that confidence and perfected skills, adding a bit more electric guitar power to their tender indie folk without falling for the stadium rock trap like Mumford And Sons did a while back. Produced by Tucker Martine (My Morning Jacket, Laura Veirs), Ruins presents everything we've come to love from First Aid Kit. The uplifting Rebel Heart starts the ride with groove and an atmosphere of departure while setting up the right vibe.
Restless, dreamy and stubborn – that's how the Söderberg sisters continue to present themselves to the world. Sometimes via dramatic waltz (Fireworks), sometimes via a delicate acoustic ballad (To Live A Life) and in the case of Hem Of Her Dress even via a drunken and loud sing along which will become a highlight on their forthcoming tour, trust me. Joy and sorrow still go hand in hand in the First Aid Kit cosmos but so is life and you'll barely find a band that can transport that in such a charming way. With Ruins First Aid Kit officially establish themselves in the A-league of indie-infected Americana and the circumstance that R.E.M.'s Peter Buck, Wilco's Glenn Kotche and McKenzie Smith from Midlake all helped them on this album can be seen as official accolade. The epic and outstanding closing track Nothing Has To Be True finally demonstrates how far this band has come ten years after their infamous Fleet Foxes cover in the woods. The fact that they are now playing venues of the same size like Robin Pecknold's band should be argument enough, right? (Norman Fleischer)
Song to get you started: Fireworks
Stream it now: ► Spotify / ► Apple Music / ► TIDAL
---
WhoMadeWho – 'Through The Walls'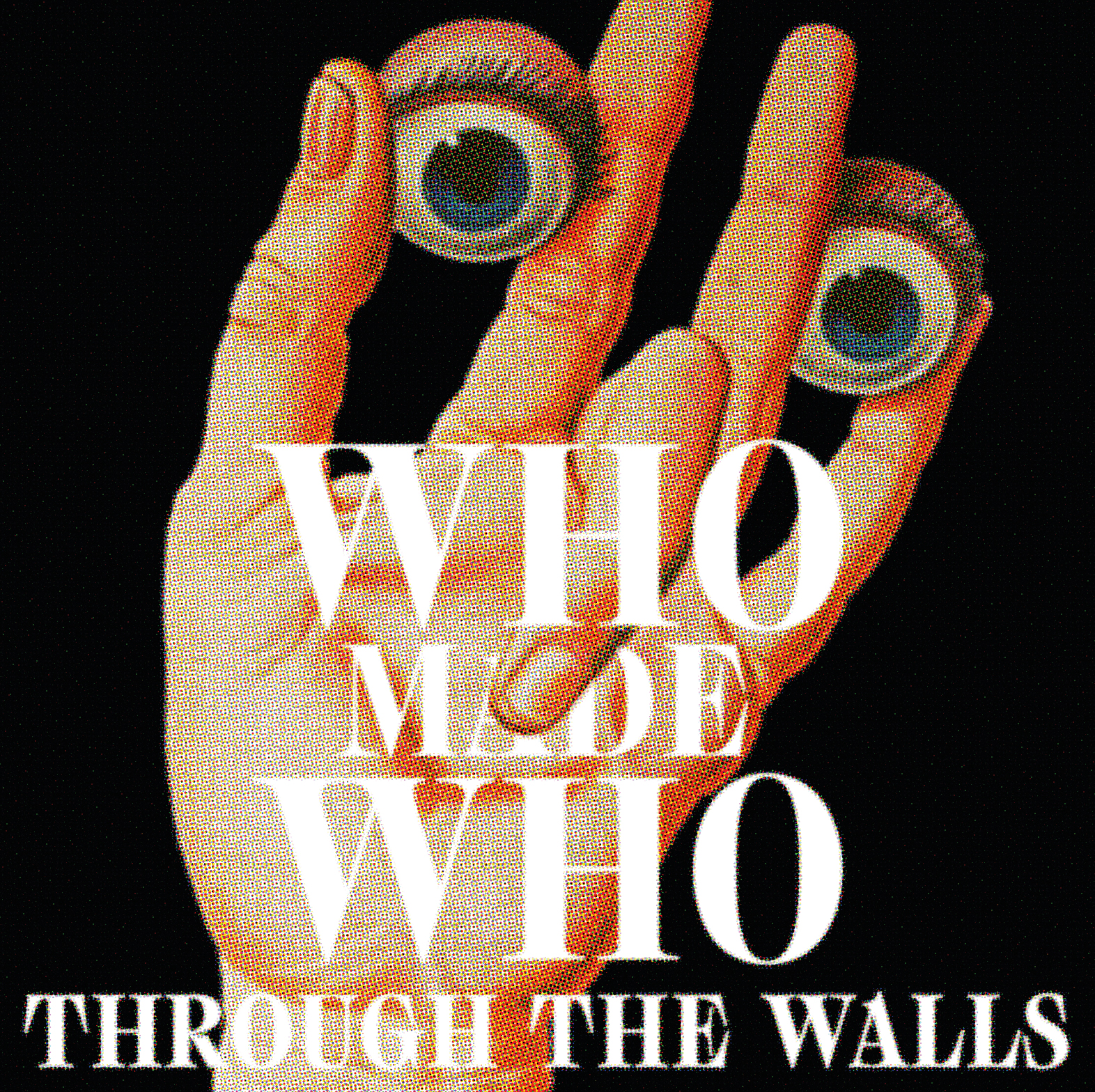 The moment between a melancholic look towards the sparkling nightsky and euphoric ecstasy on the dance floor of a club, captured in a restless but soothingly grounded sound.

In the past years, Jeep Kjellberg, Tomas Barfod and Tomas Høffding have improved and retroven their sound, while experimenting with new attempts in production and songwriting. The first WhoMadeWho full-length in four years is dominated by pure vibes, feels and emotions. Partially it's pulsing, pushing, going forward, simultaneously there are very spherical, calming moments. It's running, dancing, pausing exhausted, comes to rest, loses itself in dreams, just to get up again to stay in motion. The Danes keep on dancing, maybe with a tear rolling down the cheek, but smiling. This conflict between melancholic world-weariness and nevertheless having fun is a main red threat through the whole album. Apart from that you can also sense a craving desire for human nearness, in this digital age we live in, for example in Dynasty, a song, which invites people to well… simply have more sex. The sound of the three Danes remains an impulsive mix of wafting bass, trance-infected psychedelic synthies, stomping drums and extensive vocals. In conclusion it is a great album which makes pleasant anticipation to hearing it live, WhoMadeWho still aren't a band to put in a box or to expect them to stay in conventions which makes them still sound very fresh and interesting in 2018. (Elia Schick)
Song to get you started: Dynasty
Stream it now: ► Spotify / ► Apple Music / ► TIDAL
---