---
Gorillaz – 'Humanz' (Parlophone)
What it is: The world is fucked, apocalypse is approaching fast and Damon Albarn invites all the people for a last minute doomsday disco. That scenario pretty much sums up the first GORILLAZ album in six years. Heavily influenced by the political climate of the world right now (without specifically mentioning Trump and Co., of course) Albarn gathered a variety of people from different fields. Again, a lot of hip hop artists like DANNY BROWN, POPCAAN, PUSHA T and the inevitable DE LA SOUL fund their way onto the album but there's also room for legendary GRACE JONES; MAVIS STAPLES, BENJAMIN CLEMENTINE and even Albarn's old 'nemesis' NOEL GALLAGHER. The list could have been even longer but – well, it's only 20 tracks (for now). And that's the feeling you get when listening to Humanz: a star-packed mixtape with different styles and guests, all gathered for an almost hour-long celebration of the good moments… for one last time.
Why to listen to it: Every GORILLAZ album stands for itself and tells a different story. What remains are the cartoon characters and Albarn's love for unpredictability and musical cooperation. The featured artists dominate on Humanz, the mastermind himself only gets one solo track this time in the form of the melancholic Busted And Blue. The track works as a gentle moment to take your breath in the middle of the album which otherwise dominated by upbeat material. 'The sky's falling – drop that ass' raps VINCE STAPLES in the opening track Ascension, getting us ready for what's about to follow: a gloomy rave which was meant to fill the audience with joy although it really can't shake off the dark feeling. And with that concept GORILLAZ sum up the current state of the world pretty much. The beats from the fields of rap, house music, disco and dancehall are blasting through the stereo, resulting in great tracks like Andromeda, Strobelite, Let Me Out or Carnival. Still, it's not a pleasant party and that's the biggest strength of Humanz. The come together also isn't planned to last a whole night – the longest track is only four and a half minutes long, most of them are significantly shorter. 20 tracks in barely 50 minutes – Albarn and his buddies got no time to loose. And although you can get the impression that Humanz is a cynical affair, it's also a subtle call to fight for your right (to party). 'If this be the end, then so shall it be' sings CLEMENTINE in the morbid Hallelujah Money but he's also destined to spread hope between the lines. We Got The Power gives the album a fierce finale, one that says: We can become head of this party, we can make it a universal one, wipe the gloomy characters away! Humanz is a record that walks the tightrope between cynical resignation and subtle resistance, proving once again why you shouldn't underestimate the power of a virtual band in terms of free speech and creative expression. (Norman Fleischer)
---
Feist – 'Pleasure' (Interscope)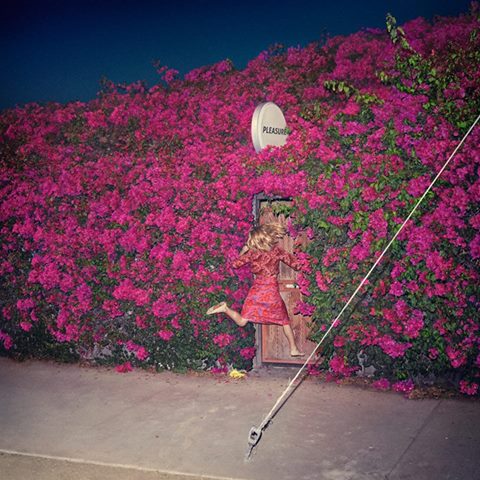 What it is: The grand dame of indie folk Leslie FEIST has established herself as a renown part of the Canadian music scene both by virtue of her diverse collaborations and guest appearances (CHILLY GONZALES, PEACHES and BROKEN SOCIAL SCENE, among others) and a series of albums that were well received among critics and audiences alike (her 2007 single 1234 was propelled to mainstream success by appearing in an ad for Apple's iPod nano). Surprisingly enough, Feist's new album Pleasure is only her 6th album in a career that spans almost 20 years as a solo artist. Co-produced by Feist with longtime collaborators Renaud Letang and Mocky, the album ventures into a direction distinct from the pop-leaning 2004 record Let It Die and 2007's The Reminder or the pastoral, earthy Metals: Pleasure is a study of both human emotions and self-awareness, and as the title track and opener suggests, it is a rough journey both sonically and thematically.

Why to listen to it: Although at first listen, Pleasure emerges as a minimalist record that on occasion approaches swamp rock, repeated listens expose the subtleties of sound design and the dense lyrical imagery. Her songs take unexpected twists and turns, either by conducting a sonic makeover in the later stages of a track or, as in A Man Is Not His Song, by letting the track crossfade into a MASTODON sample at the end. "A man is not his song / And I'm not a story / But I wanna sing along / If he's singing it for me", announces Feist against the chirring of crickets from outside the window and the arrangement mirrors her inner turmoil, swaying between sparse guitar strums and lavish multi-part vocals against a gentle rhythmic backdrop.
However, FEIST is wise enough not to make a point of the intimacy that permeates the record; it is merely a setting that gives space and depth to Feist's brittle compositions. In that sense, when electronic loops and fidgety synthesizers enter the scene, they do not take away from the immediacy of Feist's introspective journeys. Instead, the songs take on an almost carnal quality, serving as vehicles to her emotions – cries, blue notes, hushed words and occasional outbursts of sound coexist on the album, showcasing both the sensual and the angelic nuances of Feist's voice. It is, however, not her emotive delivery that makes Pleasure such an overwhelming triumph. Rather, Feist excels at reinvigorating a genre plagued by dullness and a lack of sonic variety, crafting not only songs, but many-faceted compositions, imbuing them with a grace foreign to most of today's folk music. (Igor Franjic)
---
Mew – 'Visuals' (PIAS)
What it is: Danish art pop/rock band MEW remains unpredictable and in the case of Visuals, their seventh album, we all benefit from it. Never in their over twenty-year long history have the guys released a record so shortly after its predecessor. The album arrives only two years after + – which took three times longer to get released. MEW wanted to unleash a more spontaneous record while, keeping the energy they'd generated on the road going. It's also the first album without founding member Bo Madsen who left the band shortly after the release of their last album. So, a lot of things have changed in the cosmos of the three Danes but one thing remains: quality and that special MEW magic we've come to love.
Why to listen to it: Despite the changing line-up and quick production the ingredients of the beloved MEW recipe haven't changed. Their music is packed with twists and turns while also riding on a wave of synthesizer-drenched delicacy, shimmering harmonies and grooving basslines. They are basically a progressive rock band, disguised as an indie-pop formation. Clever move, gentlemen. Visuals might be their catchiest and most accessible release since their early days. Nothingness And No Regrets starts the LP with uplifting euphoria while The Wake Of Your Life takes that energy and adds clear nods to the 1980s. Only a few bands manage to celebrate the balance between heaviness and tenderness as sweet as MEW do. They paint their walls of sound with colourful flowers if you'd like to stick with that metaphor. Tracks like Candy Pieces All Smeared Out and Ay Ay Ay are representatives of that mixture. On top of it we get joyful 80s tropical rhythms in Learn Our Crystals, a saxophone solo on Twist Quest and high gloss catchiness on the instant hit 85 Videos. On album number seven the Danish trio embraces its pop side in such a confident way that you really can't hold it against them. While their past is packed with progressive and dark-twisted adventures, Visuals embraces love and positive vibes as crucial elements within their music and I surely can't wait where the future is taking these guys. (Norman Fleischer)
---
Levin Goes Lightly – 'GA PS' (Staatsakt)
What it is: The debut album by the Stuttgart based singer, musician, fashion designer and artificial character Levin Stadler aka LEVIN GOES LIGHTLY. His name a rememberance of Truman Capote's Holy Golightly, his appearance reviving Ziggy Stardust and his sound a somber, minimalistic wave revival with sprinkles of post punk and krautrock. You wouldn't assume for something like this to come out of nowhere and of course, it's not really. Embedded in the very thriving alternative music scene in Southern Germany, especially around Stuttgart, LEVIN GOES LIGHTLY is part of a strong network, noticeable all throughout the ten songs of his first full-length GA PS.
Why to listen to it: For a start, there a some pretty great tunes on here. Be it the anti-love song Cotton, the dissociative O'Neill or the introspection of Someone's Favourite. Stadler experts in mixing minimalism, a little weirdness, some great hooks and a voice that crawls into your head immediately. Once again the production of the ever-present Ralv Milberg blends in perfectly by not getting in the way at all or even trying to over-achieve. GA PS is ultimately the best of both worlds: The immediacy of the underground and the kind of pre-thought concept of an artificial character and bigger idea behind it. GA PS is about the in-betweens: in between glamrock and post punk, extro- and introversion, pop and noise, fact and fiction. Here comes the sadness, here comes my love as it is spelled out in Bluescreen. LEVIN GOES LIGHTLY is a contradiction, a crack in reality – a symptom of confusing, unsettling times and yet still just the right amount of simple, loving care. (Henning Grabow)
---
Sevdaliza – 'ISON' (Twisted Elegance)
What it is: Iranian-Dutch singer/songwriter Sevda Alizadeh and her alter ego SEVDALIZA might be one of music's best kept secrets in recent times but one that already made quite a buzz over the past months. Being compared to ARCA, ZOLA JESUS and FKA TWIGS the sound of her surprisingly released debut album Ison is one that hides itself in a space full of darkness and soulful electronic bliss. Produced with her musical companion MUCKY the theme of the record is an artistic reflection of Alizadeh with her own past lives as she likes do describe it. Ison is an ambitious 16-tack long journey into her musical subconsciousness and quite an exciting endeavour.
Why to listen to it: SEVDALIZA's mesmerizing existential questioning is a must-listen experience for all lovers trip-hop and dark-twisted R&B. The charismatic performer mixes delicate hooks with experimental elements while she puts her folkloristic roots right next to the futuristic production, best showcased in songs like Scarlette, Grace and Bluecid. Especially the echoed acoustic guitar in the latter one is quite a lovely element. Aside from that, Ison is a dramatic album, packed with playful piano (Amadine Insensible), cinematic strings (Do You Feel Real?) and hypnotic beats. The production remains well-placed with a love for reduction like in the JAMES BLAKE-channelling The Language Of Limbo. Tension is sensible everywhere right until the soft piano piece Angel closes the LP in an almost hopeful way. Ison is the opposite of 'easy listening' but it's an album with an ambitious story by a crafted protagonist. It deserves to be discovered and you are happily invited to start your personal trip into the twilight right now. (Norman Fleischer)
---