---
Cloud Nothings – 'Life Without Sound' (Carpark Records)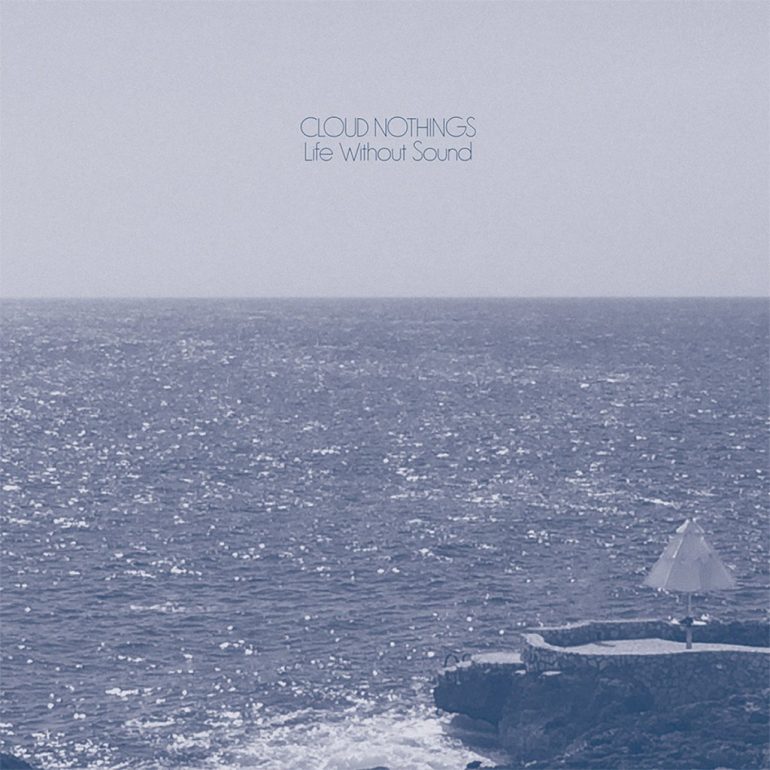 What it is: Yet another testament of Dylan Baldi's extraordinary songwriting. It is a mystery how the highly melodious songs that he creates with CLOUD NOTHINGS maintain their unpredictable edge. The Cleveland based foursome already put four records out, Life Without Sound is their fifth. And their creative head, Baldi, is still just in his mid-20s. Which makes most of us look like lazy under-achievers. But that's another story. Point is: CLOUD NOTHINGS refused to be mainstreamed for quite a while now. Their trademark sound is a great mixture of lo-fi-noise and slacker-romanticism circa DINOSAUR JR. And their new record, whilst sounding a little slicker in general, is no exception.
Why to listen to it: You can get a lot from a CLOUD NOTHINGS-record: pure cheesiness, pop hooks, music nerdism (as Baldi himself is into a lot of jazz, dub and techno as well), youthful angst and enthusiasm in alternating breakouts and in the end: unswerving rock music. Life Without Sound now adds another shade to this band's already impressive catalogue: Beautiful confusion. The gentle build-up of Up To The Surface is, due to its timidity, something they probably wouldn't have considered for an album entry before. But it suits them. The up-front optimism is never far away though: There's No Use For Life Without Sound, Baldi proclaims in Things Are Right With You and the carelessness of Internal World is truly mesmerizing. On the other hand: Modern Act with its contradiction of sweet melodies and Baldi's thoughtfulness. DEATH CAB-producer John Goodmanson did a fine job with Life Without Sound, carving out the duality of CLOUD NOTHINGS's music better than ever. Especially, because in the second half, you still get an impression of how wasted and faded-out these guys can sound. There's a lot to get from these songs. If you can't find anything in it: You're probably better off with a Life Without Sound. (Henning Grabow)
---
Cancer – 'Totem' (Tambourhinoceros)
What it is: The debut album from the musical joint venture of Nikolaj Manuel Vonsild (WHEN SAINTS GO MACHINE) and Kristian Finne Kristensen (CHORUS GRANT), following a first collaborative EP in 2014. And although CANCER might not be the most politically correct band name it fits pretty well as it is inspired by the group's personal experience with the disease. Totem is a wish for making life's tragedies more visible in our daily environment, to confront them… even if it's just by giving it the right name
Why to listen to it: Totem might not be the easiest record to enjoy, it's complex, comes with twists and turns while not being interested in providing simple melodies. Just like in his main band Mr. Vonsild and his distinctive voice (which is on the same level as ANOHNI's) are the core of the songs and CANCER even allows him to spread this soulful sadness and honesty in an even more authentic way this time. It's one of those 'one in a million' voices and songs like the breathtaking Die One More Time and the gloomy piano ballad Mr. Exorcist gives it all the space it needs to shine. CANCER feels like the missing link between chamber pop and THE CURE, constantly balancing between gentle songwriter pop and jazzy experimentalism. The two Danes celebrate reduction and melodic detour, similar to a record like TALK TALK's influential 1988 LP Spirit Of Eden. Just like death and any emotional loss, this one isn't easy. Totem needs a few spins and the right setting to unfold its sinister beauty but once it does it will stick with you, trust me. (Norman Fleischer)
---
Japandroids – 'Near To The Wild Heart Of Life' (Anti-)
What it is: The already third record of a band that barely planned to finish one. Vancouver's Brian King and David Prowse appeared with a bang called Post-Nothing in 2009 and aimed to dissapear after one glorious, rock'n'roll lifestyle tour. Things went differently though. JAPANDROIDS gathered a loyal-to-submissive fanbase all over the world, published album no. 2, Celebration Rock in 2012 and poured their hearts and souls out on stages worldwide along the way. Now, Near To The Wild Heart Of Life is their comeback after a break of roughly four years of silence.
Why to listen to it: First of all: These two probably won't get you with this record if they haven't until now. JAPANDROIDS' Springsteen-in-the-basement-anthems are fueled by basic longings. Longings and promises that only rock'n'roll music like this can express. And only few bands have been able to write songs that transfer the feeling of immortality, of fists raised and love spread in a giant sprawl of sweat better than JAPANDROIDS. But Prowse and King are too smart to make it sound dumb and superficial as it often happens in rock music. They grant themselves albums of condensed energy but they also granted themselves this: Near To The Wild Heart Of Life. A record about growing up in a way that's not grown-up. Songs about the strange world of being a musician. The charged relationship of being pushed out there in the world and always be pulled right back to where they feel home: Canada. JAPANDROIDS have changed. How stupid would it be to deny that? So here's Arc of Bar with its seven minutes length, here's cleaner guitars, voices and yes, even synths. But also: Here's another example of JAPANDROIDS' unique and appaling voice in an otherwise often phoney universe. (Henning Grabow)
---
Ty Segall – 'Ty Segall' (Drag City)
What it is: If NIRVANA had been fronted by DAVID BOWIE it would surely sound like this record. I don't take these comparisons lightly. Once my ex said that he thought his university band sounded like NIRVANA and I broke up with him. It's a serious comparison if you are shouting it, but I really think this record deserves it. It has that grunge inspired guitars but then without the gravelly Cobain vocals and more a polished BOWIE sound. TY SEGALL's voice drips with nostalgia and 1970s cool.
Why to listen to it: It's pure lo-fi rock'n roll sweetness. Break A Guitar is an amazing opening track. It hits you in the face with 1990s cool and 1970s swagger, its combines two genres that are polar opposites and makes this break off genre. Other really recommendable tunes from it include Take Care (To comb your hair) and Talkin'. Such a unique sound infact that it allows me to reminisce about a time I never ever lived through. Dragging you into a time altered world, where anything and nothing are simultaneously possible. The yes I can alter your mind to why would we even bother. (Hannah Fahy)
/ NOT AVAILABLE FOR STREAM YET /

---
Toothless – 'The Pace Of The Passing' (Island Records)
What it is: Solo spin-off projects of established bands are interesting affairs in that they tend to reveal the inner workings of their members. One such example is BOMBAY BICYCLE CLUB's bassist Ed Nash and his solo debut as TOOTHLESS. It definitely comes as a surprise that it is him who carries forward the band's spirit of well-crafted, uplifting and slightly melancholic indie-pop — especially if you consider that BOMBAY BICYCLE CLUB increasingly rested on the creative vision of frontman, producer and mastermind Jack Steadman. In fact, the connections to his main band are not severed: Steadman co-produced some tracks from the new album The Pace Of The Passing, while BOMBAY's drummer Suren de Saram also appears in Nash's live band.
Why to listen to it: Although Ed Nash's contribution to BOMBAY BICYCLE CLUB's songwriting was miniscule, his work sounds surprisingly similar to the quartet's output in both style and execution. The similarities to 2011's A Different Kind Of Fix are most striking — The Suns Midlife Crisis mirrors Beggars with its hushed male-female vocals and gentle finger-picked guitar. Single Palms Backside features meandering guitars interpolating Nash's vocal melody while guest singer MARIKA HACKMANN makes for a flawless LUCY ROSE-soundalike impression. His other picks, like WILD BEASTS's Tom Fleming on Midas Touch, blend in just as fine, providing a very welcome change from Nash's ethereal croon.
TOOTHLESS occasionally attempt forays into energetic terrain (with Sisyphus being one of the most immediately rewarding cuts from the album), but The Pace Of Passing as a whole gives a subdued and melancholically playful impression because most tracks shy away from dynamic outbursts, brash rhythms or frantic instrumentation. Instead, the songs build as you listen to them, layers of sounds and melodies slowly entangling and forming complex compositions out of atomic, simplistic ingredients. As before with BOMBAY BICYCLE CLUB, this is where the magic lies with TOOTHLESS; if, however, you're expecting something that is as challenging as it is elaborate, you might have to look elsewhere. (Igor Franjić)
---