[one_half last="no"]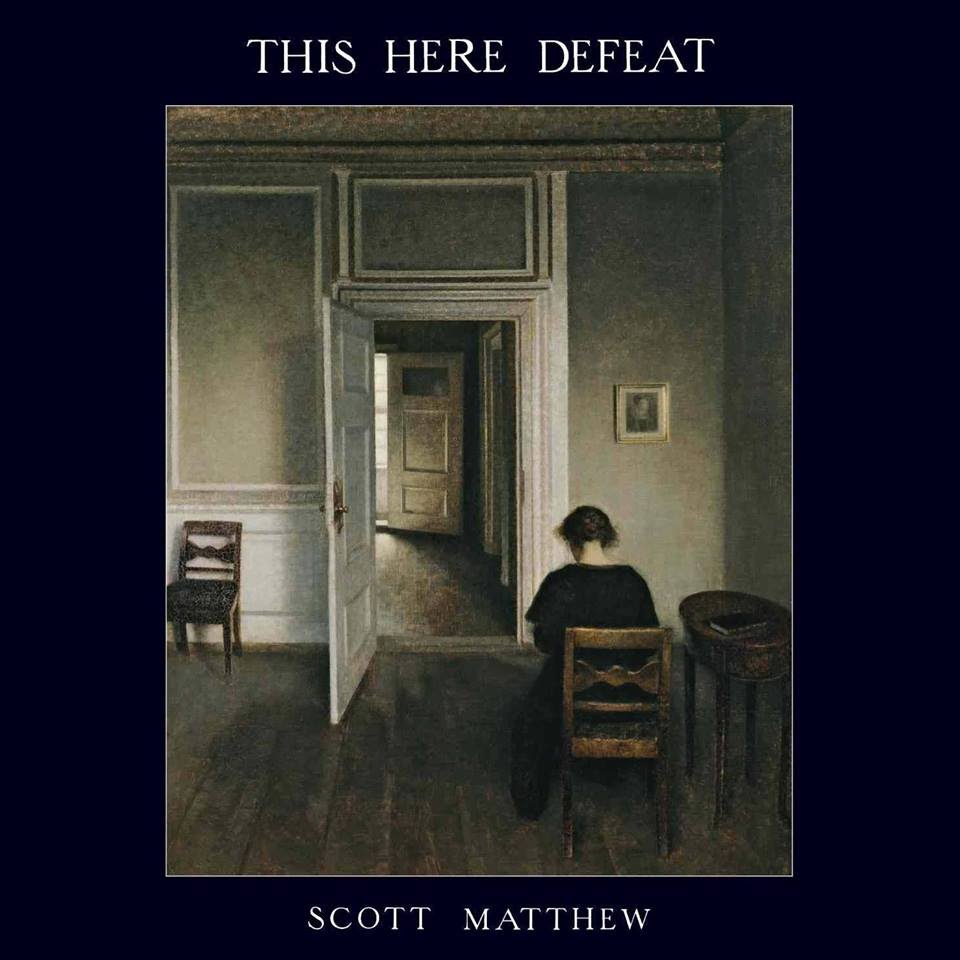 NBHAP Rating: 4/5
[/one_half]
[one_half last="yes"]SCOTT MATTHEW
This Here Defeat
Release-Date: 20.03.2015
Label: Glitterhouse Records
Tracklist:
01. Effigy
02. Skyline
03. Constant
04. Soul To Save
05. Ruined Heart
06. This Here Defeat
07. Bittersweet
08. Here We Go Again
09. Ode
10. Palace Of Tears

[/one_half]
---
---
Return of the quiet
With This Here Defeat the Australian born singer and songwriter SCOTT MATTHEW released his fifth album. Well known for his beautiful contribution on the soundtrack of the queer indie movie SHORTBUS back in 2006, the musician managed to release his songs continuously and became famous for his very intimate live shows. Hence, the follow up to his 2013 long player Unlearned brings us the well known: a selection of minimalistic, reduced and sparingly instrumented songs, right from the head, hand and mouth of Mr. MATTHEW himself. In other words, SCOTT MATTHEW's music isn't what you call amazing, or exciting. But that is actually it's biggest quality. Once more you get an exciting album, partly folk, partly chamber pop without a rush. Music to enjoy, lay back, dream about, laughing with or crying to. This is music for the barefoot and the naked. Quiet, unagitated and somehow sensual.
The voice is the centre
Driven by the imagination of an one–man–and–his–instrument–live–concept, a set up just as old as the music itself, another folky record of a bearded guy from down under easily could become trivial. SCOTT MATTHEW's most recognizable talent is to let us know, that at least for one night, for that one special concert, nothing else is needed. Therefore most of the time his voice stands in the middle. But even when claiming and whispering quite dramatic words like 'a burning effigy of you and me – it's something that we used to be' (from the opener Effigy) is stays vigorous and encouraging. Matthew's lyrics are honest, but never baring. Needless to say that most the lyrics about love sooner or later darkens the door of cheesiness. Believe it or not, MATTHEW even copes with this issue with greatness.
You've got a friend in him
Gentle guitar work and some serious sparkling ukulele strings are dominating the first half of This Here Defeat. Underlayed by partly pathetic string arrangements, the album soon takes a step into a broader, more eclectic sound scape. The title track This Here Defeat is a love, or more or less a break up song, singing about not writing love songs with a wink. It's just one little diamond between the balder ballads, which comes along with such warm rhodes, a soulful well-nigh sexy bass and tight guitars, that easily could have been borrowed from an 80s pop song. Bittersweet, backed by singer Sylvie Lewis, is another feisty, and yes, quite bittersweet hymn on all these little contrarieties that could make a relationship hard but unique and exciting. SCOTT MATTHEW is your friend, your teacher, your shoulder and your ear as long as you let him play his songs.
Even if many people would name it a typical winter music album, 'This Here Defeat' by SCOTT MATTHEW will bring you through a mild summer night as well. But it's best played live, with a glass of red wine for both of you.
—